An adjective is a describing word.
We've all been in a situation before where we've been asked to 'Describe yourself in 3 words' or something similar. Maybe it was a job interview, at school, a personality or career test or an online profile. While it may sound ridiculous, the answers are quite revealing about a person, therefore it's important to consider what words we use and how we use them.
How Do You Describe Yourself?
How you describe yourself will greatly depend on why you are describing yourself. For example, some words make sense for an online dating profile, but they won't look professional or applicable on a cover letter or in a job interview.
Therefore, it's really about being able to understand the context of why you are describing yourself and how you want to present yourself.
In the below post, we have compiled a huge list of the best adjectives to describe personalities.
Related: 350+ Positive Words to Describe Someone
List of Words To Describe Yourself
The below list of words are great for cover letters, job interviews and application forms to describe yourself in a positive light. They are not overly boastful, and they aren't negative or self-depreciating – because, why would you want to do that?:
able
accepting
accomplished
accountable
active
adaptable
adventurous
agreeable
ambitious
amenable
amiable
approachable
articulate
assertive
athletic
attentive
authentic

balanced
brave
calm
candid
careful
chilled
clean
cohesive
collaborative
competitive
confident
conservative
considerate
considered
cooperative
courageous
courteous
creative

decisive
dedicated
dependable
detailed
determined
diligent
diplomatic
direct
driven
dutiful
dynamic

easy-going
educated
efficient
effusive
empathetic
encouraging
energetic
engaged
enterprising
enthusiastic
entrepreneurial
ethical
expansive
experienced
extroverted

fair
faithful
family-oriented
fast
fearless
flexible
focused
forgiving
fortuitous
friendly
funny
generous
genuine
goal-oriented
grateful

hard-working
helpful
honest
humorous
hysterical
idealistic
imaginative
impartial
indefatigable
independent
industrious
inquisitive
insightful
inspired
intelligent
introverted
intuitive
inventive

joyful
judicious
kind
knowledgeable
leader
learner
level-headed
loyal

mature
mediator
mentor
methodical
meticulous
modest
motivated
multilingual

objective
open
open-minded
optimistic
organized
original
particular
passionate
patient
peaceful
perceptive
perfectionist
persistent
personable
persuasive
philosophical
positive
practical
pragmatic
precise
proactive
productive
professional
proficient
progressive
protective
proud
punctual

qualified
quick
quick-learner
quiet
quirky
random
rational
receptive
reflective
reliable
religious
resolute
resourceful
respectful
responsible
responsive

selfless
sensible
serious
shy
silly
sincere
skilled
sociable
spiritual
spontaneous
sporty
stable
strategic
strong
studious
subjective
successful

tactful
team-player
technological
tenacious
thorough
tidy
tolerant
traditional
trustworthy

unconventional
understanding
unique
upbeat
uplifting
versatile
vibrant
virtuous
visionary
warm-hearted
witty
wordly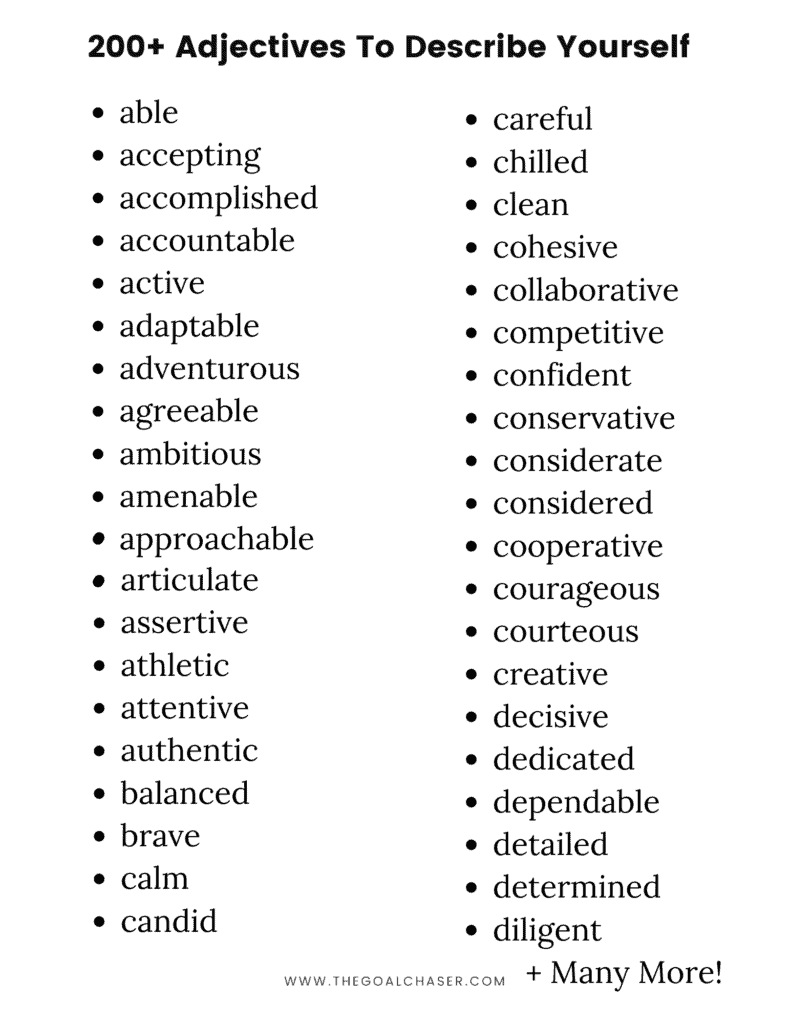 Good Words To Describe Yourself – On a Resume or CV
As a Human Resources professional, I have interviewed many people, and asked this question many, many times in a professional setting. The best answers to this question are always when the person has considered the requirements of the jobs against their adjectives.
Yes, you may be 'shy' – but that's not a good word to describe yourself when you are applying for a customer service facing job. It doesn't mean you will be bad at the job, but you're certainly not choosing a words that highlights to me that you will be. Or, you may be a 'visionary', and 'entrepreneurial', and that is wonderful, but not a great match for a process-heavy, repetitive job that I'm hiring for.
Instead:
Create a list of 10-20 good words that describe yourself first, then
Consider the requirement for the position – what words would describe the ideal person for this position? (Hint: they are often clearly stated in the job advertisement)
Match the two lists you have created and find the common words – these are the ones you need to be highlighting!
The purpose of such a question is really to see that you understand the requirements of the position and to learn if you identify with these attributes. Give yourself the best chance of standing out by presenting yourself in a positive light.
Adjectives About Yourself
There are a lot of words that can be used to describe people, and it's important to choose words that accurately portray who you are and to take into account the context in which you are using them.
For example, the words you use to describe yourself in an interview will likely be different to the words you would use to describe yourself in an online dating profile, or online membership group. Be sure to consider how you want to present yourself!
If you're looking for more similar content, be sure to check out: