What Are Some Encouraging Words? If you're looking for words to encourage someone (or yourself) you want to look for words and phrases that inspire, words that support, show confidence and provide a reminder of hope and possibilities.
List of Encouraging Words
Here is a list of more than 200 single encouraging words that have been compiled to motivate and inspire yourself and others.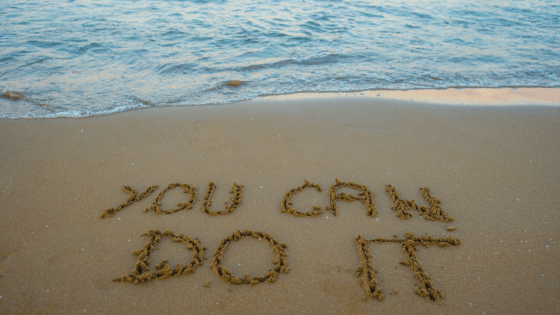 Encouraging Words That Start With A
Abet
Achieve
Act
Admiration
Admire
Advance
Adventurous
Advice
Advise
Advocate
Affirm
Aid
Ambitious
Animate
Appreciate
Assist
Assistance
Assure
Attitude
Encouraging Words That Start With B
Back
Belief
Believe
Boost
Build
Encouraging Words That Start With C
Caring
Catalyst
Challenge
Champion
Cheer
Coax
Coerce
Comfort
Commit
Commitment
Compassion
Compliment
Confidence
Conquer
Continue
Courage
Create
Encouraging Words That Start With D
Dare
Dedicate
Deliver
Determination
Dream
Drive
Encouraging Words That Start With E
Egg-On
Embolden
Empower
Empowering
Empowerment
Encourage
Encouragement
Encouraging
Endorse
Endure
Energy
Enjoyment
Enrich
Enthusiasm
Enthusiastic
Envision
Excellence
Experience
Encouraging Words That Start With F
Faith
Faithful
Favour
Fearless
Fighter
Finisher
Fire
Fix
Focus
Forgive
Fortify
Forward
Foster
Freedom
Fuel
Fulfilment
Further
Encouraging Words That Start With G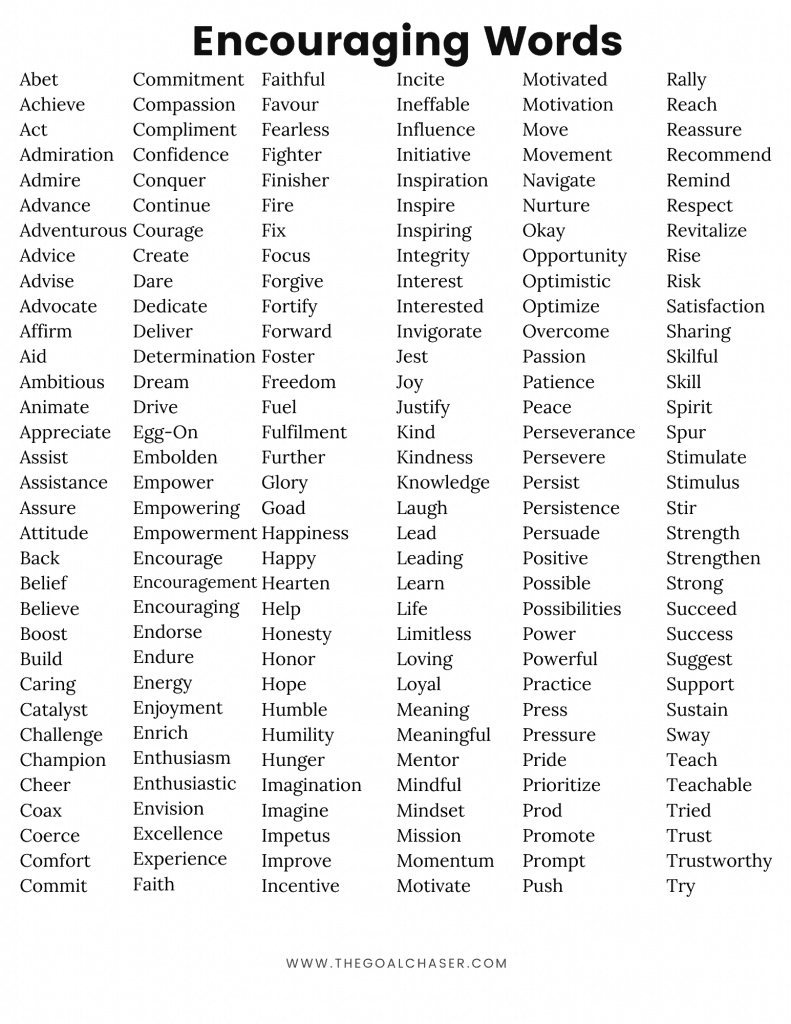 Encouraging Words That Start With H
Happiness
Happy
Hearten
Help
Honesty
Honor
Hope
Humble
Humility
Hunger
Encouraging Words That Start With I
Imagination
Imagine
Impetus
Improve
Incentive
Incite
Ineffable
Influence
Initiative
Inspiration
Inspire
Inspiring
Integrity
Interest
Interested
Invigorate
Encouraging Words That Start With J
Encouraging Words That Start With K
Encouraging Words That Start With L
Laugh
Lead
Leading
Learn
Life
Limitless
Loving
Loyal
Encouraging Words That Start With M
Meaning
Meaningful
Mentor
Mindful
Mindset
Mission
Momentum
Motivate
Motivated
Motivation
Move
Movement
Encouraging Words That Start With N
Encouraging Words That Start With O
Okay
Opportunity
Optimistic
Optimize
Overcome
Encouraging Words That Start With P
Passion
Patience
Peace
Perseverance
Persevere
Persist
Persistence
Persuade
Positive
Possible
Possibilities
Power
Powerful
Practice
Press
Pressure
Pride
Prioritize
Prod
Promote
Prompt
Push
Encouraging Words That Start With R
Rally
Reach
Reassure
Recommend
Remind
Respect
Revitalize
Rise
Risk
Encouraging Words That Start With S
Satisfaction
Sharing
Skilful
Skill
Spirit
Spur
Stimulate
Stimulus
Stir
Strength
Strengthen
Strong
Succeed
Success
Suggest
Support
Sustain
Sway
Encouraging Words That Start With T
Teach
Teachable
Tried
Trust
Trustworthy
Try
Encouraging Words That Start With U
Understand
Understanding
Understood
Uplift
Urge
Encouraging Words That Start With V
Value
Values
Versatile
Vitalize
Vulnerability
Encouraging Words That Start With W
Welcome
Will
Willpower
Winner
Wisdom
Wise
Worthy
Encouraging Words That Start With Y
Words of Encouragement
Aside from single encouraging words, another way to offer kind words of encouragement to others (and ourselves) is to use encouraging quotes and sayings. Encouraging quotes are a great way to offer support – wise words from others who have walked the walk before us and have a certain experience or wisdom that they can share. See also: