240+ Words To Describe Your Personality
Have you been asked the dreaded question 'Can you give me three words to describe your personality"?
They want to know about you – from you. Which can be uncomfortable right?
You don't have to be boastful but you also don't want to put yourself down either.
When you have to describe your personality, it's important to be as honest as possible and focus on your strengths.
How would you describe your personality?
Personality is made up of the characteristic patterns of thought, emotion and behaviour that make a person unique.
It is an integral component of your whole identity.
Your personality affects how you react to situations and behave in social settings and work environments.
It is not an easy question for everyone – sometimes we take some time to consider the question or maybe we need to discuss it with a close, constructive friend.
What words you use to describe your personality should be positive and focus on your strengths, but will vary greatly depending on the purpose for the description; ie. is it for a job application, an online profile or a dating site? Because each would require a different slant on you describing your personality traits.
List of Words To Describe Your Personality
The word list below provides some examples of positive personality traits that you can use.
You don't have to fit this description 100% of the time, but overall if you feel that an adjective best describes your natural personality, then it's a good fit.
able
abundant
accomplished
achiever
active
adaptable
adept
adventurous
alert
ambitious
amiable
analytical
approachable
articulate
artistic
assertive
astute
attentive
balanced
bold
brash
bright
broad-minded
calculated
calm
candid
capable
careful
caring
cautious
changeable
charismatic
cheerful
cheerleader
circumspect
clever
collaborative
committed
communicative
compassionate
competitive
complicated
confident
conscientious
conservative
considerate
considered
consistent
constructive
controversial
cool
cooperative
courageous
creative
curious
customer-oriented
dependable
determined
diligent
diplomatic
direct
discerning
disciplined
discrete
driven
dynamic
eager
easy-going
ecclectric
effective
efficient
emotional
empathetic
encouraging
engaged
enterprising
enthusiastic
entrepreneurial
ethical
evolved
excited
extroverted
facilitator
fair
faithful
fast
fast
fastidious
focused
frank
friendly
fun
funny
generous
gentle
genuine
good
goofy
grateful
gregarious
hardworking
honest
humble
imaginative
impartial
incorruptible
independent
individual
industrious
initiator
innovative
insightful
inspired
inspiring
intelligent
intense
interesting
introverted
intuitive
inventive
judicious
keen
kind
knowledgeable
leader
learner
level-headed
lighthearted
logical
loud
loving
loyal
mature
mediator
methodical
meticulous
modest
moral
motivated
neat
objective
observant
open
open-minded
optimistic
orderly
organized
original
partial
particular
passionate
patient
perceptive
persevering
persistent
persuasive
playful
pleasant
polite
political
positive
powerful
practical
precise
principled
proactive
productive
professional
prudent
punctual
purposeful
quick-learner
quick-witted
quiet
rational
realistic
reasonable
reflective
reliable
religious
reserved
resilient
resourceful
respected
respectful
responsible
responsive
self-assured
self-aware
selfless
self-motivated
self-starter
sensible
shy
simple
sincere
skilled
sociable
solid
sophisticated
spontaneous
spritely
stable
steady
strong
student
subjective
subtle
successful
sympathetic
systematic
tactful
talented
team-player
tenacious
thorough
thoughtful
tolerant
traditional
trusting
trustworthy
unaffected
unassuming
unconventional
unique
unpretentious
upbeat
versatile
vibrant
visionary
warm
watchful
willing
witty
zealous
zesty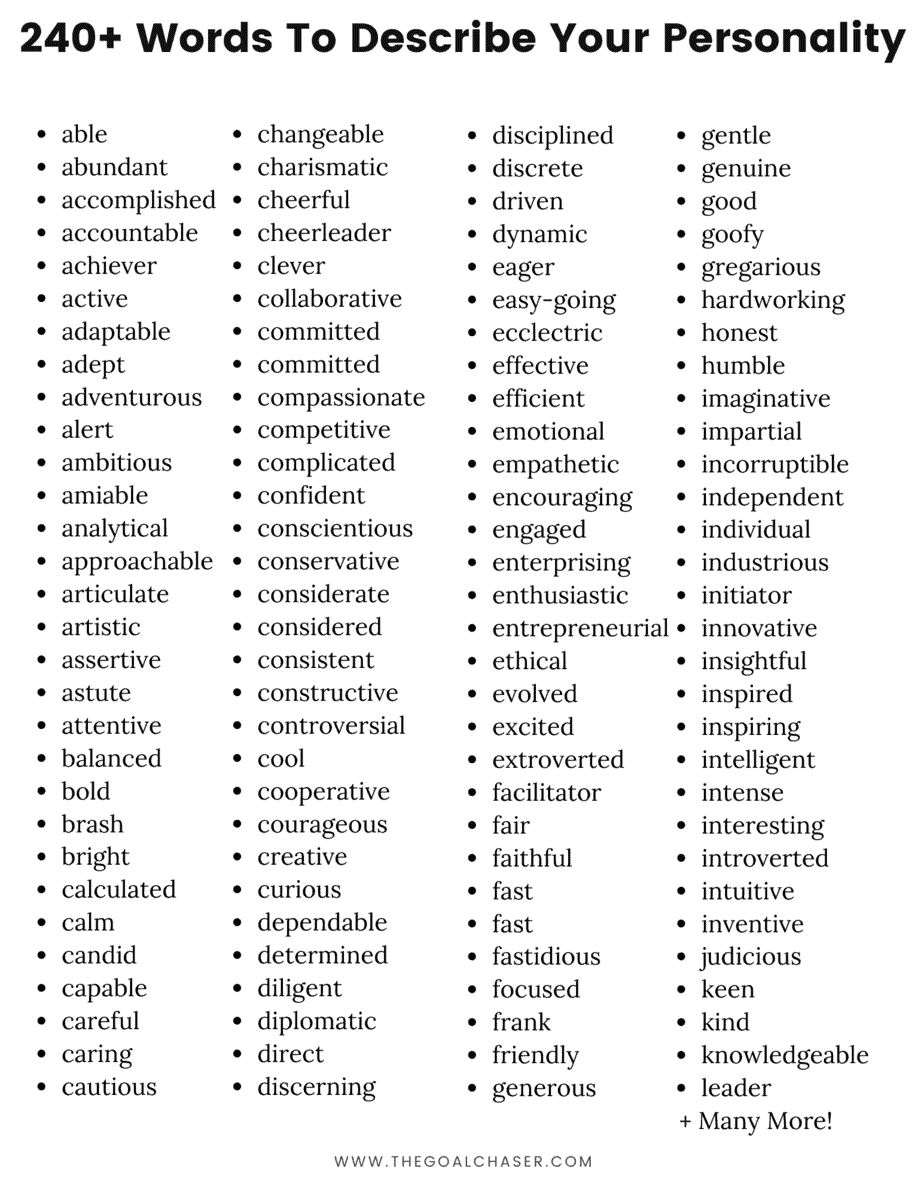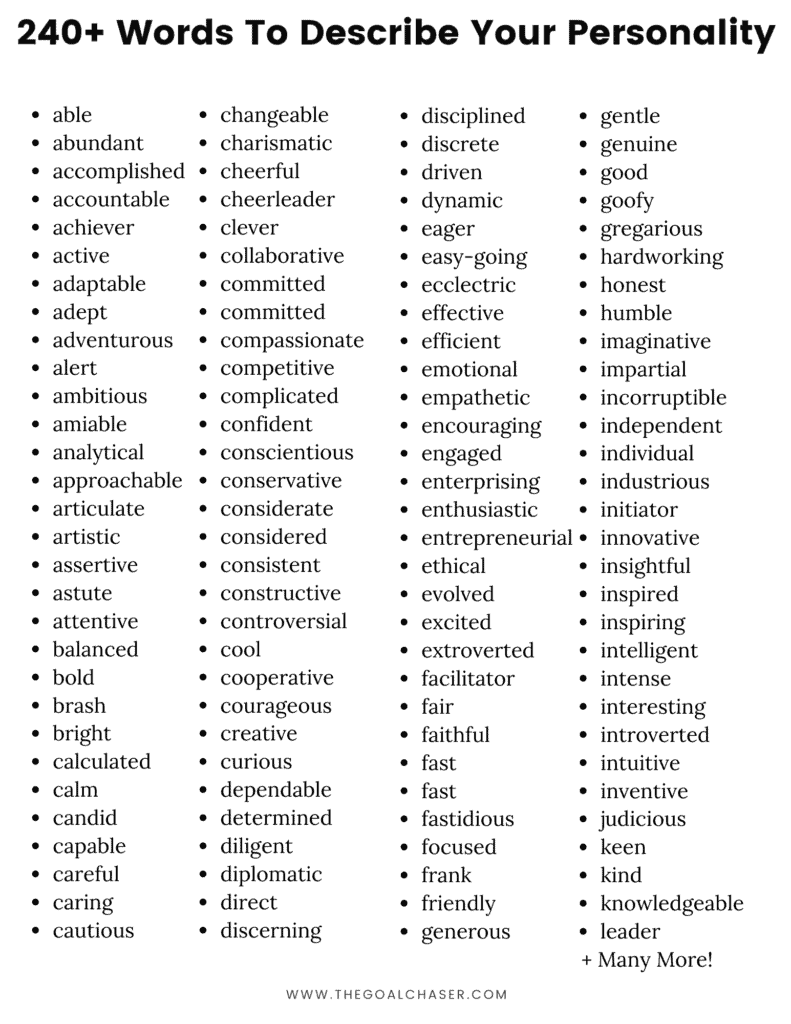 We all have a unique personality, and that's what makes us special. But there are certain traits or adjectives that many people can identify with and use to describe themselves for the purposes of self-reflection or in conversation. So if you feel like an adjective from this list might be your natural state – it probably is!
If you're interested in more positive words and adjectives, be sure to check out: