4 Letter Inspirational Words
Short Inspiring words
This is not the usual '4 letter words' that's for sure!
Looking for short four letter words that are both positive and inspiring? You've come to the right place, because this bumper list of words can all be used to inspire, push and lead you to take action towards your big goals, whatever they might be.
Related:
So here is a list of more than 270 (I keep adding to it!) inspiring and words that have been compiled to inspire and motivate you – all with only 4 letters to them!
List of 270+ 4 Letter Inspirational Words
ABLE
ABLY
ACED
AHOY
AIDE
AMEN
AMOK
ARTY
AVID
AWRY
BABE
BABY
BAND
BEAM
BEND
BENT
BEST
BIND
BOLD
BOOM
BORN
BOSS
BOUT
BREW
BUFF
BUST
BUSY
CALL
CALM
CAMP
CARD
CARE
CASH
CAST
CHUM
CIAO
COOL
COPE
COZY
CREW
CULL
CURE
CUTE
DARE
DART
DASH
DAWN
DEAL
DEAR
DEED
DEEM
DEEP
DICE
DIME
DINE
DING
DIVE
DOLL
DOPE
DOTE
DOVE
DRAW
DUTY
FACT
FAIL
FALL
FAME
FARE
FAST
FEAR
FEAT
FEED
FELL
FEND
FILL
FIND
FINE
FIZZ
FLIP
FLOW
FOOD
FORT
FUEL
GAIN
GALL
GEMS
GIFT
GIVE
GLAD
GLEE
GLOW
GOAL
GOLD
GONE
GOOD
GRIN
GROW
GUSH
HACK
HAIL
HALO
HARD
HEAL
HEAR
HEED
HELL
HELP
HERE
HERO
HIDE
HIGH
HIKE
HIRE
HOLD
HOLY
HOME
HONE
HOOK
HOOP
HOPE
HOST
HUGE
HUSH
ICON
IDEA
IDOL
JEST
JIVE
JOIN
JOKE
JOYS
JUMP
JUST
KEEN
KEEP
KICK
KIND
KING
KISS
KITE
KNOW
KUDO
LAND
LAST
LAUD
LEAN
LEAP
LIFE
LIFT
LIKE
LIST
LIVE
LONG
LOOK
LORD
LOVE
LUCK
LULL
LUSH
MADE
MAKE
MANY
MATE
MAXI
MEEK
MEGA
MELD
MINT
MINX
MOAT
MOST
MUCH
NEAT
NEED
NEWS
NEXT
NICE
NOTE
ONCE
OOZE
OPEN
OVER
PALS
PEAK
PEEP
PEER
PLAY
PLUS
POET
POSH
PURE
PUSH
RACY
RAPT
READ
REAL
REST
RICH
RISE
ROAR
ROSE
ROSY
SAFE
SAGE
SAIL
SANE
SAVE
SEEK
SEEP
SING
SLAY
SLUE
SNUG
SOAR
SOUL
STAR
STAY
STEM
STUN
SWAG
SWAY
TACT
TEST
TIME
TINY
TOOL
TOPS
TRUE
UBER
VAMP
VARY
VENT
VIEW
VIVA
VOTE
WAKE
WALK
WALL
WANT
WARM
WASH
WEAR
WELD
WELL
WHEE
WHIZ
WHOA
WHOO
WILL
WING
WINK
WINS
WIRE
WISH
WITH
WORK
WOWS
WRAP
YARD
YELP
YOUR
YULE
ZANY
ZEAL
ZERO
ZEST
ZING
ZOOM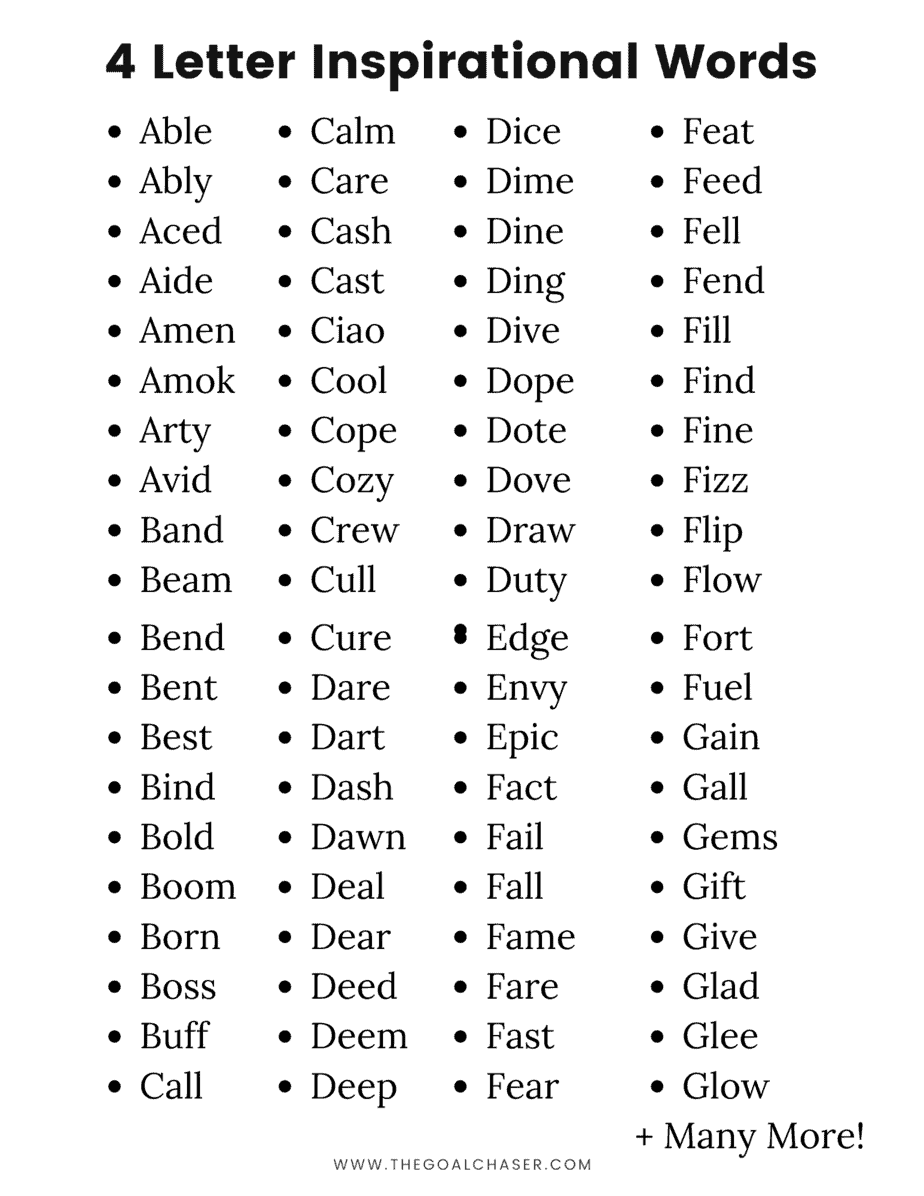 Related Positive & Inspiring Words :