170+ Words To Describe Spring
A great list of adjectives that help to describe the spring season.
How would you describe spring?
The spring season is a time of new beginnings, when plants start to grow, and flowers begin to bloom.
It's also a time of cleaning, as people often take advantage of the warmer weather to do some much needed organizing and decluttering.
For many, spring is a time of hope, as the days begin to get longer, and the weather gets nicer. It's a time to start fresh and set new goals.
The months of March, April, and May are typically considered to be spring months in the Northern Hemisphere, while September, October, and November are the spring months in the Southern Hemisphere.
No matter where you live in the world, though, there are certain things that are associated with springtime – things that just remind you of the spring season.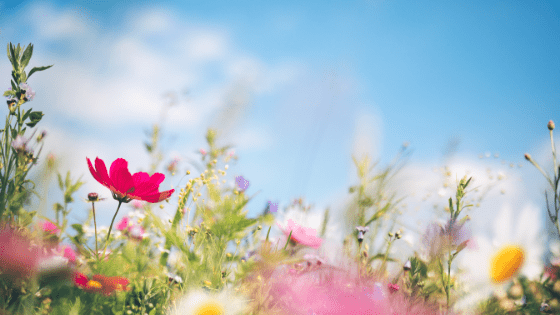 List of Words to Describe Spring
The following list of words can help you describe spring:
abloom
airy
alive
allergies
animals
anticipation
antihistamines
apples
awake
awakening
azaleas
baskets
bears
bees
birds
birth
bliss
bloom
blossom
blue
bonnets
born
breezy
bright
budding
butterflies
cardigans
carnivals
change
cheerful
cheery
cherries
chicks
chirping
clean
cleaning
clover
colorful
colors
cool
crisp
daffodils
daisies
daylight
declutter
decluttering
defrost
delightful
dresses
ducklings
Easter
eggs
emerge
energetic
energy
enthusiasm
exercise
fair
farming
fertile
fertilizer
festivals
fish
fishing
floral
flower
foals
fragrant
freesias
fresh
fruit
garden
germination
goslings
grass
green
growth
happiness
happy
hatchlings
hay-fever
healthy
honey
hope
hopeful
insects
inspiring
joy
joyful
kite
ladybugs
lambs
lawn
leaves
life
light
lush
melting
migration
nectar
new
opportunity
outdoors
pastels
patios
peaceful
picnics
piglets
planting
plants
pollen
possibility
pruning
quacking
rain
rainbows
reborn
reemerge
refreshing
reinvigorated
rejuvenation
renew
renewing
reveals
revives
rosebuds
roses
sandals
sapling
seasonal
seedlings
seeds
shoots
shorts
skirts
sneezing
soft
soil
sowing
sparkling
sport
spring
springtime
sprout
sprouting
stunning
sun
sundresses
sunlight
sunny
sunshine
sweet
swimming
tadpoles
thriving
trees
t-shirts
tulips
umbrella
vacations
verandah
vibrant
warmer
weather
windy
yard
yellow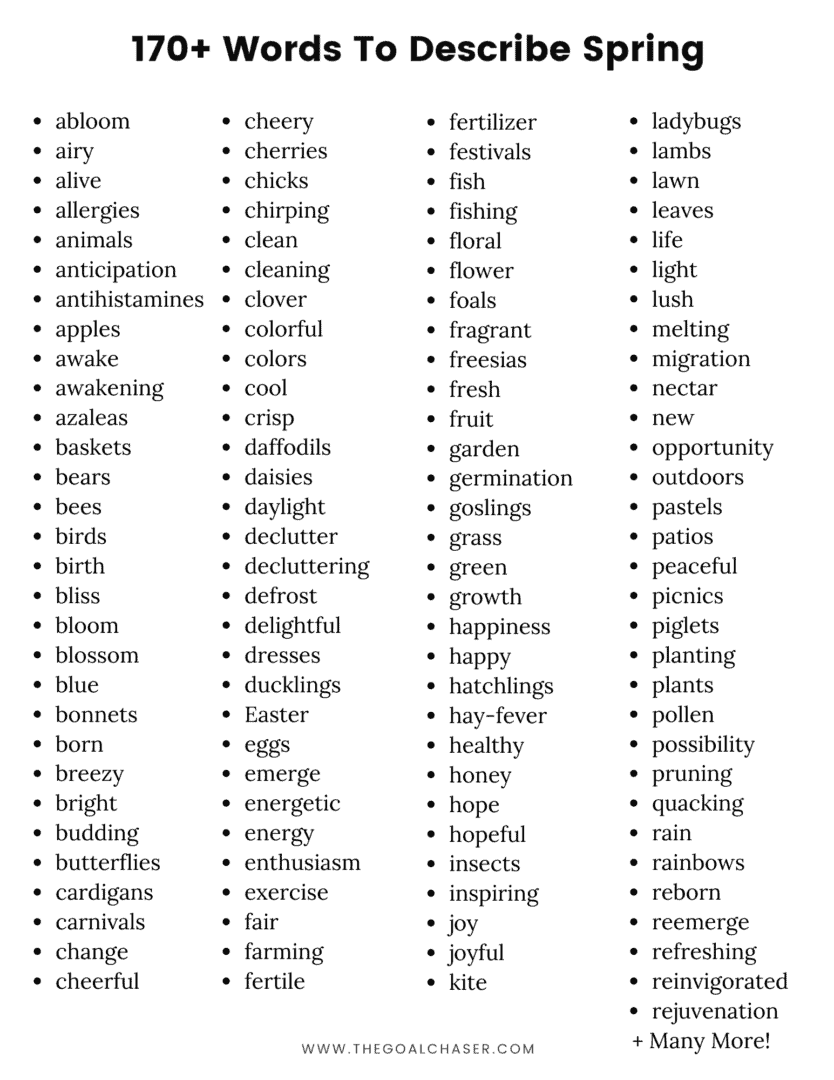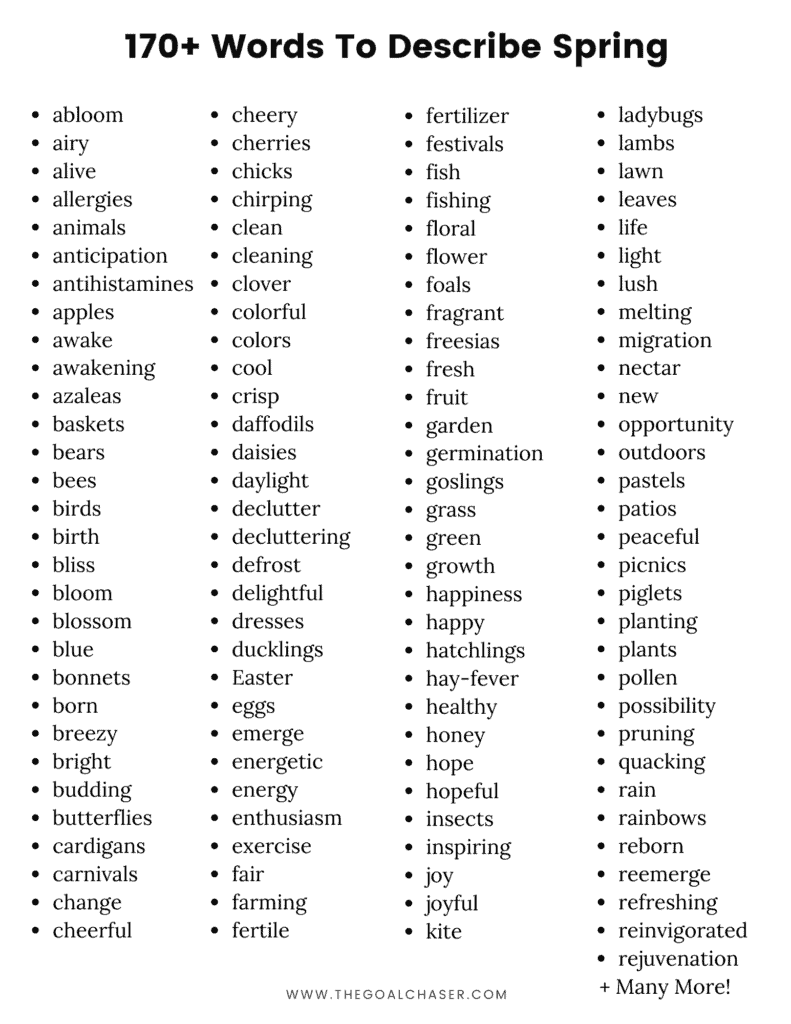 For more word lists, check out: