Words To Describe Colleagues
There are times that we need to describe our colleagues in just a few words. It might be for a peer review, a job recommendation or to simply heap some praise on them for some recent great work.
We might not like or agree with everything that our colleagues do, but we can certainly find positive words to describe their abilities, their skills and their work ethics.
We can also help to create a better work environment and a positive company culture when we are able to give credit where it's due and express our gratitude, support and appreciation for colleagues.
How Would You Describe a Good Colleague?
A good colleague is one that is competent at their job, a team-player and motivated to be working for the organization and achieving its goals.
They are punctual, hard-working and show initiative by seeking out solutions to problems. They are respectful of other colleagues and help others when required.
They are tactful, courteous and well dressed for work.
A great colleague can stand on their own two feet with minimal supervision (after being sufficiently trained of course!). A great colleague is one that can create and foster a collaborative and supportive working environment, even when faced with difficult challenges and stressful situations.
We do spend a lot of time with co-workers and we get to know them fairly well – not just how skilled they are at their jobs, but also how they handle stress and change.
Words like 'quick' or 'fast' are praised during appraisal sessions, but they don't tell us much about what our colleagues do differently than everyone else around us – that's why the above list of adjectives can help expand on your descriptions.
Positive Adjectives To Describe Colleagues
These positive words can help to articulate specific characteristics, behaviors and abilities of your colleagues, instead of using the normal, 'great', 'satisfactory' or 'quick-learner' that are often overused and don't allow for a clear picture:
Able
Accountable
Adaptable
Agile
Agreeable
Alert
Ambitious
Amiable
Amusing
Articulate
Astute
Attentive
Autonomous
Bold
Brave
Bright
Calm
Caring
Cheery
Clever
Compassionate
Competent
Confident
Conscientious
Considerate
Consistent
Controlled
Creative
Curious
Decent
Decisive
Dependable
Detailed
Diligent
Diplomatic
Discerning
Disciplined
Driven
Dynamic
Easy-going
Effective
Efficient
Eloquent
Energetic
Engaged
Enthusiastic
Fair
Flexible
Focused
Friendly
Funny
Generous
Genuine
Giving
Graceful
Hard Worker
Helpful
Honest
Honorable
Humble
Imaginative
Independent
Insightful
Intelligent
Interested
Intuitive
Kind
Knowledgeable
Leader
Likable
Logical
Loyal
Meticulous
Motivated
Observant
Open-minded
Optimistic
Organized
Passionate
Patient
Perceptive
Persistent
Polite
Positive
Proactive
Procedural
Productive
Professional
Punctual
Rational
Relaxed
Resourceful
Sincere
Skilled
Skillful
Smart
Steadfast
Strategic
Talented
Team-Player
Technical
Thinker
Thorough
Thoughtful
Trusting
Trustworthy
Truthful
Understanding
Upbeat
Willing
Witty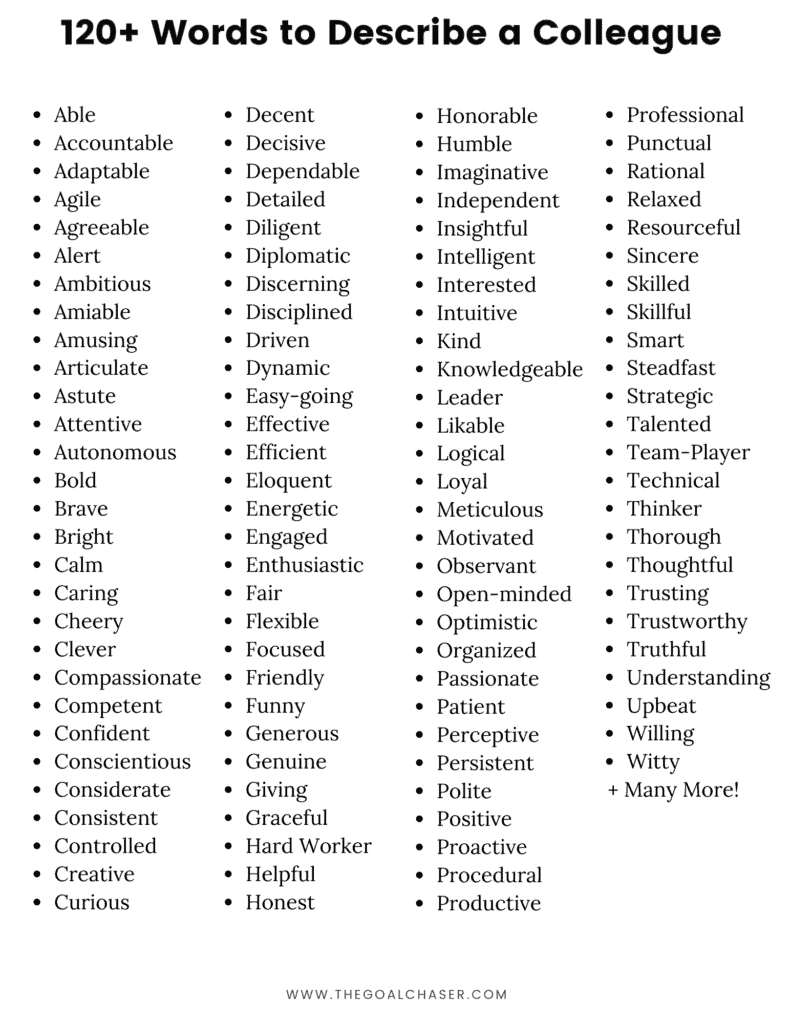 Words To Describe A Colleague – That Aren't So Great
Occasionally, we have a coworker that isn't so great unfortunately.
The following list of adjectives are commonly used to describe a colleague who brings down the energy of a workplace, doesn't do their share of the work, is unsafe in the workplace or is just generally unreliable:
absent
aloof
bleak
careless
chatty
complainer
dirty
disengaged
greedy
judgemental
late
lazy
loud
moody
narcissistic
needy
negative
pouty
silly
sly
smelly
toxic
uninterested
unmotivated
unprepared
unreasonable
unreliable
unsafe
wasteful
wingey
We hope you don't experience them too much over your working career!
For more lists of adjectives and positive words, be sure to check out: