200+ Words To Describe A Father – Adjectives For Dads
Words To Describe A Father
When we think of words to describe a father figure in our lives, we may think of words such as hard-working, loving and supportive.
We may also think of a dad as someone who is strict, grumpy, loud or embarrassing.
Obviously, a person's life experiences will change the way they view things. Sometimes those changes can be positive or negative depending on the events that have occurred throughout their life.
No matter what your experience, the following list of adjectives can be used to describe a father-figure.
Understanding what makes your father unique can help you to figure out how to better connect with him, heal a painful past, express feelings and emotions to him.
List of Adjectives To Describe A Dad or Father-Figure
able
accepting
active
affectionate
agreeable
aloof
amazing
appreciative
astounding
athletic
awesome
awkward
beaming
beautiful
beloved
best
blessed
bold
brave
brilliant
busy
calculating
careful
caring
charismatic
chatty
cherished
clever
coach
compassionate
competitive
confident
considerate
cool
courageous
cuddly
dad
dadda
daddy
dear
dedicated
delightful
demanding
dependable
determined
devoted
doting
embarrassing
emotional
endearing
energetic
entertaining
enthusiastic
essential
ethical
exciting
extraordinary
fab
fair
father
fierce
fond
forgiving
forthright
frank
friend
fun
funny
generous
gentle
giving
good
goofy
graceful
gracious
grand
grateful
great
groovy
grumpy
guiding
handsome
handy
happy
hardworking
heartfelt
heart-warming
helpful
home
honest
honorable
humble
ideal
incredible
inquisitive
inspirational
inspiring
intelligent
intuitive
keen
kind
king
knowledgeable
legendary
likeable
logical
loud
lovable
love
loved
lovely
loving
loyal
magnetic
masterful
memorable
merry
methodical
mindful
moral
noble
nosy
nurturing
opinionated
optimistic
orderly
parent
parental
passionate
paternal
patient
perfect
perfectionist
persistent
playful
pleasant
polite
powerful
precious
proper
protecting
protective
proud
real
relentless
reliable
resilient
resourceful
respectable
respectful
responsible
ruthless
safe
scary
selfless
sensible
sensitive
sentimental
sheltering
silly
smart
sociable
special
spirited
spiritual
stable
stern
strict
strong
sturdy
sunshine
supportive
supreme
sweet
sympathetic
teacher
teaching
tender-hearted
thoughtful
thrilling
tolerant
touching
triumphant
trusting
trustworthy
truthful
unafraid
understanding
unique
unwavering
unyielding
vigorous
warm
warmth
watchful
wise
witty
wonderful
zesty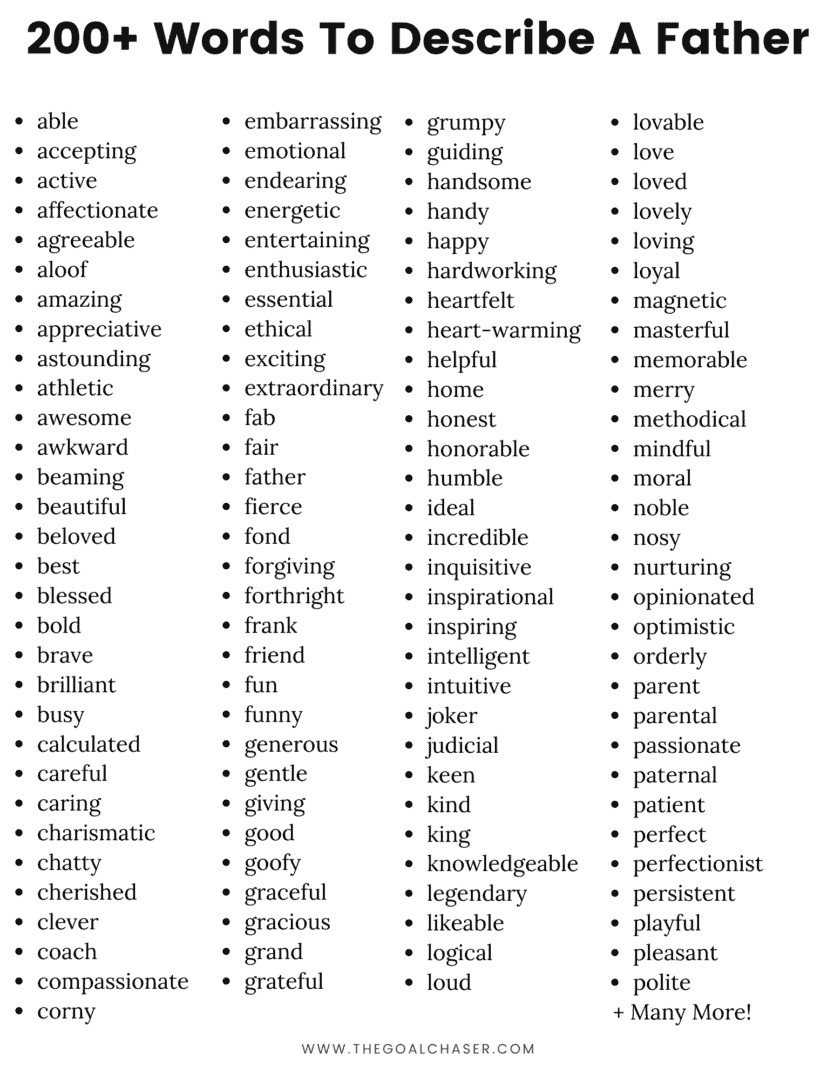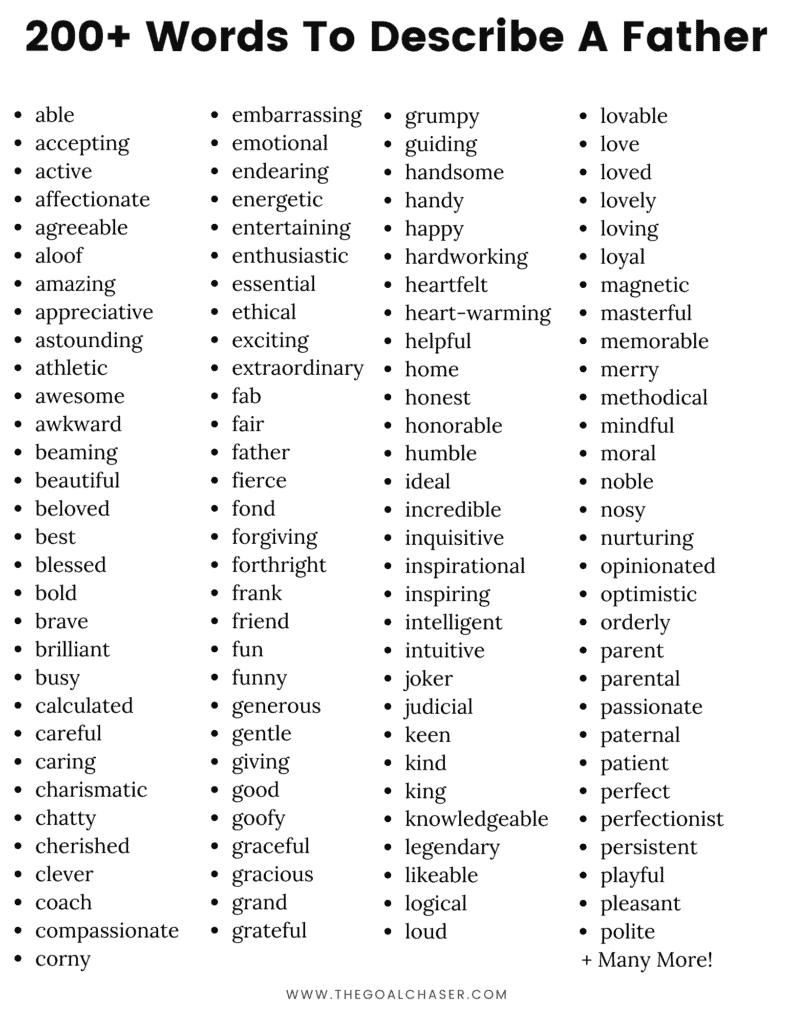 How do you describe a good father?
A good father is someone who is present in his children's lives. He is someone who is supportive and involved in their upbringing.
A good father sets a positive example for his children to follow and is someone who provides love and guidance to his family.
How do you compliment a good father?
A good father deserves compliment and praise.
He is someone who has made a positive impact in his children's lives, is a role model and an important figure in his family.
It is an honor to be able to appreciate and express your appreciation for a good father. Let him know how much he means to you and how grateful you are for all he has done for you and your family.
If you're interested in more words to describe family and friends, be sure to check out: