There are many unique words that can be used to describe a person – adjectives change depending on what the subject is and what you want to convey. For example, someone who is intelligent and polite might be described as "bright" and "respectful," while a worrisome person might be labeled "neurotic" or "nervous."
What's a unique word to describe someone?
Unique words are those that are not used too often. They can also be words that describe 'unique' characteristics and personalities, which we don't tend to see in others very often.
Sometimes, people may refer to someone as 'unique' as in a different or one of a kind type of individual. Whilst they may mean this as 'unique' in a positive way, or may be avoiding saying describing words such as abnormal, strange or odd. It's all a matter of context.
If you're looking for something a little different to describe someone, then this list of positive, unique adjectives will come in very handy.
Unique Adjectives List
Unique Words That Start With A
abnormal
abundant
accomplished
adaptable
adept
adventurous
agile
alluring
altruistic
ambitious
amiable
analytical
approachable
articulate
artistic
arty
assertive
astute
atypical
authentic
Unique Words That Start With B
bizarre
blissful
bold
brash
bright
Unique Words That Start With C
calculated
chameleon
candid
cautious
charismatic
cheery
collaborative
committed
compassionate
competitive
complicated
confident
controversial
cool
courageous
creative
curious
Unique Words That Start With D
dazzling
decorated
delightful
dependable
different
diligent
diplomatic
discerning
disciplined
discrete
distinctive
driven
dutiful
dynamic
Unique Words That Start With E
earnest
eccentric
eclectic
effusive
eloquent
empathetic
enchanting
engaged
enterprising
enthusiastic
entrepreneurial
erotic
ethical
evolved
exceptional
exotic
extraordinary
extroverted
exuberant
Unique Words That Start With F
fabulous
faithful
fast
fastidious
fearless
flamboyant
flawless
focused
formidable
frank
funny
Unique Words That Start With G
generous
genuine
goofy
gregarious
Unique Words That Start With H
haphazard
hard
humble
hysterical
Unique Words That Start With I
idealistic
illustrated
imaginative
incomparable
incorruptible
independent
individual
industrious
initiator
innovative
innovator
insightful
inspired
inspiring
intense
interesting
introverted
intuitive
inventive
irregular
Unique Words That Start With J
Unique Words That Start With K
Unique Words That Start With L
leader
learner
level-headed
lighthearted
lithe
logical
loud
loving
loyal
luminous
Unique Words That Start With M
magical
magnanimous
magnetic
mature
mediator
methodical
meticulous
moral
motivated
Unique Words That Start With N
nonchalant
nonconformist
notable
noticeable
Unique Words That Start With O
objective
observant
oddball
open
optimistic
orderly
organized
ostentatious
outlandish
Unique Words That Start With P
partial
particular
passionate
patient
perceptive
persevering
persistent
persuasive
pious
piteous
playful
pleasant
polarising
polite
political
popular
positive
powerful
practical
precise
principled
proactive
productive
prudent
Unique Words That Start With Q
Unique Words That Start With R
radiant
rational
realistic
reasonable
reckless
reflective
reliable
remarkable
renegade
resilient
resourceful
respected
respectful
responsive
revered
Unique Words That Start With S
selfless
self-sufficient
serene
shameless
sharp
shrewd
sincere
skilled
snowflake
sociable
solid
sophisticated
special
spontaneous
spritely
stable
steady
stellar
strategic
striking
strong
student
stunning
stupefying
stupendous
subjective
subtle
successful
sympathetic
systematic
Unique Words That Start With T
tactful
talented
tenacious
thorough
thoughtful
tolerant
traditional
tranquil
twisted
Unique Words That Start With U
unaffected
unassuming
unconventional
unequaled
unique
unpredictable
unpretentious
unrivalled
unsurpassable
unusual
upbeat
Unique Words That Start With V
versatile
vibrant
visionary
vivacious
Unique Words That Start With W
Unique Words That Start With Z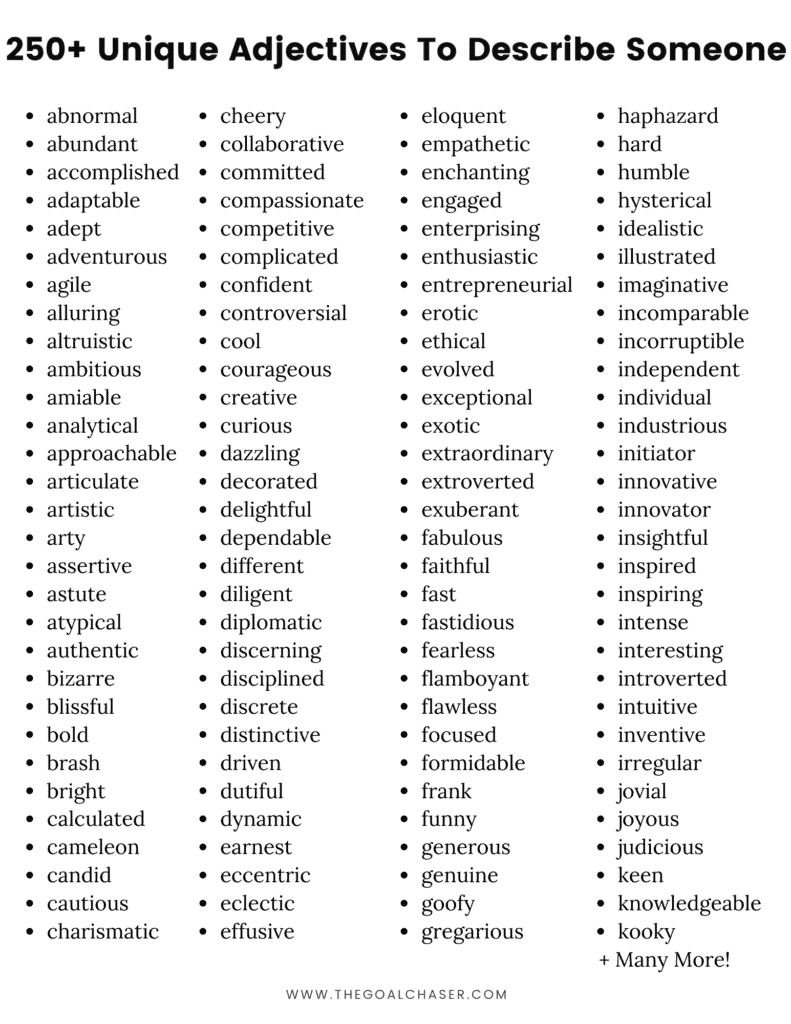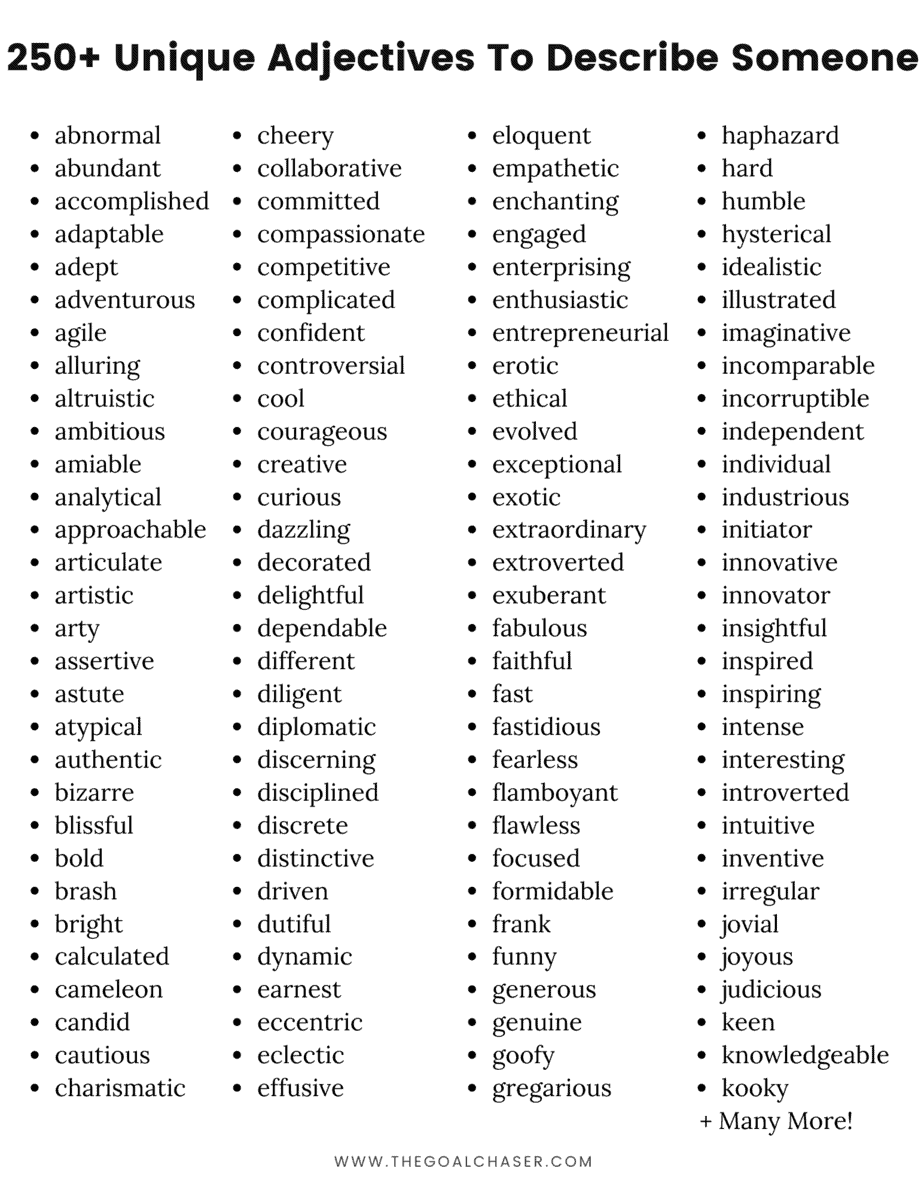 If you're interested in more interesting adjectives and words to describe people, then be sure to check out: