There are so many words to describe someone you love, beyond 'honey', 'sweetheart' or 'bae' (eek!) and below we've got a huge list of options for you.
List of Words To Describe Someone You Love
Whether you need a new nickname or you want to find a more interesting word to describe your beloved, we've got you covered!
It can be something sentimental, sweet, funny, endearing or even a little risqué, but what makes it the most special is when it's a word that is unique and special between you.
A Words To Describe Someone You Love
accepting
adaptable
admirable
adorable
adventurous
affable
affectionate
agile
agreeable
alluring
amazing
ambitious
amiable
amicable
amigo
amusing
angel
angelic
appealing
appreciated
appreciative
attentive
attractive
awesome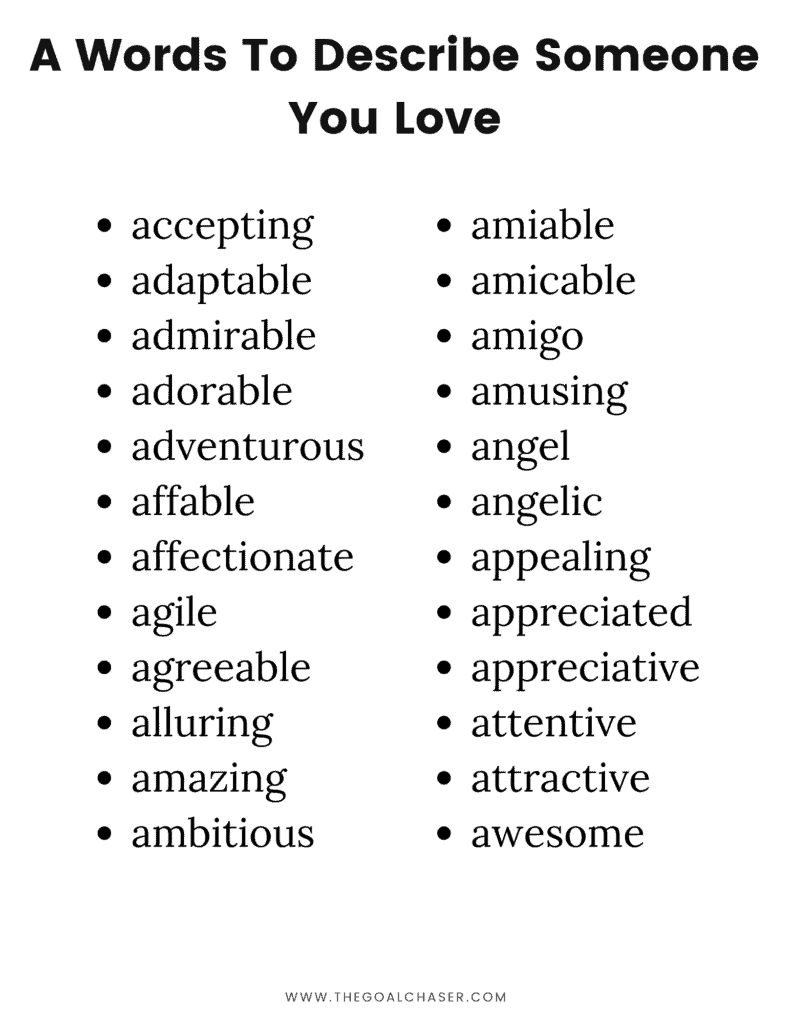 B Words To Describe Someone You Love
bae
babe
baby
beautiful
beauty
beloved
besotted
bewitching
blessing
blissful
bonny
boo
brave
breathtaking
bright
brilliant
C Words To Describe Someone You Love
captivating
caring
charismatic
charming
cheerful
cheery
cherishing
classy
colorful
comedic
comforting
compassionate
compatible
considerate
courageous
courteous
cuddly
cute
D Words To Describe Someone You Love
dear
dearest
dedicated
destiny
devoted
direct
dreamboat
dreamy
driven
E Words To Describe Someone You Love
easygoing
elegant
emotional
empathetic
enchanted
enchanting
enchanting
endearing
energetic
engaging
enjoyable
enlightening
enriching
enthralling
enthusiastic
enticing
epic
exciting
F Words To Describe Someone You Love
fabulous
fantastic
fascinating
fighter
fit
forgiving
frank
fun
funny
G Words To Describe Someone You Love
generous
glowing
gorgeous
gracious
grateful
gregarious
groomed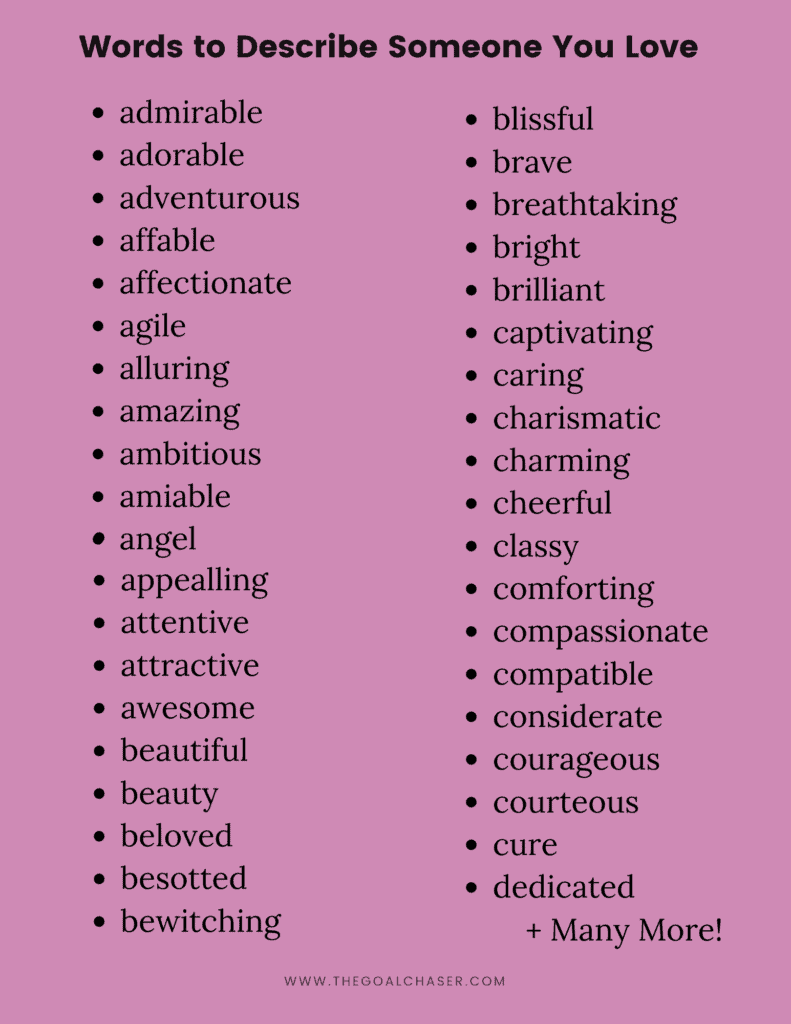 H Words To Describe Someone You Love
handsome
happy
healthy
heartfelt
heartwarming
hilarious
honest
honey
humorous
I Words To Describe Someone You Love
ideal
impeccable
impressive
inspirational
interesting
intoxicating
irreplaceable
irresistible
J Words To Describe Someone You Love
K Words To Describe Someone You Love
L Words To Describe Someone You Love
lovable
love
loving
loyal
M Words To Describe Someone You Love
magic
magical
magnetic
magnificent
marvellous
miraculous
motivational
mysterious
mystifying
N Words To Describe Someone You Love
O Words To Describe Someone You Love
optimistic
organized
outspoken
outstanding
overwhelming
P Words To Describe Someone You Love
passionate
perfect
playful
pleasing
positive
powerful
precious
pretty
pumpkin
pure
Q Words To Describe Someone You Love
R Words To Describe Someone You Love
radiant
refreshing
reliable
remarkable
respectful
S Words To Describe Someone You Love
sensual
smart
soulmate
special
spectacular
spontaneous
stunning
stylish
sunshine
sweet
sweetheart
T Words To Describe Someone You Love
talented
tender
thoughtful
trendy
true
trusting
trustworthy
U Words To Describe Someone You Love
understanding
unique
upbeat
V Words To Describe Someone You Love
W Words To Describe Someone You Love
warm
welcoming
well
wicked
wild
wise
witty
wonderful
X, Y & Z Words To Describe Someone You Love
Youthful
Yummy
Zany
Zesty
If you want to branch out from the usual (and over-used) 'love', 'honey', 'sweetheart' or 'bae' then this epic list of words is perfect. For more lists of positive and inspiring words, be sure to check out: