200+ Empowering Words To Describe A Strong Woman
When describing a strong woman, we can use describing words around physical, mental, emotional, or spiritual 'strength'. That's because strength comes from many different places and experiences in life.
Unfortunately, it's been all too common to describe women simply on their looks and to forget the huge array of words that can be used to positively describe the strength of a woman's personality, skills, and intelligence.
Therefore, we've compiled an enormous list of empowering words and adjectives that positively describe women who are considered strong in many different ways.
This list is not designed to be a checklist of course, merely to provide inspiration for more empowering words to describe women.
Empowering Words To Describe A Strong Woman
abundant
accepting
accountable
active
adorable
adventurous
affable
affectionate
alluring
amazing
ambitious
amicable
angelic
artsy
assertive
astute
athletic
attractive
awesome
battler
beautiful
benevolent
blessed
brainy
brave
bright
brilliant
bubbly
calculated
calm
candid
capable
captivating
careful
caring
charismatic
charming
cheeky
cheerful
classy
clever
committed
compassionate
competent
complex
confident
considerate
content
cool
courageous
crafty
creative
cultured
curious
daring
dazzling
decisive
dedicated
delightful
dependable
devoted
devout
different
diligent
diplomatic
discerning
disciplined
diverse
doting
doyenne
dramatic
dynamic
educated
effervescent
efficient
elegant
emotional
empathetic
empowered
endearing
energetic
engaging
enigmatic
entertaining
enthusiastic
fabulous
fair
fashionable
feisty
feminine
fierce
fighter
fresh
generous
gentle
genuine
gifted
giving
glamorous
graceful
grateful
grounded
hardworking
healthy
impressive
impulsive
independent
innovative
inspired
inspiring
intelligent
intoxicating
intuitive
invincible
joyful
kind
kind-hearted
loud
lovable
lover
loyal
magnetic
matriarch
mature
meaningful
merciful
mesmerizing
mischievous
modern
mother
motivated
motivating
observant
offbeat
open
opinionated
opportunistic
optimistic
organized
partner
passionate
personable
physical
playful
poetic
positive
powerful
pragmatic
precious
princess
principled
private
protective
proud
provocative
punctual
queen
quick
quiet
quirky
radiant
rebellious
refined
reliable
remarkable
resile
resilient
resolute
resourceful
romantic
sassy
selective
selfless
sensual
sharp
shrewd
sincere
skilled
skilful
smart
solid
spiritual
stalwart
steadfast
strong
successful
supportive
sweet
sympathetic
talkative
tenacious
tender
thankful
thoughtful
trustworthy
unconventional
understanding
unique
upbeat
virago
warm
warm
warrior
wicked
wild
wise
womanly
wonderful
youthful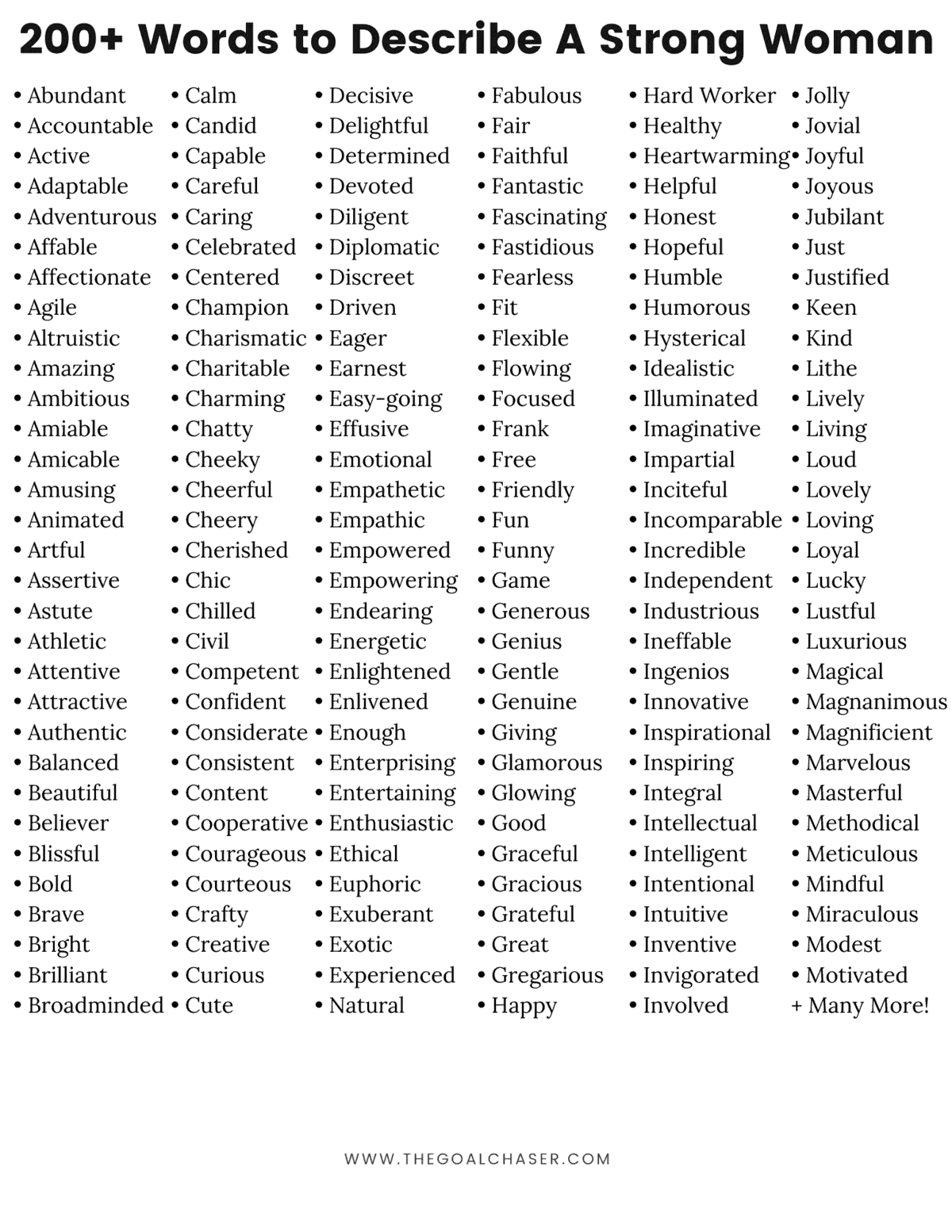 The words we use can make such a huge difference to mindset. If you're looking for some more positive words and inspiring thoughts, then check out these related posts: