250+ List of Complimentary Words to Use More Often
What are some complimentary words?
Complimentary words are adjectives that we use to make another person feel good about themselves. Compliments may describe the person's personality, abilities, appearance, skills, actions and behaviors. It might be something you admire about them or something you've noticed that they've done well.
Of course it's nice to receive a compliment from others (especially those we respect), it also feels good to show your appreciation for someone else by giving them a compliment. When we express a compliment to someone, it improves connection between people – a basic and important human need. Plus, many studies have shown that it actually makes us feel happier when we've expressed a compliment.
List of Complimentary Words
If you want to give somebody a compliment, beyond saying 'you're so nice', or 'well done', then the following list will help give you some ideas. This list of words provides some great inspiration and while reading the list, you may even start thinking of others in your life that could do with a lovely compliment from you today.
So if you're grateful for someone in your life, or you've noticed someone about another that is impressive, then don't be afraid to let them know! You will brighten their day and give them a nice, deserving boost.
Complimentary Words That Start With A
able
accepting
accommodating
accomplished
adept
admirable
admiring
adorable
adore
affectionate
agreeable
alluring
allusive
amazing
appealing
applauding
appreciate
appreciative
approachable
approve
arty
astute
attractive
awesome
Complimentary Words That Start With B
beautiful
beauty
benevolent
best
better
bold
bolder
bountiful
brainy
brave
breathtaking
bright
brilliant
bubbly
buoyant
Complimentary Words That Start With C
calm
capable
careful
charismatic
charitable
charmed
charming
chaste
chatty
cheerful
cheery
chilled
chivalrous
civil
clean
clever
colorful
commendable
commendatory
composed
conscious
considerate
considered
consummate
contagious
content
cool
cooperative
correct
courageous
courteous
creative
cute
Complimentary Words That Start With D
dancer
daring
dazzling
decent
dedicated
delightful
dependable
deserving
determined
detailed
devoted
diplomatic
discerning
disciplined
driven
dutiful
Complimentary Words That Start With E
effervescent
elegant
elevating
enchanting
encouraging
endearing
energetic
engaging
enhanced
enjoyable
enough
enthusiastic
Complimentary Words That Start With F
fair
fantastic
favorable
fighter
fine
first-class
flattering
fortitudinous
friendly
fun
funny
Complimentary Words That Start With G
gallant
generous
gentle
genuine
gifted
giving
gleaming
glittering
glorious
glowing
goal-driven
good
goofy
gorgeous
graceful
gracious
grateful
great
groomed
Complimentary Words That Start With H
handsome
happier
happy
hard-worker
hardy
helpful
hilarious
hipster
honest
honorable
Complimentary Words That Start With I
idolize
impeccable
incredible
innocent
insightful
inspiring
intelligent
irresistible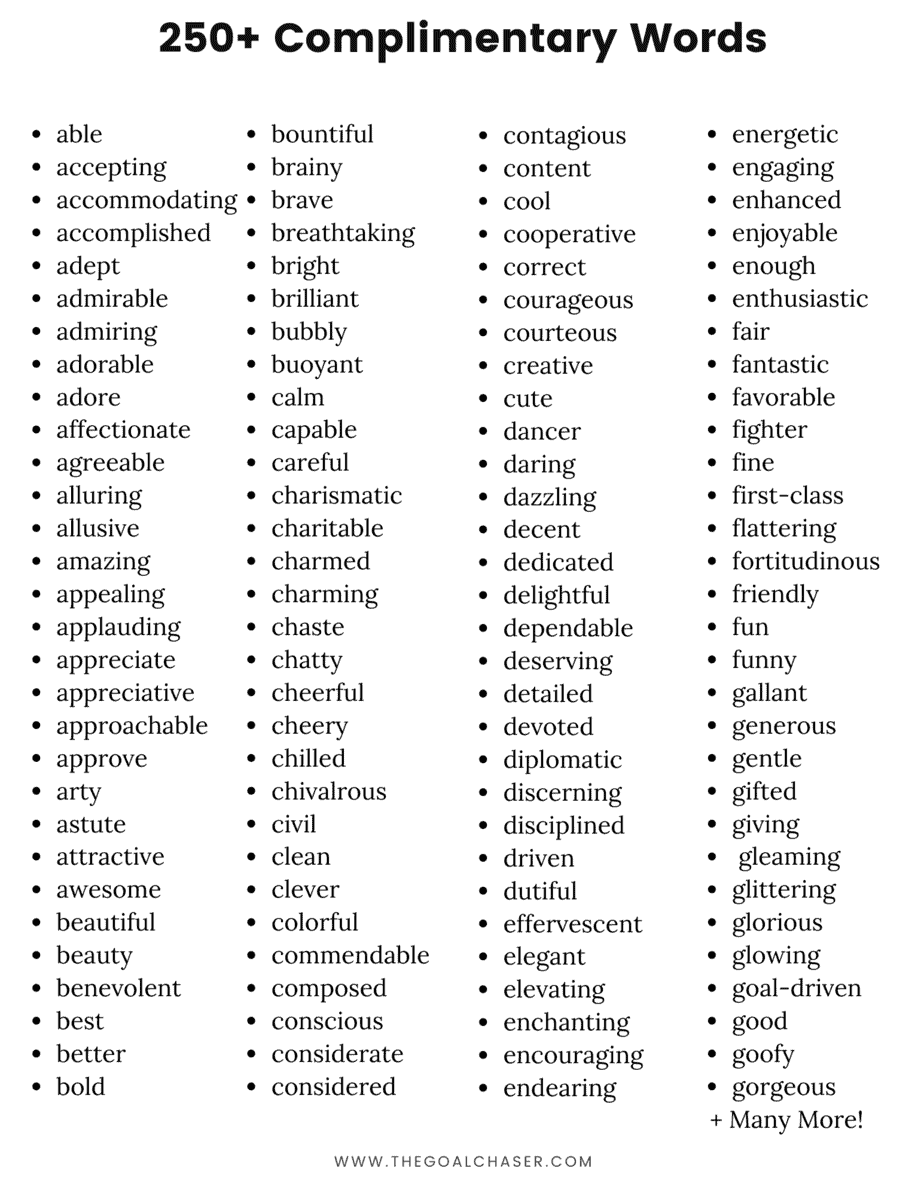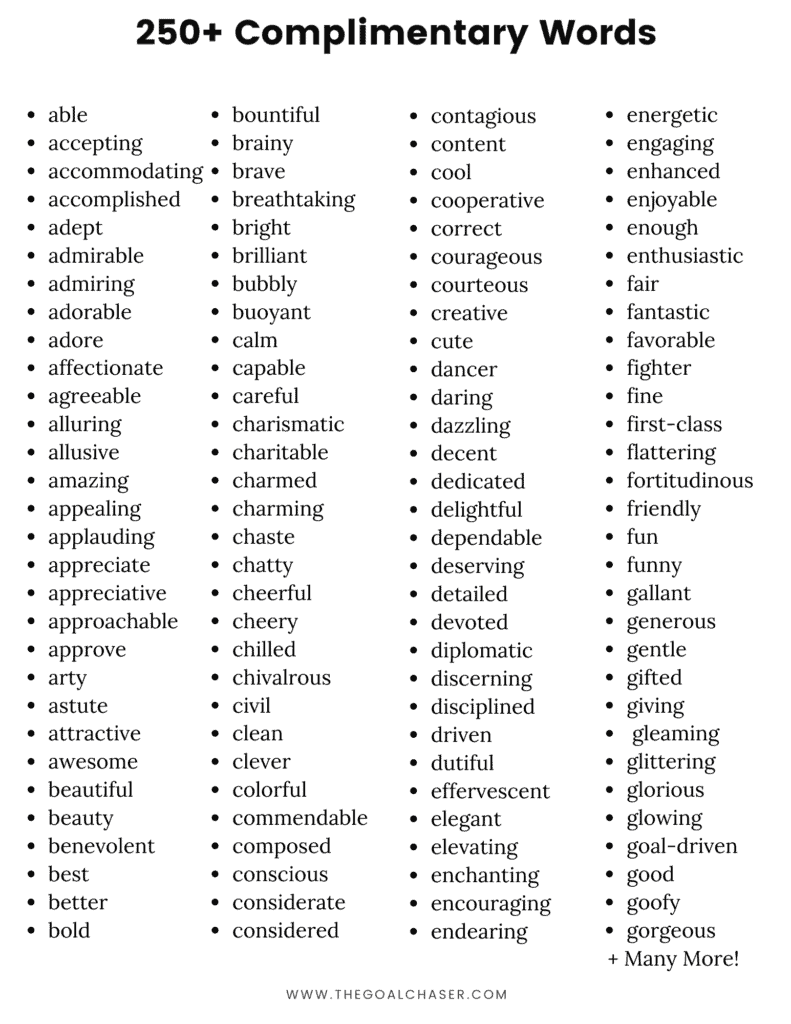 Complimentary Words That Start With J
joyful
judicious
just
justified
Complimentary Words That Start With K
Complimentary Words That Start With L
laudable
leader
light
likable
listener
lovable
loved
lovely
loving
loyal
lucky
luminous
Complimentary Words That Start With M
magnanimous
magnificent
marvellous
measured
mellow
mesmerizing
mindful
momentous
motivated
moving
Complimentary Words That Start With N
Complimentary Words That Start With O
observant
optimistic
opulent
ordered
organized
Complimentary Words That Start With P
patient
perceptive
perfect
pleasant
pleasing
polite
positive
praiseworthy
precious
pretty
priceless
principled
prompt
proud
prudent
punctual
pure
puzzling
Complimentary Words That Start With Q
Complimentary Words That Start With R
radiant
rational
real
recommend
respectful
Complimentary Words That Start With S
safe
self-aware
sensational
sensible
serene
sharp
shining
shrewd
sincere
smart
smiling
sparkling
special
specialist
spectacular
splendid
spontaneous
steadfast
strong
stunner
stunning
sunshine
super
superb
superior
supporting
supportive
supreme
sweet
Complimentary Words That Start With T
tenacious
thoughtful
treasure
trusting
trustworthy
Complimentary Words That Start With U
unequalled
unparalleled
upbeat
Complimentary Words That Start With V
valiant
valuable
valued
vigilant
vigorous
virtuous
Complimentary Words That Start With W
warm
well mannered
whimsical
wholesome
wise
witty
wonderful
wonderous
worship
worshipful
worshipping
worthy
Complimentary Words That Start With Z
We love inspiring words on this site. If you're looking for more positive words, be sure to check out the following posts: