When we talk about funny people, we usually think of comedic geniuses like Robin Williams and Will Ferrell.
But the truth is, being funny is something that all people can practice. You don't have to be famous or wealthy to be someone who makes other people laugh – you just have to find your own sense of humor.
While words like "funny" and "hilarious" are great adjectives to describe someone who makes others laugh, there are plenty of other ways that you could express your appreciation for that special friend or loved one.
How do you describe a fun person?
We can describe a funny person as someone who:
● is lighthearted and energetic,
● makes jokes,
● tells self-deprecating stories with a comical undertone.
Several words you could use to describe a funny person include: silly, jocular, playful, and wacky.
For an epic list of 125+ (still growing) funny words to describe someone (or yourself), then check out the following:
Funny Words To Describe Someone
absurd
actor
adventurous
affable
agreeable
amusing
animated
annoying
banterer
brave
brazen
buffoon
busy bee
character
charmed
charming
cheesy
chucklesome
class-clown
clown
clownish
comedian
comic
comical
confident
crackpot
crazy
cuckoo
dag
deranged
droll
eccentric
enchanted
entertainer
entertaining
entranced
excited
facetious
fanatical
farcical
feral
ferocious
fierce
fool
funny
funny-man
funster
gagger
gagster
gleeful
good-humored
goofball
goofy
hilarious
hoaxer
hoot
humorous
hysterical
impressionist
jester
joker
jokester
jokey
jolly
josher
kidder
laugh
laughable
likeable
lively
loon
loose
loud
ludicrous
lunatic
mad
madcap
merry
mirthful
moron
nuts
nutty
off-the-wall
passionate
pest
playful
prankster
punster
quick
quiet
quipster
quirky
rib-tickling
rich
riot
riotous
risible
satirist
savage
scream
screwball
show-off
side-splitting
silly
slapstick
stand-up
stooge
tragic
trickster
unpredictable
uproarious
wacky
wag
waggish
weird
whimsical
wild
wise-cracker
witty
woo-woo
zany
zesty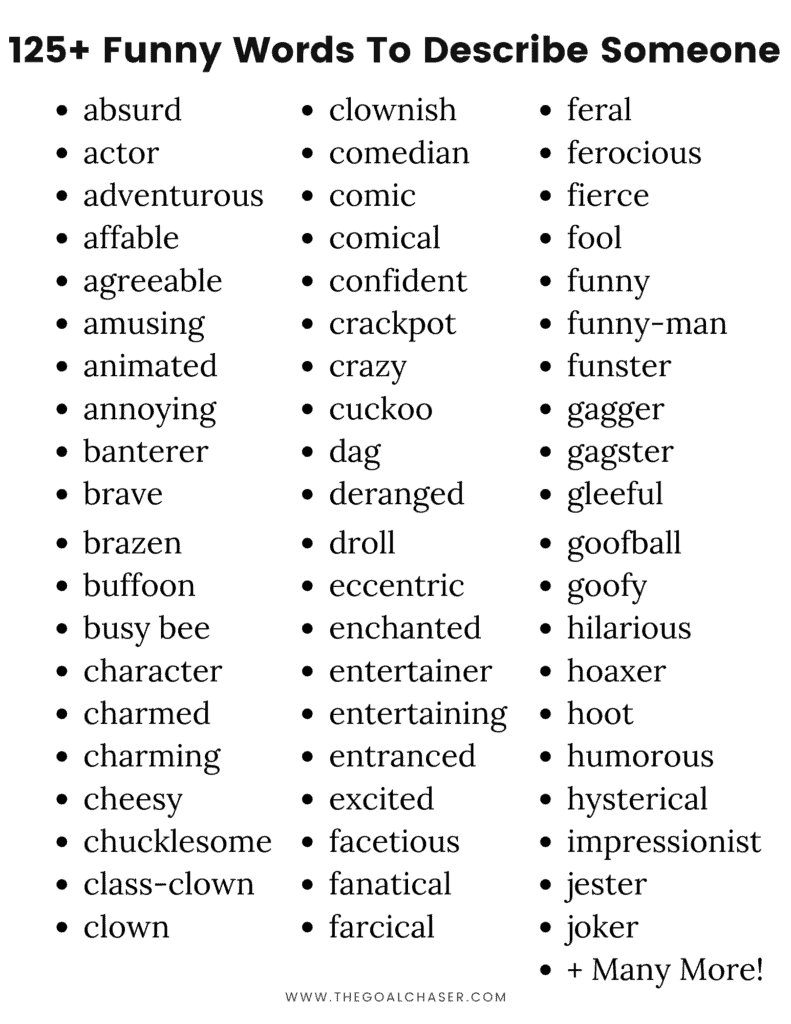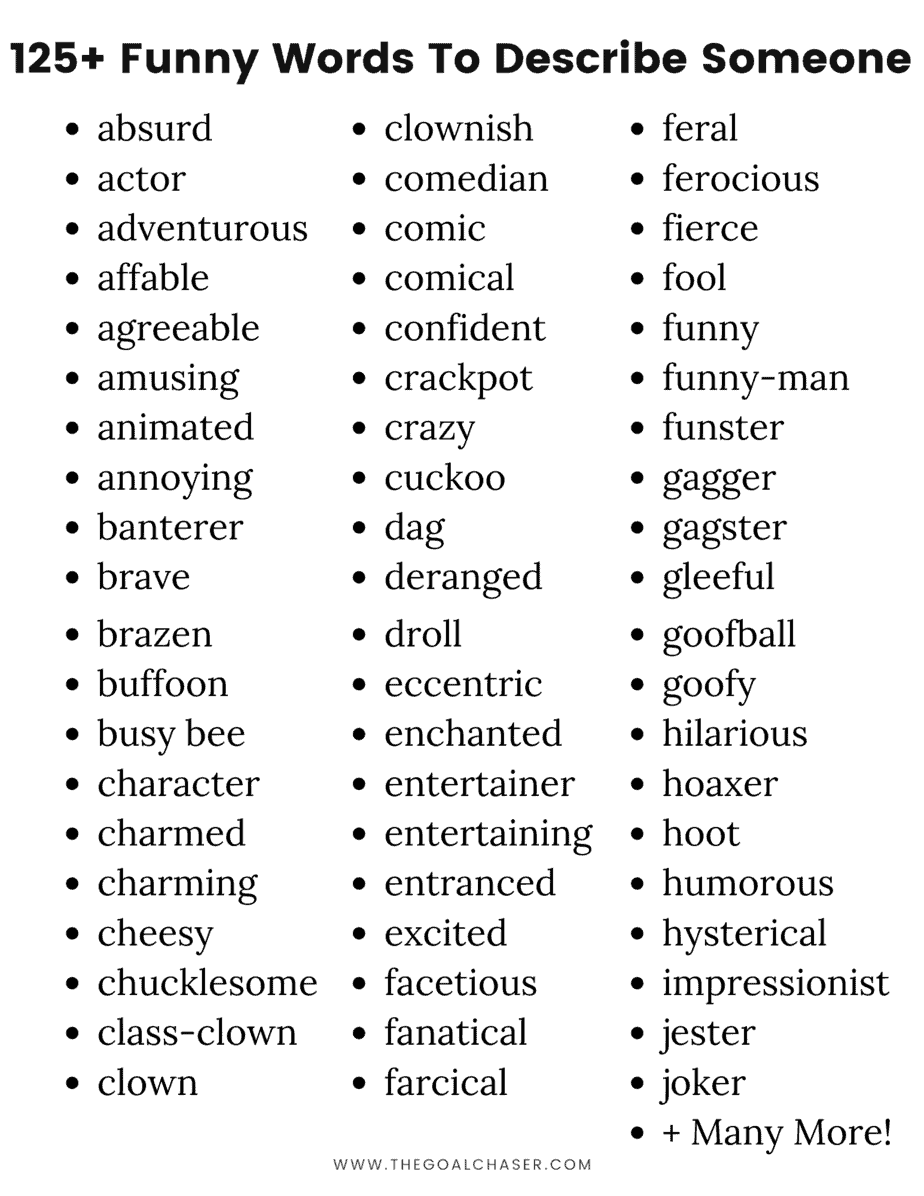 One of the things that makes someone funny is their ability to laugh at themselves. This trait also helps them see humor in other people's actions or words, which can make others feel more comfortable around them. That's why it's important to find something about yourself you enjoy and use this as a way to connect with your friends and family members who share these interests.
The words we use can make such a huge difference to our mindset. If you're looking for some more positive words and inspiring thoughts, then check out these related posts: