How would you describe a friend?
Finding the right words to describe a friend can be difficult. Despite the very mundane dictionary definition of a friend: 'A relationship of mutual affection between two people' – a friend is so much more than that.
My friends have gotten me through some amazing challenges in life and I've also shared some of the best memories with them also.
"I cannot even imagine where I would be today were it not for that handful of friends who have given me a heart full of joy. Let's face it, friends make life a lot more fun." Charles R. Swindoll
True friends are there in times of trouble, a sounding board to hear your wonderful (and sometimes crazy) ideas, to be there in times of celebration and everything in between…friends are truly special in our lives.
List of Words To Describe A Friend
This list of words to describe friends will help you put your thoughts into words when describing your friend and the amazing friendship you share – because, let's be honest – 'buddy' doesn't always cut it!
If you're looking for a better word to describe your friend, or expand on what they mean to you, then this list of words will certainly help.
accepting
adaptable
adventurous
affable
affectionate
agreeable
altruistic
amazing
ambitious
amiable
amicable
amigo
amusing
appreciated
appreciative
beautiful
beloved
bestest
bestie
boastful
bonded
brave
brave
bright
brother
brotherly
buddy
caring
champion
charismatic
charming
chatty
cheerful
cheery
cherished
chilled
comfortable
comforting
comical
companion
compassionate
comrade
confidant
connected
considerate
cool
crazy
decisive
deep
dependable
determined
diligent
diplomatic
dynamic
easygoing
efficient
effortless
empathetic
encouraging
energetic
enthusiastic
extraordinary
fabulous
faithful
favorite
fearless
fierce
fiery
fond
forgiving
fortunate
friendly
funny
generous
gentle
genuine
giving
grateful
gregarious
heartfelt
helpful
hilarious
honest
humorous
impartial
inspirational
inspiring
intuitive
kind
kooky
lifelong
likeable
lovable
loving
loyal
maniac
mate
motivating
motivational
nice
non-judgemental
observant
optimistic
organized
pal
passionate
patient
perfect
persistent
playful
polite
positive
practical
precious
priceless
proactive
protective
punctual
rare
real
receptive
reciprocal
relaxing
reliable
remarkable
resourceful
responsible
selfless
sharp
sincere
sister
sisterly
smart
sociable
special
steadfast
straight-forward
supportive
sweet
sympathetic
tactful
thankful
thoughtful
timeless
touching
true
trustworthy
truthful
uncomplicated
unconditional
understanding
unique
unpretentious
uplifting
valued
versatile
warm
warm-hearted
weird
witty
wonderful
See also: 100+ Words To Describe A Best Friend – Adjectives For Best Friends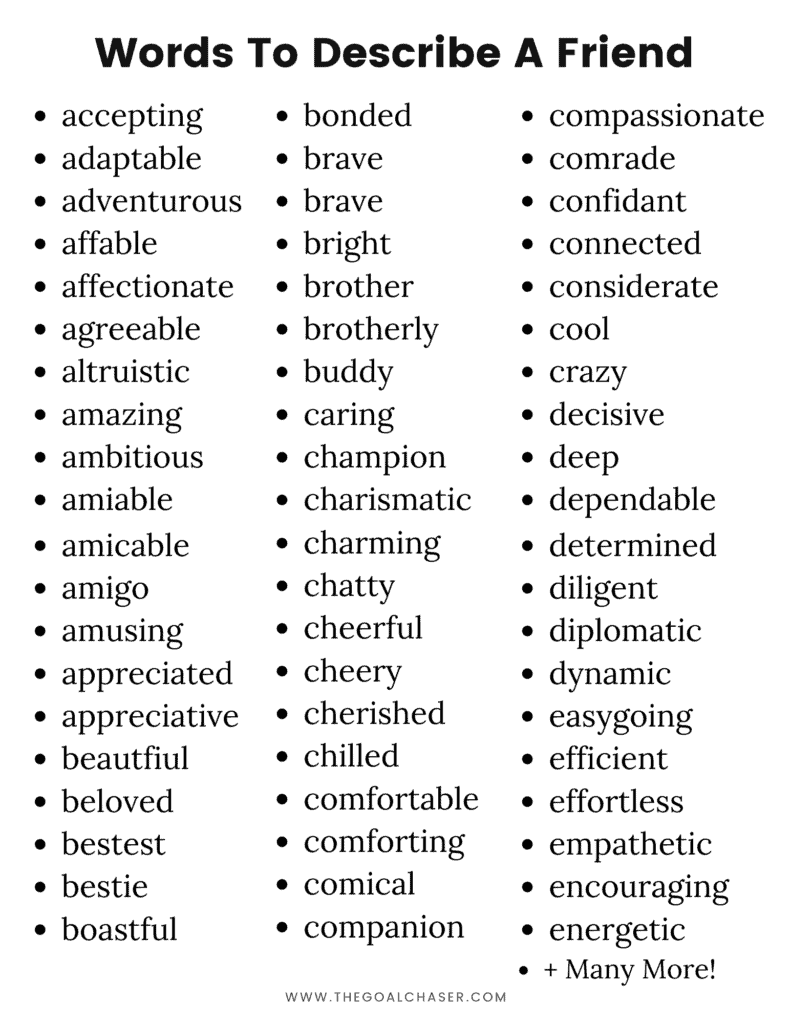 Other Words For Friendship
We can also use other words for our friendship, depending on the type of friend and the context, for example:
Partner
Fellowship
Buddies
Brothers
Brotherhood
Sisters
Sisterhood
Family
Neighbors
Communities
Companions
Comraderies
Amity
Friendship is an important part of our lives. You can use these long and short, simple or complex adjectives and phrases to describe your friends. For more inspriing words about friends, be sure to check out: