44 Short Positive Quotes For An Inspired Life
These short positive quotes are instant mood-boosters. Because sometimes we just need a quick dose of positive inspiration, to hear wise words of strength and encouragement to set (or reset) the scene for the day.
The following list of short positive sayings encourage more positive thoughts, which lead to more positive feelings and actions. They're short, simple and direct; positive thoughts are far, far better than negative thoughts!
So if you're short on time, or just want to find a succinct and simple quote on positivity, this list will help!
Short Positive Quotes
Once you replace negative thoughts with positive ones, you'll start having positive results. Willie Nelson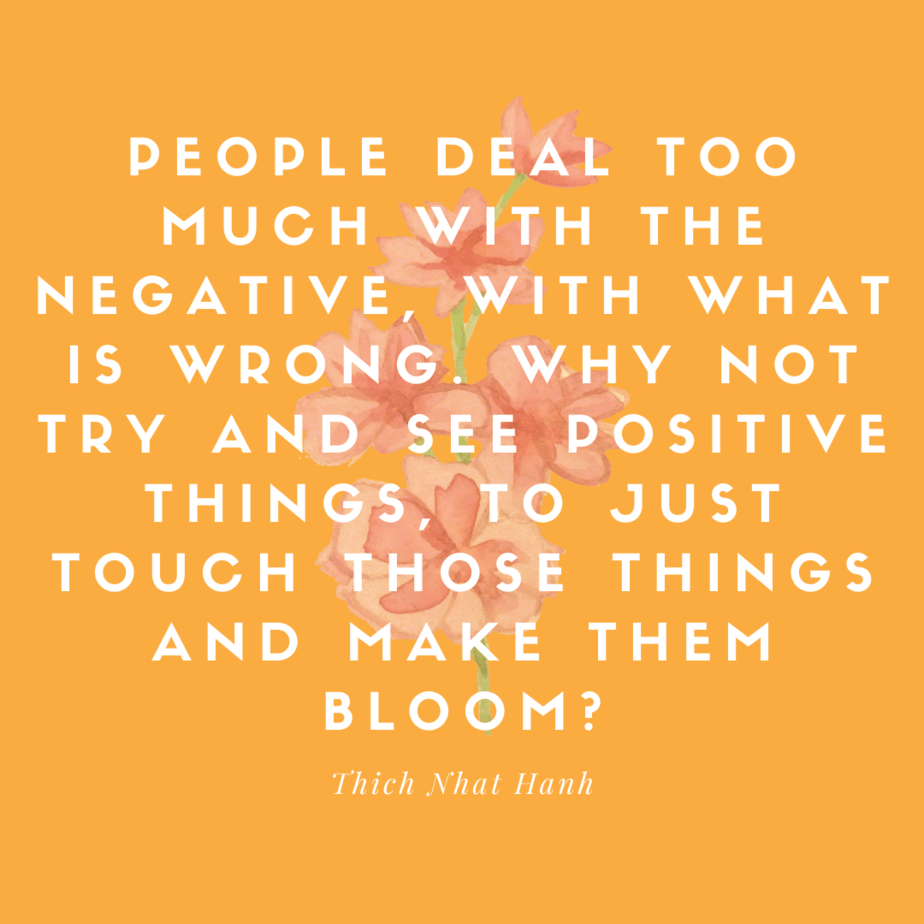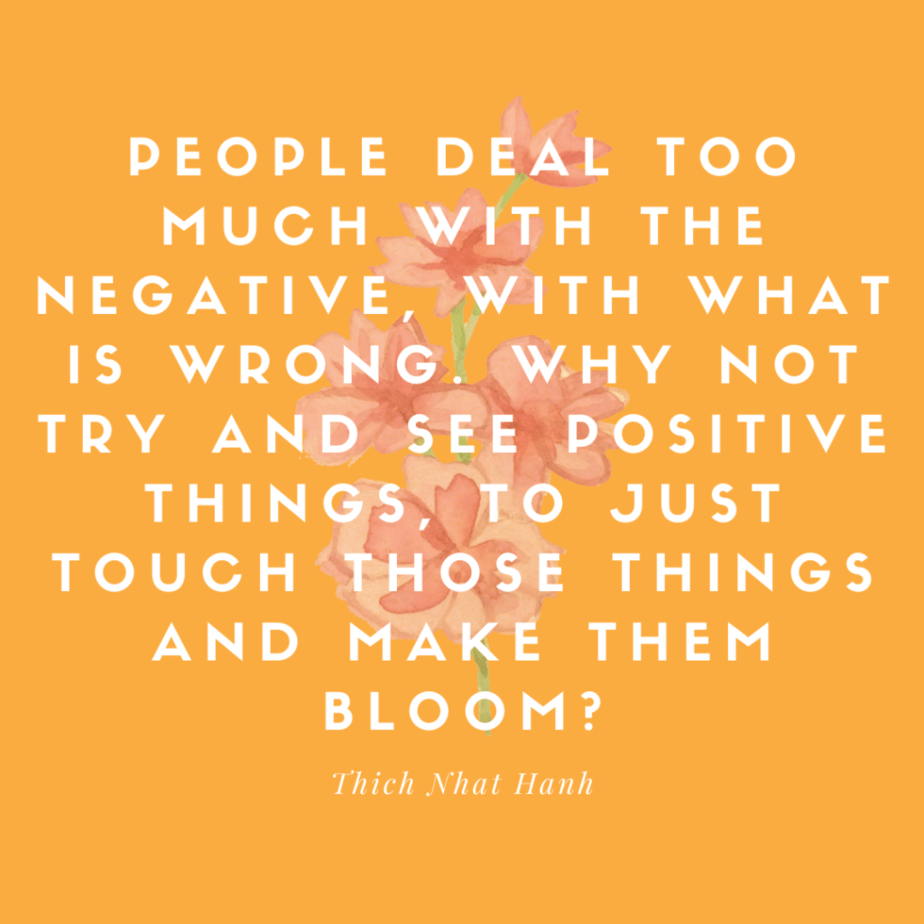 People deal too much with the negative, with what is wrong. Why not try and see positive things, to just touch those things and make them bloom? Thich Nhat Hanh
That's my gift. I let that negativity roll off me like water off a duck's back. If it's not positive, I didn't hear it. If you can overcome that, fights are easy. George Foreman
Every day brings new choices. Martha Beck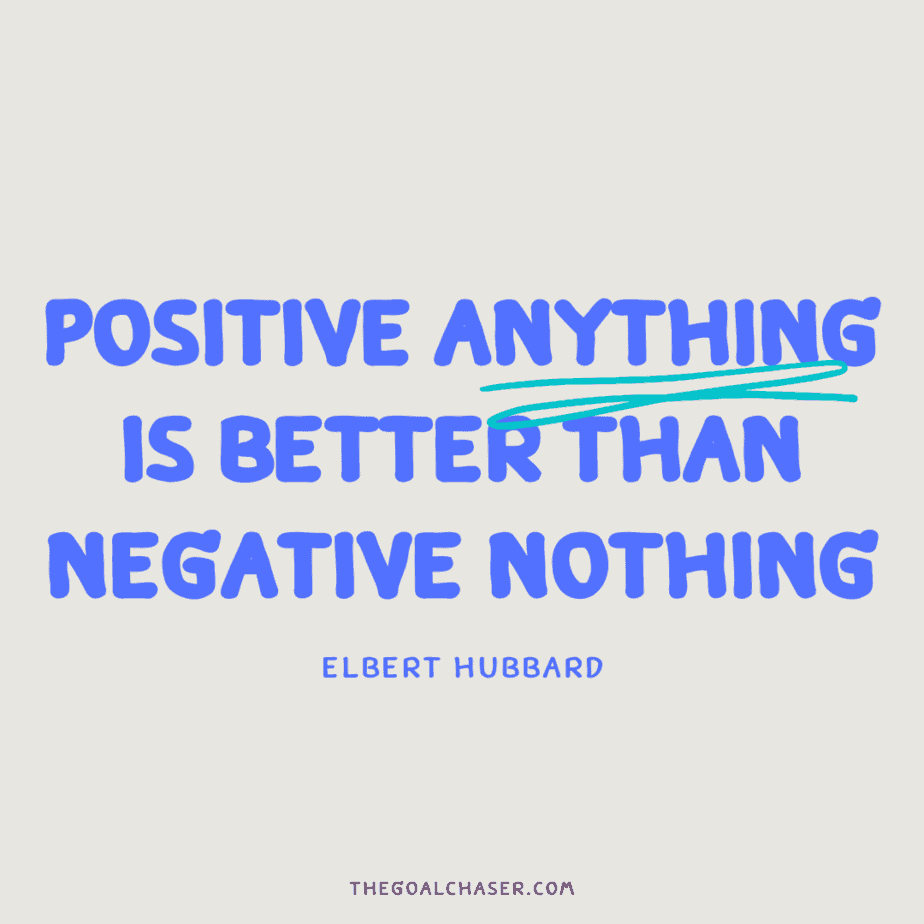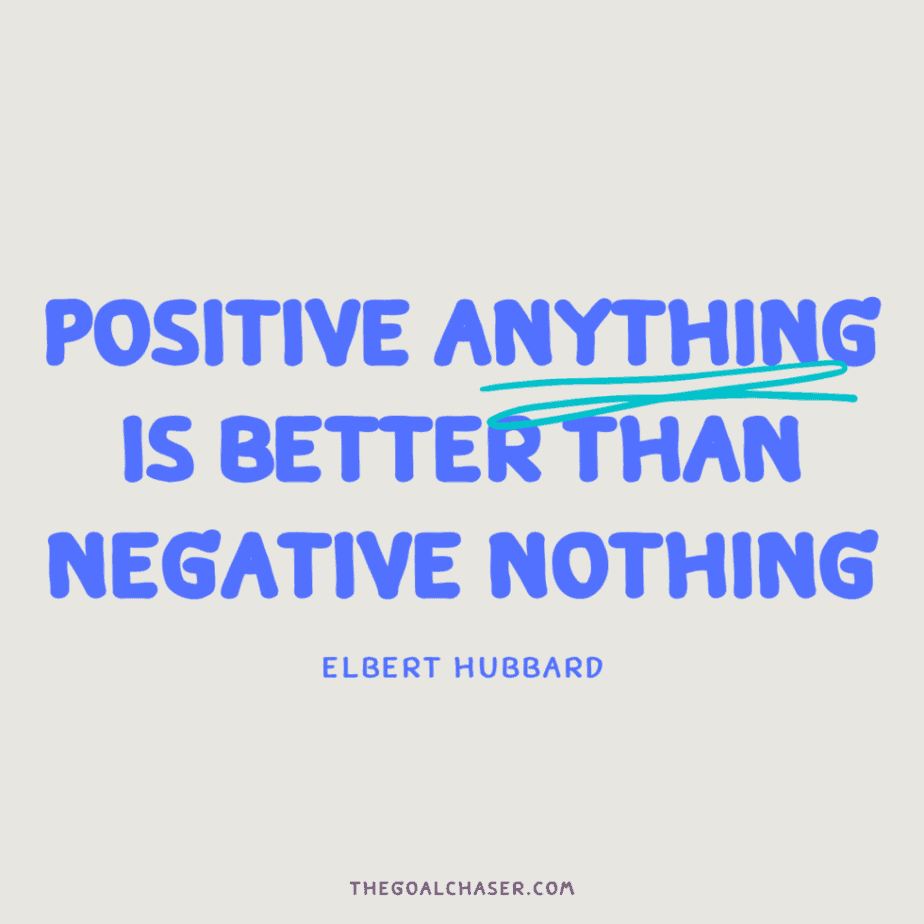 Positive anything is better than negative nothing. Elbert Hubbard
You must not under any pretence allow your mind to dwell on any thought that is not positive, constructive, optimistic, kind. Emmet Fox
One small positive thought can change your whole day. Zig Ziglar
If you are positive, you'll see opportunities instead of obstacles. Widad Akrawi
Believe that life is worth living and your belief will help create the fact. William James
When you are enthusiastic about what you do, you feel this positive energy. It's very simple. Paulo Coelho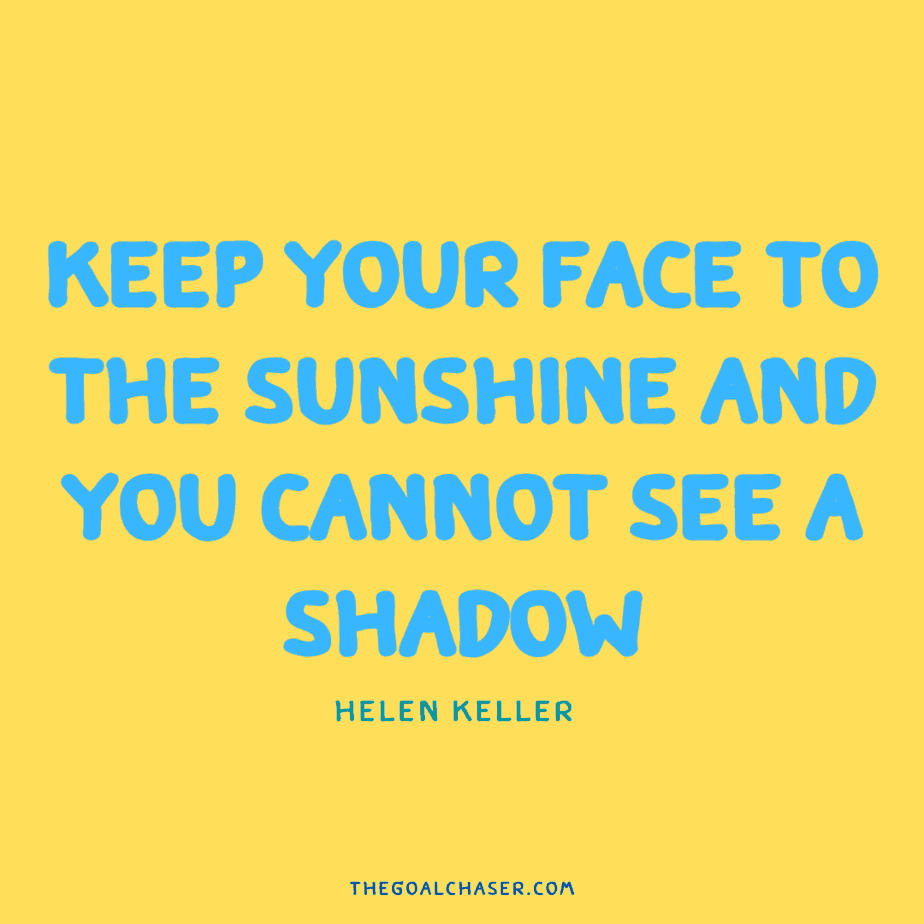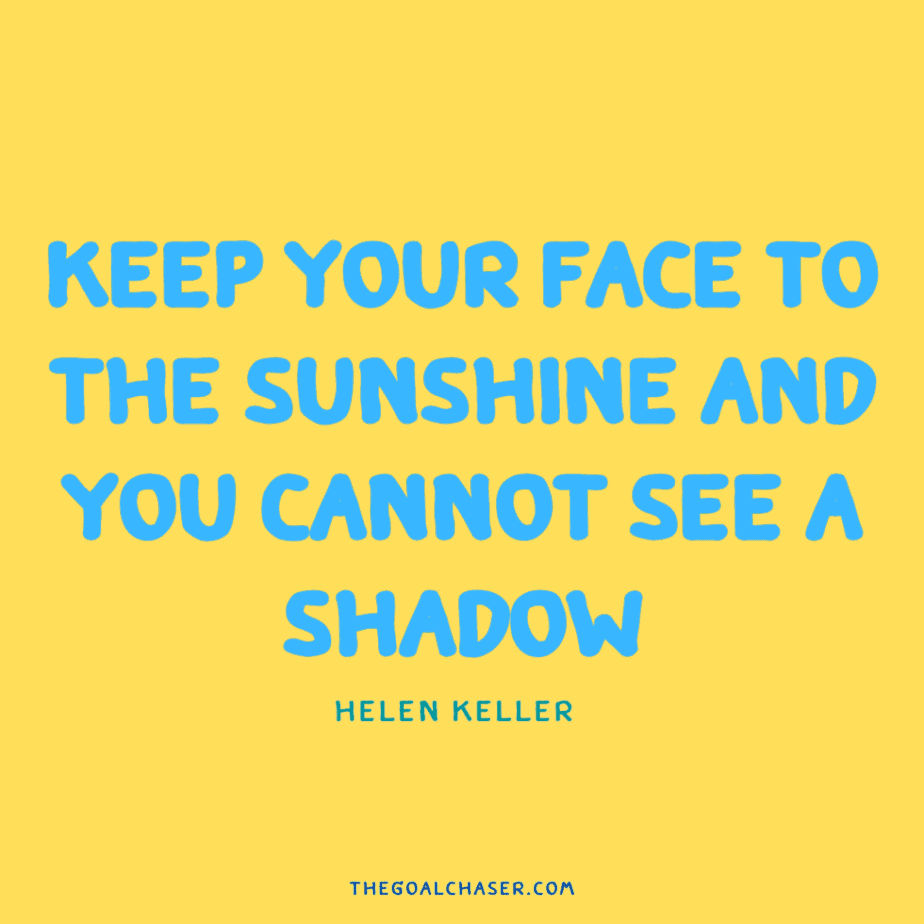 Keep your face to the sunshine and you cannot see a shadow. Helen Keller
It's a wonderful thing to be optimistic. It keeps you healthy and it keeps you resilient. Daniel Kahneman
Believe you can and you're halfway there. Teddy Roosevelt
The only place where your dreams become impossible is in your own thinking. Robert H. Shuller
You cannot have a positive life and a negative mind. Joyce Meyer
When you wake up every day, you have two choices. You can either be positive or negative; an optimist or a pessimist. I choose to be an optimist. It's all a matter of perspective. Harvey Mackay
A strong, positive self-image is the best possible preparation for success. Joyce Brothers
It's your outlook on life that counts. If you take yourself lightly and don't take yourself too seriously, pretty soon you can find the humor in our everyday lives. And sometimes it can be a lifesaver. Betty White
Pessimism leads to weakness, optimism to power. William James
You've done it before, and you can do it now. See the positive possibilities. Redirect the substantial energy of your frustration and turn it into positive, effective, unstoppable determination. Ralph Marston
Few things in the world are more powerful than a positive push. A smile. A world of optimism and hope. A 'you can do it' when things are tough. Richard M. DeVos
An attitude of positive expectation is the mark of the superior personality. Brian Tracy
I will go anywhere as long as it's forward. David Livingston
The most important thing is to try and inspire people so that they can be great in whatever they want to do. Kobe Bryant
In order to carry a positive action, we must develop here a positive vision. Dalai Lama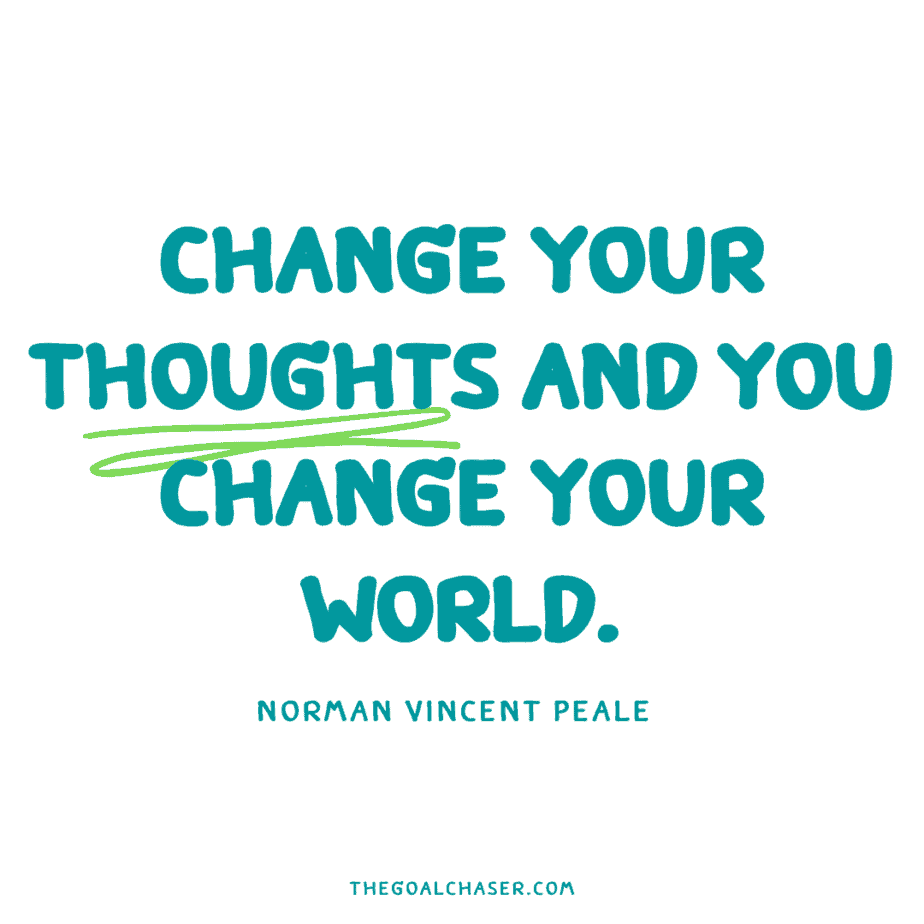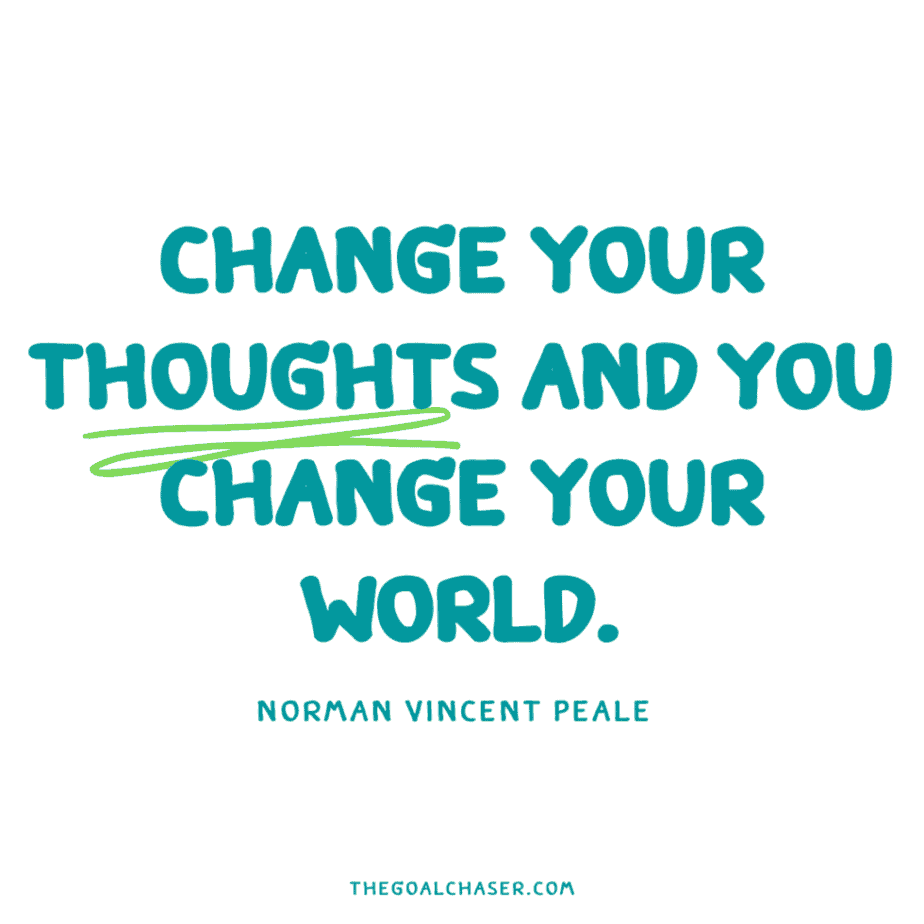 Change your thoughts and you change your world. Norman Vincent Peale
Correction does much, but encouragement does more. Johann Wolfgang von Goethe
A lot of times people look at the negative side of what they feel they can't do. I always look on the positive side of what I can do. Chuck Norris
Believing in negative thoughts is the single greatest obstruction to success. Charles F. Glassman
A good laugh is sunshine in the house. William Makepeace Thackeray
You are the sum total of everything you've ever seen, heard, eaten, smelled, been told, forgot – it's all there. Everything influences each of us, and because of that I try to make sure that my experiences are positive. Maya Angelou
Simple Positive Quotes
A problem is a chance for you to do your best. Duke Ellington
To succeed, you need to find something to hold on to, something to motivate you, something to inspire you. Tony Dorsett
I surround myself with positive, productive people of good will and decency. Ted Nugent
I'm a very positive thinker, and I think that is what helps me the most in difficult moments. Roger Federer
Our chief want is someone who will inspire us to be what we know we could be. Ralph Waldo Emerson
Winners make a habit of manufacturing their own positive expectations in advance of the event. Brian Tracy
A positive attitude is something everyone can work on, and everyone can learn how to employ it. Joan Lunden
Positive thinking is more than just a tagline. It changes the way we behave. And I firmly believe that when I am positive, it not only makes me better, but it also makes those around me better. Harvey Mackay
The best thing to do when you find yourself in a hurting or vulnerable place is to surround yourself with the strongest, finest, most positive people you know. Kristin Armstrong
If you're not making mistakes, then you're not doing anything. I'm positive that a doer makes mistakes. John Wooden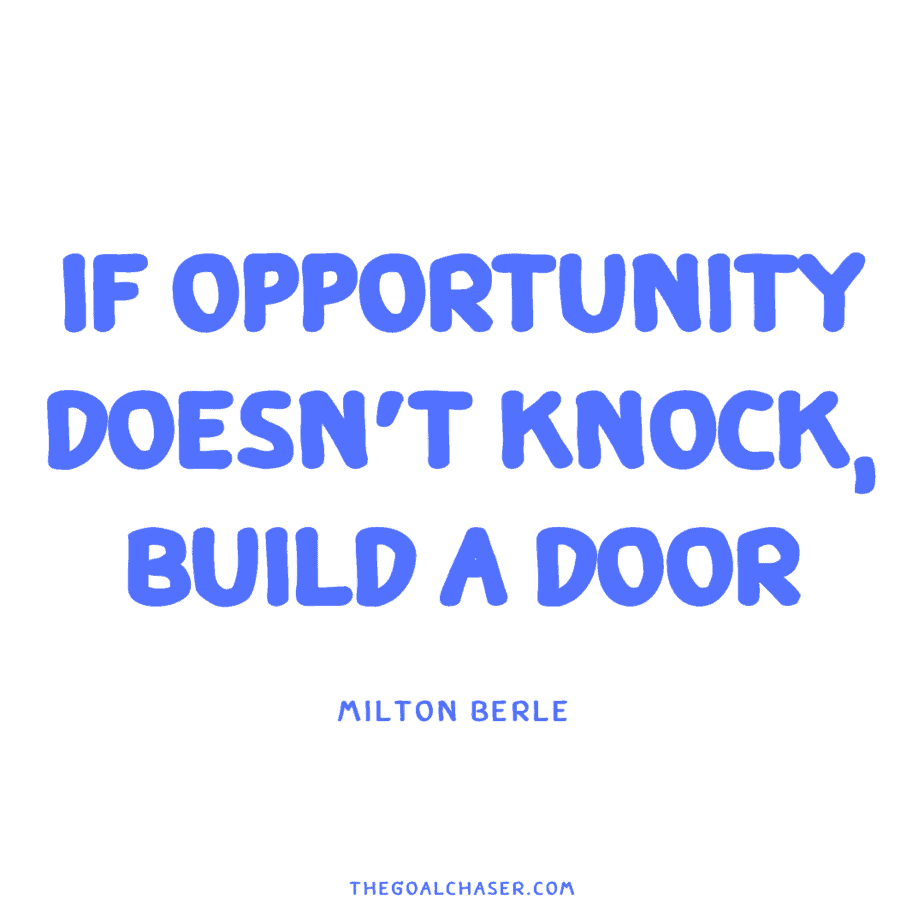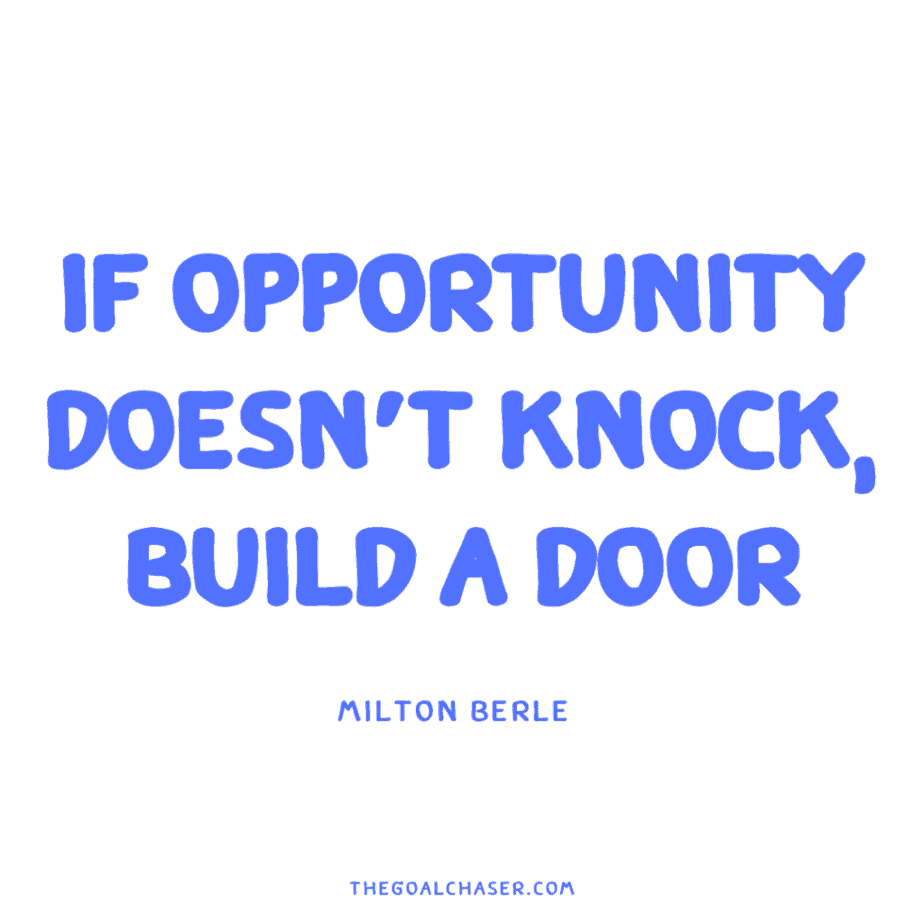 If opportunity doesn't knock, build a door. Milton Berle
It takes but one positive thought when given a chance to survive and thrive to overpower an entire army of negative thoughts. Robert H. Schuller
In order to carry a positive action, we must develop here a positive vision. Dalai Lama
Positive words and inspirational quotes are just some of the great ways we can encourage a more positive outlook. Life isn't always perfect, and we can't control everything that we would like to, however we can do what we can encourage positive thoughts and feelings. If you're interested in more inspiring words, be sure to check out: