Teachers are the backbone of the education system.
They ensure that children learn and they play a huge role in shaping children's lives now and in to the future.
Every adult can quickly recall a teacher (whether good or bad) who influenced them as a child or teenager.
For the purposes of this article, we're focusing on the majority – the truly great teachers that shape the future.
How would you describe a teacher?
If you are looking for positive words to describe a special teacher ,here are some words to get you started:
academic
accommodating
adaptable
adventurous
advocate
alert
amazing
ambitious
amicable
analytical
appreciative
assiduous
astute
awesome

bold
bright
brilliant
bubbly
busy

calm
capable
careful
caring
charming
cheerful
clever
collaborative
colorful
committed
competent
confident
connected
conscientious
considerate
convivial
cool
cordial
courteous
creative

dedicated
delightful
determined
diligent
discerning
disciplinarian
disciplined
diverse
driven

eager
eccentric
effective
efficient
empathetic
empowered
empowering
energetic
entertaining
enthusiastic
erudite
excited
exciting
experienced

fair
fantastic
flexible
friendly
fun
generous
genius
giving
good-natured
grateful
guide

happy
hard-working
harried
helpful
hilarious
honest
hopeful
humble
humorous

imaginative
incisive
ingenious
innovative
inquiring
insightful
inspirational
inspiring
instinctive
intelligent
intuitive
inventive

jolly
jovial
judicial
just
keen
kind
knowledgeable

leader
leading
learner
level-headed
lively
logical
loving
loyal

mathematical
memorable
mentor
methodical
meticulous
mindful
motivated
motivating
motivational
natural
neat
nice
nurturing

objective
open
optimistic
organized
overworked
passionate
patient
pensive
perceptive
perseverant
persistent
playful
polite
positive
prepared
proactive
professional
proficient
prudent
punctual

quick
reflective
relentless
reliable
resilient
resourceful
respectful
responsible
scrupulous
selfless
serious
sharp
sincere
skilful
smart
sociable
spirited
steady
stern
stimulating
studious
successful
superb
sweet
sympathetic

talented
technological
tenacious
thankful
thorough
thoughtful
tough
trustworthy

unbiased
underrated
understanding
valuable
vivacious

warm
welcoming
willing
wise
wonderful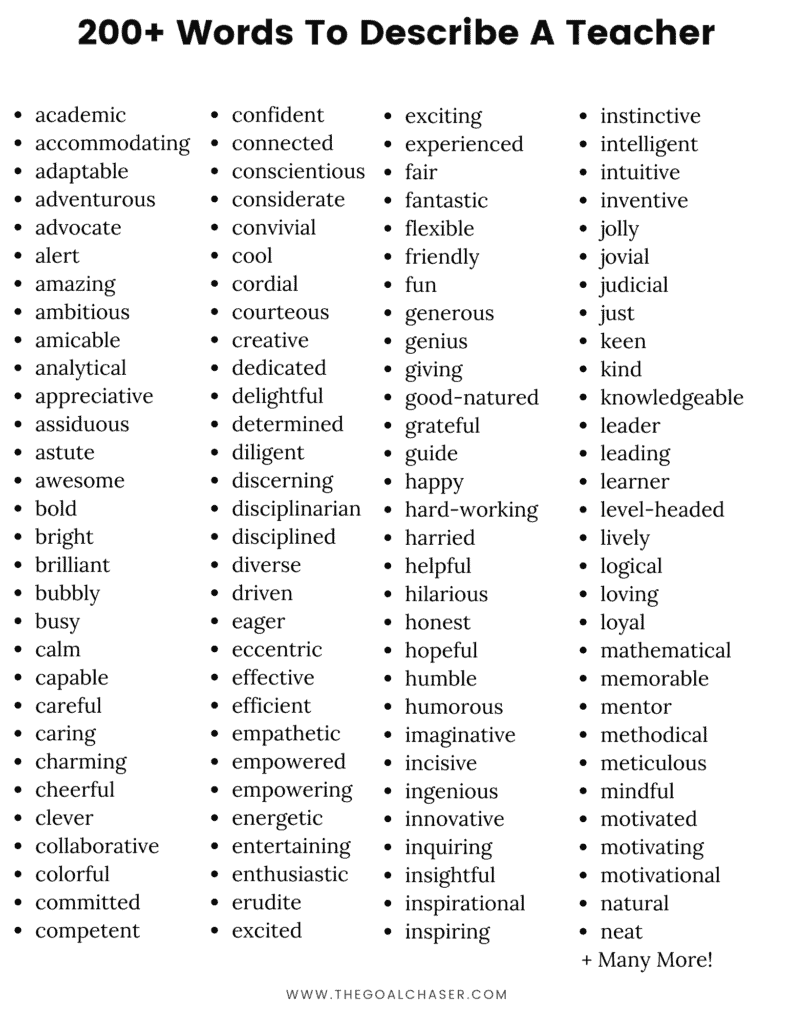 How would you describe a dedicated teacher?
Dedicated teachers put in the effort to ensure that children learn and they do everything that they can to support their students.
They don't give up and there is always a lesson for every student no matter how able or hardworking the child might be.
They are persistent, enthusiastic, resilient and patient in their teaching efforts.
Inevitably, there are going to be times when a teacher is faced with resistance from students.
When the going gets tough, a dedicated teacher will always stay positive and maintain unwavering dedication towards their profession and towards each child in the class.
How To Praise A Teacher In Words
Praising a teacher in words is often more difficult than it seems.
Even though teachers know they are making a difference to children's lives, sometimes expressions of praise like 'thank you' or 'I really appreciate what you do' may not be sufficient enough to show the depth of your appreciation.
Take the time to tell (or write to) the teacher and let them know just how much they mean to you and your family – your gratitude won't go unnoticed.
For more positive words and encouraging quotes, be sure to check out: