200+ Words To Describe Attitude (Positive & Negative Attitudes)
An attitude is a thought, feeling or opinion about something (or someone) that then influences the way we speak and act and how we interact with others.
Attitudes are thought to be either positive or negative and are often dynamic rather than fixed. They are also influenced by personality, personal history, and social environment.
A positive or negative mental attitude is a predisposition to respond favorably or unfavorably to something in the future.
How Do You Describe Attitudes?
We tend to describe other people's attitudes by our own perception of how they are acting, reacting, facial expressions, body movements, what they are saying and how they are saying it.
We tend to describe our own attitude at the time based on the thoughts and feelings we are experiencing.
We use adjectives (describing words) to help us describe an attitude. Below is a long (but not exhaustive) list of words we may use to describe ours or other people's attitudes.
List of Attitudes – Words To Describe Attitudes
abundant
affectionate
agreeable
alluring
aloof
amiable
amused
angry
annoying
apathetic
apologetic
appreciative
argumentative
arrogant
artificial
audacious
authentic
authoritative
belligerent
benevolent
bleak
boastful
bold
bragging
brash
brave
bright
calculated
callous
calm
caustic
charismatic
charming
cheerful
cheery
childish
coarse
cold
comical
compassionate
complimentary
concerning
condescending
confident
consoling
contagious
contemplative
conventional
cordial
crazy
creative
critical
cynical
dedicated
determined
diligent
diplomatic
disappointed
disgruntled
disgusted
disinterested
droll
dynamic
earnest
ecstatic
edgy
egotistical
elated
elevated
emotional
encouraging
energetic
enthusiastic
excited
exuberant
facetious
fake
fanciful
fatherly
flippant
forthright
friendly
fun
funny
furious
generous
genuine
giddy
giving
gloomy
gracious
grateful
gregarious
happy
hardworking
harsh
hateful
haughty
hopeful
humorous
hurtful
imaginative
impassioned
indifferent
indignant
inflammatory
inquisitive
insulting
intelligent
interested
intimate
involved
ironic
irreverent
irritated
joking
jovial
joyful
jubilant
judgmental
kind
lighthearted
likeable
loving
loyal
malicious
manipulative
mocking
moody
morose
motherly
narcissistic
nosy
objective
obnoxious
optimistic
outraged
passionate
passive
patient
patronizing
peaceful
pessimistic
playful
pleasant
polite
pompous
positive
proud
pushy
quarrelsome
quizzical
reflective
relaxed
reserved
reverent
ridiculing
romantic
sad
sarcastic
sardonic
satiric
scornful
sedate
sedentary
sentimental
shameful
sharp
silly
sincere
smooth
snooty
solemn
soothing
standoffish
superficial
surly
surprised
sweet
temperamental
testy
threatening
tired
tricky
triumphant
unenergetic
uninterested
unnerving
vibrant
warm
welcoming
whimsical
wrathful
wry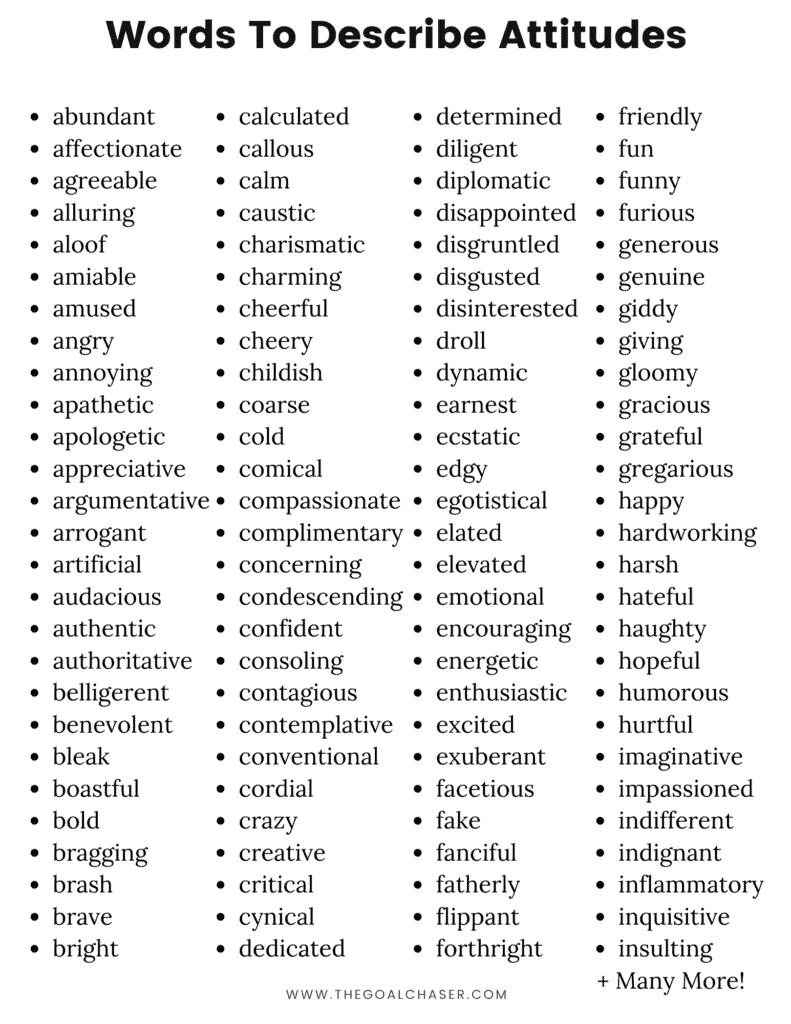 How Would You Describe A Positive Attitude?
When someone is said to have a positive attitude, we may say they 're optimistic about the future, they enjoy life and appreciate what they have. They're generally happy with who they are and their life circumstances.
Positive attitude is a predisposition to respond favorably or unfavorably to something in the future. A positive outlook on life, full of energy and enthusiasm for living. Sometimes used as an umbrella term that includes several positive mental attributes.
We may use adjectives such as:
abundant
agreeable
amiable
brave
bright

calm
charismatic
charming
cheery
creative
determined
diligent
diplomatic
dynamic
energetic

friendly
funny
generous
giving
grateful
gregarious

hard-working
helpful
imaginative
inquisitive
intelligent
kind
likable
loyal

optimistic
patient
polite
positive
sincere
receptive
appreciative
open
understanding
How Would You Describe a Negative Attitude?
When someone has a negative attitude, they're often said to be pessimistic about the future and life events. They may view themselves as victims of circumstances beyond their control and see the world as unfriendly or dangerous.
Someone who is pessimistic may focus on all the possible negatives that can happen when faced with an opportunity.
Negative attitude is a predisposition to respond unfavorably to something in the future. A pessimistic perspective on life, full of energy and enthusiasm for living. Sometimes used as an umbrella term that includes several negative mental attributes.
We tend to use words to describe negative attitude such as:
aloof
angry
annoying
belligerent
bemoaning
bleak
brash

callous
coarse
cold
complaining

judgemental
negative
pessimistic
resentful
suspect

unenthusiastic
ungrateful
uninterested
wingey
If you're interested in more inspiring words, be sure to check out: