An enormous list of negative words to describe someone.
Words come with a lot of meaning. Sometimes they invoke positive feelings and sometimes they invoke negative ones.
The word you use to describe someone says a lot about how you feel about them and can also be used to describe someone's mood, their appearance, their abilities (or lack of), their opinions or their personality.
A few examples include 'lazy', 'stupid', 'ugly', 'annoying', and 'rude'.
Each of these words carries a different connotation, so it's important to choose the right one to fit your situation.
It really all depends on the context and your relationship with the person you're describing. But no matter what, using negative words to describe someone is always going to have a negative effect. So choose your words carefully!
Related: 350+ Positive Words to Describe Someone – List of Adjectives
Negative Adjectives You Can Use To Describe Someone
Negative adjectives (aka 'describing words') can help us to describe someone's characteristics, in a negative way. To give you some ideas beyond horrible, bad and mean, here is a long and thorough list of more than 160 negative words and adjectives, all listed A-Z:
abrasive
aggressive
aloof
antagonistic
antisocial
apathetic
arrogant
artificial
bad
bigoted
belligerent
bitter
boastful
boring
bossy
calculating
callous
careless
chaotic
cheater
clingy
cold
conceited
concerning
condescending
confrontational
conniving
contemptuous
controlling
cowardly
criminal
critical
cruel
cynical
deceitful
detached
devil
difficult
dishonest
dismissive
disruptive
dogmatic
domineering
egocentric
envious
evil
fickle
finicky
flaky
fool
foolish
foolish
fussy
gossip
greedy
grumpy
hateful
hedonistic
horrible
hostile
hurtful
hypercritical
idle
ignorant
impatient
incapable
inconsiderate
inconsistent
indecisive
indiscreet
inflexible
intolerable
intolerant
irresponsible
jealous
jerk
judgemental
lacking
lazy
liar
lying
Machiavellian
malicious
manipulative
mean
meddlesome
melodramatic
moody
morose
misogynistic
narcissistic
nasty
naughty
negative
neurotic
obnoxious
opinionated
ostentatious
overcritical
patronizing
pessimistic
petty
petty
petulant
pharisaical
philandering
possessive
predatory
psychopath
psychotic
racist
rank
resentful
rude
sad
sadistic
Satan
scary
scheming
secretive
selfish
sexist
shifty
sneaky
sulky
sullen
supercilious
thoughtless
tricky
troublesome
twisted
ugly
uncivilized
underhanded
unenthusiastic
uneven
unforgiving
unhelpful
unhinged
unjust
unkept
unkind
unmotivated
unpredictable
unreliable
unruly
untrusting
untrustworthy
vacuous
vague
vain
vapid
vengeful
vile
vindictive
violent
vulgar
weak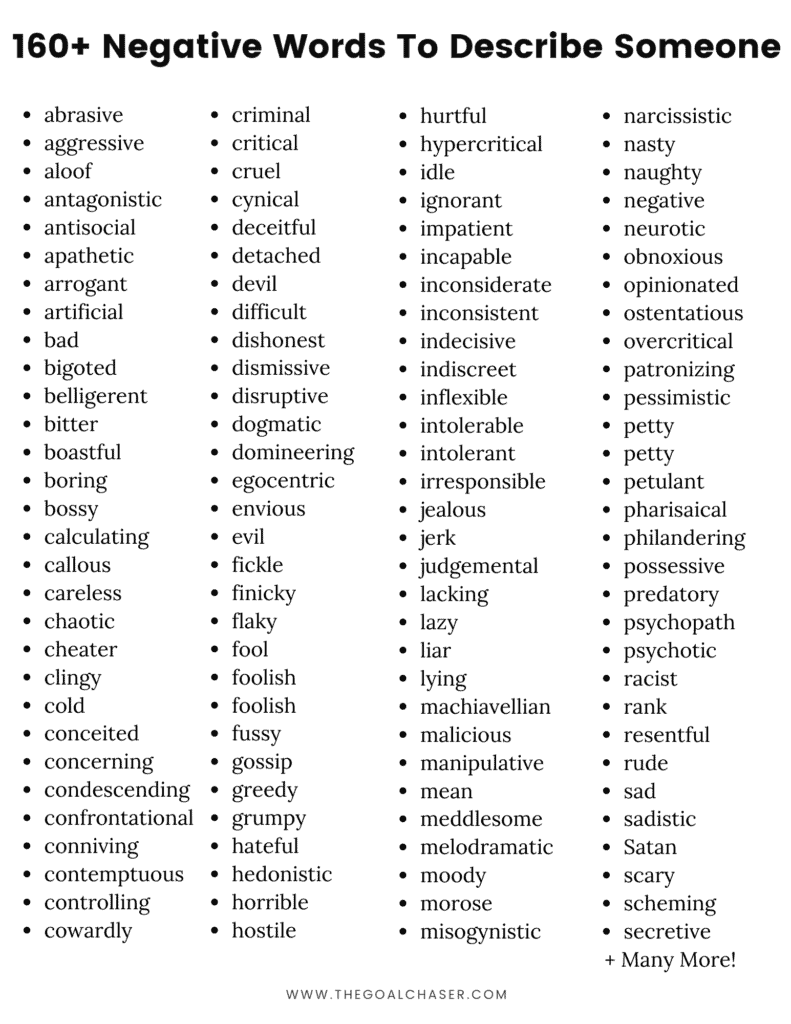 If you're interested in more adjectives and word lists, be sure to check out: