200+ Motivational Team Name Ideas
An inspirational or motivational team name can help set the tone and lead the group toward success, no matter what your group's goal is — for work, sales teams, school, sporting, social or otherwise.
Having a team name that incorporates motivational words can increase the desire to win and dominate rivals. It also helps to increase moral and team spirit.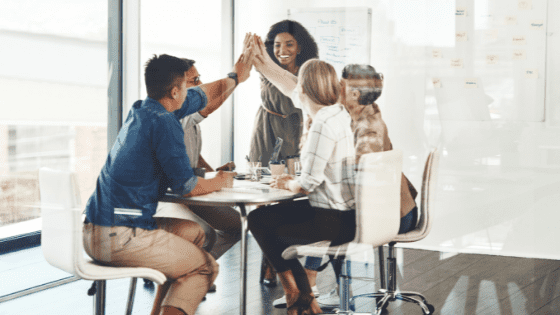 Here is a huge list of motivational team names that can help inspire you further:
Motivational Team Names
Accelerators
Accentuators
Achievers
Affirmers
Alligators
All Stars
Anacondas
Angels
Annihilators
Atomic
Avalanche
Avengers
Backups
Barracudas
Beckoning
Blasters
Blitzers
Bloomers
Bombers
Boomerangs
Boomers
Brainpower
Bulldogs
Bulldozers
Bullets
Bulls
Calibrators
Campaigners
Cannonballs
Captivators
Champions
Chaos
Chargers
Cheerleaders
Cobras
Crocodiles
Crushers
Daredevils
Demolishers
Demons
Destroyers
Detonators
Dobermans
Doers
Dominators
Dragons
Dreamers
Dream team
Drillers
Dynamics
Dynamites
Dynamos
Eagles
Eclipsers
Elephants
Eliminators
Elite
Experts
Exploders
Explosion
Exterminators
Extreme
Fab Five
Falcons
Flash
Flyers
Fusions
Getters
Gizmos
Gladiators
Goal-Chasers
Gold-Rushes
Grinners
Hard workers
Hawks
Hot Shots
Hurricanes
Hustlers
Igniters
Immersive
Impact
Inferno
Innovators
Inspirations
Inspirers
Intense
Kickers
Killers
Kings
Knights
Kryptonites
Leaders
Lethal
Lightning
Lions
Magic
Magicians
Magnets
Masteries
Masters
Mastery
Maximizers
Mercenaries
Mindpower
Miracle Workers
Motivational Masters
Motivators
Movers
Mustangs
Mystics
Nitrates
No Prisoners
Panthers
Passions
Powerhouse
Pride
Problem Solvers
Queens
Rampages
Rams
Rangers
Raptors
Razors
Reckoning
Rips
Riptide
Rock Crushers
Sabotages
Savers
Savvy
Scorpions
Sea Lions
Shakers
Shooting Stars
Side Hustlers
Silent-Assassins
Skyhawks
Slammers
Slayers
Sparks
Spitfires
Stampede
Stars
Stingers
Superstars
Surge
Tarantulas
Team Extreme
Terminators
Testers
The A Team
The A Types
The B Team
The Backups
The Bosses
The Doers
The Extras
The Force
The Getters
The Greats
The Old & Wise
The Queen Bees
The Whales
Tidal Waves
Tigers
Timberwolves
Titans
Trail Blazers
Tribe
Tritons
Trojans
Tryers
Unapproachables
Unassuming
Unforgettables
Unicorns
Unmentionables
Unnerving
Unshakeable
Untouchables
Victors
Vigilantes
Vipers
Visionaries
Visions
Volcanos
Vultures
Warriors
Whalers
Winners
Wizards
For more great inspiring and motivational words, check out: