250+ Words To Describe A Relationship (Good and Bad)
When we consider words to describe a relationship, it's important to think of what we do and what we don't want in a relationship.
There are countless adjectives to describe relationships, but some of the most important ones are positive words that denote a healthy, stable relationship.
Some people might use words like "boring" or "monotonous" to describe a good relationship, but for the majority of people, these are not the type of adjectives they would use.
It can be very individual, based on what someone is wanting in a relationship.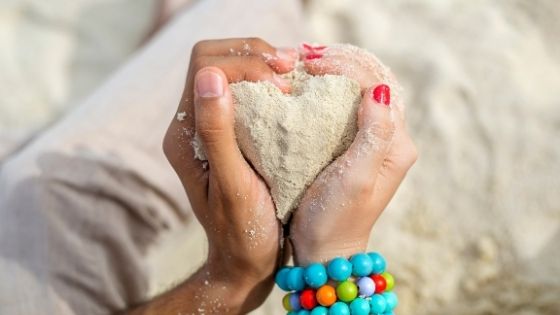 Words To Describe a Good Relationship
So, what are some words to describe a good relationship?
Some people might use words like "fulfilling", "enjoyable", or "meaningful" to describe a good relationship. These adjectives denote that the relationship is satisfying and provides happiness and fulfillment.
A good relationship is one where both partners feel loved, supported, and valued and is based on trust and mutual respect.
They have open and honest communication, and are able to resolve conflicts in a healthy way.
You won't find 'perfect' on this list.
That's because there's no such thing when it comes to relationships, but a good relationship is one where both partners are willing to work through the tough times.
They are committed to each other, and understand that no relationship is perfect.
Words To Describe A Healthy Relationship
If you're looking for a healthy and fulfilling relationship, then make sure to look for these qualities:
accepting
adaptive
adorable
adoring
adventurous
affectionate
agreeable
alive
appreciative
artistic
attractive
beloved
blended
boisterous
bonded
brave
bright
brilliant
calm
candid
careful
caring
cheerful
close
close-knit
cohesive
comforting
commitment
committed
communicative
communicators
competitive
considerate
dependable
devoted
dignified
discrete
diverse
doting
dutiful
easygoing
eccentric
encouraging
energetic
enthusiastic
extravagant
fair
faithful
familial
flawed
flexible
forgiving
fostering
friendly
fun
funny
generous
genuine
giving
good
gracious
grateful
growing
happy
hard-work
harmonious
healing
healthy
helpful
honest
hopeful
imaginative
imperfect
important
individual
innovative
integral
interesting
intimate
inventive
jokers
journey
jovial
joyous
keen
kind
listening
love
loved
loving
loyal
lucky
modern
modest
natural
nuanced
nurturing
optimistic
passionate
peaceful
playful
pleasant
positive
private
proactive
quirky
rapport
reasonable
relaxed
reliable
religious
remote
reserved
respected
respectful
responsible
romantic
routine
safe
scrupulous
sentimental
serious
sharing
sincere
solid
sophisticated
spiritual
stable
strong
successful
supportive
sweet
team
team-players
tender
tight
togetherness
traditional
trusting
trustworthy
unconditional
understanding
unique
unselfish
untraditional
valued
warm
welcoming
wild
wonderful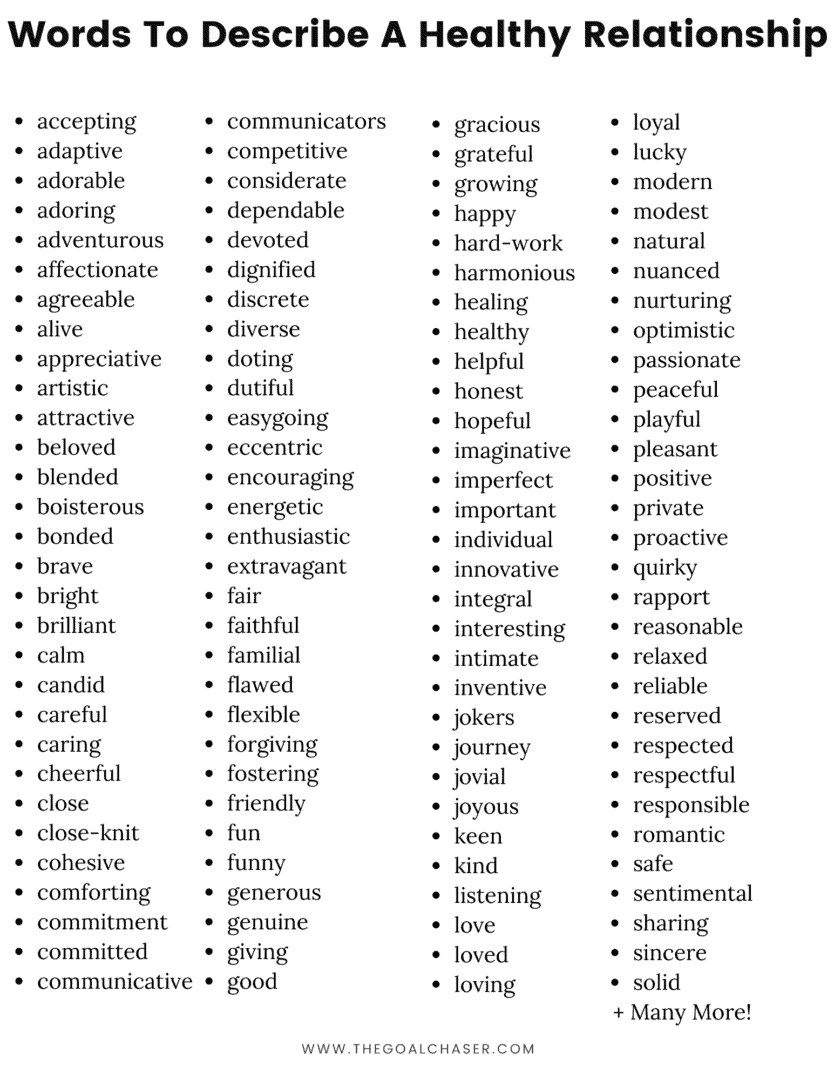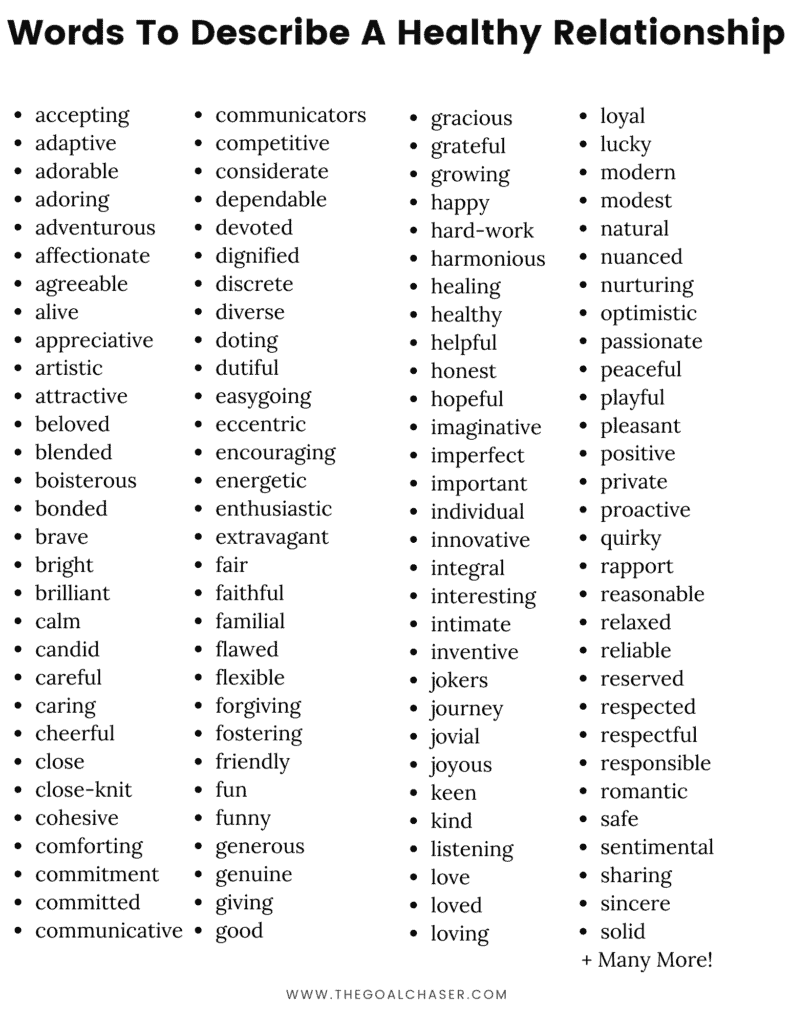 Words To Describe a Bad Relationship
A bad relationship however, is one where partners do not feel loved, supported, or valued. Instead, there may be a lot of fighting, uneasiness and the communication is mostly negative.
Bad relationships are often based on mistrust and dishonesty. These are just a few of the words that can be used to describe an unhealthy relationship:
aggressive
aloof
argumentative
belittling
boring
calculated
callous
careless
cheating
co-dependant
cold
conditional
controlling
deceitful
degrading
dramatic
dull
erratic
estranged
exhausting
guarded
hateful
hurtful
jealous
judgemental
lonely
lying
mean
miserable
negative
one-sided
sad
scary
selfish
smothering
stifled
strained
superficial
suspicious
toxic
uncaring
uncertain
uneven
unfair
unfaithful
unfulfilling
unhappy
unjust
unloving
unreliable
unsafe
untrusting
untrustworthy
upheaval
violent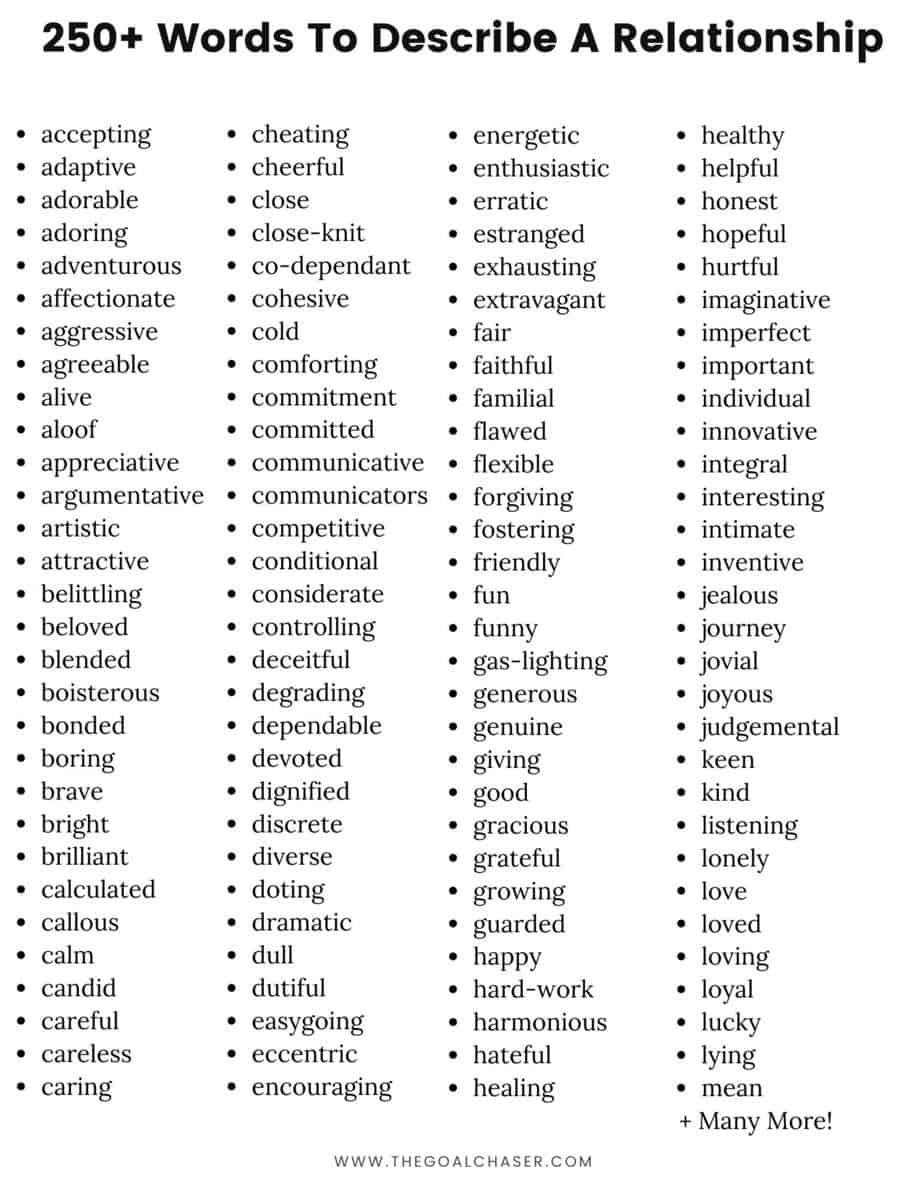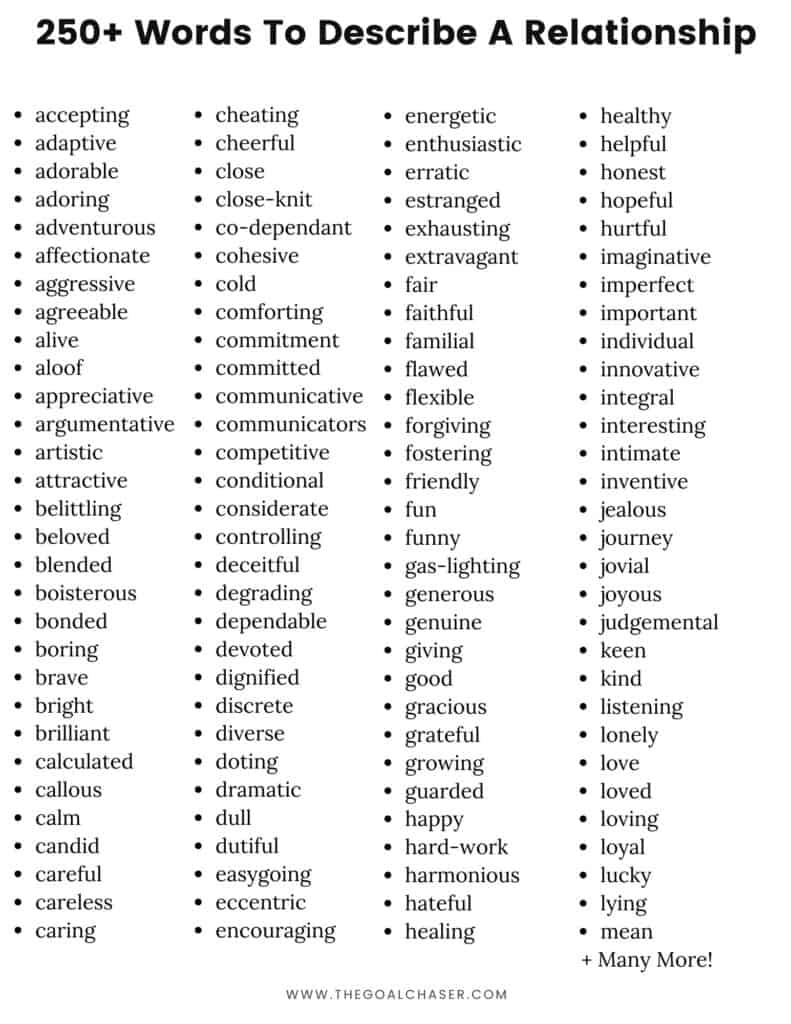 How do you describe your relationship? Or the relationship you want for yourself?
For related articles, be sure to check out: