300+ Words To Describe Family – Adjectives For Family
How To Describe Your Family
When we're asked to describe our family in words, it's usually not hard to think of a few describing words for them. It might be based on what we consider the best or the worst things that come to mind.
When we describe a family, we often think of common traits, such as; how close they are, how supportive they are, the size of the family and a prevailing quality – such as noisy, religious, frugal, affectionate, etc.
All families are different and what seems normal for one family may be unimaginable for another.
Some will sit together for dinner each night and others will eat in separate rooms of the house, not communicating with each other.
Some families communicate through yelling and others through silence, some enjoy spending time together while others really struggle with it.
Understanding what makes your family unique can help you figure out how to better connect with those around you and to truly create the family that you want for the future.
Adjectives For Family
While we can't describe the intricacies and workings of our family in one word, we can use a combination of adjectives to describe them, such as;
accepting
adaptive
adorable
adoring
adventurous
affectionate
aggressive
agreeable
aloof
argumentative
aristocratic
artistic
attractive
bad
beloved
blended
boisterous
bonded
brave
bright
brilliant
broken
brotherly
calculated
candid
careful
careless
caring
casual
challenging
chaotic
charismatic
cheap
cheerleaders
childfree
childless
clan
clean
close
closed
closed-off
close-knit
coherent
cohesive
cold
communicative
communicators
competitive
concerning
conditional
cooperative
cordial
couple
crafty
crass
crazy
creative
creatives
creepy
cultish
cultural
cultured
dancers
decent
detached
devoted
different
dignified
disciplined
discrete
distant
diverse
dodgy
doting
dramatic
dreamers
dull
dynasty
eccentric
encouraging
energetic
engaged
enthusiastic
entrepreneurs
estranged
evangelical
excellent
expat
extended
extroverted
fair
faithful
familiar
fancy
fantastic
fatherless
fatherly
foodies
fostering
frantic
free-range
frugal
funny
generous
geniuses
gentle
genuine
good
gossipy
grand
grateful
gritty
guarded
gypsies
happy
hard-workers
harmonious
hateful
healthy
hectic
helpful
hippy
hipsters
holy
honest
hurtful
hysterical
imaginative
immigrant
important
individual
industrious
influential
ingenious
innovative
integral
intelligent
interesting
introverted
inventive
jealous
jokers
jokesters
jovial
joyful
joyous
judgemental
judgy
keen
kind
large
lazy
leaders
listeners
literary
local
loose
loud
love
loved
loving
loyal
lucky
lunatics
matriarchal
meddlesome
messy
methodical
mob
modern
modest
motherless
motherly
motivated
musical
narcissistic
naturals
negative
neutral
new
noble
noisy
normal
nosy
nuanced
nuclear
nurturing
obnoxious
old
old-fashioned
open
opinionated
orderly
organized
orphaned
ostentatious
outgoing
outspoken
passionate
patriarchal
peaceful
peculiar
playful
pleasant
poor
positive
powerful
private
proactive
productive
prudent
puritan
quaint
quiet
quirky
reasonable
refined
refugees
reliable
religious
remote
reserved
respected
respectful
responsible
rich
rigid
routine
royal
sad
safe
scary
scrupulous
secretive
selfish
sensational
sentimental
serious
sharing
singers
single
sisterly
small
smart
smothering
sophisticated
spirited
spiritual
sporty
stern
stoic
strained
strange
striking
strong
struggling
successful
superficial
supportive
surprising
suspicious
sweet
tactful
tactless
talented
talkers
team-players
tender
tight
toxic
traditional
transient
travellers
trustworthy
unconditional
unfortunate
unhappy
unhealthy
unique
unorganized
unpleasant
unproductive
unreasonable
unreliable
unruly
unsafe
unsophisticated
unsupportive
untrusting
upbeat
valued
vocal
warm
warm-hearted
wary
wasteful
wealthy
welcoming
wise
wonderful
working
young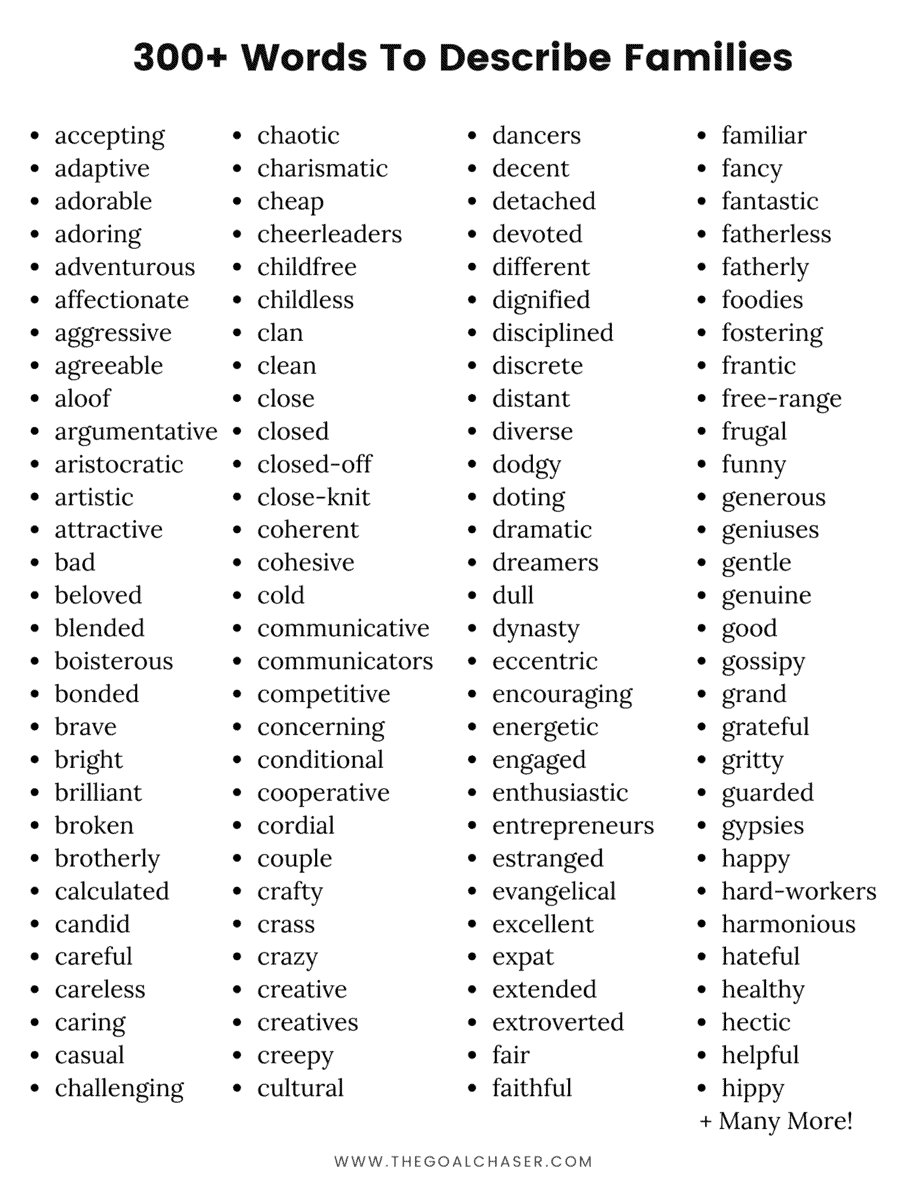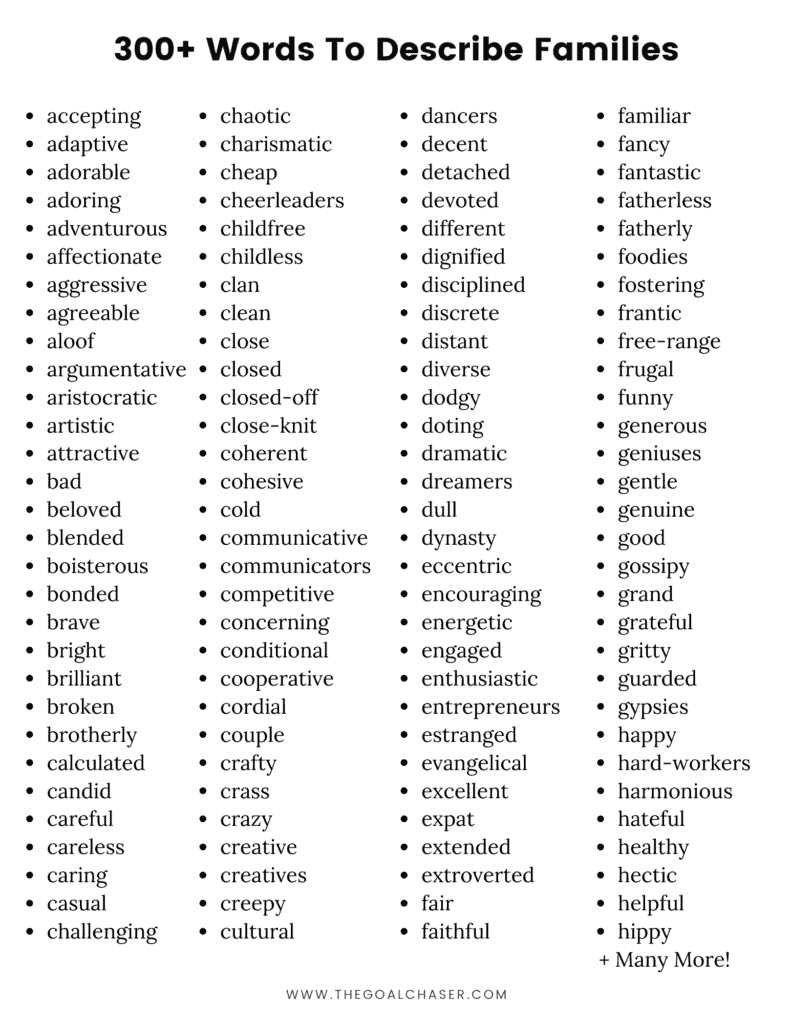 Words To Describe Family Love
Family love is funny. It can be fiercely loyal, affectionate and even feel safe.
The bond we share with family members can be intense and comfortable, yet it can leave many feeling rejection and hurt unfortunately.
The following words can be used to describe family love and the complex emotions that can be involved:
affectionate
attached
bond
brotherly
comfortable
dependable
devoted
dutiful
fatherly
immense
love
loving
loyal
motherly
overpowering
respect
safe
sisterly
traditional
unconditional
If you're interested in reading more positive words, be sure to check out: