Morning Walk Quotes – Setting A Positive Tone For The Day
This collection of quotes are all about getting in a morning walk – for mental, spiritual and physical health and happiness!
There are many benefits of walking in the morning, including:
Getting some fresh air and Vitamin D,
Slowly waking up your body and mind,
Getting some exercise in before the day gets busy,
Having some time to think and plan for the day ahead,
Getting rid of any built up stress from the previous day,
Boosting your energy levels for the day ahead,
Setting a positive tone for the day.
You will notice the following quotes are not just about walking for exercise, they also discuss making a morning walk a part of a routine and structure to the day, how walks can be great alone time and a time for reflection and calm too.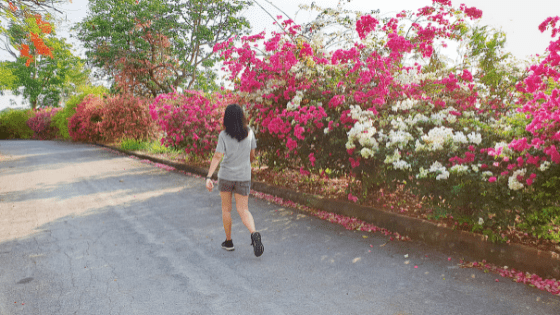 Morning Walk Quotes
"An early-morning walk is a blessing for the whole day." Henry David Thoreau
"To find the universal elements enough; to find the air and the water exhilarating; to be refreshed by a morning walk or an evening saunter… to be thrilled by the stars at night; to be elated over a bird's nest or a wildflower in spring – these are some of the rewards of the simple life." John Burroughs
"We live in a fast-paced society. Walking slows us down." Robert Sweetgall
"Be pleasant until ten o'clock in the morning and the rest of the day will take care of itself." Elbert Hubbard
"Thoughts come clearly while one walks." Thomas Mann
"Nothing is more beautiful than the loveliness of the woods before sunrise." George Washington Carver
"This early piece of the morning is mine." Wallace Stegner
"I always beat the sun up in the morning. It's the secret to why I'm double trouble." Al Sharpton
"That nice, soft pillow and the warm blanket, and it's all comfortable, and no one wants to leave that comfort – but if you can wake up early in the morning, get a head start on everyone else that's still sleeping, get productive time doing things that you need to do – that's a huge piece to moving your life forward." Jocko Willink
"Early morning exercise will keep you active for the entire day." Lailah Gifty Akita
"The person who doesn't scatter the morning dew will not comb gray hairs." Hunter S. Thompson
"A muscle is like a car. If you want it to run well early in the morning, you have to warm it up." Florence Griffith Joyner
"In the morning a man walks with his whole body; in the evening, only with his legs." Ralph Waldo Emerson
"I get up in the morning looking for an adventure." George Foreman
"A morning walk gives the body a chance to forgive the trials and tribulations of yesterday, to shed its rubbish and mental clutter." Terri Guillemets
"Some people dream of success, while other people get up every morning and make it happen." Wayne Huizenga
"I don't ask for the meaning of the song of a bird or the rising of the sun on a misty morning. There they are, and they are beautiful." Pete Hamill
I'm a walker, whether that's a stroll on the beach at sunset or getting up at eight o'clock on a Sunday morning and doing an eight-hour hike through a canyon. It's Zen time for me." Lara Pulver
"I wake up early in the morning and walk for an hour. If I have something to write, I prefer to write in the morning until midday, and in the afternoon, I eat." Naguib Mahfouz
"If you want to be the best, you can't take the path of least resistance. Every morning, you wake up, and your mind tells you it's too early, and your body tells you you're a little too sore, but you've got to look deep within yourself and know what you want and what you're striving for." Antonio Brown
"Do cardio throughout the year at least three days a week for at least 30-40 minutes, whether it be first thing in the morning on an empty stomach or after a post-workout protein shake. Cardio won't kill your gains as much as you think; you'll see how much muscle you really have." Phil Heath
For more inspirational quotes on health and inspirational morning quotes, you can check out: