Wednesday Inspirational Quotes – For An Uplifting Good Morning!
Wednesday mornings just have a great vibe to them. Almost halfway through the week, the energy is still fairly up, and the enthusiasm is still humming along.
But it's important to keep the momentum going and stay inspired!
A great way to start your Wednesday morning off right is by reminding yourself of some inspiring words. These uplifting and inspirational quotes help us to refocus and remind us of where we are heading.
We hope you find them energizing and motivational too!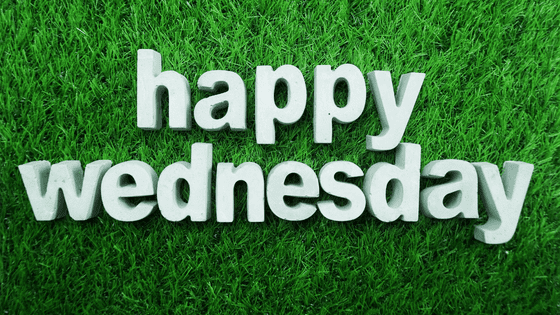 Good Morning Wednesday Quotes
"I can't change the direction of the wind, but I can adjust my sails to always reach my destination." Jimmy Dean
"Don't judge each day by the harvest you reap but by the seeds that you plant." Robert Louis Stevenson
"Act as if what you do makes a difference. It does." William James
"Be miserable. Or motivate yourself. Whatever has to be done, it's always your choice." Wayne Dyer
"Do the difficult things while they are easy and do the great things while they are small. A journey of a thousand miles must begin with a single step." Lao Tzu
"Either you run the day or the day runs you." Jim Rohn
"Our greatest weakness lies in giving up. The most certain way to succeed is always to try just one more time." Thomas A. Edison
"Happiness is not something you postpone for the future; it is something you design for the present." Jim Rohn
"The key is to keep company only with people who uplift you, whose presence calls forth your best." Epictetus
"What you do today can improve all your tomorrows." Ralph Marston
"The best way out is always through." Robert Frost
"Start by doing what's necessary; then do what's possible; and suddenly you are doing the impossible." Francis of Assisi
"No act of kindness, no matter how small, is ever wasted." Aesop
Inspirational & Uplifting Wednesday Quotes
"No bird soars too high if he soars with his own wings." William Blake
"You can't cross the sea merely by standing and staring at the water." Rabindranath Tagore
"Perfection is not attainable, but if we chase perfection, we can catch excellence." Vince Lombardi
"It is never too late to be what you might have been." George Eliot
"To the mind that is still, the whole universe surrenders." Lao Tzu
"Someone is sitting in the shade today because someone planted a tree a long time ago." Warren Buffett
"If opportunity doesn't knock, build a door." Milton Berle
"Try to be like the turtle – at ease in your own shell." Bill Copeland
"Life is 10% what happens to you and 90% how you react to it." Charles R. Swindoll
"Shoot for the moon and if you miss you will still be among the stars." Les Brown
"What you get by achieving your goals is not as important as what you become by achieving your goals." Zig Ziglar
"Wednesday is a day to help others celebrate life. You and only you are accountable for what you extend and give to others. One smile not only increases your value but it gives joy to each person you meet." Byron Pulsifer
"Don't limit yourself. Many people limit themselves to what they think they can do. You can go as far as your mind lets you. What you believe, remember, you can achieve." Mary Kay Ash
"All you need is the plan, the road map, and the courage to press on to your destination." Earl Nightingale
"Quality is not an act, it is a habit." Aristotle
"I've heard on Monday, Tuesday, Wednesday, Thursday, and Friday, but I've never heard of Someday." – Reverend Ike
"Cherish your visions and your dreams as they are the children of your soul, the blueprints of your ultimate achievements." Napoleon Hill
"You can't build a reputation on what you are going to do." Henry Ford
"Every day we should hear at least one little song, read one good poem, see one exquisite picture, and, if possible, speak a few sensible words." Johann Wolfgang von Goethe
"Be like a duck, paddling and working hard in the water, but what everyone sees is a smiling, calm face." Manoj Arora
"Happy Wednesday! Cast your love to all, trust in the team to which you are joined, and do not do wrong to others for your own self-gratification." Byron Pulsifer
"It does not matter how slowly you go as long as you do not stop." Confucius
"Be impeccable with your word. Speak with integrity. Say only what you mean. Avoid using the word to speak against yourself or to gossip about others. Use the power of your word in the direction of truth and love." Don Miguel Ruiz
"Look up at the stars and not down at your feet. Try to make sense of what you see and wonder about what makes the universe exist. Be curious." Stephen Hawking
"Do your work with your whole heart, and you will succeed – there's so little competition." Elbert Hubbard
For more inspirational quotes and words of encouragement, check out: