An epic list of words to describe music.
Music brings so much joy to life. Whether you create it yourself or enjoy listening to live or recorded music.
And the English language is a rich and varied one, but what words do we use to describe music?
There are many adjectives (describing words) that can be used to help explain the thoughts and feelings that music can conjure up in us, but here we have listed some of the more common ones.
As you will see there are many words that overlap in meaning or can be used in different contexts, for example, the genre, an individual piece of music, our opinion and how it makes us feel.
How To Describe Music
When we describe music, we usually think about the following factors:
rhythm, beat, tempo
tone, texture, melody
vocal style and form (e.g. spoken word, rap etc.)
lyrics and poetic devices used in lyrics such as rhyme and metaphor
emotional effects of the music (e.g. happy or sad)
cultural references to styles
Words to Describe Genres of Music
When we describe genres of music, they usually fit into the following categories of:
Alternative
Ambient
Baroque
Bluegrass
Blues
Ceremonial
Choral
Classical
Country
Cultural
Disco
Easy Listening
Electric
Electronic
Folk
Gospel
Heavy Metal
Hip Hop
Indie
Instrumental
Jazz
Latin
New Age
Opera
Pop
Progressive Rock
Punk
Rap
Reggae
Religious
Renaissance
Rhythm and Blues
Rock
Soul
Spiritual
Words to Describe Music
When we want to either explain a piece of music to others, or when we want to describe how music makes us think, feel and act, we can use some of the following adjectives (describing words):
acoustic
annoying
ballad
beautiful
biphonic
brassy
breathtaking
breathy
bright

calming
catchy
classic
classical
clean
clever
cohesive
complex
computerized
contemporary

dainty
deep
demotivating
depressing
diminishing
distinct
dramatic
dull
dynamic
dynamics

eclectic
electric
emotional
empowering
energetic
enigmatic
enthusiastic
enticing
exciting
exhilarating
extravagant

faint
feel-good
flat
fluid
fortissimo
frantic
fresh
funky
gentle
glorious
gradual
grandiose
groovy
groundbreaking

happy
hardcore
harmonized
harmonious
harmony
harsh
headbanging
healing
heartfelt
heterophonic
hip-hop
homophonic
homorhythmic
hypnotic

inciting
indulgent
inspirational
inspiring
instrumental
intoxicating
invigorating

jazz
jazzy
joyful
life-changing
light
loud
low
lyrical

magical
melancholy
mellow
melodious
mesmerizing
metal
monophonic
moody
morose
motivating
motivational
musical
mythical

natural
nostalgic
orchestral
piercing
playful
poetic
polyphonic

radical
rap
rapid
raucous
raw
reedy
refined
rejuvenating
relaxing
restful
restoring
rhythmic
rich
riotous
riveting
romantic

sad
saturated
sedate
seductive
sensual
shrill
simple
slow
smooth
soaring
soft
somber
sombre
sonic
soothing
sophisticated
soulful
staccato
steady
stimulating
stratospheric
strong
stylish
stylized
sublime
synthetic
talented
tempo
thrilling
transcendent

upbeat
uplifting
visionary
vocal
warm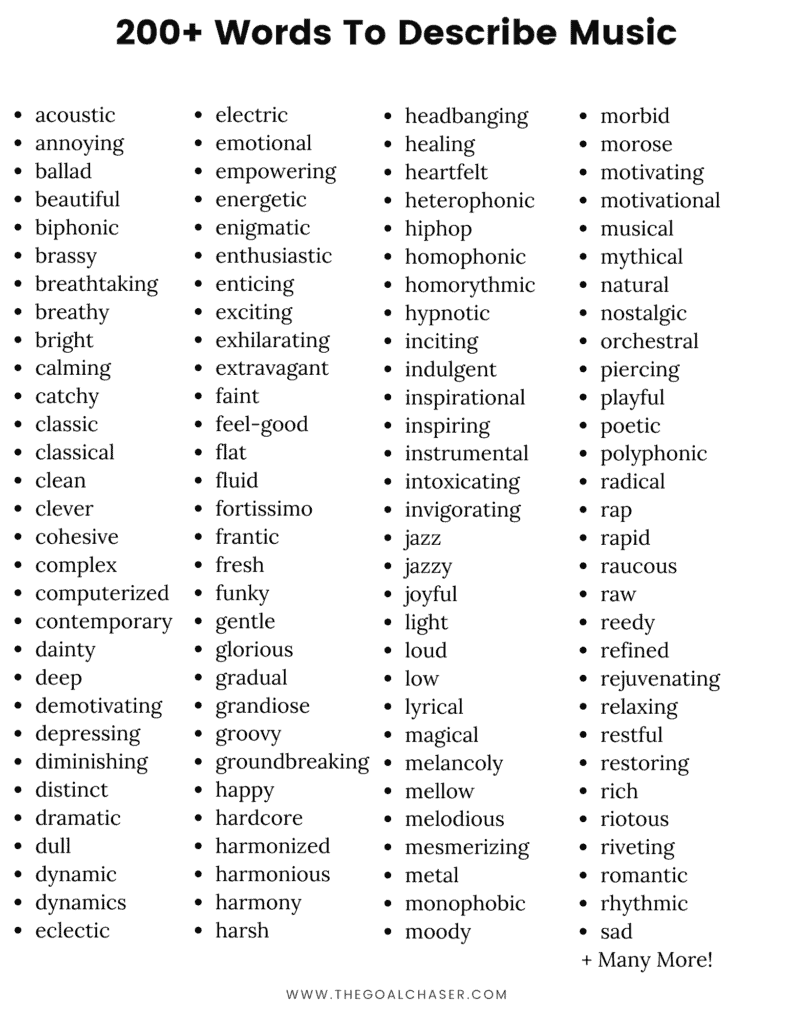 If you're interested in more inspiring words and quotes, be sure to check out: