Good leadership skills are essential for every level of business, whether you're managing one person or several employees. If you're in a leadership position, it's your job to show your team members the right way to do things.
What are Some Qualities of Good Leadership?
When we think of good leaders that we have had in the past, we tend to think of qualities such as honesty, integrity, and experience.
We want leaders to have the 'street cred' – the knowledge of the job and what the organization does, but we also want them to have the 'people skills' – we want to be able to trust them and know that they are leading the way for us.
What Makes a Good Leader?
Every person in the organization is different, and every situation it unique. However, there are some qualities that can be attributed to any good leader.
We want leaders who are fair; we don't want people with too much ego or narcissism. It's not about them – it's about what they can do for the company and its employees.
We want leaders who are respectful – this goes both ways, to colleagues and customers alike. We don't want our leaders viewed as selfish or having an attitude of entitlement.
We also want good listeners. There's nothing worse than a leader who doesn't listen to your ideas or opinions.
After all, you are the person on the front lines and know more than anyone about what's going on.
We want leaders who are accountable for their actions; we don't want people who make excuses or point fingers. We want them to take ownership of their mistakes and not ignore the fact that there is a problem.
When it comes down to it, we want trustworthy leaders.
With these qualities, a leader can inspire others to do great things together – which is ultimately what they're there for.
List of Words To Describe A Good Leader
The following list includes adjectives and characteristics that help make up a great leader:
able
accommodating
accountable
action-orientated
adaptable
advocate
alert
analytical
appreciative
approachable
assertive
assiduous
attentive
authentic
aware

bold
brave
calculated
calm
candid
capable
careful
caring
challenger
challenging
charismatic
clear
collaborative
communicative
compassionate
competent
confident
conscious
considerate
consistent
courageous
creative
credible
curious
Words To Describe Leaders
decisive
dedicated
diligent
diplomatic
direct
diverse
doer
driven
empathetic
empowering
encouraging
energizing
engaged
engaging
enlightening
enthusiastic
ethical
exciting
executor
expert

fair
fearless
focused
forward-thinker
generous
genuine
goal-orientated
gracious
grateful
guider
helpful
honest
honorable
hopeful
humble

inclusive
influential
innovative
innovator
inspirational
inspiring
integrity
integrous
interested
intuitive
inventive

kind
knowledgeable
laborious
leader
logical
loyal
mentor
mindful
modest
moral
motivating
motivational
noble

objective
open
optimistic
original
passionate
persistent
persuasive
pioneer
planner
pleasant
positive
powerful
practical
principled
proactive
problem-solver

realistic
receptive
reliable
resilient
respectful
responsible
responsive

serving
skilled
smart
steady
stern
steward
straight-shooter
strategic
strong
supportive
tactful
teacher
thankful
thinker
timely
tireless
transformative
transparent
trusting
trustworthy

unique
upbeat
uplifting
valuable
vigilant
visionary
zealous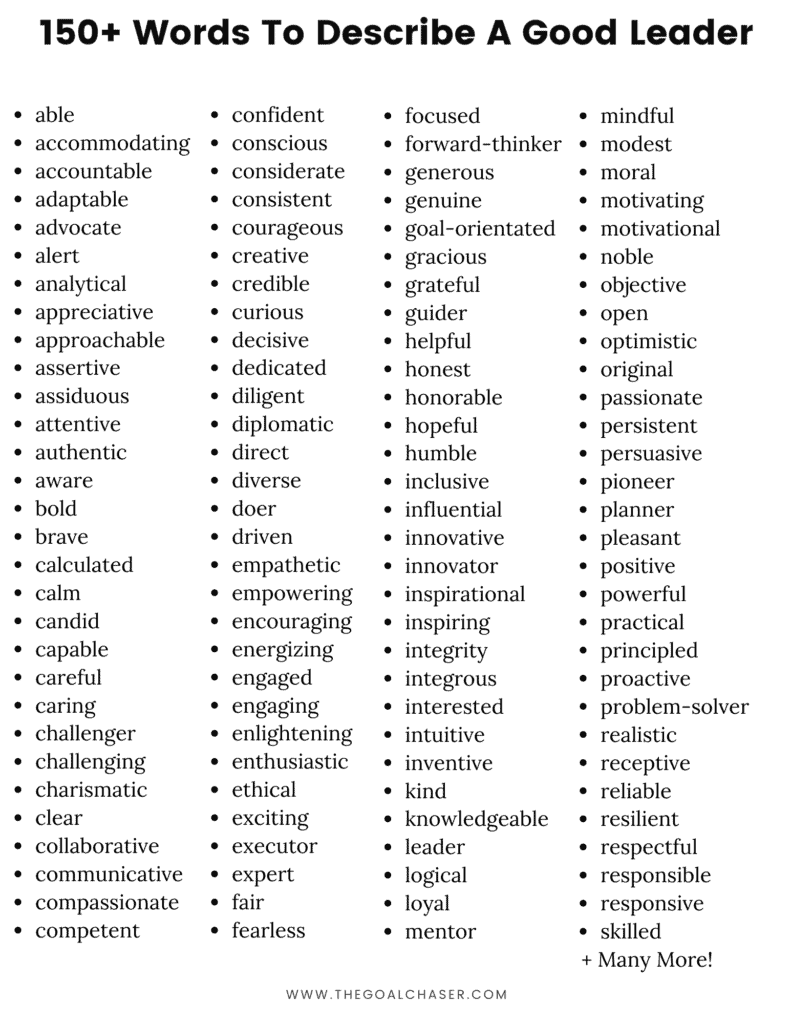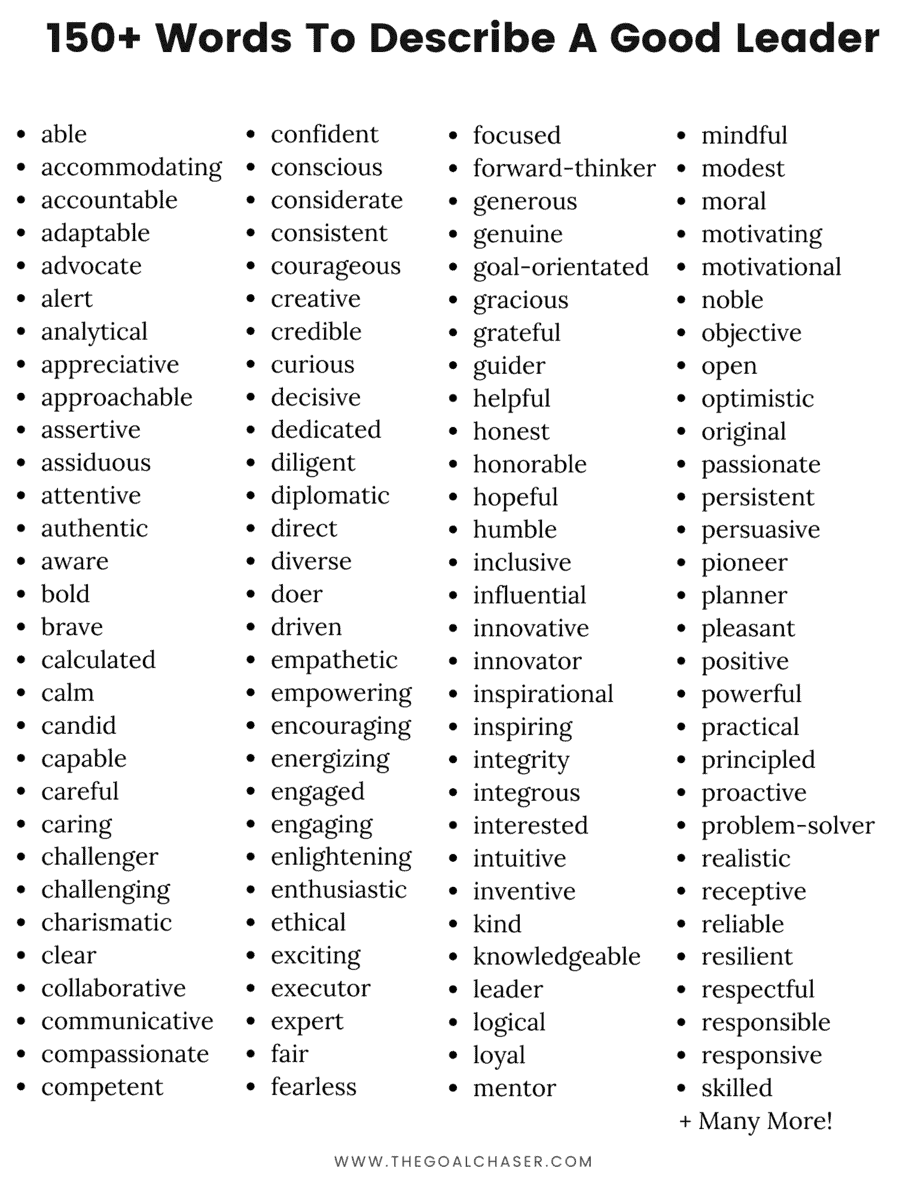 Interested in more positive words and inspiring quotes, be sure to check out: