250+ Of The Most Empowering Words
When it comes to finding the strength to face life's challenges, empowering words can make all the difference.
What does 'empowering' mean?
To be 'empowered', means to have the ability to do something, or to have control over one's own destiny.
In other words, it means taking charge of your life and making things happen instead of waiting for someone else to do it for you.
Why are empowering words so important?
Empowering words are important because they can help you remember that you are strong, and capable of achieving anything you set your mind to.
When you're feeling down or doubtful, hearing empowering words can help give you the motivation and encouragement you need to keep going.
And when you're already feeling good about yourself, empowering words can help reaffirm your positive self-image and keep you moving forward with confidence.
What is an empowered person?
An empowered person is someone who has the ability to take charge of their life and make things happen.
They are strong, capable and confident in their abilities and not afraid to seek out help or advice when they need it. Because we all do from time to time.
Empowering Words List
If you're looking to become more empowered in your own life, start by seeking out inspiring and empowering words that resonate with you. You will notice that all of the words in this list aren't traditionally 'strong' words, but that does not mean they aren't powerful.
These words can help remind you of your own strength and potential, and they can provide the motivation required to keep forging ahead in life:
abundant
accepting
accountable
active
adorable
adventurous
affable
affectionate
alluring
amazing
ambitious
amicable
angelic
artsy
assertive
astute
athletic
attractive
authority
authority
authorize
awesome
battler
beautiful
benevolent
blessed
bold
brainy
brave
bright
brilliant
bubbly
calculated
calm
candid
capable
capable
captivating
careful
caring
caring
charismatic
charming
cheeky
cheerful
choice
classy
clever
committed
compassionate
competent
complex
confidence
confident
considerate
consistency
content
cool
courage
courageous
crafty
creative
creative
cultured
curious
daring
dazzling
decision
decisive
dedicated
delightful
dependable
determination
devoted
devout
different
diligent
diplomatic
discerning
disciplined
diverse
doting
doyenne
dramatic
dutiful
dynamic
educated
effervescent
efficient
elegant
emotional
empathetic
empowered
endearing
energetic
engaging
enigmatic
entertaining
enthusiastic
enthusiastic
entitlement
expert
fabulous
fair
faith
fashionable
feminine
fierce
feisty
fighter
freedom
fresh
generous
genius
gentle
genuine
gifted
giving
glamorous
goals
go-getter
graceful
grateful
grounded
hardworking
healthy
helpful
hope
impressive
impulsive
independent
industrious
infinite
initiative
innovative
inspired
inspiring
intellectual
intelligent
intoxicating
intuitive
invincible
joyful
kind
kindhearted
leader
licensed
loud
lovable
love
lover
loyal
magnetic
matriarch
mature
meaningful
merciful
mesmerizing
mischievous
modern
mother
motivated
motivating
observant
offbeat
open
opinionated
opportunistic
optimistic
options
organized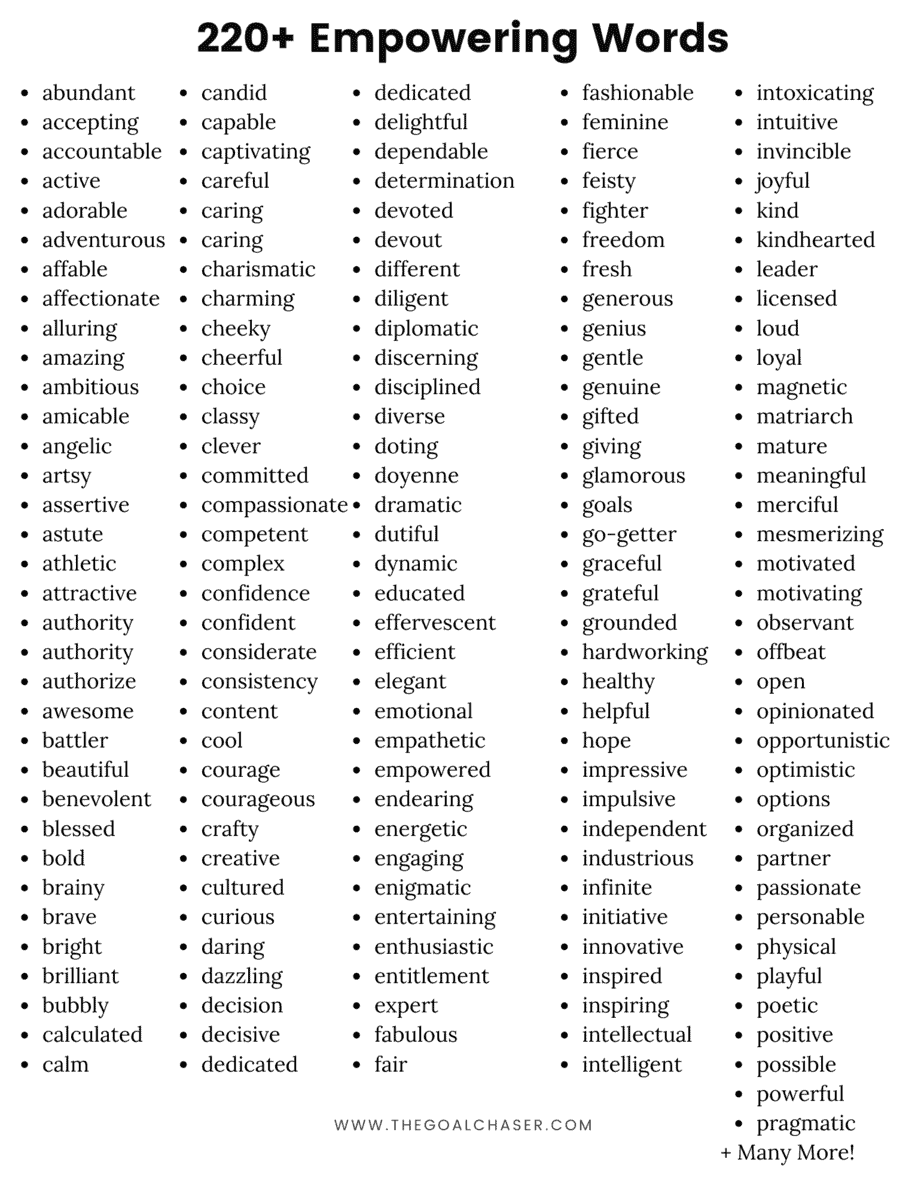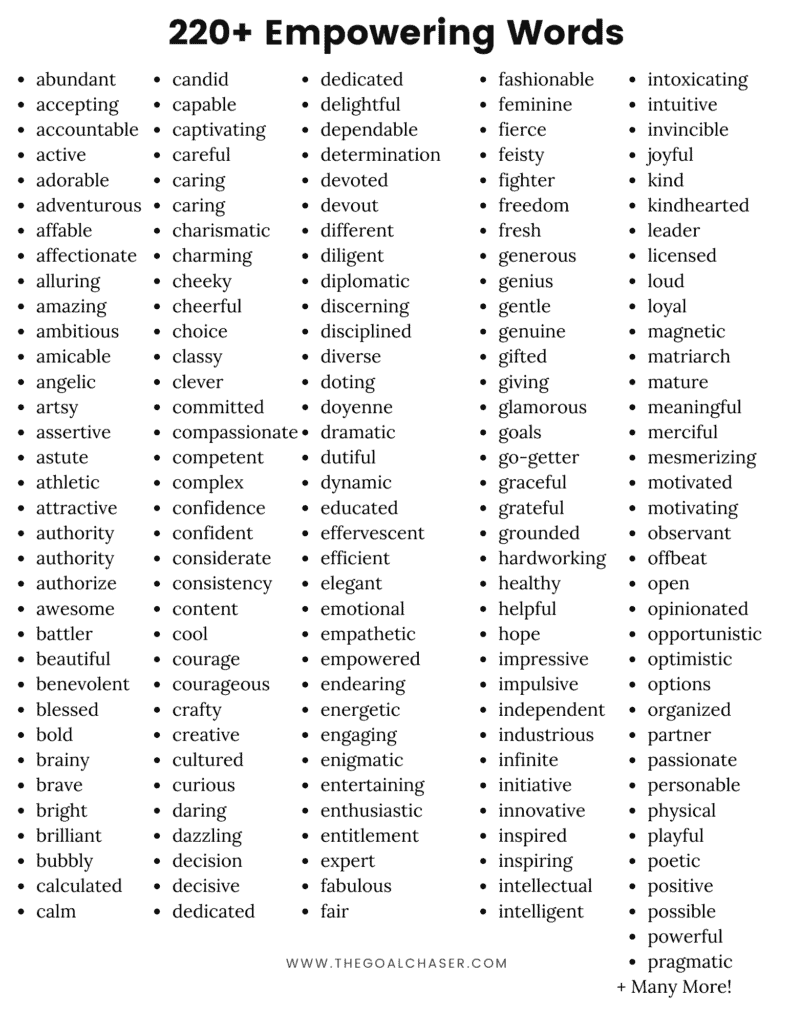 partner
passionate
personable
physical
playful
poetic
positive
possibility
possible
powerful
pragmatic
precious
princess
principled
private
protective
proud
provocative
punctual
queen
quick
quiet
quirky
radiant
rebellious
refined
reliable
remarkable
resile
resilient
resolute
resourceful
robust
romantic
sassy
selective
selfless
sensual
sharp
shrewd
sincere
skilled
skilful
smart
solid
spiritual
stalwart
steadfast
strategic
strength
strong
successful
supportive
sweet
sympathetic
talkative
tenacious
tender
thankful
thinker
thoughtful
trustworthy
unconventional
understanding
unique
upbeat
warm
warrior
wild
wise
wonderful
Why is empowering others so important?
Empowering others is important because it helps create a more positive, diverse and productive world. When we empower others, we give them the tools and resources they need to succeed. We also show them that we believe in their ability to achieve their goals.
Empowering others can have a ripple effect, inspiring them to empower those around them. And as more and more people are empowered to reach their potential, the world becomes a better place for everyone.
So, if you're looking to make a positive difference in the world, start by empowering those around you. It's one of the most rewarding things you can do.
For more empowering, encouraging and inspiring words, be sure to check out: