Heart Touching 'Good Morning' Love Quotes & Sayings
These warm quotes are all about reflecting on feelings of love and wishing your loved one a wonderful good morning and day ahead.
How do you say good morning in a romantic way?
There are a lot of ways to say good morning, but some expressions are more romantic than others. If you're looking for a way to make your partner feel special, try one of these good morning quotes – that show appreciation, love, encouragement and respect.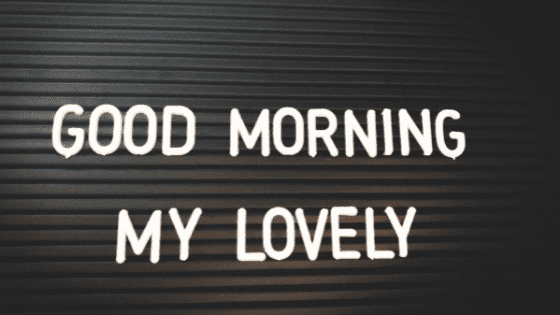 Heart Touching & Loving Good Morning Quotes
"I have always been delighted at the prospect of a new day, a fresh try, one more start, with perhaps a bit of magic waiting somewhere behind the morning." J. B. Priestley
"I wake up some mornings and sit and have my coffee and look out at my beautiful garden, and I go, 'Remember how good this is. Because you can lose it.'" Jim Carrey
"Love. Fall in love and stay in love. Write only what you love, and love what you write. The key word is love. You have to get up in the morning and write something you love, something to live for." Ray Bradbury
"The greatest happiness of life is the conviction that we are loved; loved for ourselves, or rather, loved in spite of ourselves." Victor Hugo
"Each morning sees some task begun, each evening sees it close; Something attempted, something done, has earned a night's repose." Henry Wadsworth Longfellow
"The problem with marriage is that it ends every night after making love, and it must be rebuilt every morning before breakfast." Gabriel Garcia Marquez
"Being deeply loved by someone gives you strength while loving someone deeply gives you courage." Lao-Tzu
"Smile in the mirror. Do that every morning and you'll start to see a big difference in your life." Yoko Ono
"So, I love you because the entire universe conspired to help me find you." Paulo Coelho
"In the sweetness of friendship let there be laughter and sharing of pleasures. For in the dew of little things the heart finds its morning and is refreshed." Khalil Gibran
"What is love? It is the morning and the evening star." Sinclair Lewis
"From the day you walked into my life, you're all I think about. You're the reason I breathe. You are the stars in my sky. I wouldn't want this any other way. You're the love of my life." Kemis Khan
"I love that feeling of being in love, the effect of having butterflies when you wake up in the morning. That is special." Jennifer Aniston
"We are shaped and fashioned by those we love." Geothe
"I don't ask for the meaning of the song of a bird or the rising of the sun on a misty morning. There they are, and they are beautiful." Pete Hamill
"Morning without you is a dwindled dawn." Emily Dickinson
"Who will tell whether one happy moment of love or the joy of breathing or walking on a bright morning and smelling the fresh air, is not worth all the suffering and effort which life implies." Erich Fromm
"There is no friend like an old friend who has shared our morning days, no greeting like his welcome, no homage like his praise." Oliver Wendell Holmes, Sr.
"The amazing thing about love and attention and encouragement and grace and success and joy is that these things are infinite. We get a new supply every single morning, and so we can give it away all day. We never, ever have to monitor the supply of others or grab or hoard." Glennon Doyle Melton
For more inspirational good morning quotes, check out: