260+ Words To Describe Memorial Day – Memorial Day Words & Adjectives
How would you describe Memorial Day?
Memorial Day is a day to remember and honor those who have died serving our country.
It is a somber day, but also a day of thanksgiving for the sacrifices made by these brave men and women.
On this day, we reflect on the price of freedom and the many lives that have been lost to protect it.
We also remember the families who have lost a loved one in service to our country.
Memorial Day is a time to come together as a nation and remember those who have given so much for us.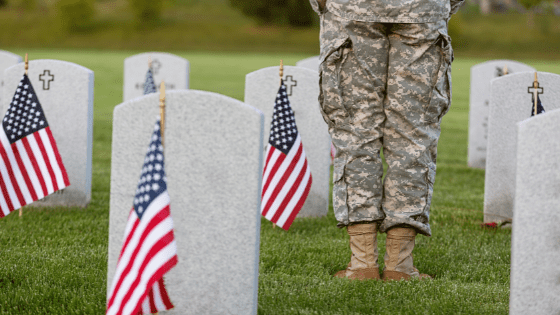 Memorial Day Words List
The following is a list of adjectives around Memorial Day – a time of reflection, respect, honor and appreciation.
achieve
admiral
admiration
afraid
air force
aircraft
allegiance
alliance
allied
allies
amphibious
ancestors
anniversary
appeal
appreciation
armory
arms
army
arsenal
attention
away
banner
battalion
battle
belonging
besiege
blessings
bombardment
brave
bravery
cadet
call
camaraderie
casualty
cavalry
celebrations
ceremony
citizen
civic
colony
combat
comfort
command
commemorate
commiserations
committed
commitment
company
comradery
constitution
corporal
corps
courageous
cross
culture
dangerous
dare
daring
declaration
declare
decorate
decorated
decoration
dedication
defeat
defence
devastation
devotion
die
dignitaries
diverse
dogs
dutiful
duty
eagle
education
embattle
emotional
endure
enlist
enlisted
esteemed
explosion
fall
fallen
family
fanfare
fatherland
fear
fearless
fears
feeling
fight
fighting
flag
fly
forces
forefathers
fortitude
free
freedom
friendships
gallant
generous
give
glory
goodbyes
grateful
gratitude
grave
hail
haunting
heartfelt
heritage
hero
heroes
heroic
history
home
homeland
honor
honoring
hope
horror
impassioned
indebted
independence
infantry
insignia
inspirational
inspired
integrity
justice
kin
lasting
legacy
legend
liberation
liberty
lieutenant
life
lose
loss
love
loyal
loyalty
march
marching
marines
mateship
memorial
memories
memory
mercy
military
mission
music
nation
national
native
navy
noble
nod
nostalgia
oath
observe
ode
official
opportunity
overseas
overwhelm
parade
paratrooper
participation
patriot
patriotic
pay
peace
poppy
praise
pray
price
pride
private
protect
protection
proud
proudly
recognition
recognize
reflect
reflection
regiment
remember
remembrance
respect
reunion
revolution
ritual
sacrifice
salute
scared
sergeant
served
service
serving
ship
silence
soldier
soldiers
solemn
sombre
special
specialist
squadron
stand
steadfast
strength
strive
support
symbolism
territory
testament
thankful
thanks
thanksgiving
tradition
tribute
triumph
triumphant
truth
unafraid
unfearing
unflinching
unify
union
unite
universal
unselfish
valiant
valor
veteran
victorious
victory
violence
wage
war
wave
waving
weapons
welfare
willingness
win
worship
wreath
youth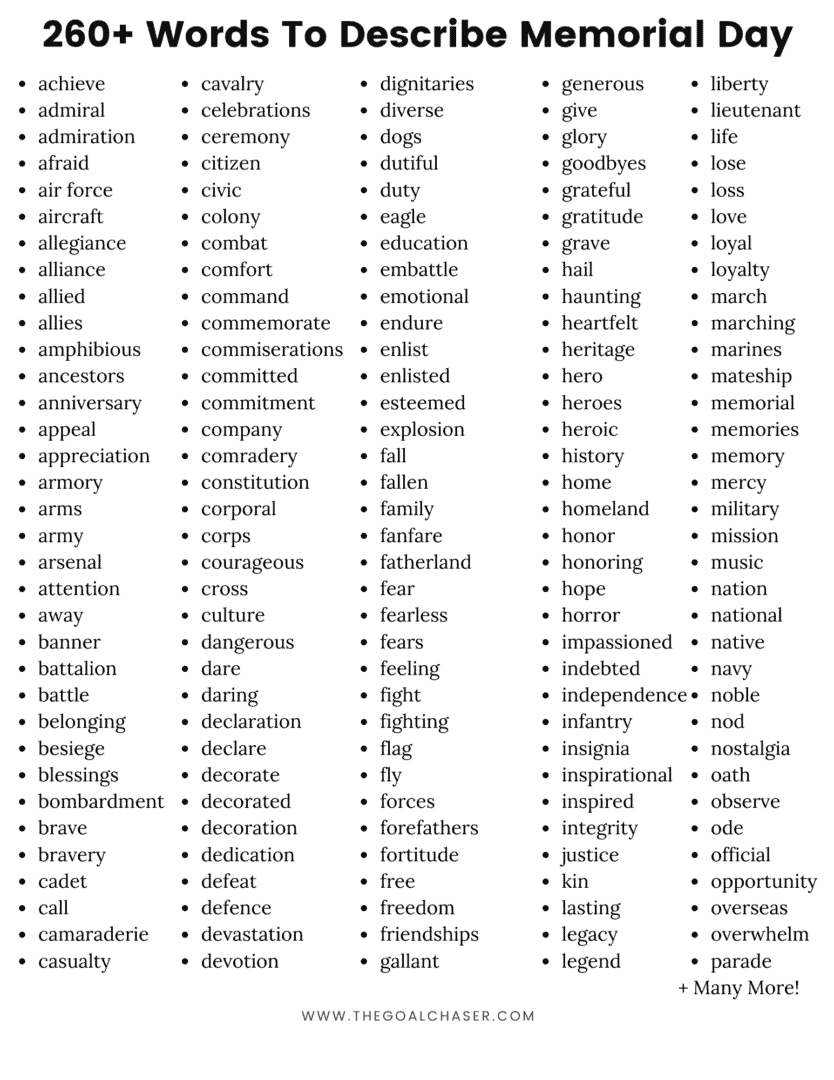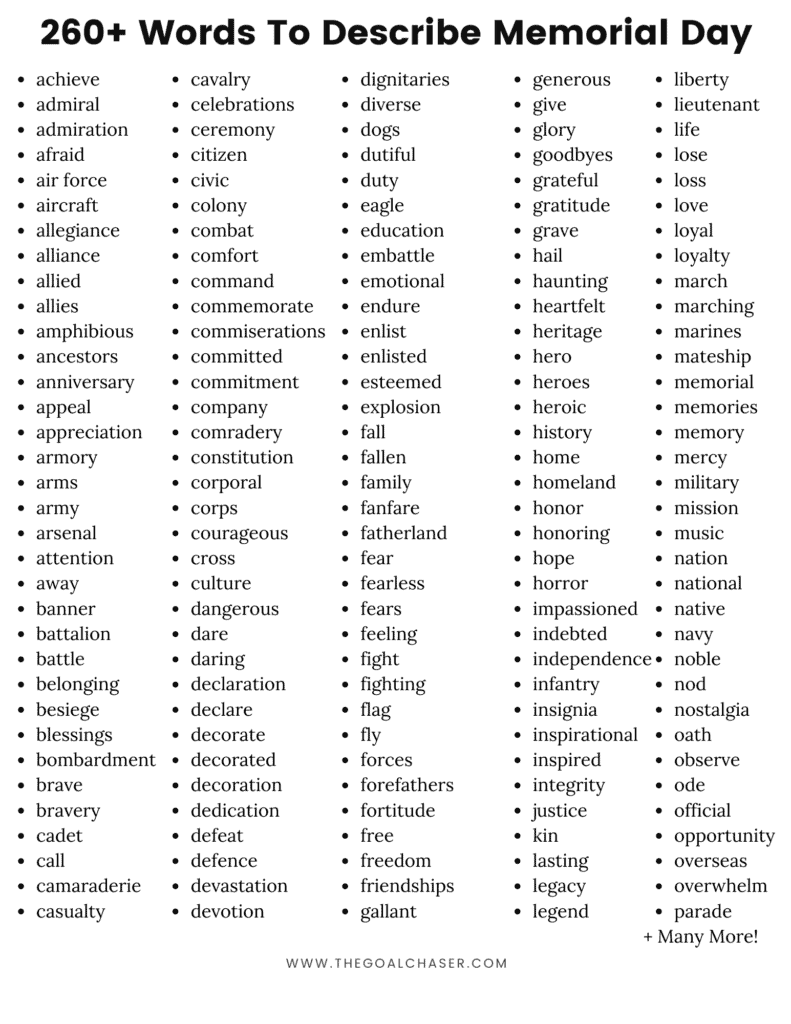 How do you explain Memorial Day to children?
We can carefully and truthfully explain Memorial Day to children by saying that it is a day set aside to remember and honor people who have died while serving the country.
We can tell them that, on Memorial Day, we fly the American flag at half-staff from sunrise until noon. This is to symbolize our nation's sadness at the loss of so many of its heroes.
We can also explain that many people visit cemeteries and memorials on Memorial Day to honor and remember those who have died. Some people also choose to spend time with family and friends or take part in community events or activities.
Whatever we do on this day, it is important to teach our children the true meaning of Memorial Day so that the sacrifices of our fallen heroes are never forgotten.
For more lists of important words, be sure to check out: