Calming Words List – Beyond Saying 'Calm Down'
What are some calming words?
Calming words are words that help to reduce anxiety, stress, and tension in someone. Some examples of calming words are "relax," "calm down," and "take it easy."
Words are so powerful, but how we say something matters just as much as what we say.
For example, there's nothing quite like being in a state of stress, worry, anxiety or fear and those around you tell you to 'just calm down'. Simple words of course, and their intention is well placed, but yikes, it really grates being told that in the heat of a panic.
But, what can we say instead?
Calming Words List
Some well used relaxing words are "calm," "slowly," "easy," and "steady." These words can be used in sentences with someone who is feeling anxious or tense to help them relax.
The following single words can be used to describe being calm, a state of calm or encouraging a relaxed state in others:
aloof
balanced
casual
centre
centred
chill
chilled
clear
comforted
comforting
composed
content
contented
controlled
cool
coolheaded
dream-like
dreamy
eased
easy
equal
even
free
gentle
harmonious
hushed
imperturbable
informal
laid-back
level
levelled
low
lulled
lulling
medicated
meditative
mellow
mild
moderate
motionless
muted
om
pacified
paused
peaceful
placid
placide
quiet
relax
relaxed
relieved
repose
sedate
sedative
self-contained
self-controlled
serene
silent
sleepy
slow
slowly
smooth
sober
soft
sombre
soothed
soothing
speechless
steady
still
temperate
tranquil
unaffected
undisturbed
unemotional
unperturbed
unruffled
unshaken
untroubled
well-adjusted
well-balanced
What is the most relaxing word?
The most relaxing word will be dependant on the individual.
Personally, tranquil, calm, serene and undisturbed are all great words that I would choose to calm myself or someone else by describing a more positive and effective state of being (where possible).
What is the best way to use calming words?
The best way to use calming words when speaking with someone who is feeling tense or anxious is to use a soothing tone of voice and not raise your voice above normal levels.
Sit with them at level, speak even and controlled and ask them what they need right now.
What should I avoid doing when using calming words?
You should avoid getting angry or impatient with someone who is feeling tense or anxious.
It only makes the situation worse and it will make you feel much more upset as well. You also want to make sure that you avoid using a forceful voice or physically grabbing onto someone who is feeling tense.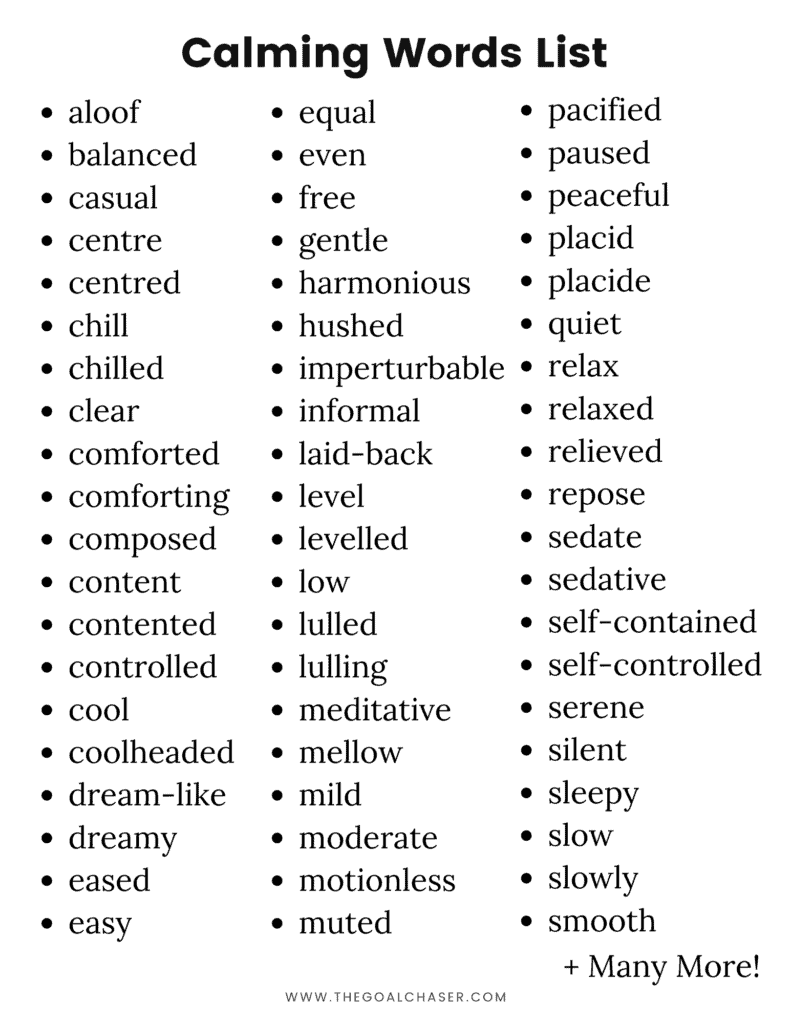 Words Are Powerful
The use of calming words is a great way to help someone who needs some reassurance, but it can also be used as a strategy in your own life.
Notice when you are feeling tense or anxious and take the time to breathe deeply before speaking. You'll find that this will give you more control over what comes out of your mouth, which will make both parties feel less stressed.
If you're interested in more words to describe feelings, or positive words to encourage, be sure to check out: