Short Positive Words List
The following list of short positive words can be used in various ways.
Sometimes we want to encourage ourselves or others and sometimes we want to describe a feeling or emotion in a positive light.
Positive words and short phrases can also help express emotions and communicate approval, interest, or encouragement.
A complete list of positive words can be found here, but if you're after a short word, then the following list can help:
Short Positive Words List
abide
ablaze
able
above
accept
ace
aced
act
action
active
admire
adore
affect
alive
allure
amaze
assert
astute
beam
best
big
bless
bliss
bold
bonus
boost
boss
brain
brainy
brave
bravo
bright
build
calm
can
caring
centre
chase
chaser
cheer
cheers
civil
classy
clear
clever
climb
color
cool
cozy
crank
create
credit
cute
dance
dandy
dear
deep
define
diverse
divine
doable
doer
duty
eager
early
easy
edit
encore
energy
engage
entice
excel
excite
fair
fame
fast
favour
feel
fetch
fine
firm
flash
flirty
fluent
flutter
flyer
flying
focus
fond
fondly
fresh
friend
fulfil
full
fully
fun
gains
galore
game
giddy
gift
giver
giving
glad
gladly
glam
glee
glow
goal
good
grace
great
grow
guest
guide
gusto
habit
handy
happy
health
heart
high
host
hug
huge
idea
ideal
inner
intent
invite
jest
jolly
joy
jump
keen
keep
kept
kind
king
kiss
kudos
large
laugh
leads
learn
legit
let
level
life
lift
light
live
love
loyal
luck
lucky
lush
lust
magic
major
match
mercy
merit
motion
move
mover
mucho
mutual
myriad
neat
new
nice
nicely
noble
novel
nurse
offer
ooze
open
order
outwit
pacify
peace
perky
poet
polite
power
presto
pride
proud
pure
purely
purify
que
queen
queer
quest
quick
quip
quirk
quite
quiz
quote
rank
rapid
redo
relish
renew
rest
rich
run
scope
secure
seek
select
self
skills
sleek
smile
super
sway
sweep
sweet
talent
teach
team
tempt
test
think
thrive
time
tingle
treat
treaty
truly
trust
try
tutor
uber
unite
uplift
usable
utilize
utmost
valid
value
value
values
vary
vast
verify
viable
vigor
virile
vital
viva
vogue
voila
vroom
wake
waken
want
warm
warm
wash
watch
water
wave
well
whip
whirl
whiz
whole
wins
wise
within
wooer
work
worth
wowed
wrap
zany
zappy
zest
zesty
zing
zip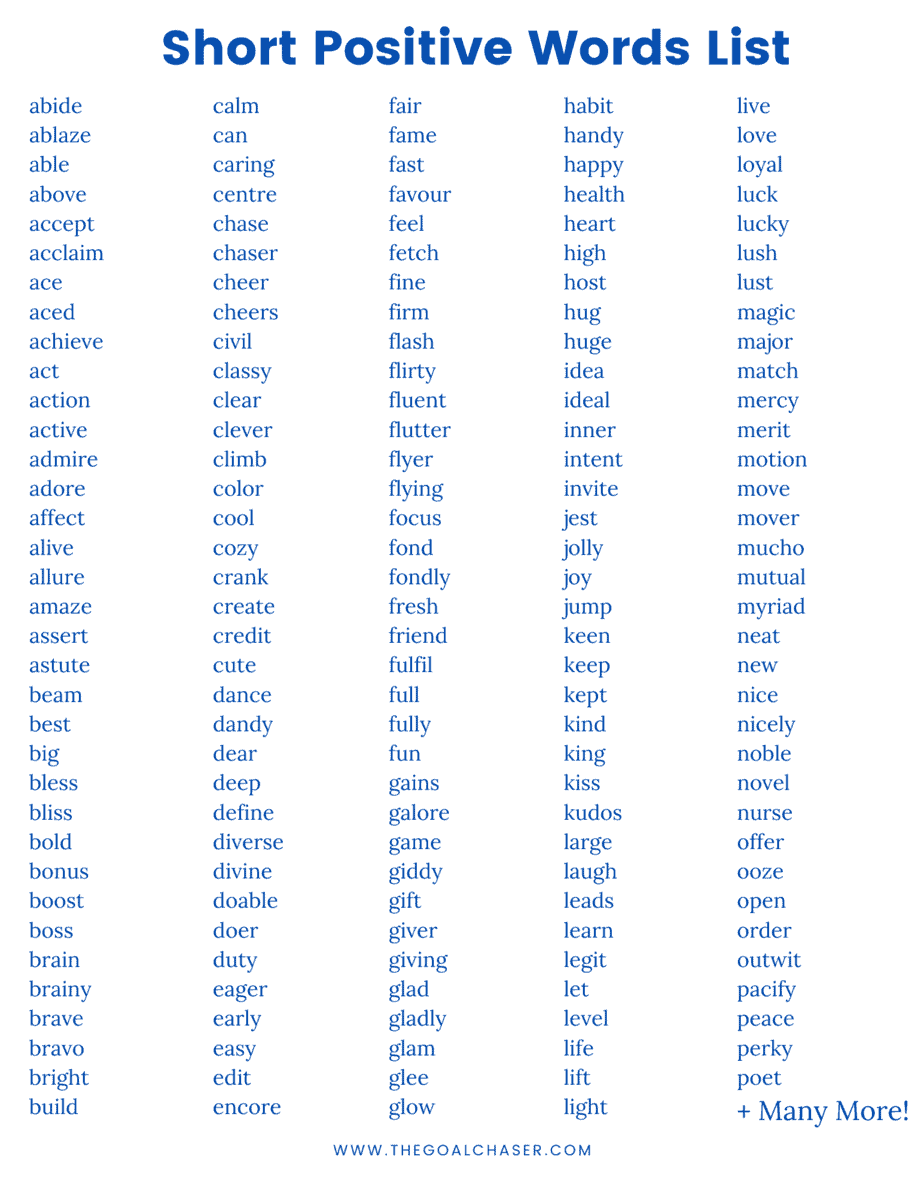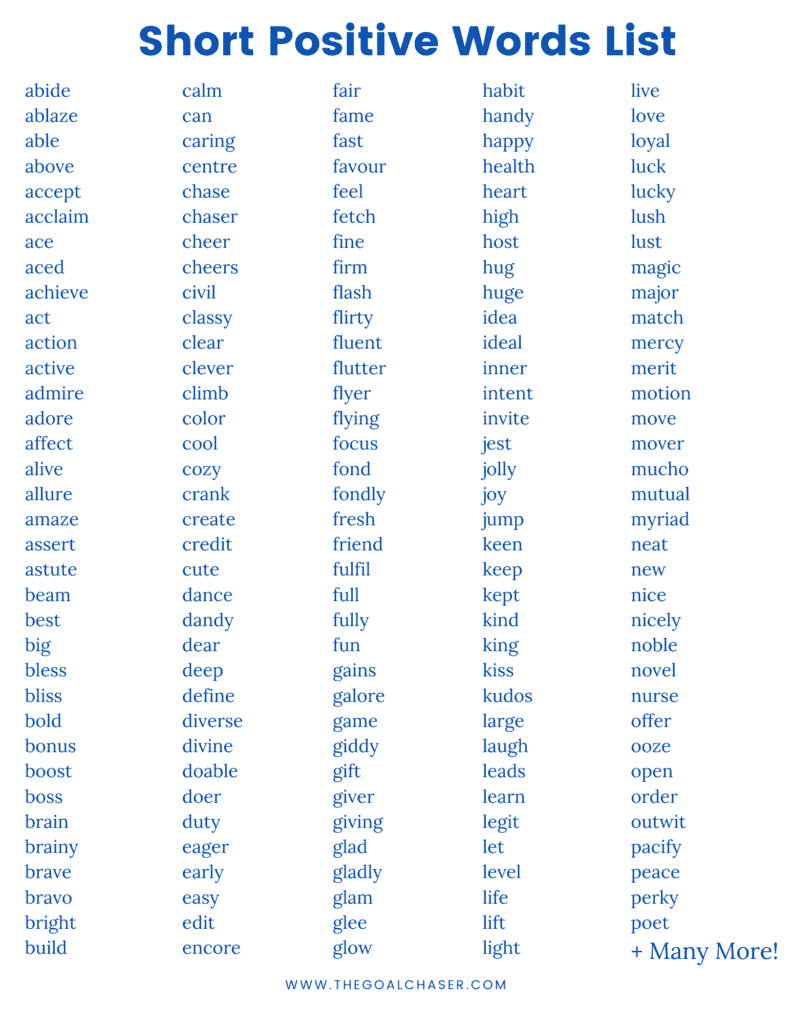 For more inspirational words, be sure to check out: