Respectful Words List – 100+ Words To Describe Respect
Respect is an important value.
It includes treating others with kindness and consideration, valuing their opinions, and being open-minded about different points of view.
How do you express respect in words?
Respect can be expressed in words by complimenting someone on their achievements, by thanking them for their help or by simply saying something nice about them.
You can also show respect through your actions, by being courteous and considerate towards others and by treating them fairly.
Respect is an important value to uphold in any relationship – be it personal or professional. By showing respect for others, we can create a more positive and peaceful world.
Respectful Words List
There are many words that can be used to describe respect, and their uses will of course depend on the context. Some examples include:
accept
acceptance
acclaim
acclamation
account
accredit
admiration
admire
admiring
adoration
adore
adulate
adulation
affection
applaud
appreciate
appreciation
approval
approve
attest
awe
bias
cherish
cherished
commend
commendation
commended
compliment
consider
courteous
courtesy
credit
deference
devote
devoted
devotion
dignified
dignity
dote
duteous
dutiful
empathize
empathizing
empathy
encourage
esteem
esteemed
favor
favored
favorite
fondness
honest
honesty
honor
honored
humble
ideal
idolization
idolize
impeccable
impressed
impressive
impressing
infatuated
infatuation
integral
integrity
kind
kindness
like
love
patience
patient
praise
praised
prefer
priceless
props
proud
recognized
recognizing
regard
regarded
regardful
regarding
relish
respect
respectable
respected
respectful
revere
reverence
reverent
support
testify
testament
tolerance
treasure
treasured
trust
trusted
trusting
trustworthy
understanding
upholding
value
valued
venerate
vouch
worship
worshipped
worthy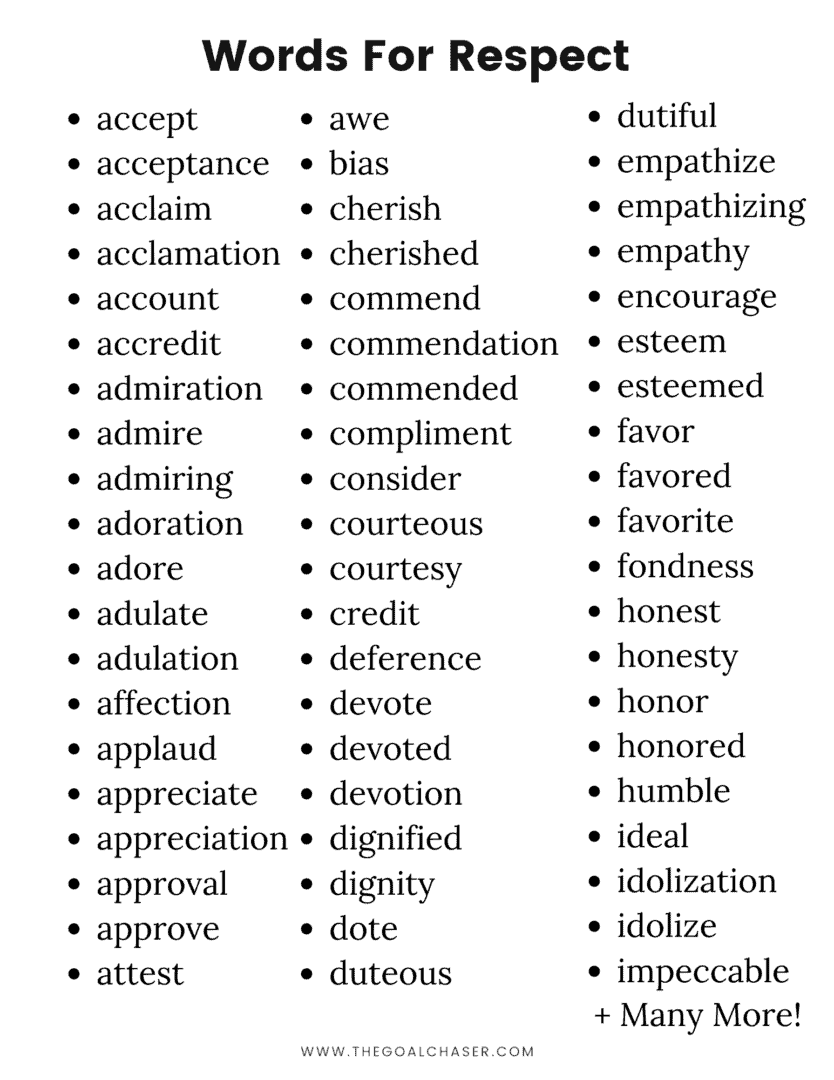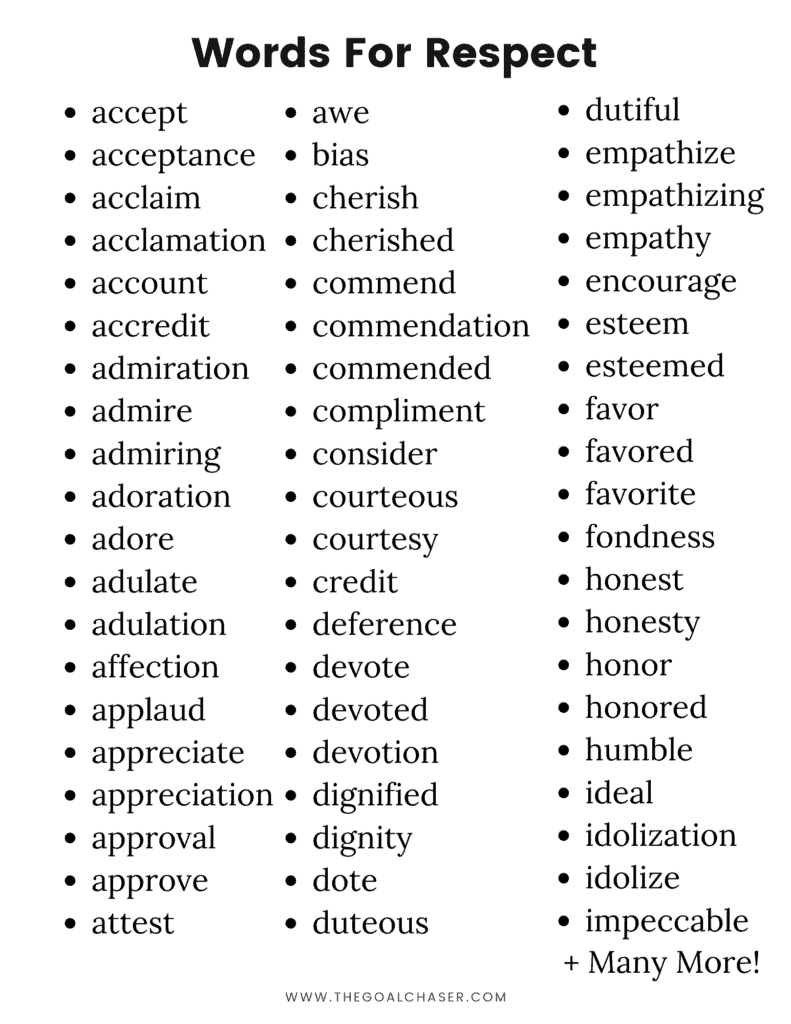 How do you describe a respectful person?
A respectful person may be described as being kind, tolerant, courteous, patient, and accepting.
They are respectful of others' opinions and beliefs, even if they do not agree with them.
They treat others with kindness and understanding, demonstrating a deep appreciation for the value of respect in all aspects of life.
They value other people's time, their experience, their opinion, their differences and their similarities.
How do you tell someone you respect them?
You can tell someone that you respect them, by expressing your admiration for their achievements or by thanking them for their help.
You can also show respect through your actions, by being courteous and considerate towards them and by asking for their input or feedback on something.
If you're interested in more words and quotes about respect and values, be sure to check out: