110+ Words To Describe A Good Company
A good company can be described from many different perspectives; including from an employee, a customer or a shareholder.
Employees want to work for respected companies, with a good culture. With all the time spent at work, employees want to know and trust who they are working for, even more so now. People want and expect more (rightfully so) from organizations today, including a focus on equality, diversity and ethical practices.
What Makes a Good Company?
There are many different factors that go into making a good company, but the overarching themes are the same.
First of all, a good company is focused on providing excellent service to its customers. A customer-centered business has happy employees that work together as a cohesive unit. These companies are known for their quality products or services that they provide.
A good company also has an equal balance of short term and long term goals, as well as making sure to take care of its customers, employees, shareholders, suppliers and the environment. All these factors create a business that grows steadily over time.
Sounds idyllic right?
Why is it Important to Have a Good Company Culture?
A good organization is built on a positive company culture.
If you're looking at switching companies or if you're wanting to create a more positive culture in your current company, then the following attributes and characteristics are important.
A good company has employees that work well together, share the same goals and have a sense of purpose within the business.
People who work in a good company often feel happy, appreciated and satisfied with their job because of the welcoming atmosphere.
They will also feel appreciated by their employer, which in turn makes them more dedicated. This also encourages the employees to go the extra mile for the company and this will result in better performance, because of the positive energy that is given to these employees through their work.
A positive company culture also exists because of a business' strong values and ethics.
List of Words To Describe A Good Company Culture
The following words can be used to describe a respected company or organization, that employees would want to work for and customers would choose to buy from:
adaptable
adapting
agile
alluring
appreciative
attentive
authentic
autonomous

busy
caring
casual
challenging
collaborative
comfortable
communicators
competent
connected
curious

dependable
diverse
efficient
empathetic
empowering
encouraging
energetic
engaging
enticing
ethical
exciting
experts

faithful
family
family-orientated
fast
fastidious
flexible
focused
free
freedom
fresh
friendly
fun

genuine
grateful
growing
guaranteed
happy
honest
honorable
inclusive
incorruptible
innovative
inspiring
inspirational
integrity
intuitive
inventive
judicial
just

leaders
licensed
listeners
logical
motivating
motivational
nimble
nurturing

optimistic
passionate
people-orientated
polished
positive
practiced
principled
professional
proficient
progressive
proud

qualified
relaxed
reliable
reputable
respected
respectful
respecting
rewarding

safe
secure
sensible
skillful
sound
staunch
steadfast
supportive

team-players
thankful
transparent
true
trusting
trustworthy
truthful
unique
uplifting
upright
valid
virtuous
welcoming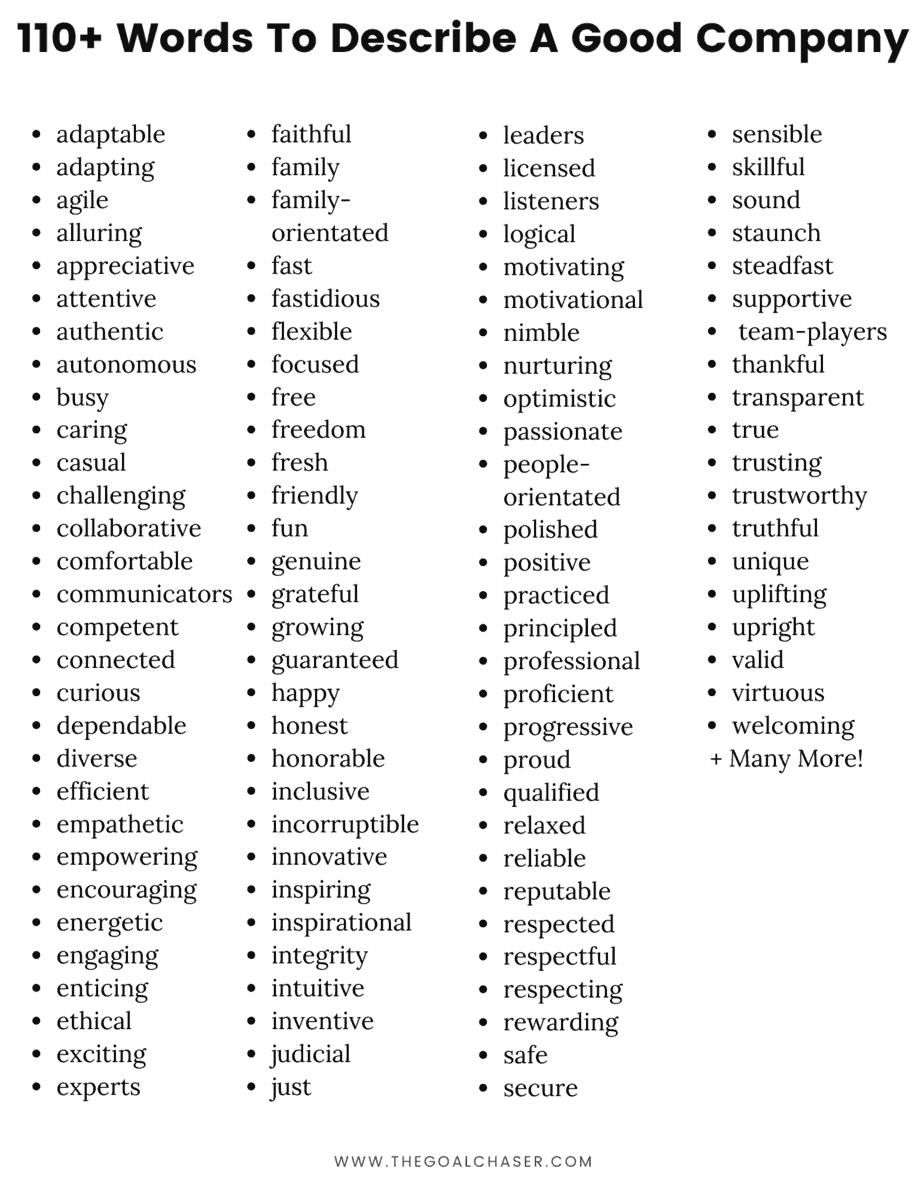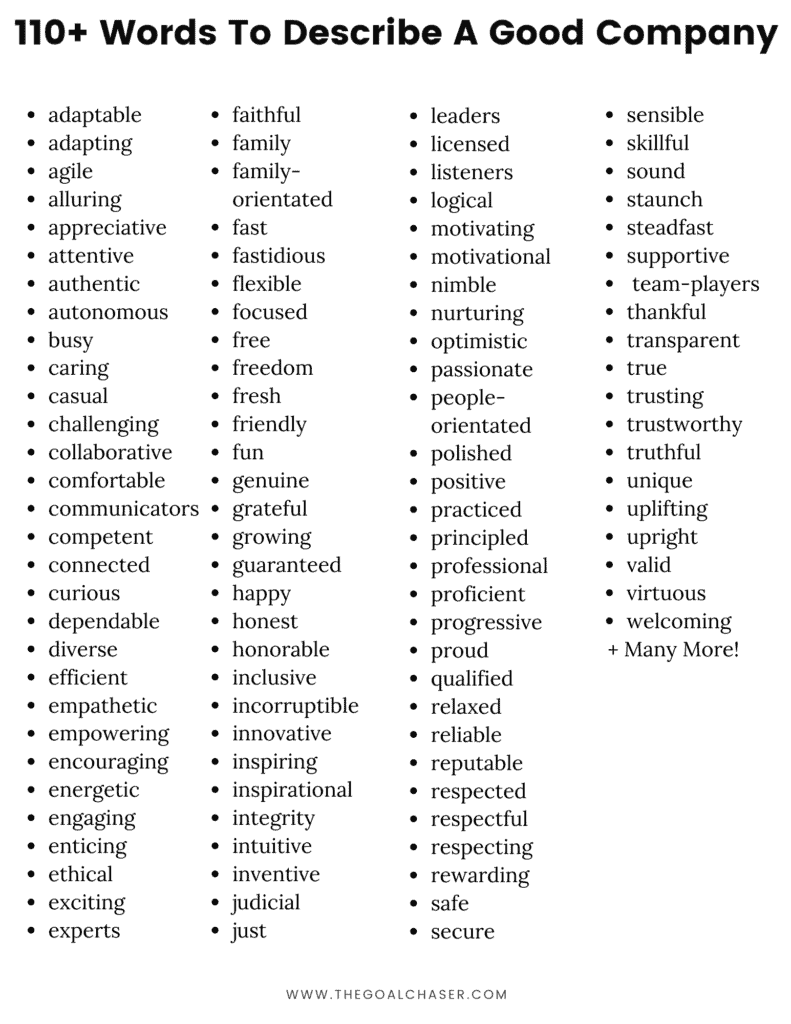 For more positive words and inspiring quotes, be sure to check out: