Powerful Quotes On Not Fitting In
We all want to feel like we fit in, it's human nature, but sometimes no matter how hard we try, we just don't feel it. These quotes all help empathize with the feeling but encourage us to look past it and embrace being who we are.
Trying to Fit In
We all go through times in our lives when we've felt like we just don't fit in. Whether that's at school, in our own family or a social setting, sometimes we just feel like we don't belong.
We may feel like we're not smart enough, pretty enough, the right age group or just different in some way.
There's nothing wrong with wanting to fit in. After all, it feels good when you do fit in and are accepted by others. But there comes a point where trying too hard can actually make things worse because you can be so focused on fitting in that you aren't being yourself.
This can be true in all aspects of life, not just friendships and social circles. It can also be a problem at work when we feel like we don't fit into the corporate culture or need to change our style of dress or mannerisms to get accepted by colleagues.
We all know that deep down, we are at our very best when we're being ourselves and not relentlessly trying to fit in with others. So be bold, be brave and be unapologetically you.
We hope the following quotes inspire you!
Quotes On Not Fitting In
"Be who you are and say what you feel, because those who mind don't matter, and those who matter don't mind." Bernard M. Baruch
"I don't fit into any stereotypes. And I like myself that way." C. JoyBell C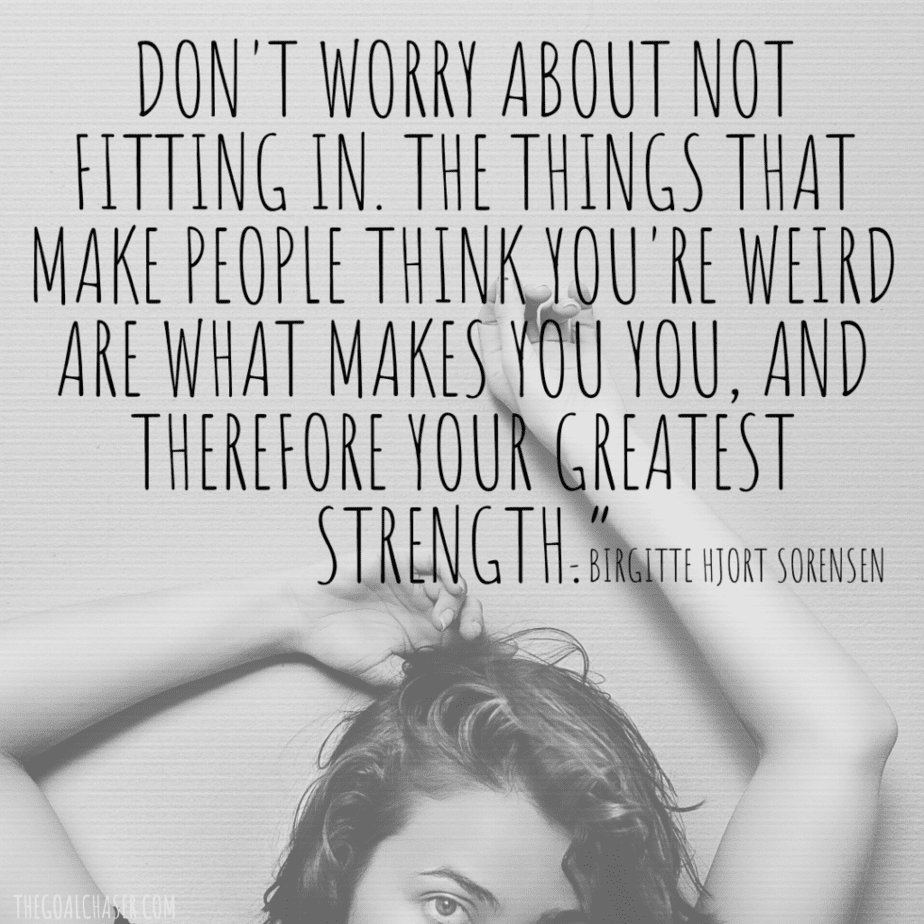 "Don't worry about not fitting in. The things that make people think you're weird are what makes you you, and therefore your greatest strength." Birgitte Hjort Sorensen
"So you're a little weird? Work it! A little different? OWN it! Better to be a nerd than one of the herd!" Mandy Hale
"Be who you are and say what you feel because those who mind don't matter and those who matter don't mind. Don't cry because it's over. Smile because it happened." Dr. Seuss
"I'm not here to be small, to compare, to judge (myself or you), to fit in or to be perfect. I'm here to grow, to learn, to love, to be human." Sue Fitzmaurice
Never Fitting In Quotes
"I came to terms with not fitting in a long time ago. I never really fitted in. I don't want to fit in. And now people are buying into that." Alexander McQueen
"You gotta keep trying to find your niche and trying to fit into whatever slot that's left for you or to make one of your own." Dolly Parton
"I was trying to fit in for so long, until about Junior year of high school when I realized that trying to fit into this one image of perfection was never going to make me happy." Maiara Walsh
"Misfits need a place to get away, too. All that trying to fit in is exhausting." Sarah Addison Allen
Sad Quotes About Not Fitting In
"Why are you trying so hard to fit in when you were born to stand out?" Ian Wallace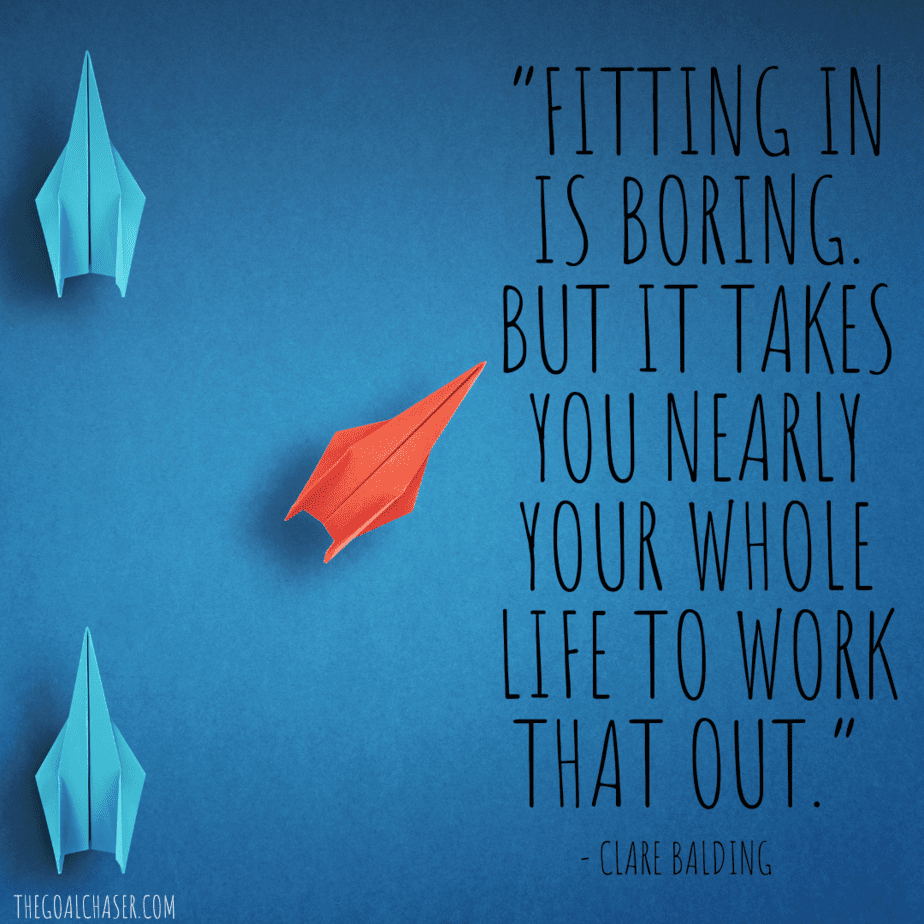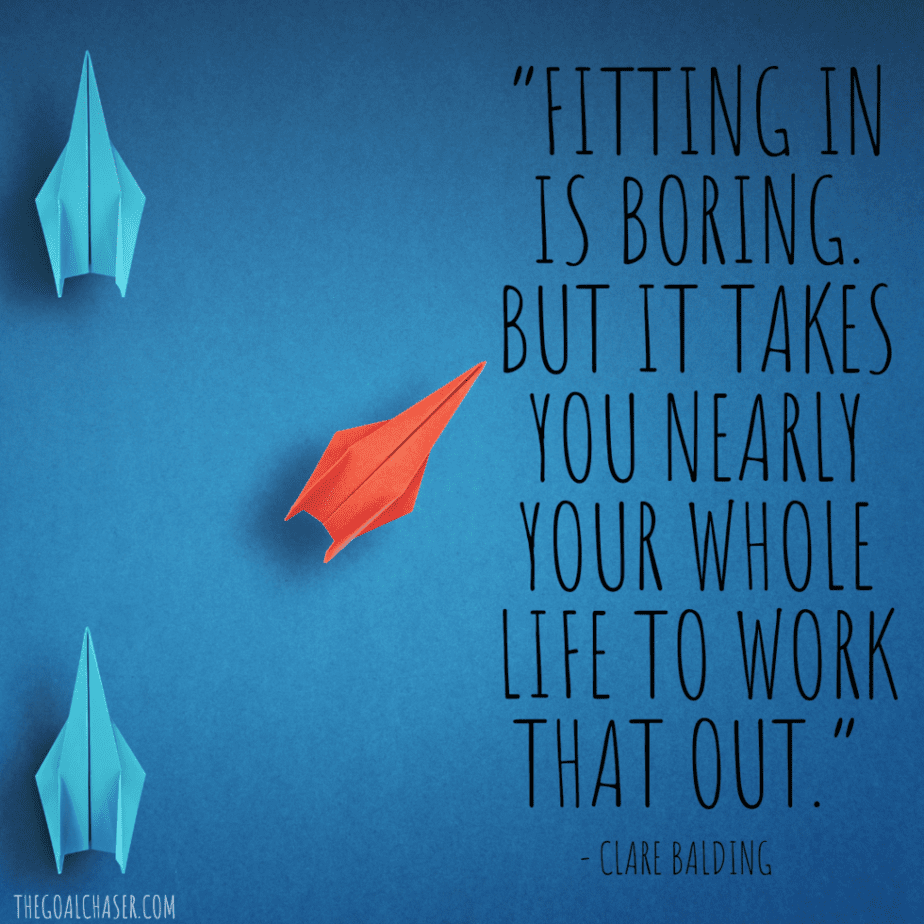 "Fitting in is boring. But it takes you nearly your whole life to work that out." Clare Balding
"Human tragedies: We all want to be extraordinary, and we all just want to fit in. Unfortunately, extraordinary people rarely fit in." Sebastyne Young
"Like most people, I have painful memories of trying to fit in as a child. I wore, said, and did pretty much what everyone else did." Steve Carell
"Those who follow the crowd usually get lost in it." Rick Warren
"Want a reliable road to emotional and spiritual suicide? Spend your life trying to fit in." Brandon Mull
"The most basic human desire is to feel like you belong. Fitting in is important." Simon Sinek
"I'd spent so long trying to fit in, trying to be someone I wasn't, that I had no idea who I was any more." Dorothy Koomson
"In many ways, not fitting in has been a comedic asset and a comedic resource." Jack Dee
For similar inspiring words and quotes, be sure to check out: