Perfectionism Quotes – For Awareness & Alternatives
The purpose of this collection of quotes about perfectionism are a great way to increase awareness of perfectionist tendencies and to encourage us to move beyond the quest for 'perfect' and instead strive for 'enough'.
Perfectionism can be defined as a conscientious personality trait that involves the setting of exceedingly high standards for oneself and others. It's holding ourselves up to sometimes impossible standards, and then being disappointed when we don't meet them.
Sometimes, perfectionism can be debilitating – causing procrastination in starting or completing tasks and projects and causing crippling anxiety and low self-worth.
Perfectionism Quotes
The following quotes will first inspire you to consider and become aware of times or areas of your life that you may be experiencing perfectionism. Contemplate the quotes from wise thought leaders and consider how they make you feel: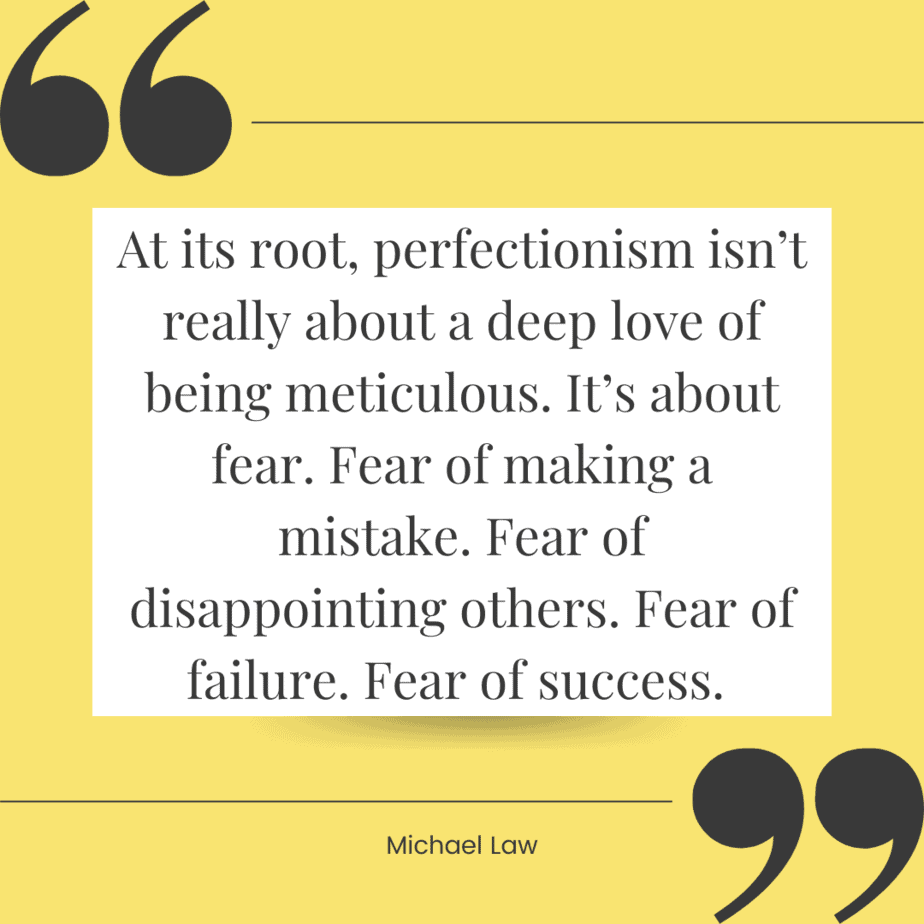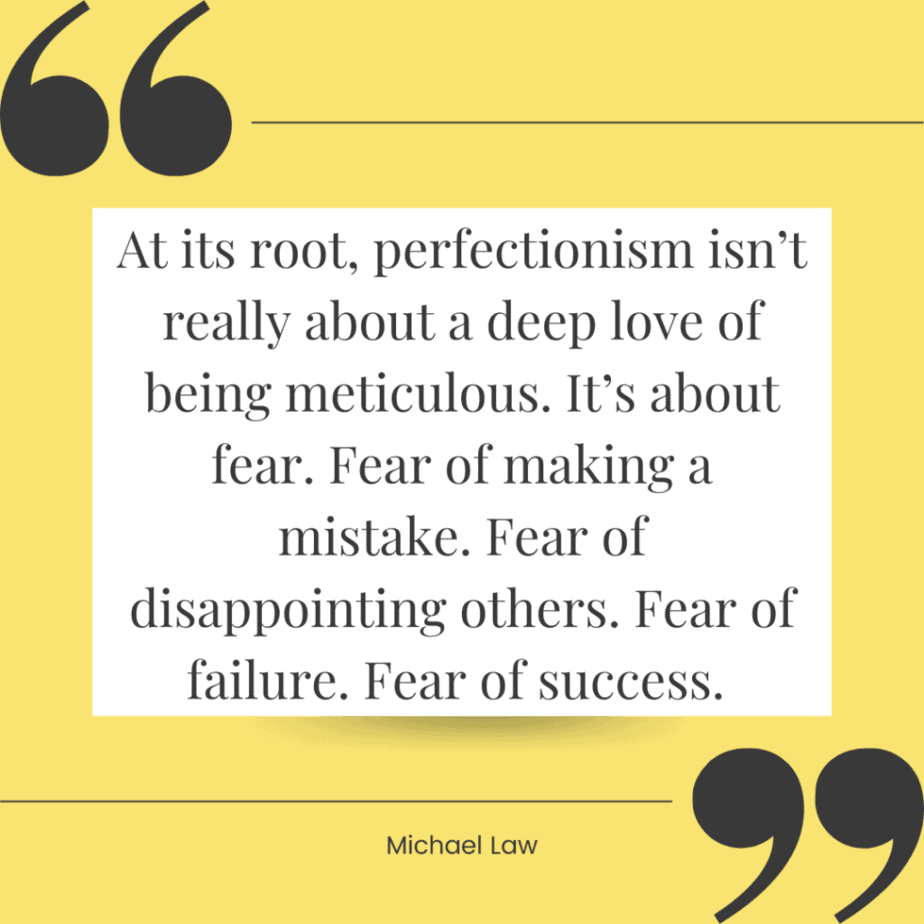 "At its root, perfectionism isn't really about a deep love of being meticulous. It's about fear. Fear of making a mistake. Fear of disappointing others. Fear of failure. Fear of success." Michael Law
"Healthy striving is self-focused: "How can I improve?" Perfectionism is other-focused: "What will they think?" Brené Brown
"Perfectionism sucks the air out of your uniqueness and leaves you empty, away from who you could become." Darryl Stewart Wellness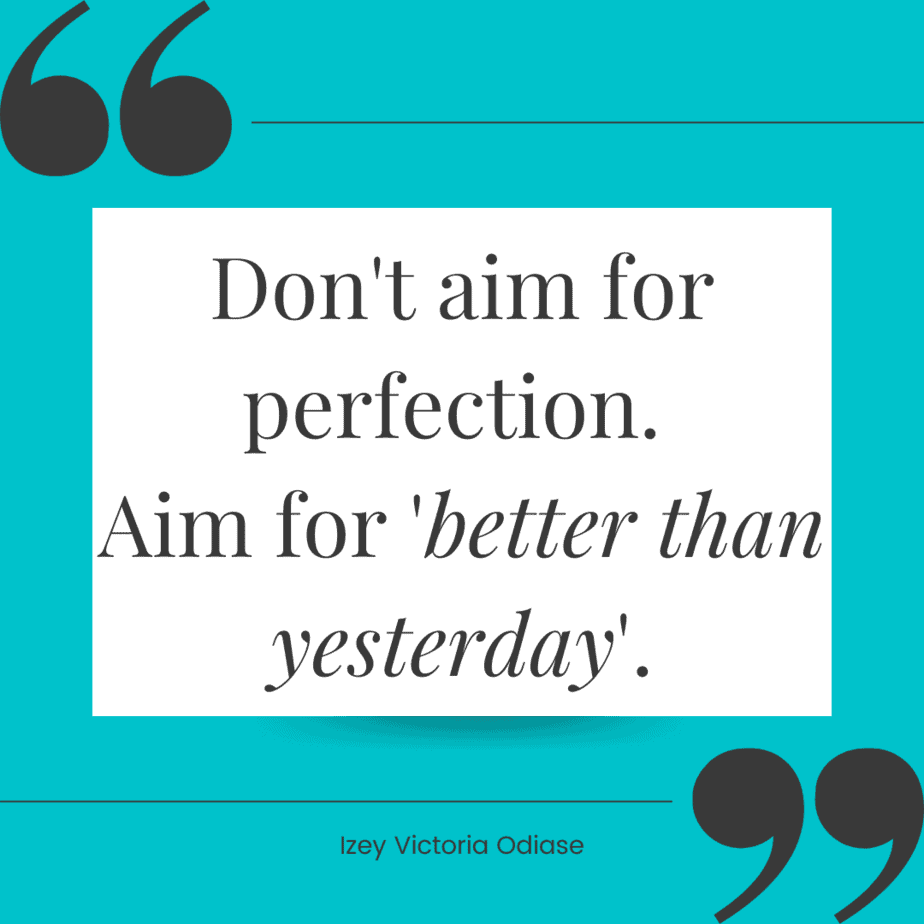 "Don't aim for perfection. Aim for 'better than yesterday'." Izey Victoria Odiase
"Many people think of perfectionism as striving to be your best, but it is not about self-improvement; it's about earning approval and acceptance." Brene Brown
"If I waited for perfection… I would never write a word." Margaret Atwood
"A pursuit for perfection is the most leading cause of procrastination in artists." Neeraj Agnihotri
"I have to say that I've always believed perfectionism is more of a disease than a quality. I do try to go with the flow but I can't let go." Rowan Atkinson
"Always dream and shoot higher than you know you can do. Do not bother just to be better than your contemporaries or predecessors. Try to be better than yourself." William Faulkner
"Perfectionism and procrastination have such a fine line. You say, 'Well, I want it to be good. I want it to be perfect.' But what you're really doing is not doing your work. You're putting off showing up and being visible because then you're going to be judged, and it might suck." Jen Sincero
"On this sacred path of radical acceptance, rather than striving for perfection, we discover how to love ourselves into wholeness." Tara Brach
"Perfection is not attainable, but if we chase perfection, we can catch excellence." Vince Lombardi
"Perfectionism is not a quest for the best. It is a pursuit of the worst in ourselves, the part that tells us that nothing we do will ever be good enough – that we should try again." Julia Cameron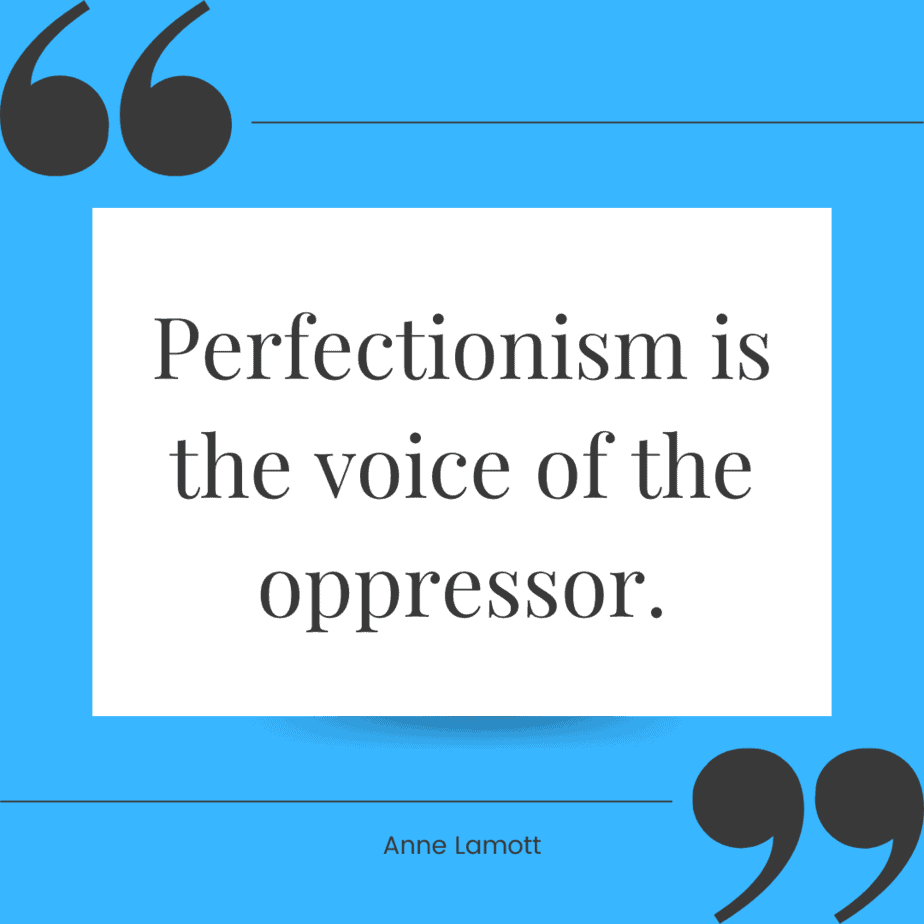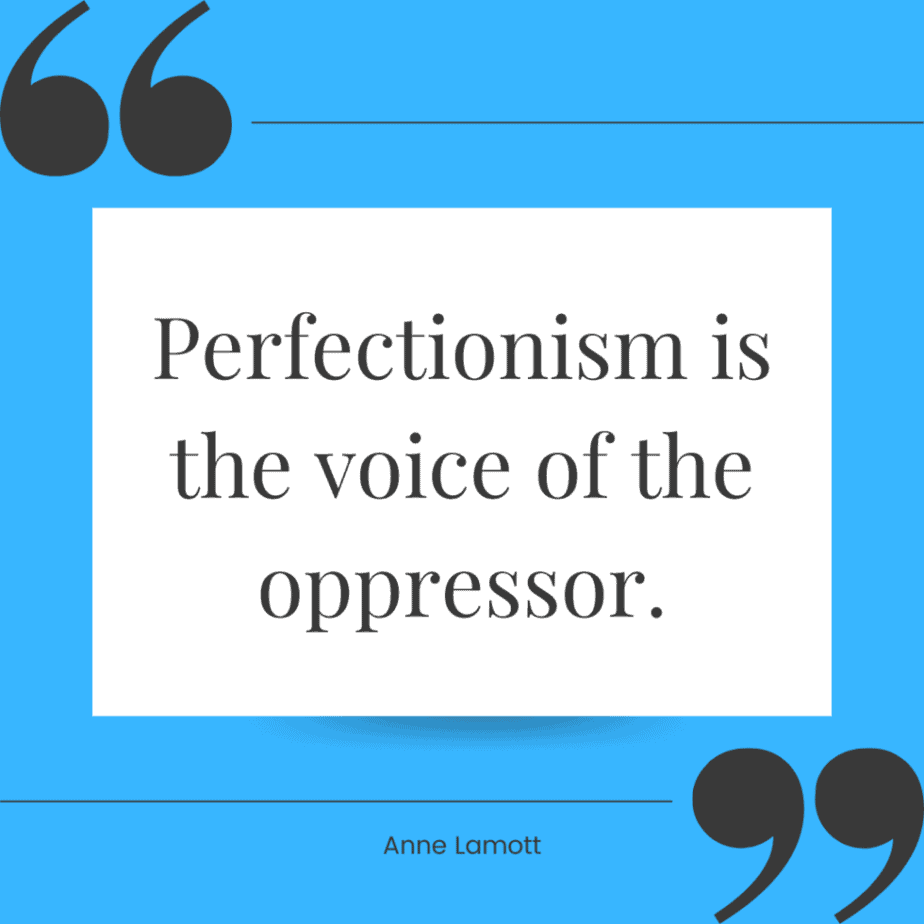 "Perfectionism is the voice of the oppressor." Anne Lamott
"And now that you don't have to be perfect, you can be good." John Steinbeck
Perfectionist Quotes
"The fastest way to break the cycle of perfectionism and become a fearless mother is to give up the idea of doing it perfectly – indeed to embrace uncertainty and imperfection." Arianna Huffington
"Embrace being perfectly imperfect. Learn from your mistakes and forgive yourself, you'll be happier." Roy Bennett
"I don't have to be perfect. All I have to do is show up and enjoy the messy, imperfect, and beautiful journey of my life." Kerry Washington
"In order to go on living one must try to escape the death involved in perfectionism." Hannah Arendt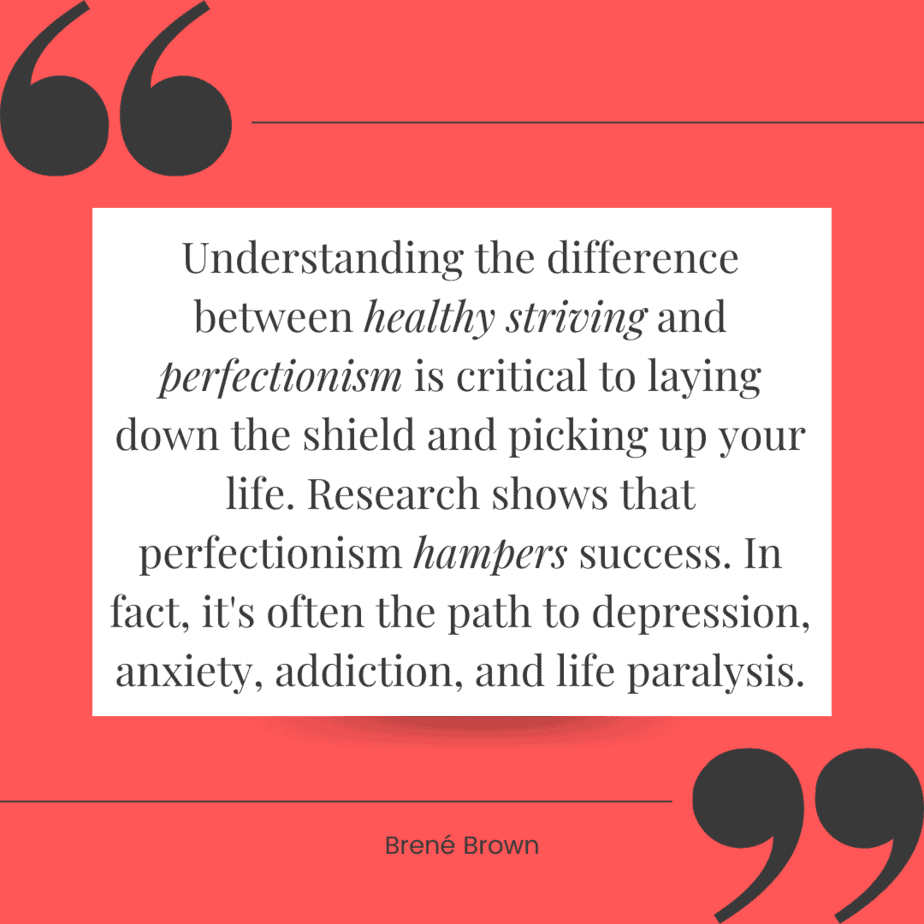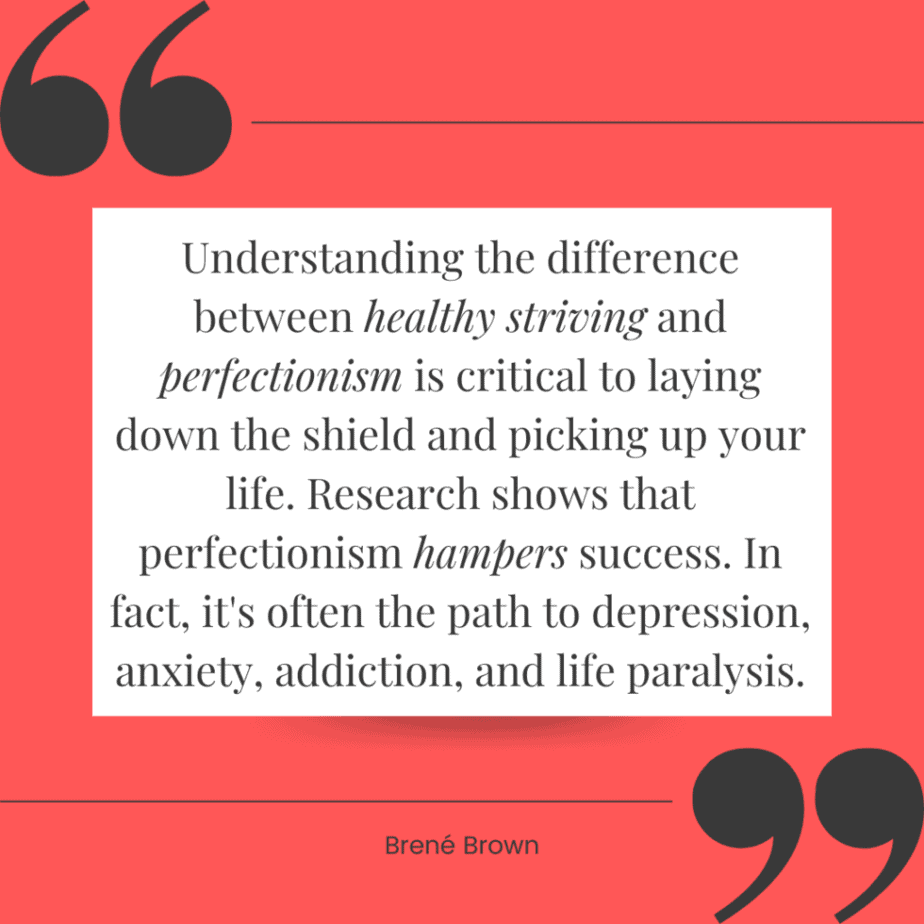 "Understanding the difference between healthy striving and perfectionism is critical to laying down the shield and picking up your life. Research shows that perfectionism hampers success. In fact, it's often the path to depression, anxiety, addiction, and life paralysis." Brené Brown
"If you wait for perfect conditions, you will never get anything done." Ecclesiastes 11:4
"Perfectionists are not all negative, miserable, unhappy and over controlling individuals" Asa Don Brown
"Perfectionism is internalized oppression." – Gloria Steinem
"There's really no way to be perfect. Perfectionism is a silly trait to have, so in a lot of ways that inspired the world of 'Divergent,' in which everyone is striving toward that ideal and falling short of it." Veronica Roth
"The biggest challenge for me has been in coping with my perfectionism. I have a stiflingly hard time moving forward in a project if it's not 'just right' all along the way. The trap I so easily fall into is rewriting and rewriting the same scenes over and over to make them perfect, instead of continuing on into the wild unknown of the story." Laini Taylor
"Perfectionism rarely begets perfection, or satisfaction – only disappointment." Ryan Holiday
"Perfectionism is the voice of the oppressor, the enemy of the people. It will keep you cramped and insane your whole life, and it is the main obstacle between you and a shitty first draft. I think perfectionism is based on the obsessive belief that if you run carefully enough, hitting each stepping-stone just right, you won't have to die. The truth is that you will die anyway and that a lot of people who aren't even looking at their feet are going to do a whole lot better than you, and have a lot more fun while they're doing it." Anne Lamott
"There is no perfection, only beautiful versions of brokenness." Shannon L. Alder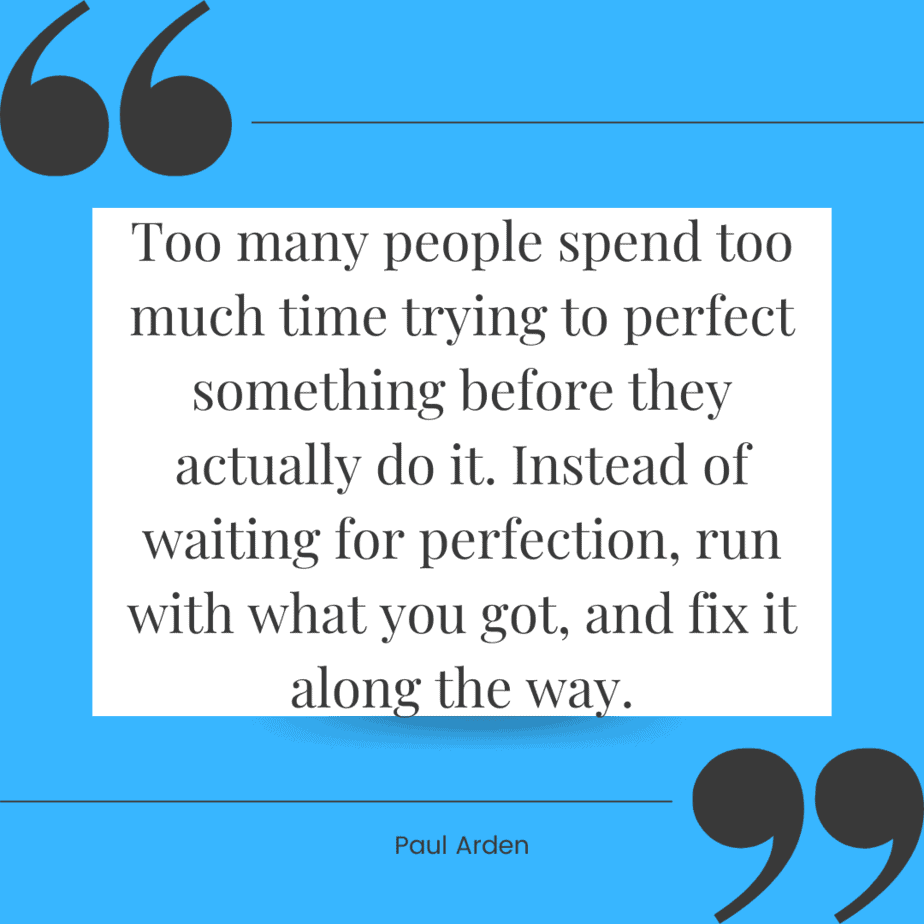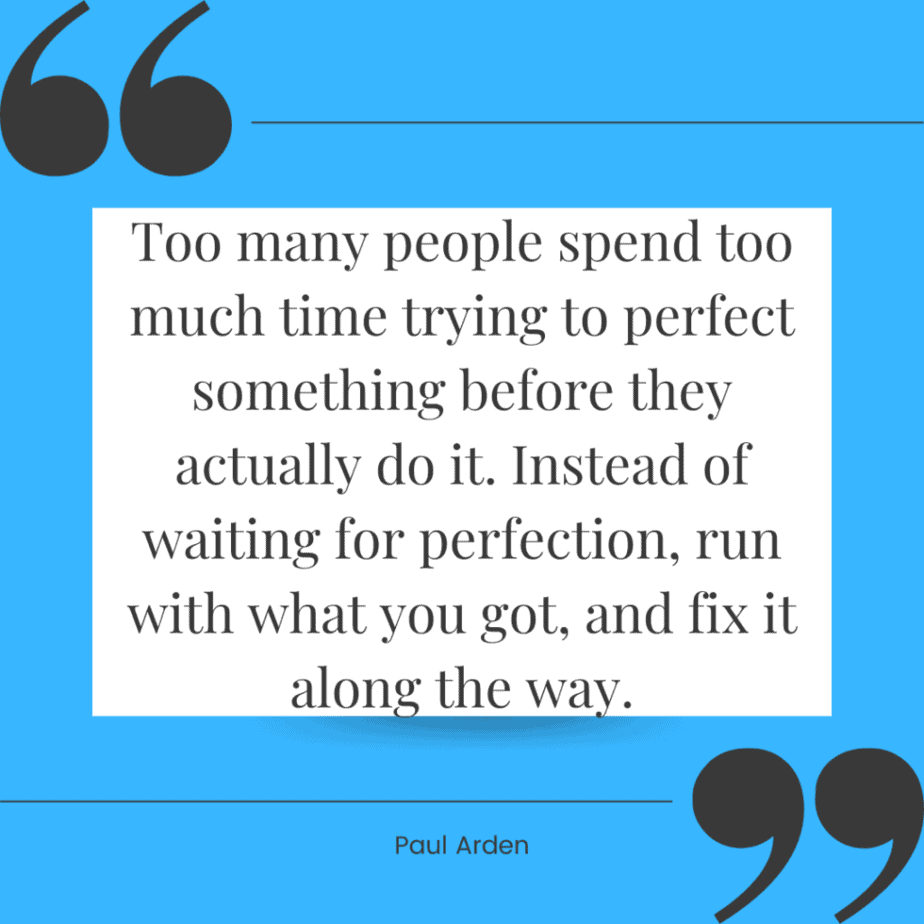 "Too many people spend too much time trying to perfect something before they actually do it. Instead of waiting for perfection, run with what you got, and fix it along the way." Paul Arden
"It's in our biology to trust what we see with our eyes. This makes living in a carefully edited, overproduced and photoshopped world very dangerous." Brené Brown
Nobody is perfect. You can still set your standards high and achieve greatness, but nobody will ever be able to reach perfection.
To stop being a perfectionist, you have to first take a look at why you're doing what you're doing. Are you trying to be perfect just for the sake of being perfect? Or do you have something that is driving this need for perfection? Fear, the need for attention from others, low self-esteem?
Alternatively, we can attempt to break the grip of perfectionism by taking action. Acting fast and just getting started on something is a great way to break the procrastination that often occurs with perfectionism.
When we stop being a perfectionist, it doesn't mean that we do things poorly, it simply means we give ourselves grace, kindness and understanding – as we would a friend.
Take care and seek help if procrastination is impacting your life and happiness.
For more inspiring words to encourage you, be sure to check out: