Believe In Yourself Quotes – Confidence, Mindset & Possibilities
This inspiring collection of quotes about believing in yourself helps to remind us of the enormous power of our thoughts and their impact on our success in life.
Why is believing in yourself important?
Believing in yourself is so important because it gives us the self-confidence that we need to achieve our goals. Which at first thought, is overly simplistic.
So, first we need to backtrack a little and consider the concept that:
our thoughts and beliefs create…
our feelings, which then
inspire our actions, that
lead to the results we produce.
Woah right!
If we think we can do something, we feel confident, motivated and inspired to take the required actions that will lead to the results that we want. Job done right?
So getting back to believing in ourselves….
When you believe in yourself, you feel more confident and capable of reaching your goals. This increased confidence can help you take on new challenges and overcome any obstacles that may stand in your way. Additionally, believing in yourself can help boost your self-esteem and make you happier and more content with your life.
How can I believe in myself more?
Building self-confidence can be a difficult task if you're not used to it, but there are a few things you can do to help improve your confidence, mainly with simple mindset shifts.
Firstly, question why you think the way you do. Ask, Why do I believe this?, What evidence (if any) do I have that I can't do this? Why not me?
Then, look for evidence of why you could start to believe in yourself. Find examples of others who have accomplished what you want, write a list of the awesome things you've accomplished in the past and what obstacles you've overcome before.
Next, you need to make a start. Take even the smallest action towards believing you can do 'x, y or z'. Start setting tiny goals towards it, and by keeping your promise to yourself and achieving these tiny goals, you will gain confidence and belief that, why, yes I think I can do this.….
Quotes About Having Belief in Yourself
To get your enthusiasm going further, read and ponder the below powerful quotes on believing in yourself:
"Believe in yourself! Have faith in your abilities! Without a humble but reasonable confidence in your own powers you cannot be successful or happy." Norman Vincent Peale
"As is our confidence, so is our capacity." William Hazlitt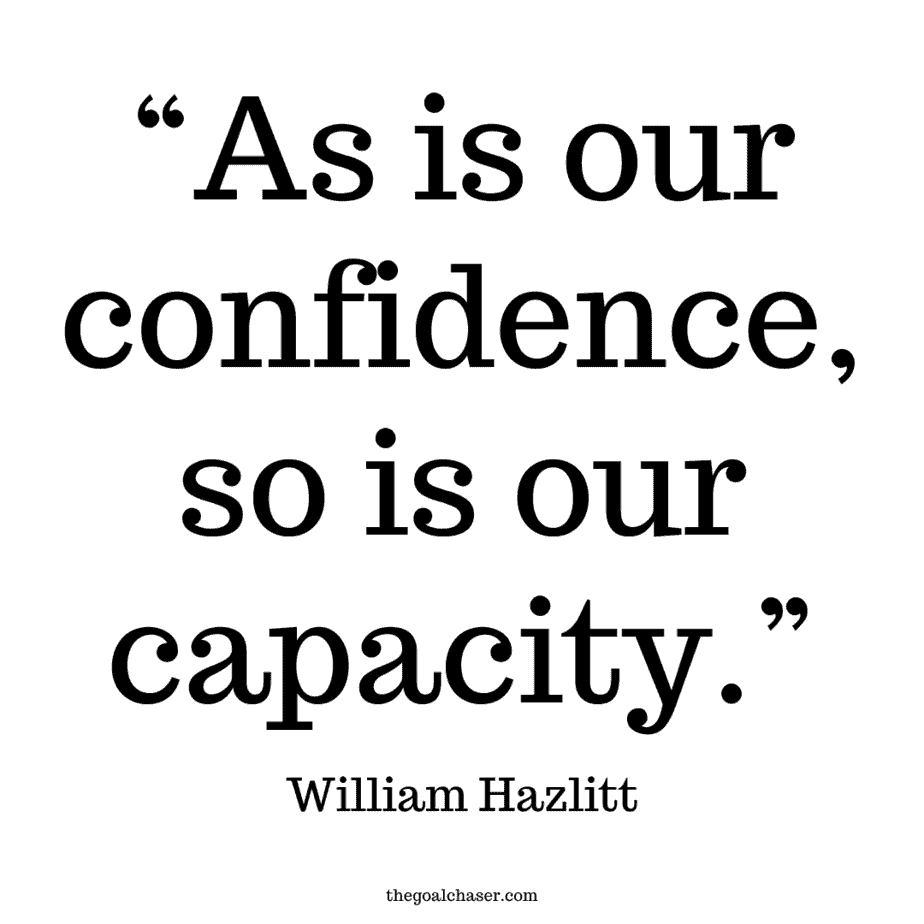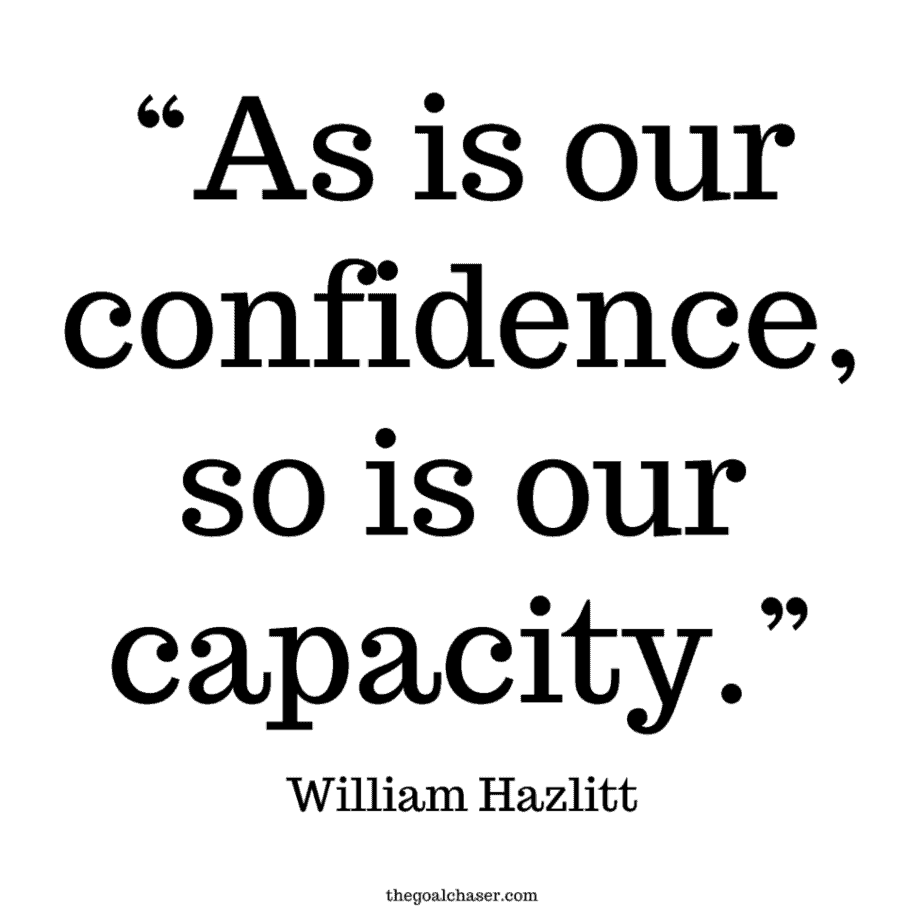 "Believe in yourself. You are braver than you think, more talented than you know, and capable of more than you imagine." Roy T. Bennett
"As soon as you trust yourself, you will know how to live." Johann Wolfgang von Goethe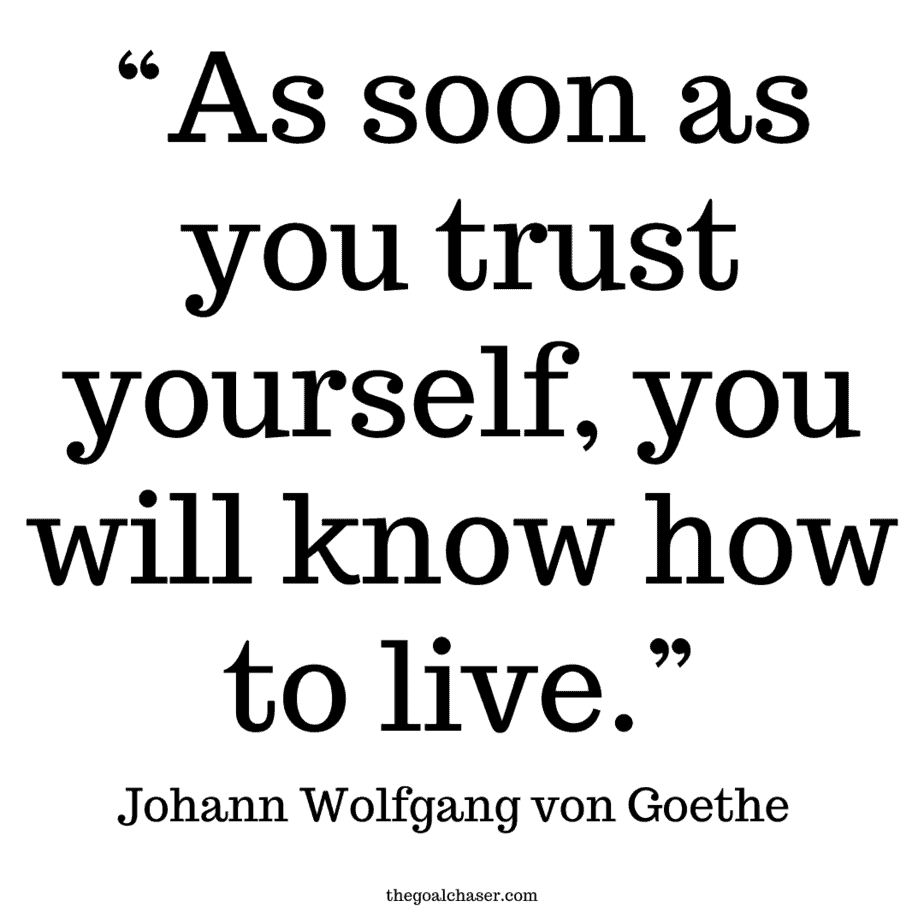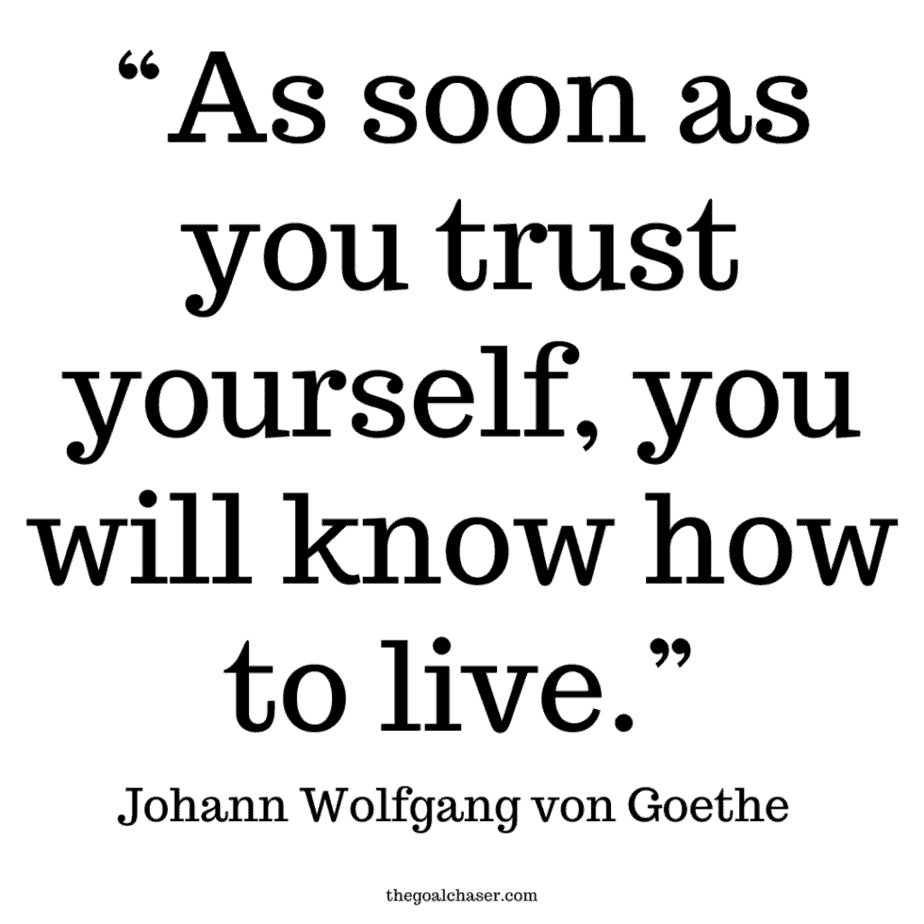 "Once we believe in ourselves, we can risk curiosity, wonder, spontaneous delight, or any experience that reveals the human spirit." E.E. Cummings
"It's difficult to believe in yourself because the idea of self is an artificial construction. You are, in fact, part of the glorious oneness of the universe. Everything beautiful in the world is within you." Russell Brand
"The more you believe in yourself, the more the world believes in you!" Isa Zapata
"The only person who can pull me down is myself, and I'm not going to let myself pull me down anymore." C. JoyBell C
"Believe in love. Believe in magic. Hell, believe in Santa Clause. Believe in others. Believe in yourself. Believe in your dreams. If you don't, who will?" Jon Bon Jovi
"I am the greatest. I said that before I even knew I was." Muhammad Ali
"You have to believe in yourself. You need to have the audacity to be great." Rosie Perez
"You yourself, as much as anyone in the entire universe, deserve your love and affection." Buddha
"Our deepest fear is not that we are inadequate. Our deepest fear is that we are powerful beyond measure. It is our light, not our darkness, that most frightens us. We ask ourselves, 'who am I to be brilliant, gorgeous, talented, fabulous?' Actually, who are you not to be?" Marianne Williamson
"You have to believe in yourself before anybody else believes in you." Ray LaMontagne
"Believe in yourself and believe in your dreams. Follow them, never give up, that's the most important thing. If you believe you can get there, then one day you will." Joao Moutinho
Inspiring Quotes About Believing In Yourself
"The moment you doubt whether you can fly, you cease forever to be able to do it." J.M. Barrie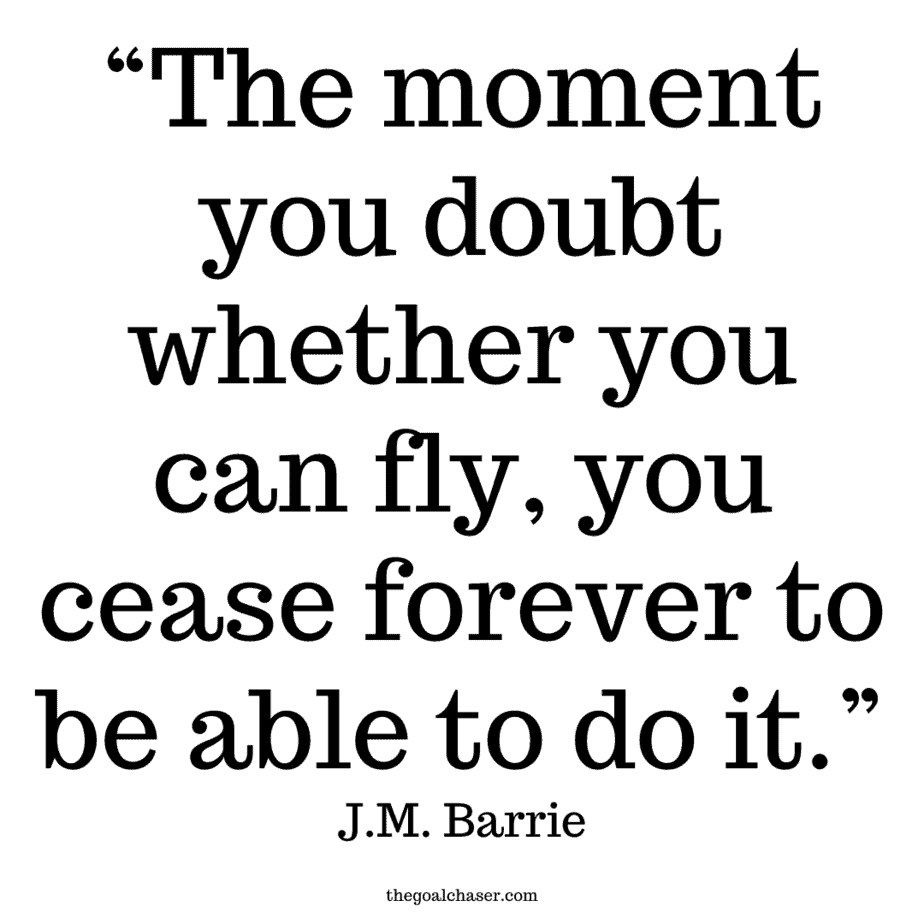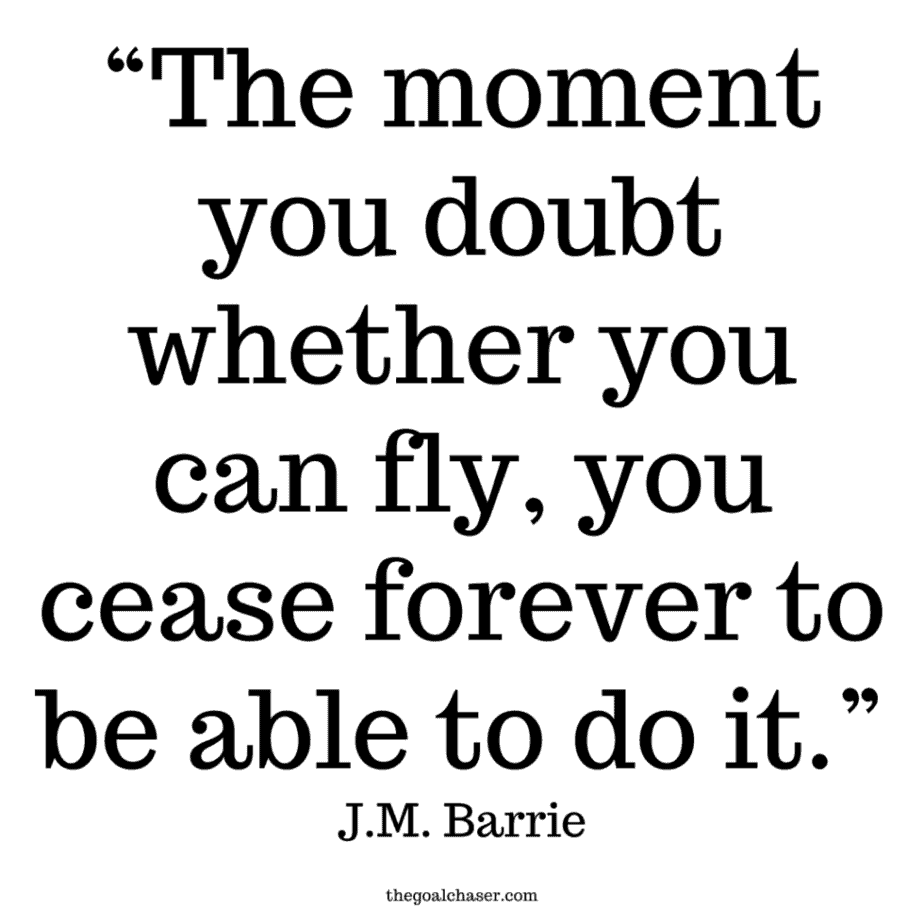 "If we all did the things we are capable of doing, we could literally astound ourselves." Thomas Edison
"I would say to always follow your dream. And dream big because my whole career, including any of the things that I've accomplished, I never thought in a million years that I would be here. So, it just proves that once you believe in yourself, and you put your mind to something, you can do it." Simone Biles
"To excel at the highest level – or any level, really – you need to believe in yourself, and hands down, one of the biggest contributors to my self-confidence has been private coaching." Stephen Curry
"Live the Life of Your Dreams. When you start living the life of your dreams, there will always be obstacles, doubters, mistakes, and setbacks along the way. But with hard work, perseverance, and self-belief there is no limit to what you can achieve." Roy T. Bennett
"Argue for your limitations and, sure enough, they're yours." Richard Bach
"When you're different, sometimes you don't see the millions of people who accept you for what you are. All you notice is the person who doesn't." Jodi Picoult
"Believe in yourself, take on your challenges, dig deep within yourself to conquer fears. Never let anyone bring you down. You got to keep going." Chantal Sutherland
"If you believe in yourself and have dedication and pride – and never quit, you'll be a winner. The price of victory is high but so are the rewards." Bear Bryant
"So that's my philosophy: If you believe in yourself, the chances and the opportunities will come around." Mindy Cohn
"Don't let fear or insecurity stop you from trying new things. Believe in yourself. Do what you love. And most importantly, be kind to others, even if you don't like them." Stacy London
Quotes About Belief in Yourself
"Believe in yourself, and the rest will fall into place. Have faith in your own abilities, work hard, and there is nothing you cannot accomplish." Brad Henry
"You know, you do need mentors, but in the end, you really just need to believe in yourself." Diana Ross
"Believe in your infinite potential. Your only limitations are those you set upon yourself." Roy T. Bennett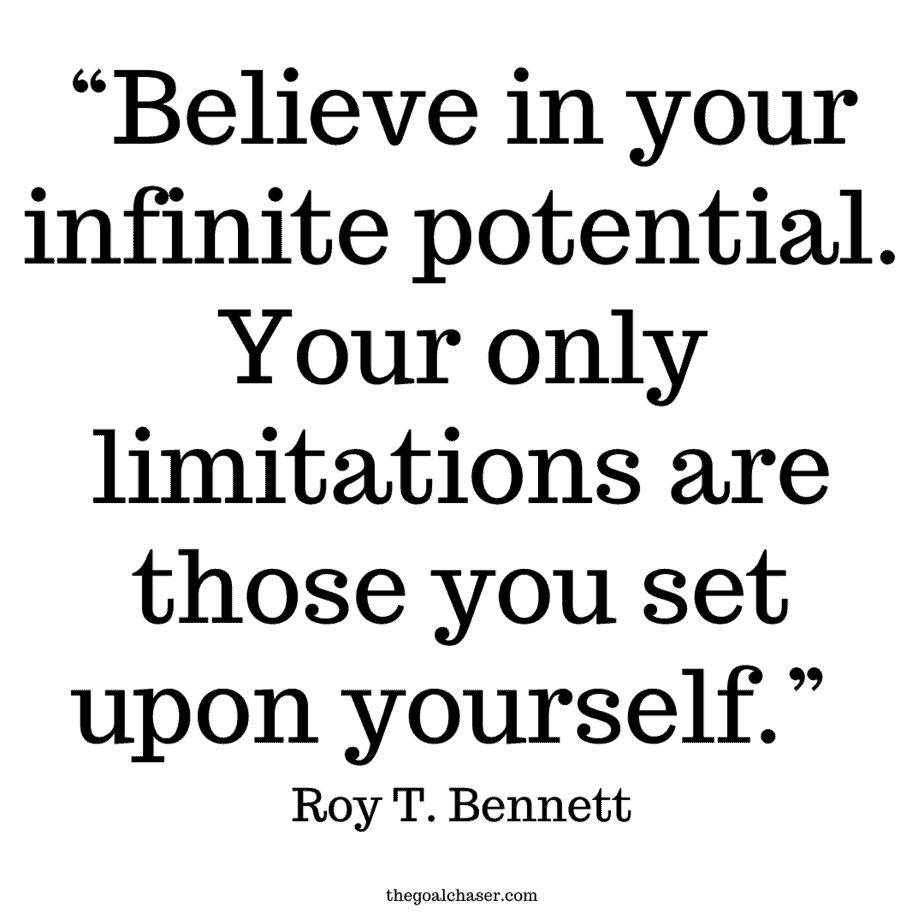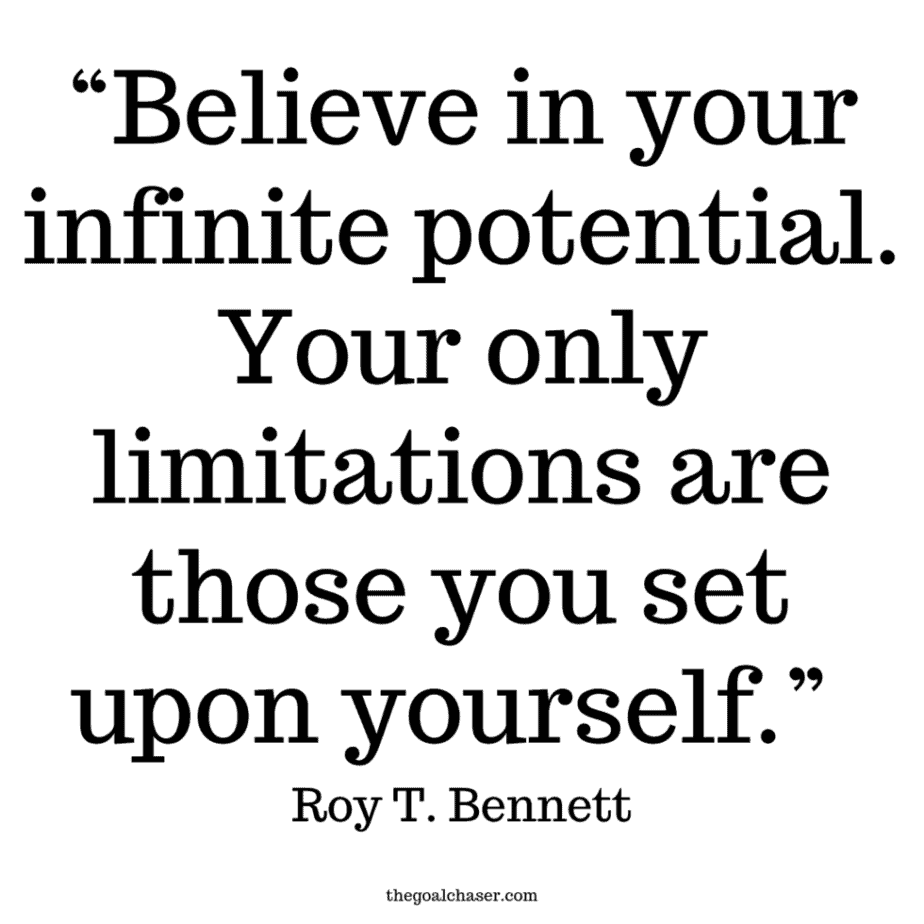 "There are no shortcuts to success. You have to believe in yourself, and never give up." Neha Dhupia
"As a driver, you've always got to believe in your heart that you've got what it takes to win it. You've always got to believe in yourself. You've always got to arrive on the day and believe it can happen. You've always got to believe in the positives." Lewis Hamilton
"Your success depends mainly upon what you think of yourself and whether you believe in yourself." William J.H. Boetcker
"The way to develop self-confidence is to do the thing you fear and get a record of successful experiences behind you." William Jennings Bryan
"If you don't believe in yourself, somewhere or another, you sabotage yourself." Jason Day
So if you want to achieve great things, start by believing in yourself! And if you need a little help getting started, be sure to check out some of the inspiring quotes below: