46 Inspiring Quotes About Reaching Your Goal
Setting big goals and dreams is definitely the easy part. It's exciting and adventurous and invigorating.
You set deadlines and make plans to achieve it.
The hard part comes a little later. When the shine has worn off, you're uncomfortable, tired, scared or just starting to lack motivation.
That's exactly when you need a little motivational quote that speaks to you personally. An inspiring quote that will spur you on – to reach your goal. So that you can keep on going and accomplish that goal that you have your heart set on.
Here is a carefully compiled list of 46 quotes to help you reach your goals and to keep on-hand when the going gets a little tough.
Reach Your Goal Quotes
1.
"It is not enough to take steps which may someday lead to a goal; each step must be itself a goal and a step likewise."
Johann Wolfgang von Goethe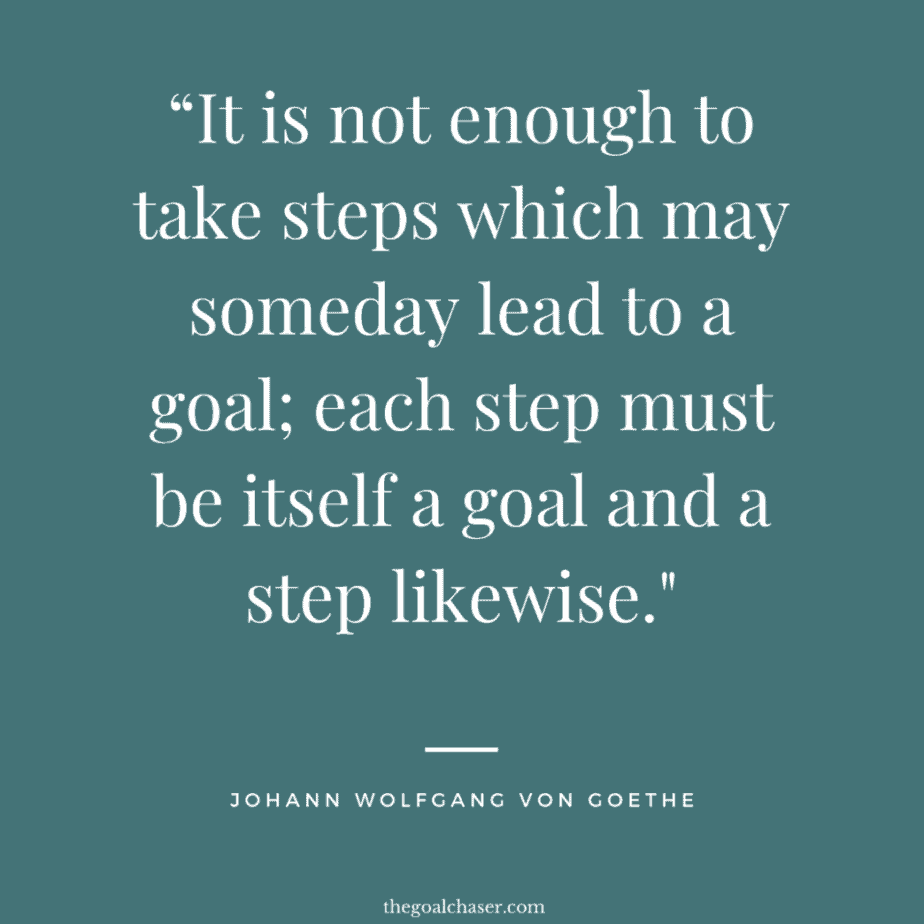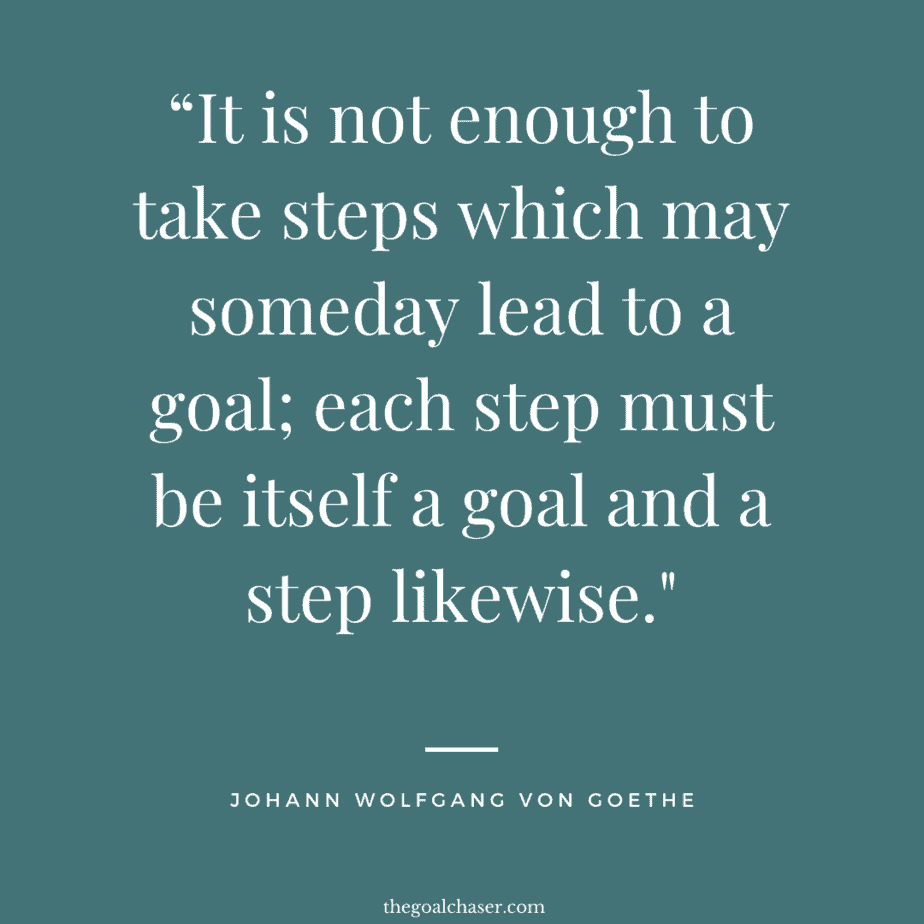 2.
"When your desires are strong enough, you will appear to possess superhuman powers to achieve."
Napoleon Hill
3.
"If you're bored with life – you don't get up every morning with a burning desire to do things – you don't have enough goals."
Lou Holtz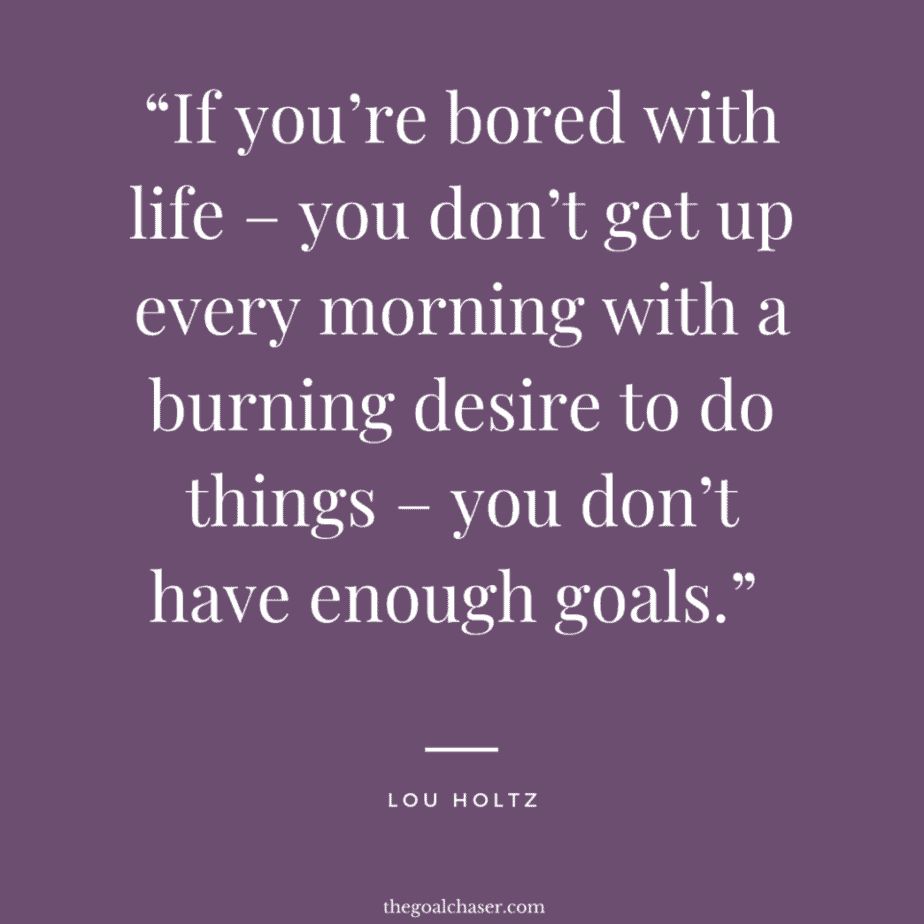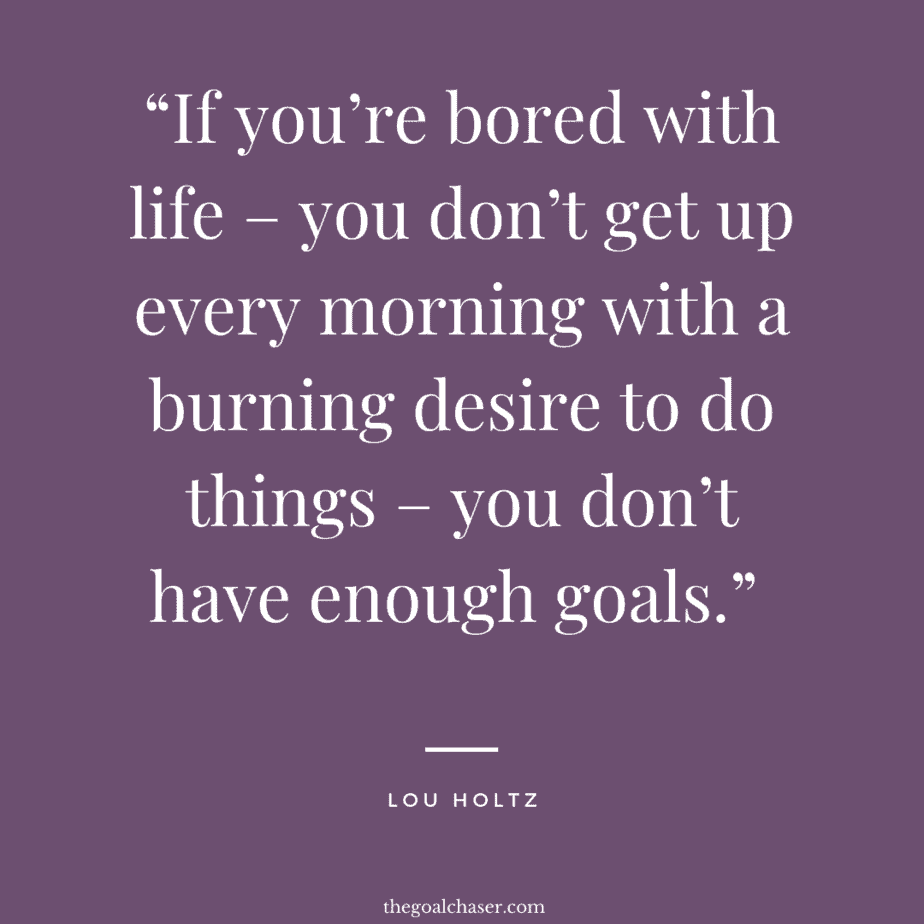 4.
"Do not wait; the time will never be 'just right.' Start where you stand, and work with whatever tools you may have at your command, and better tools will be found as you go along."
George Herbert
5.
"You cannot change your destination overnight, but you can change your direction overnight."
Jim Rohn
6.
"Genius is 1% inspiration, 99% perspiration."
Thomas Edison
7.
"Don't watch the clock; do what it does. Keep going."
Sam Levenson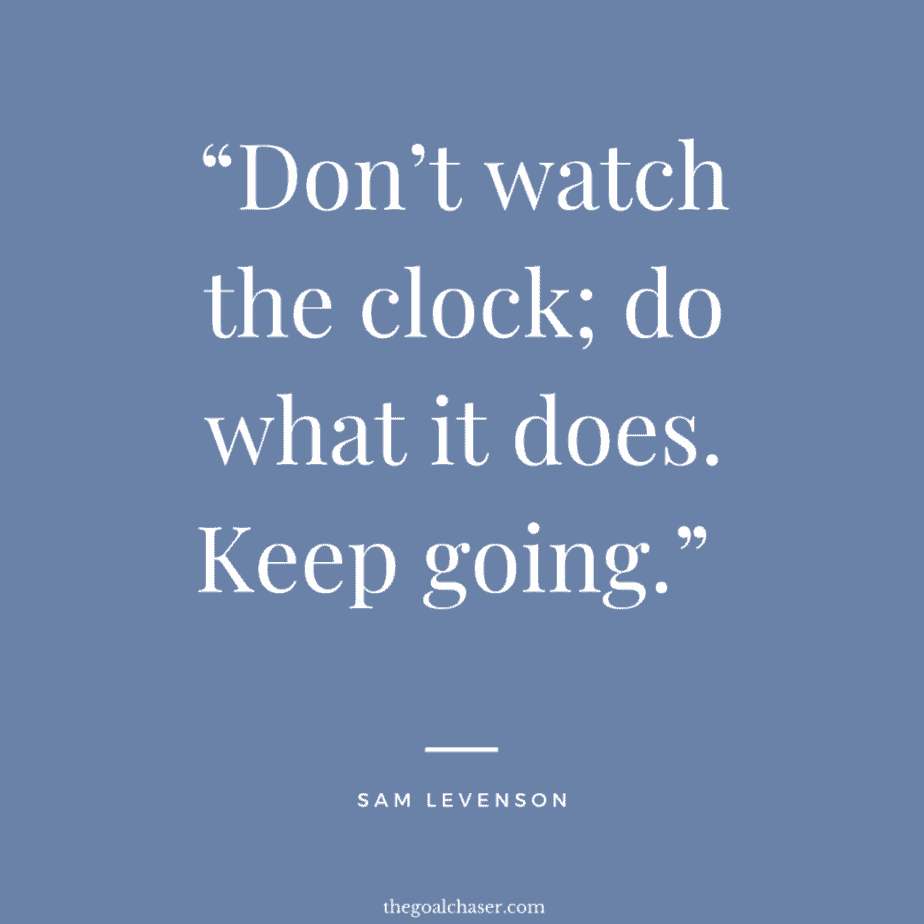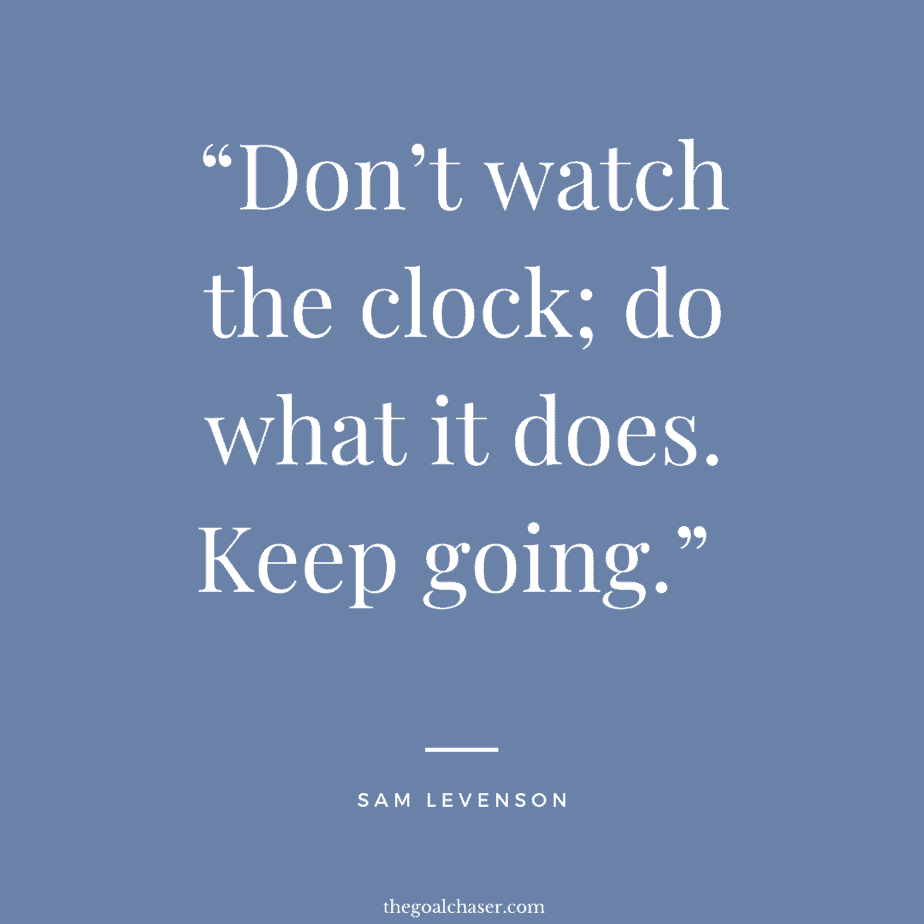 8.
"Success is assured when a person fears the pain of regret more than the pain of the process."
Orrin Woodward
9.
"You measure the size of the accomplishment by the obstacles you have to overcome to reach your goals."
Booker T. Washington
10.
"You just can't beat the person who never gives up."
Babe Ruth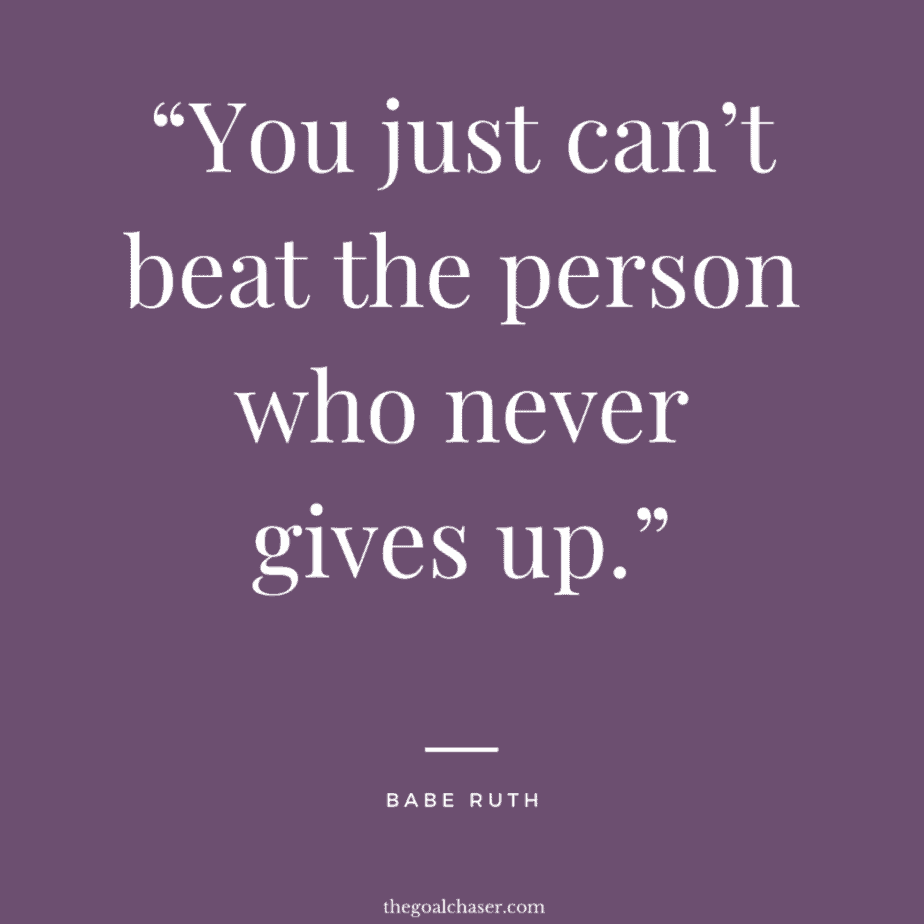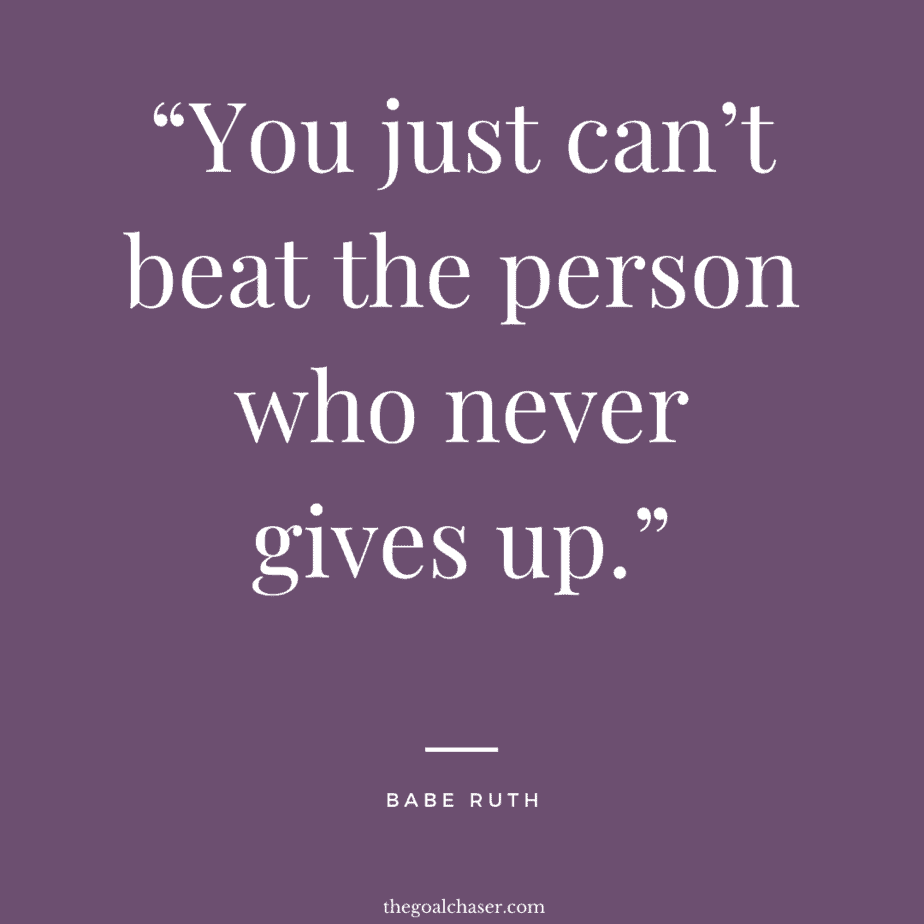 11.
"I can't change the direction of the wind, but I can adjust my sails to always reach my destination."
Jimmy Dean
12.
"Aim for the moon. If you miss, you may hit a star."
Clement Stone
13.
"It is hard to fail, but it is worse never to have tried to succeed."
Theodore Roosevelt
14.
"If you don't make the time to work on creating the life that you want, you're going to spend a lot of time dealing with a life you don't want."
Kevin Ngo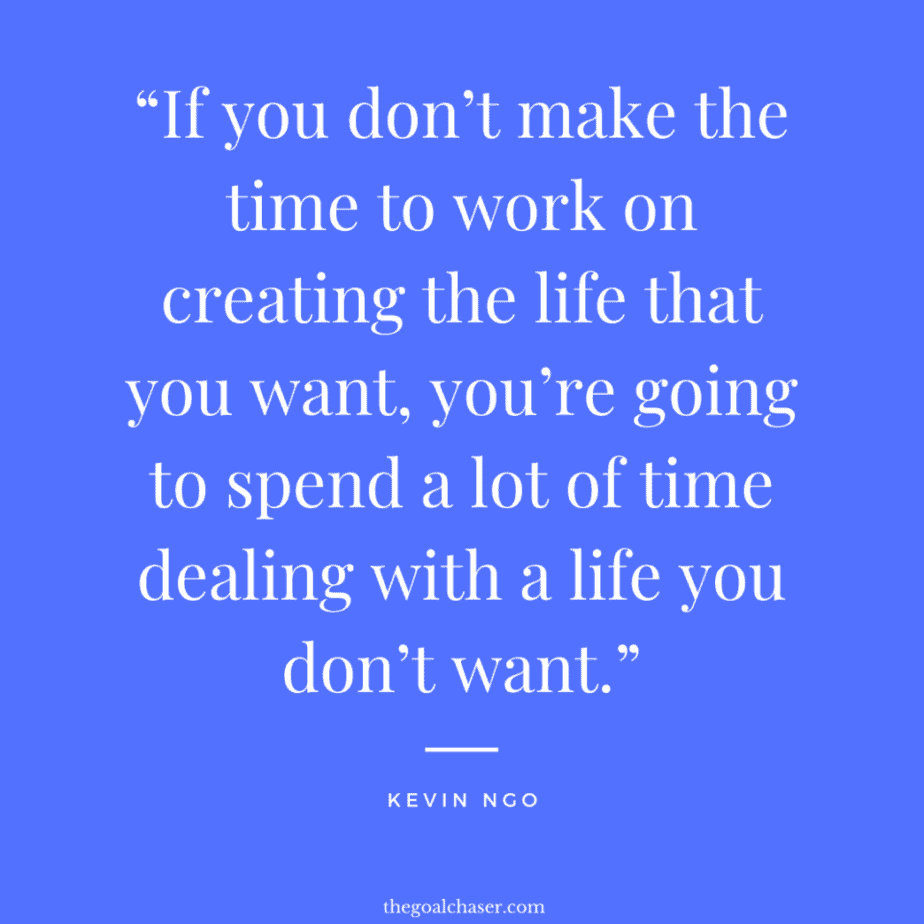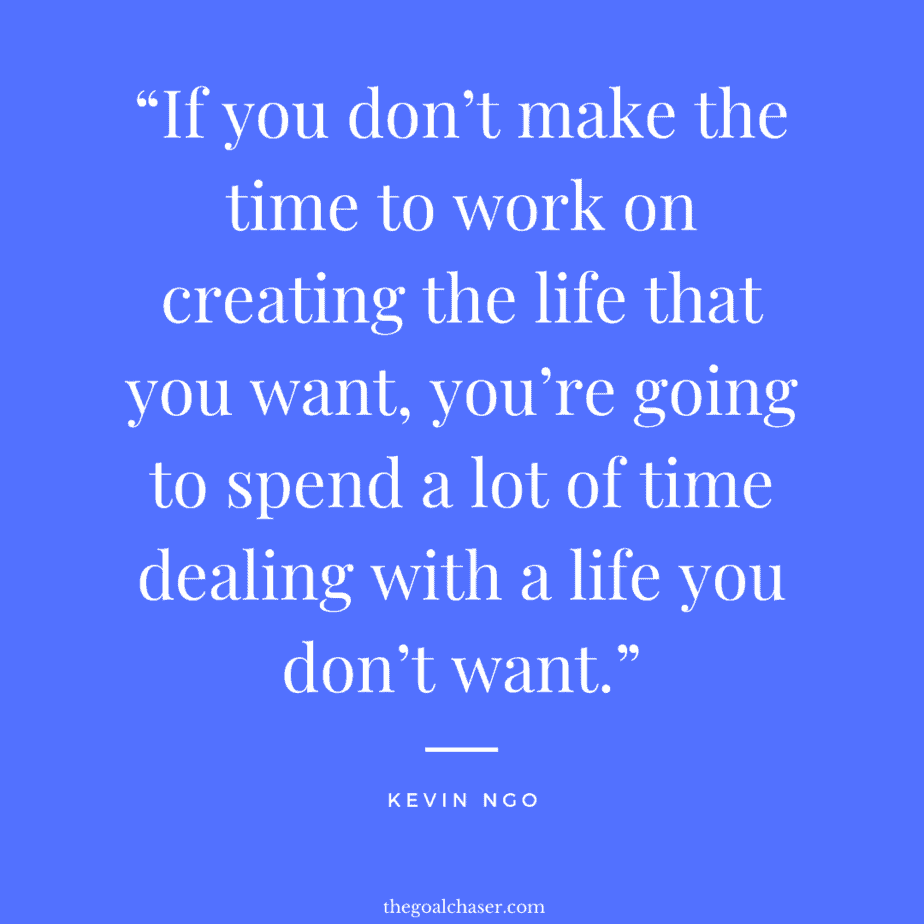 15.
"A year from now you may wish you had started today."
Karen Lamb
16.
"Begin with the end in mind."
Stephen Covey
17.
"You can always find a solution if you try hard enough."
Lori Greiner
18.
"The greater danger for most of us isn't that our aim is too high and miss it, but that it is too low and we reach it."
Michelangelo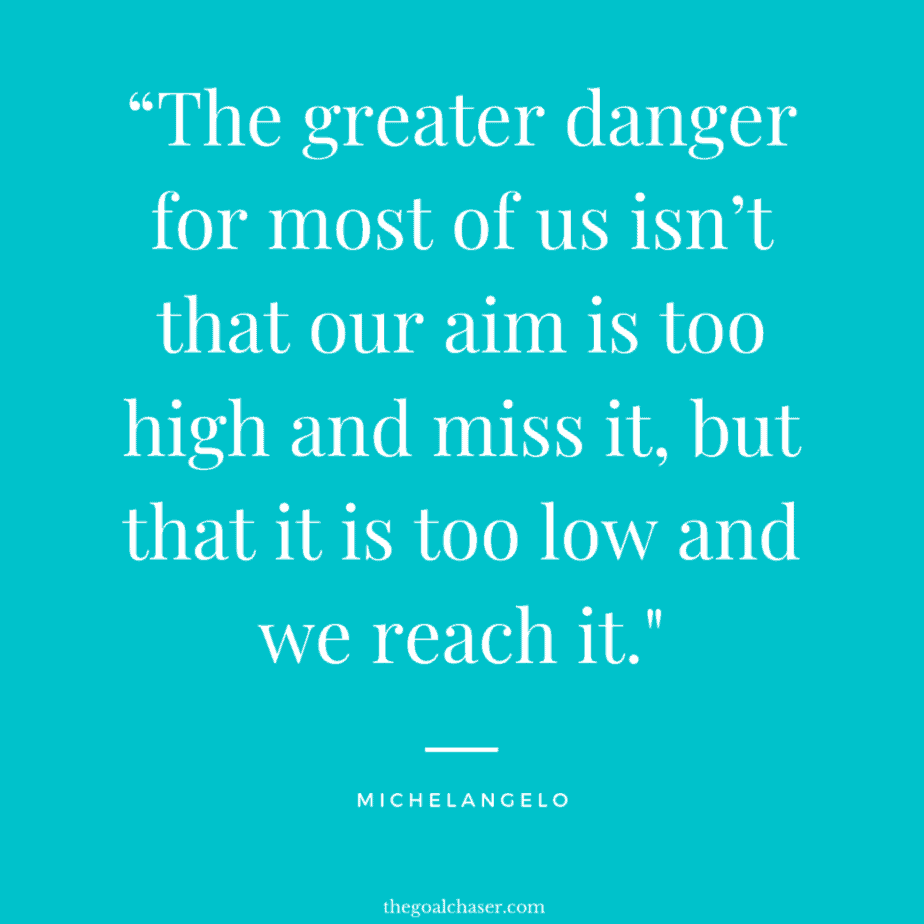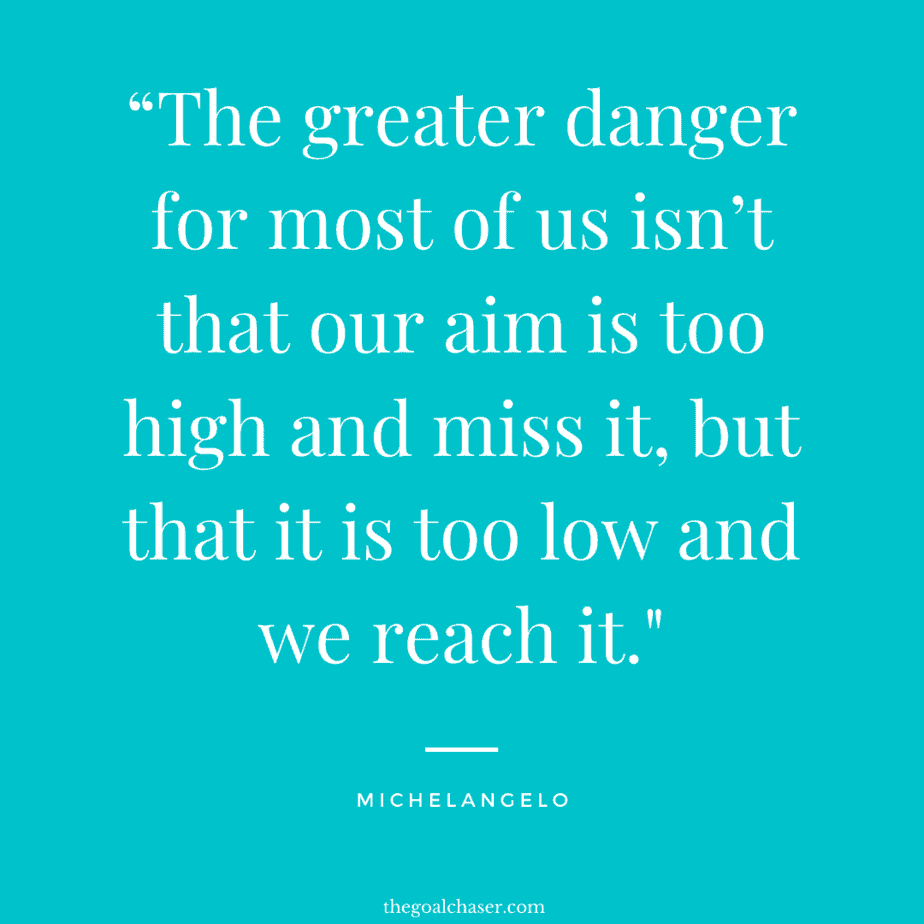 19.
"Never give up, for that is just the place and time that the tide will turn."
Harriet Beecher Stowe
20.
"Things work out best for those who make the best of how things work out."
John Wooden
21.
"If you have built castles in the air, your work need not be lost; that is where they should be. Now put the foundations under them."
Henry David Thoreau
22.
"If a goal is worth having, it's worth blocking out the time in your day-to-day life necessary to achieve it."
Jill Koenig
23.
"Life's problems wouldn't be called "hurdles" if there wasn't a way to get over them."
Unknown
24.
"What would you attempt to do if you knew you could not fail?"
Robert H. Schuller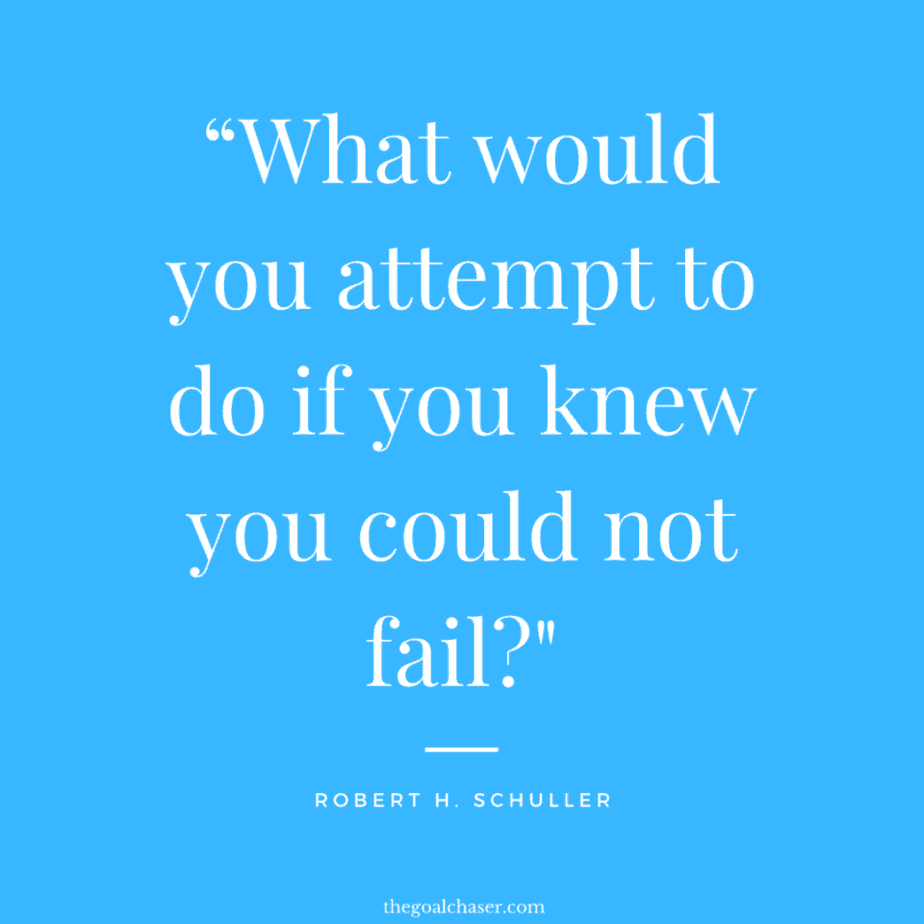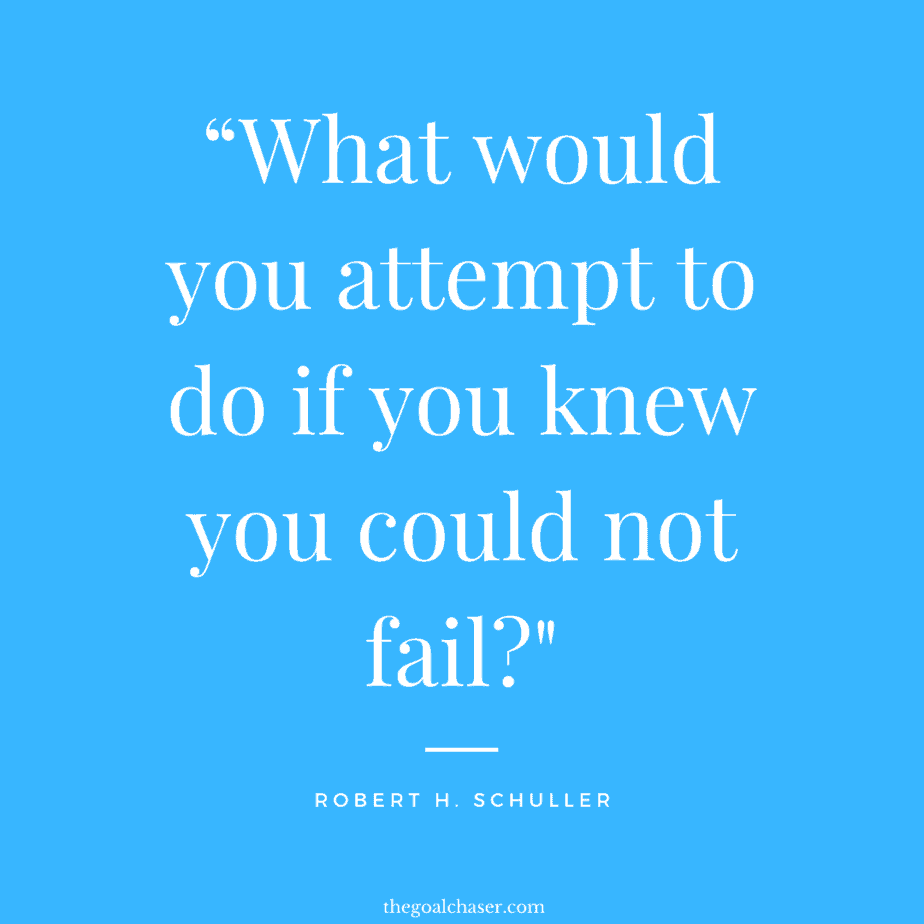 25.
"People with goals succeed because they know where they're going."
Earl Nightingale
26.
"What you get by achieving your goals is not as important as what you become by achieving your goals."
Henry David Thoreau
27.
"Discipline is the bridge between goals and accomplishment."
Jim Rohn
28.
"A goal properly set is halfway reached."
Zig Ziglar
29.
"We are built to conquer environment, solve problems, achieve goals, and we find no real satisfaction or happiness in life without obstacles to conquer and goals to achieve."
Maxwell Maltz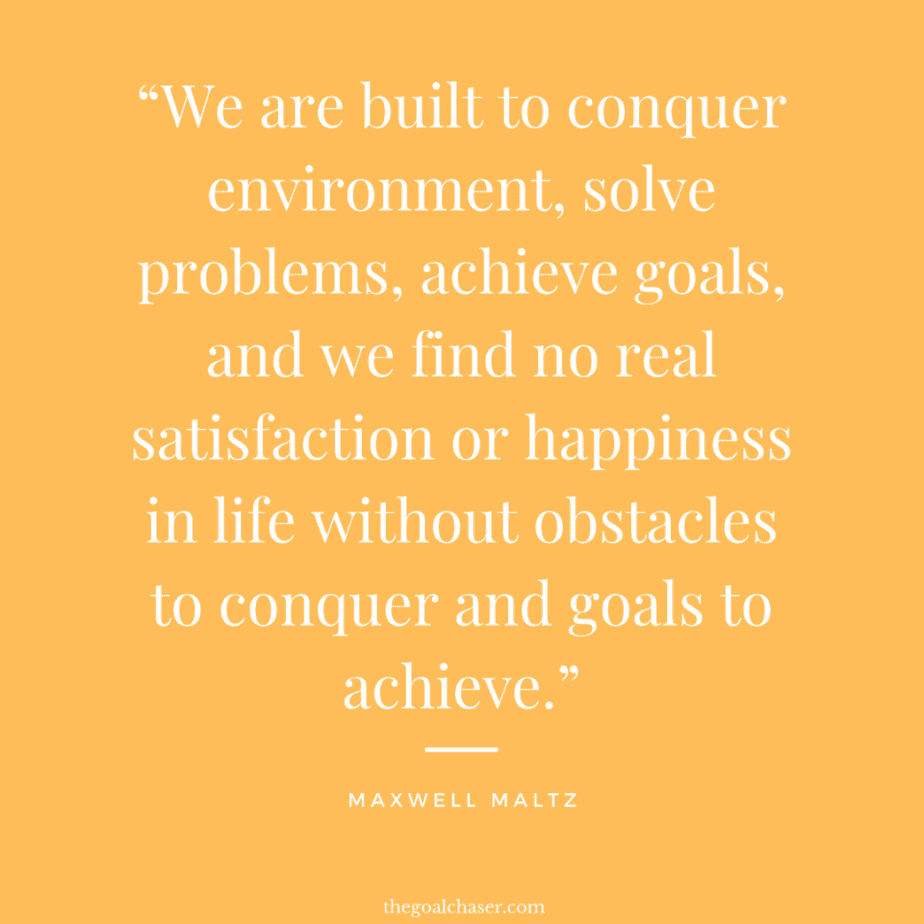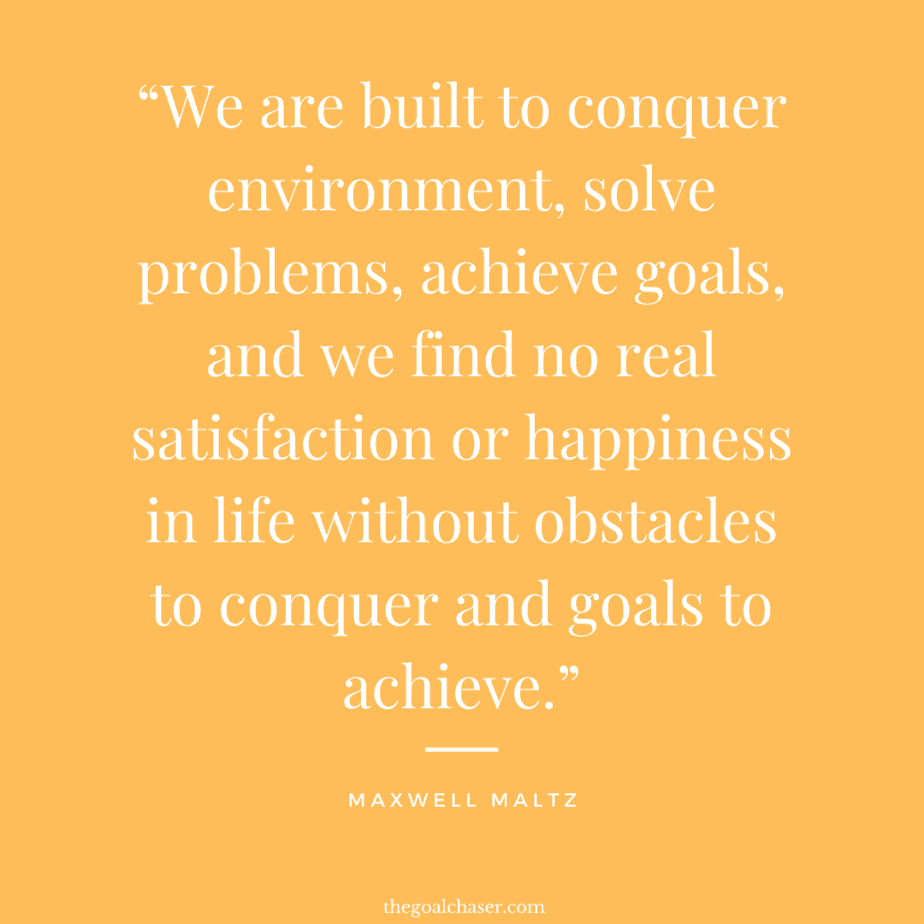 30.
"When you know what you want, and you want it bad enough, you'll find a way to get it."
Jim Rohn
31.
"A goal is not always meant to be reached, it often serves simply as something to aim at."
Bruce Lee
Setting & Achieving Goals
Related: Inspiring Quotes About Achieving Big Goals
32.
"The trouble with not having a goal is that you can spend your life running up and down the field and never score."
Bill Copeland
33.
"You can't hit a home run unless you step up to the plate. You can't catch a fish unless you put your line in the water. You can't reach your goals if you don't try."
Kathy Seligman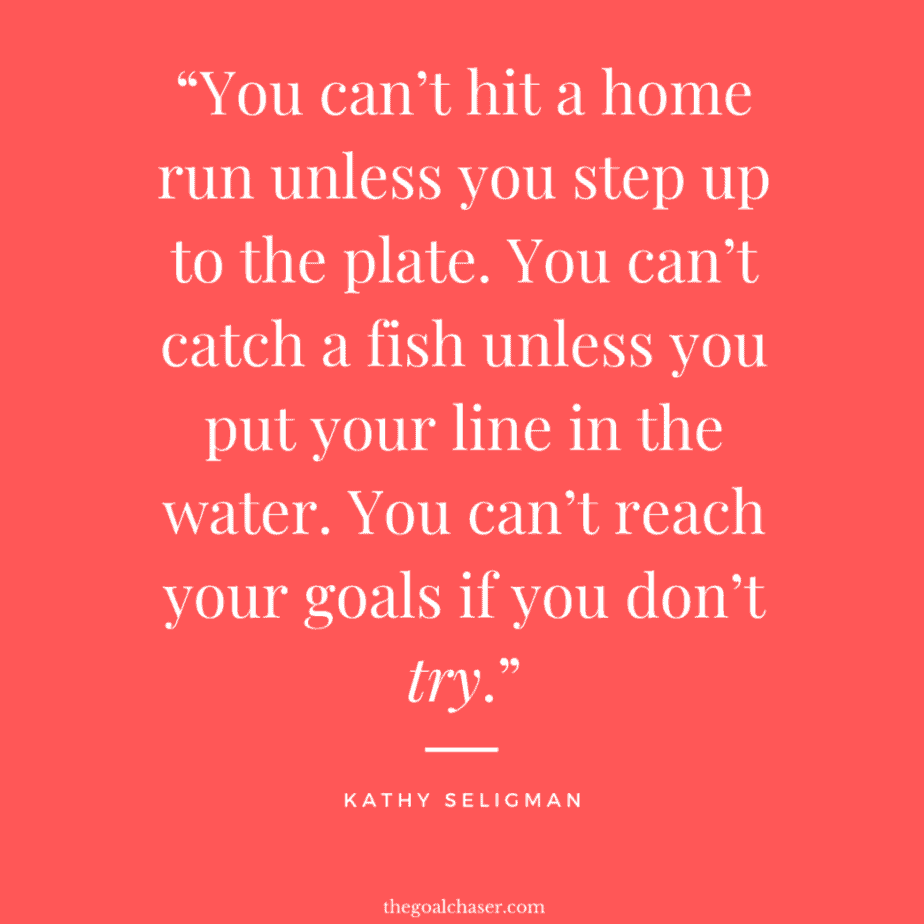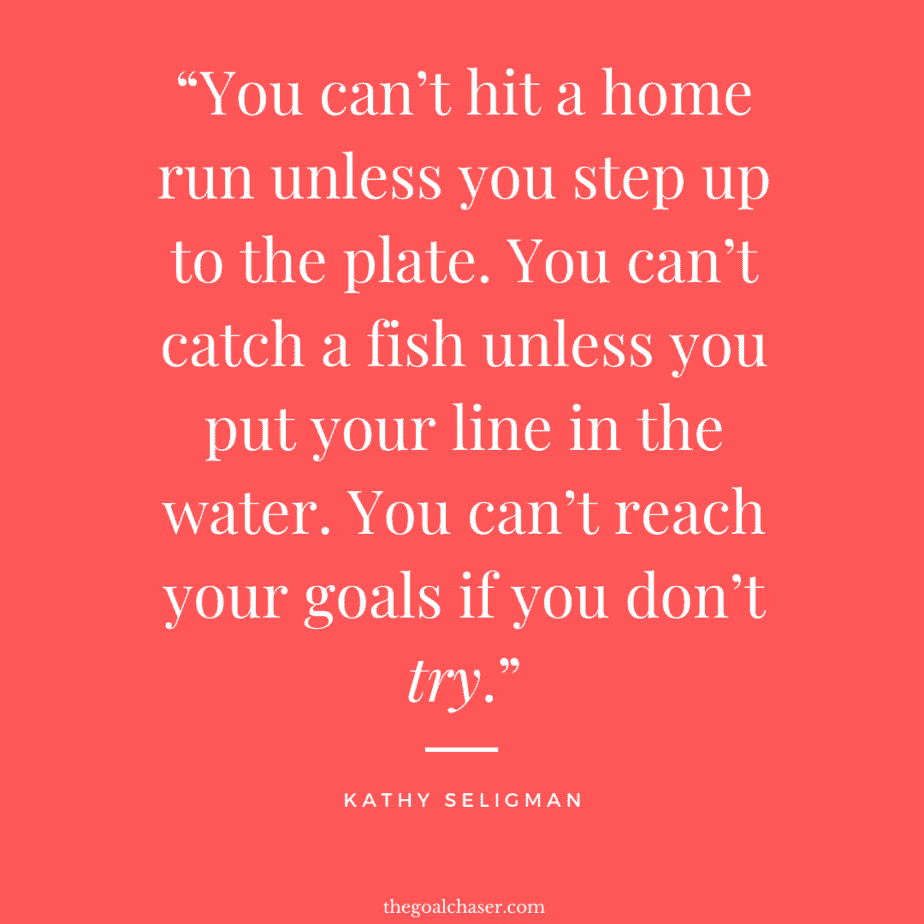 34.
"It's better to be at the bottom of the ladder you want to climb than at the top of the one you don't."
Stephen Kellogg
35.
"If the plan doesn't work, change the plan, but never the goal."
Unknown
36.
"Crystallize your goals. Make a plan for achieving them and set yourself a deadline. Then, with supreme confidence, determination and disregard for obstacles and other people's criticisms, carry out your plan."
Paul J. Meyer
37.
"Champions keep playing until they get it right."
Billie Jean King
38.
"I don't focus on what I'm up against. I focus on my goals and I try to ignore the rest."
Venus Williams
39.
"Vision without action is daydream. Action without vision is nightmare."
Japanese Proverb
40.
"If you want to be happy, set a goal that commands your thoughts, liberates your energy and inspires your hopes."
Andrew Carnegie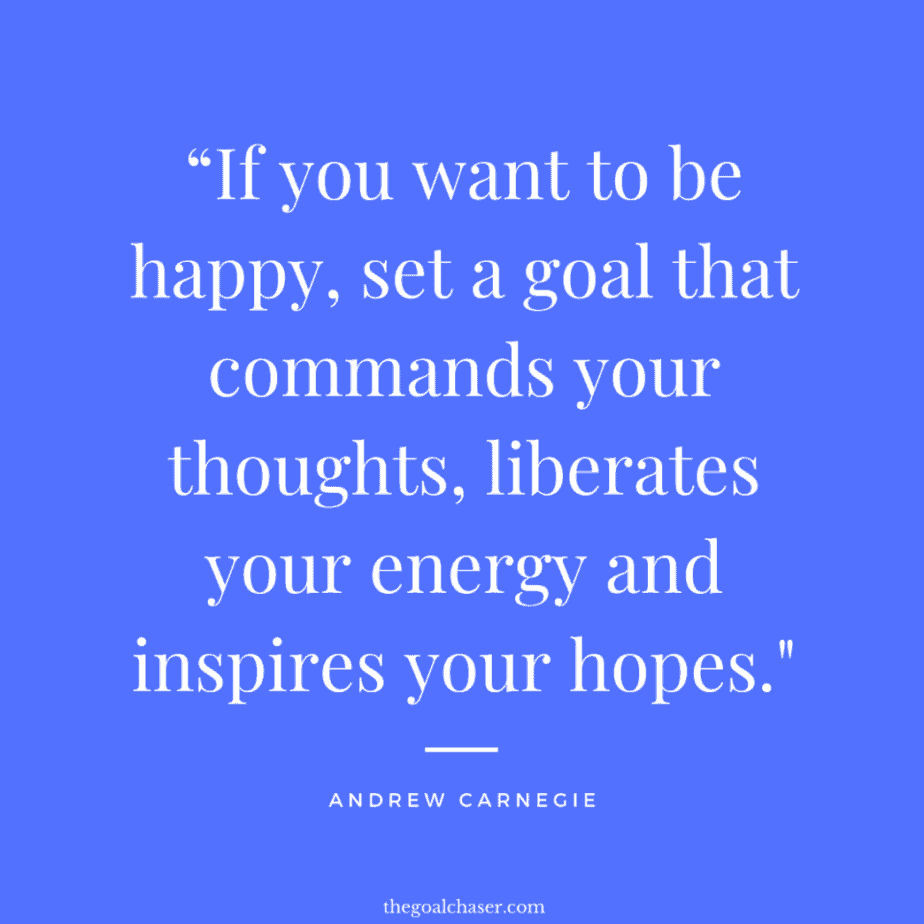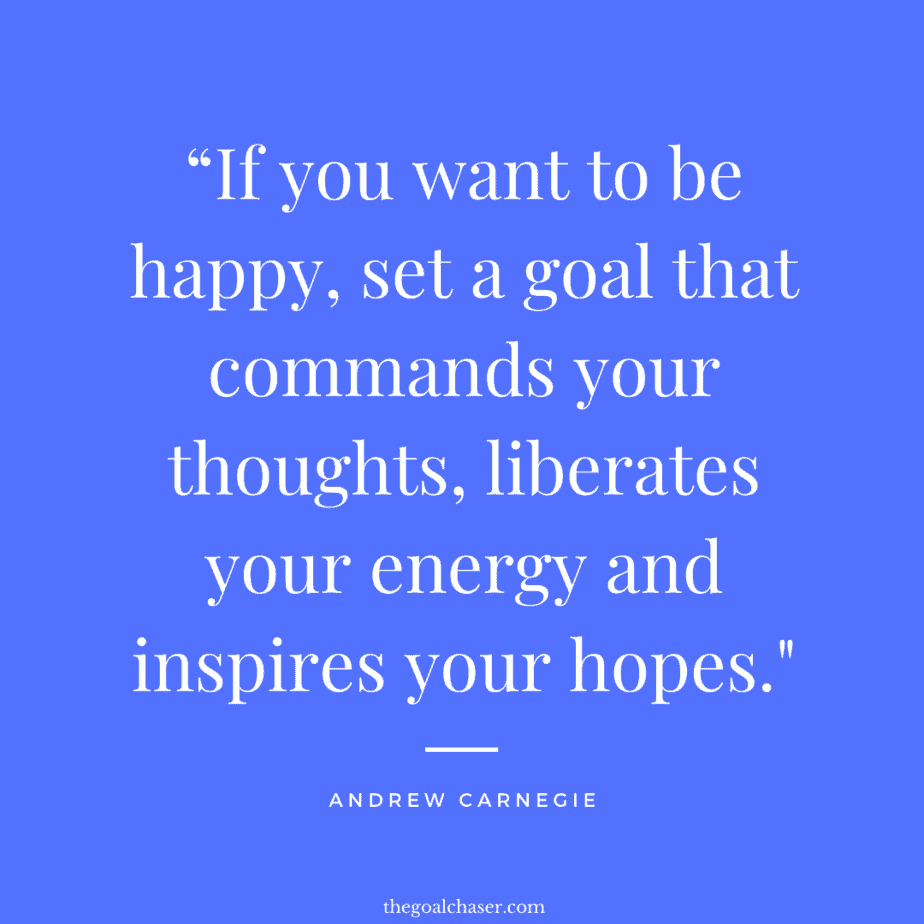 41.
"If a goal is worth having, it's worth blocking out the time in your day-to-day life necessary to achieve it."
Jill Koenig
42.
"You miss 100 percent of the shots you don't take."
Wayne Gretsky
43.
"The going is the goal."
Horace Kallen
44.
"Review your goals twice every day in order to be focused on achieving them."
Les Brown
45.
"What you get by achieving your goals is not as important as what you become by achieving your goals."
Zig Ziglar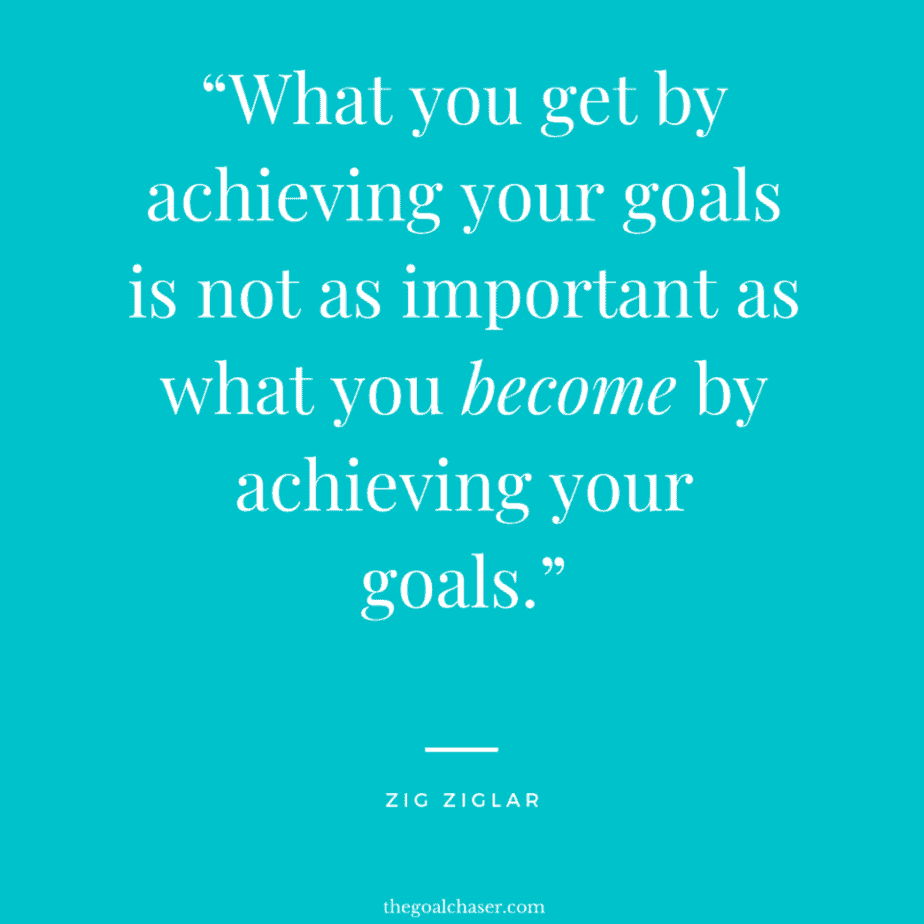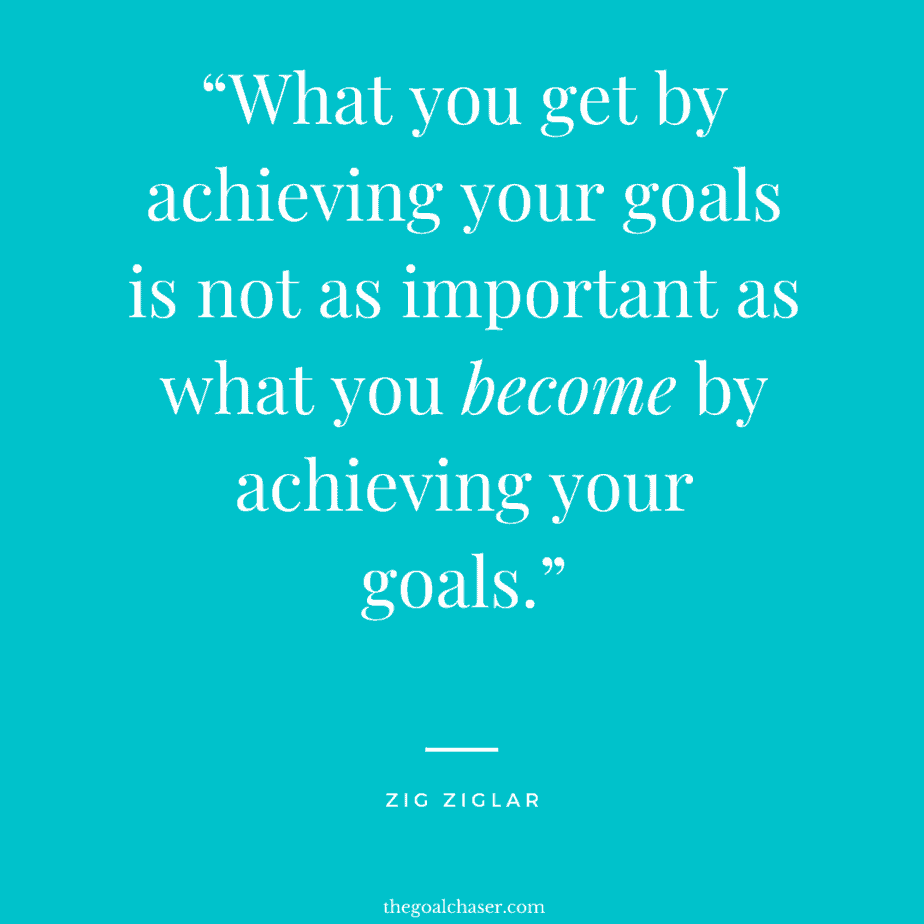 46.
"The trouble with not having a goal is that you can spend your life running up and down the field and never score."
Bill Copeland
Related to Quotes on Reaching Your Goals: