How To Make A Vision Board – Even If You Don't Have A 5-Year Plan
Vision boards (sometimes known as 'dream boards') are a highly effective visualization technique to move you towards the life you want. They are easy to set up and a simple way to visualize – even if you're not that comfortable with visualizing….yet.
Despite popular belief, they don't magically result in red Ferraris turning up in your garage or a million dollars in your bank account – but they could.
The secret to an effective vision board, is not just how to make it, but also how to use it once you're done.
How to Create A Vision Board
1. Set Your Intentions
You don't have to have a 5-year plan. Or know your grand purpose in life. But of course, it's great if you do.
What you do need to know is your intentions.
Intentional living simply means to live the life that you truly want. A life by design of your choosing, rather than living a life that just 'happens' to you.
Have a think about the major areas of your life – relationships, finances, self-development, health and fitness, career, spirituality and fun and then ask yourself the following questions:
What do you want more of?
How do you want to feel?
How do you want to live?
What's important to you?
What do you value?
Thinking about your life like this, is a non-overwhelming way to weed out what you really want. It doesn't matter that you don't have a concrete plan to get there yet, but the point is simply to nut out what you truly want.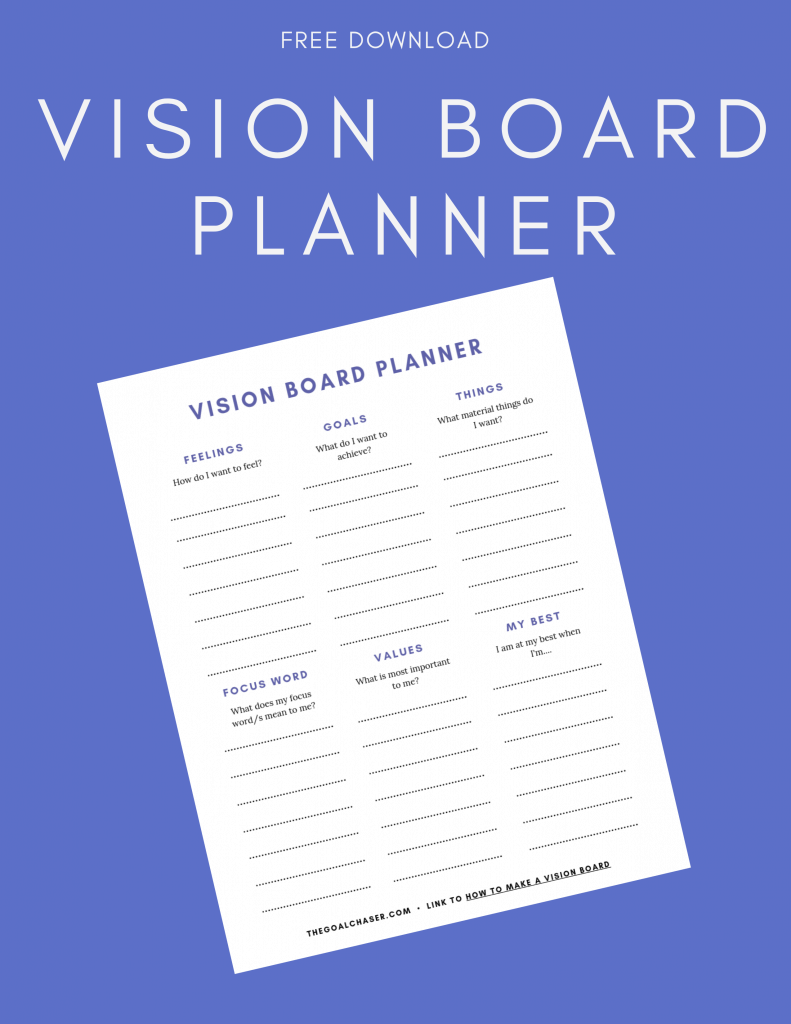 Instead of just drifting along in life, letting life happen to you, you've taken the first step in living an intentional life. Exciting right?
​32 Intentional Living Quotes: Live Like You Mean It!​​​
2. Gather Your Vision Board Supplies
The quickest and easiest way to create a vision board is to create a digital or online vision board. You can then either print these or keep them on your desktop, or as your computer and phone wallpaper.
And online vision boards can work really well. But I like to create a visual and tangible vision board – there's just something about it…but find what works best for you.
To create a physical vision board, you will need the following supplies:
Some kind of board – you could choose a simple cork board, a space on your wall or some thick poster board (have a think about how portable you want your vision board to be)
Scissors
Glue or double-sided tape
Magazines
Photos of when you've been happy in your life
Access to a printer (because there will be gaps you need to fill – more about that below)
3. Create Your Vision Board
Find pictures and words that represent the feelings, the experiences and the material possessions that you want in your life – all based on your above intentions.
Don't feel that you need to use all the space – some gaps are great to be able to add in things as you go. Some things to keep in mind:
What You Should Include:
Pictures and words that resonate,
Photos of when you've been at your happiest in life,
If you have a word of the year – make sure to include this in large letters,
Hand write or print out inspirational quotes and affirmations that reinforce how you want to feel, think and act.
​Vision Board Quotes – To Inspire & Encourage!​​​
What You Shouldn't Include:
Negative or self-defeating pictures or words associated with things that you want to avoid in the future,
Photos of when you aren't happy,
Things you can't control – including other people, their choices and behaviours.
How to Make Your Vision Board Actually Work
As mentioned above, it's not just creating a vision board that makes it effective. Sure, you've set your intentions for what you want, but you still need to take action towards them.
Vision boards are a great visualization technique for all of the following reasons:
They narrow your focus to what you truly want (your intentions),
When used regularly, they serve as a constant reminder to keep you on task,
Which then allows you to consciously (and subconsciously) drive your limited time and energy towards these things (despite living in a busy world).
So, we've got point 1 covered above. There're still another 2 more steps. But don't worry, they're fairly straightforward….and can be done by simple actions, such as:
See, touch and ponder your vision board as much as possible. Spend time looking at it, thinking about the thoughts, feelings and things that you want in your life. A great way to do this is to review it each morning and then each evening before bed.
Express gratitude for what you already have, the changes that are happening and how you're moving towards these 'things' on your vision board.
Write a list of tasks, actions or habits that will move you towards the feelings, experiences and things on your vision board
Take action on these, even if it's small. Just by setting yourself in motion will be enough to get you going (think of the snowball effect).
I hope you're inspired to create your own vision board. Give it a go and see the positive changes it can make in your life!