Feel Good Friday Quotes – Anticipation & Excitement
There's something about Fridays that just makes everyone feel good.
Maybe it's the anticipation of the weekend ahead, exciting weekend plans, or maybe it's the knowledge that we only have a few hours left until we can relax and recharge.
Even if you work shift work and work weekends, or if you're a business owner and don't seem to have 'weekends', there's still something about Fridays that just makes you feel good.
Whatever it is, there's no doubt that Fridays are special.
What is a good quote for Friday?
A good quote about Friday is one that encapsulates the feeling of happiness and anticipation and one that can give us a little laugh too. To lighten the mood from the work week and to remind us of the joy of weekends!
Here are some of our favourite quotes about Fridays.
Feel Good Friday Quotes
"Every day is a gift. But some days are packaged better." Sanhita Baruah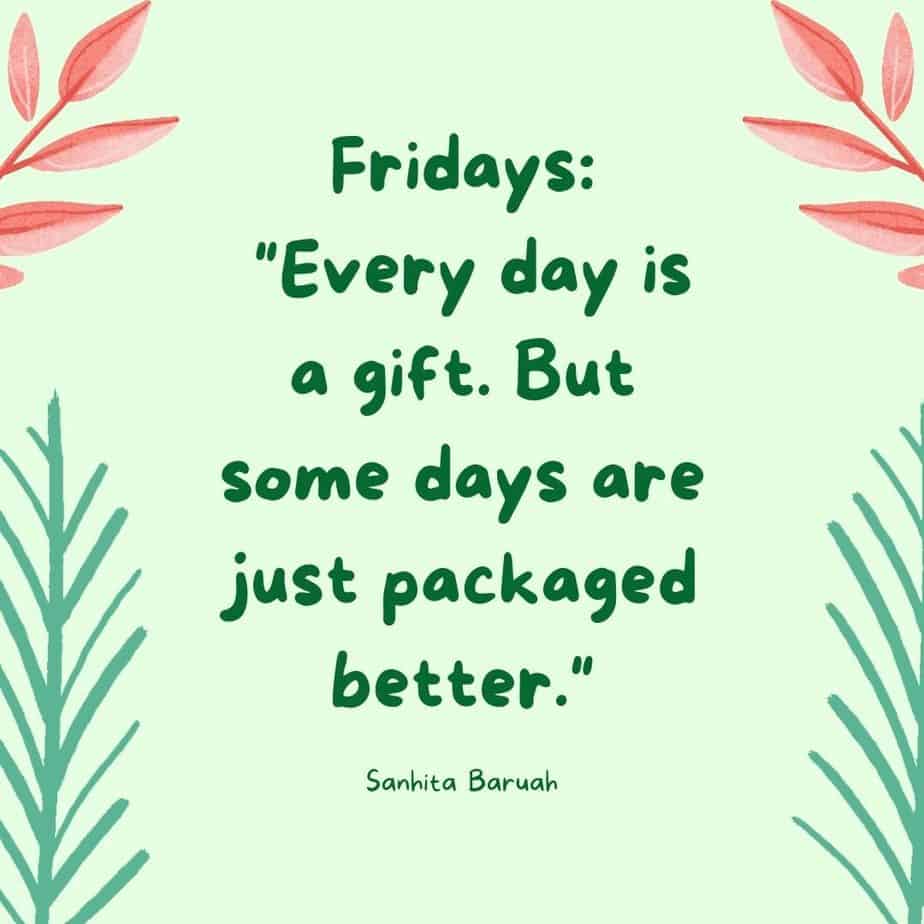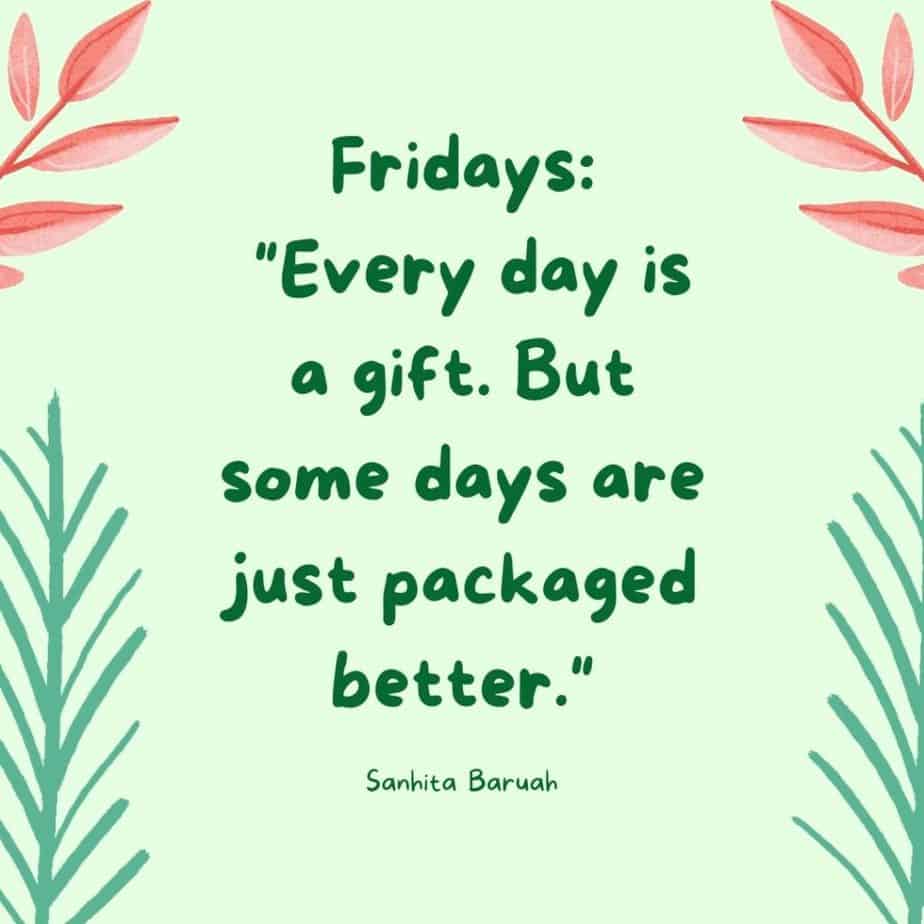 "Friday is a day to finish your goals for the week. It is a day to celebrate that which you set out to accomplish at the beginning of the week." Byron Pulsifer
"If every day at work feels like a Friday, then you are doing what you were meant to do." Alan W. Kennedy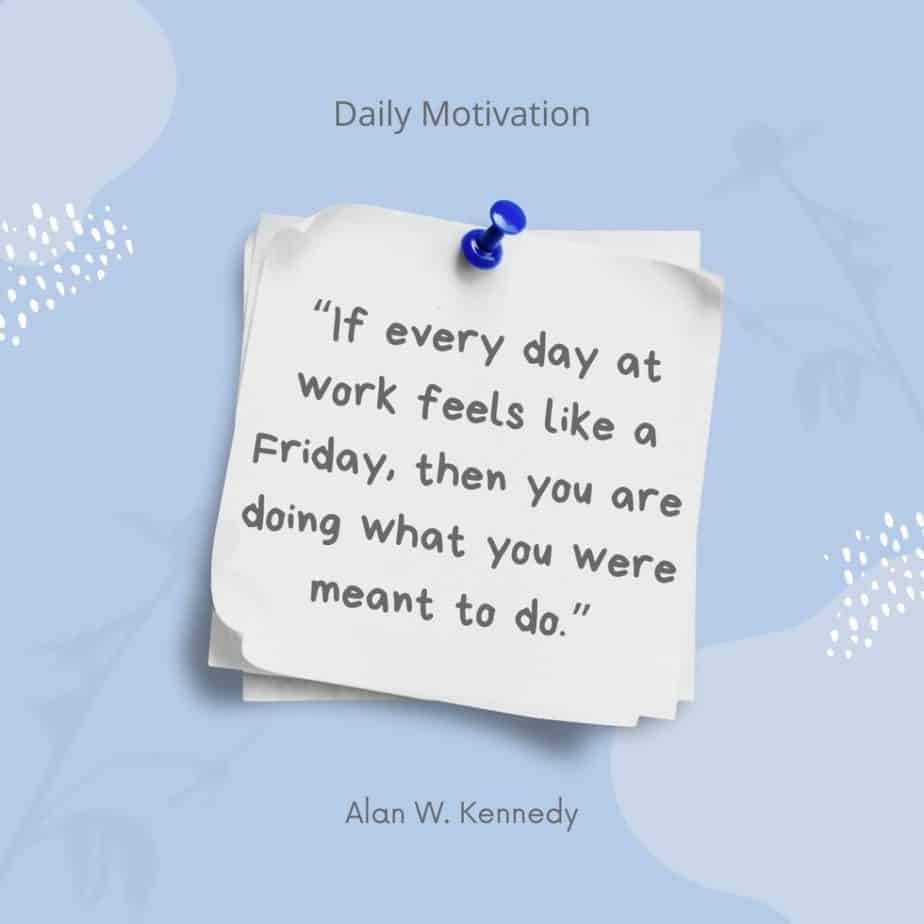 "Fridays are the hardest in some ways; you're so close to freedom." Lauren Oliver
"When you leave work on Friday, leave work. Don't let technology follow you throughout your weekend (answering text messages and emails) take a break you will be more refreshed to begin the workweek if you have had a break." Catherine Pulsifer
"Although I understand that all days are equal with 24 hours each, most of us agree that Friday is the longest day of the week and Sunday the shortest." D.S. Mixel
"When you start to do the things that you truly love, it wouldn't matter whether it is Monday or Friday; you would be so excited to wake up each morning to work on your passions." Edmond Mbiaka
"Music always sounds better on Friday." Lou Brutus
"Honestly, I never really understood the glorification of Fridays & weekends. I don't want to build a life and career, where I spent five days a week waiting for the weekend. No! I want to enjoy my life, and don't wish any weekday away. I want each day to matter to me, in some way, even if it's a small, tiny way. I love my life. Everyday. That's the spirit we should convey all around us." Akilnathan Logeswaran
"Always take some of the play, fun, freedom and wonder of the weekend into your week & your work." Rasheed Ogunlaru
"People wait all week for Friday, all year for summer, all life for happiness." Raimonda.B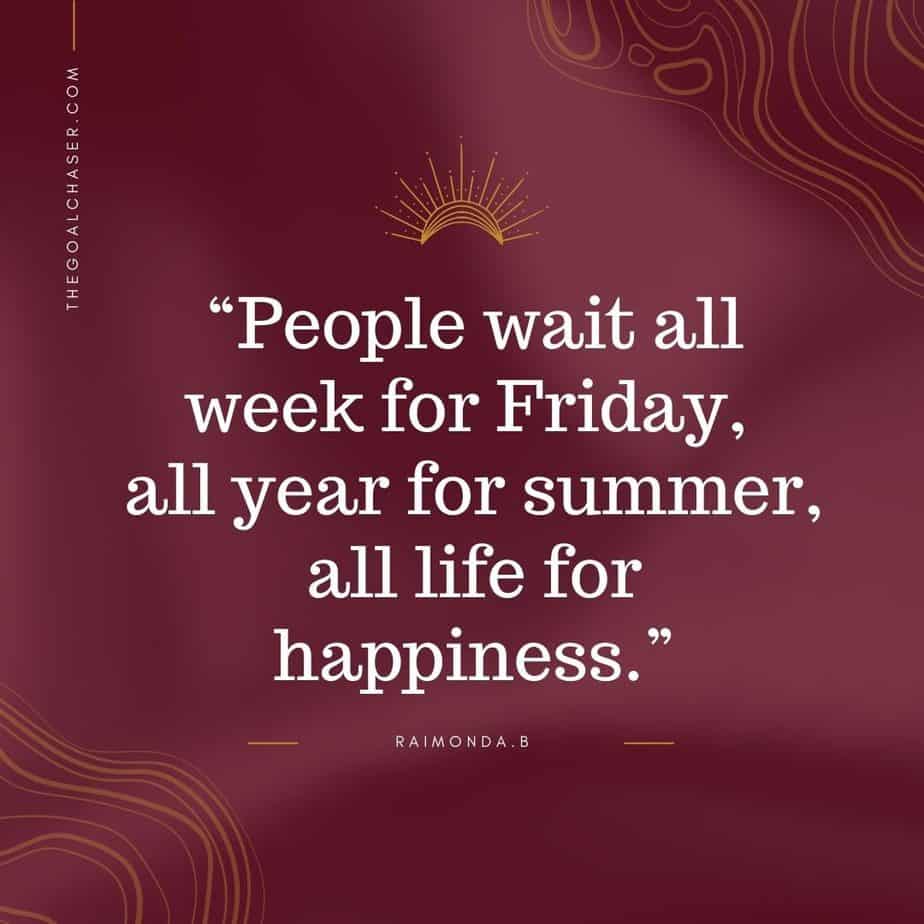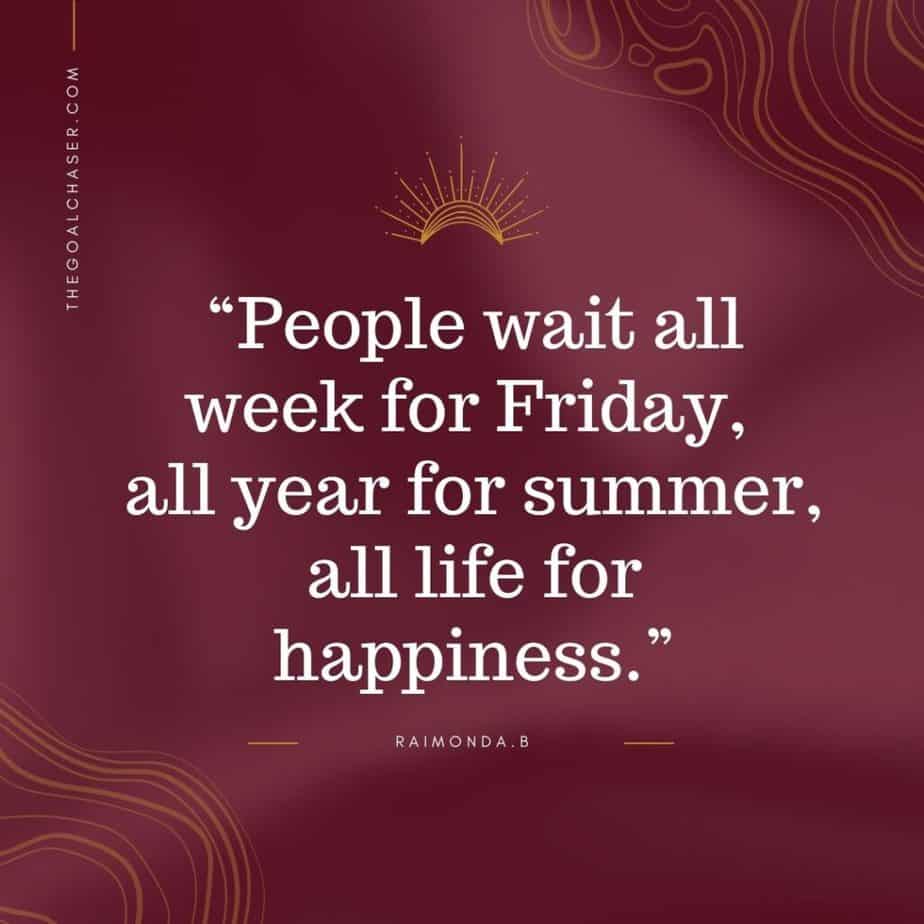 "It's Friday morning mankind! Good vibe, don't frown and let the monster see you smile!" Napz Cherub Pellazo
"Do something today that your future self will thank you for." Sean Patrick Flanery
Funny Feel Good Friday Quotes
"If my boss knew how unproductive I am on Fridays, he wouldn't want me here either." James Johnson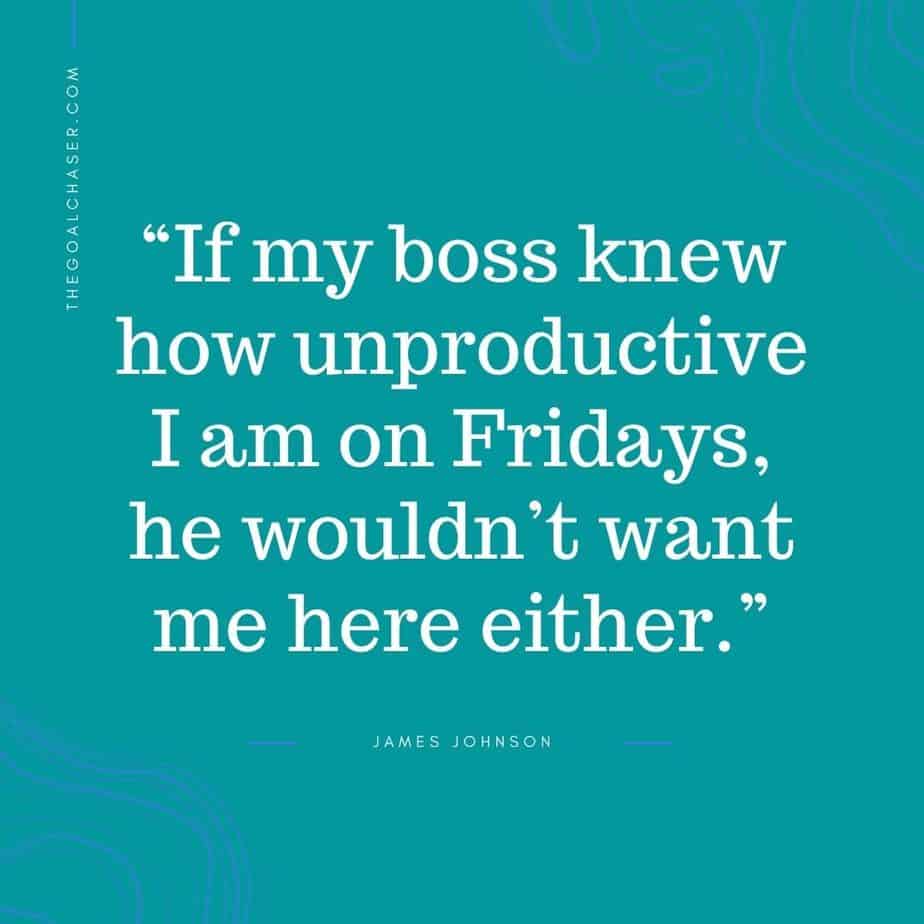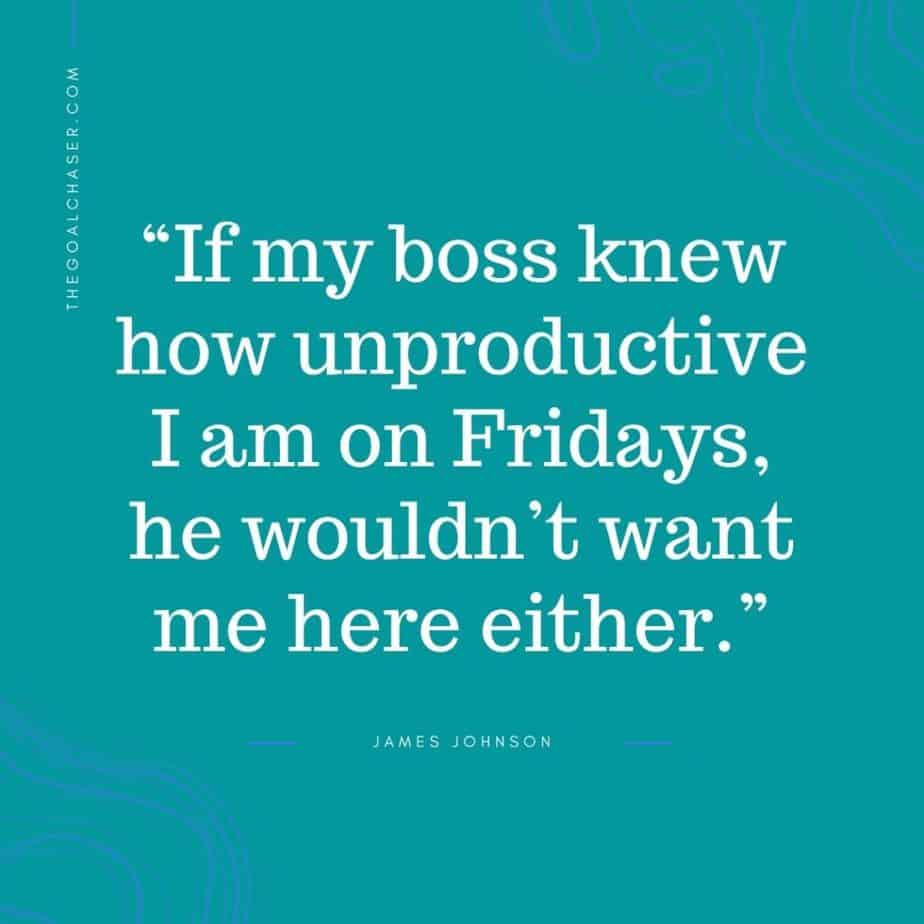 "Anybody have plans to stare at their phone somewhere exciting this weekend?" Nitya Prakash
"The weekends are too short for sleep!" Bryant A. Loney
"Friday is like a superhero that always arrives just in time to stop me from savagely beating one of my co-workers with a keyboard." Rico
"Every Friday, I like to high five myself for getting through another week on little more than caffeine, willpower, and inappropriate humor." Nanea Hoffman
"Employers are at their happiest on Mondays. Employees are at their happiest on Fridays." Mokokoma Mokhonoana
"It's 4:58 on Friday afternoon. Do you know where your margarita is?" Amy Neftzger
"For most Americans, Friday afternoons are filled with positive anticipation of the weekend. In Washington, it's where government officials dump stories they want to bury." John Sununu
"Happy Friday! Here's to all of us who made it through another week of faking adulthood." Nanea Hoffman
"Life is like Friday on a soap opera. It gives you the illusion that everything is going to wrap up, and then the same old shit starts up on Monday." Stephen King
"If you must have motivation, think of your pay check on Friday." Noel Coward
"Hands up if you're ready to do something you'll regret this weekend. Go forth! You have my blessing." Florence Welch
There's no wrong way to enjoy a Friday, whether you spend it relaxing at home, catching up with friends or family, or getting out and enjoying all that the world has to offer. But whichever way you choose to spend your Friday, there's one thing everyone can agree on: it's definitely one of the best days of the week!
Happy Friday! Enjoy!
For more inspirational quotes, check out: