Take It Day by Day Quotes & Inspiration
This collection of inspiring quotes is for those who are either:
Overwhelmed with a huge task ahead of them,
Frustrated with what feels like slow progress,
Letting fear and worry take up too much energy
What does 'take it day by day' mean?
Taking it 'day by day' means taking things one step at a time and not trying to do everything at once. It means being patient and not getting frustrated when things don't go the way we want them to, or as quickly as we want them to.
It means accepting the things we can't change and working on the things we can.
How can these quotes help?
When we are able to 'take it day by day', we're able to live more in the present and not worry so much about the future or the past.
Without unnecessary fear and overwhelm, our minds can remain calmer, and our subsequent feelings and actions are more productive for us.
This is something that can be difficult to do, but it's worth it. Let these quotes serve as motivation to help you live more in the moment as they remind us of the importance of patience, self-compassion, breaking big tasks into small actions, consistency and yet still being persistent:
Take It Day by Day Quotes
"You don't have to see the whole staircase, just take the first step." Martin Luther King, Jr.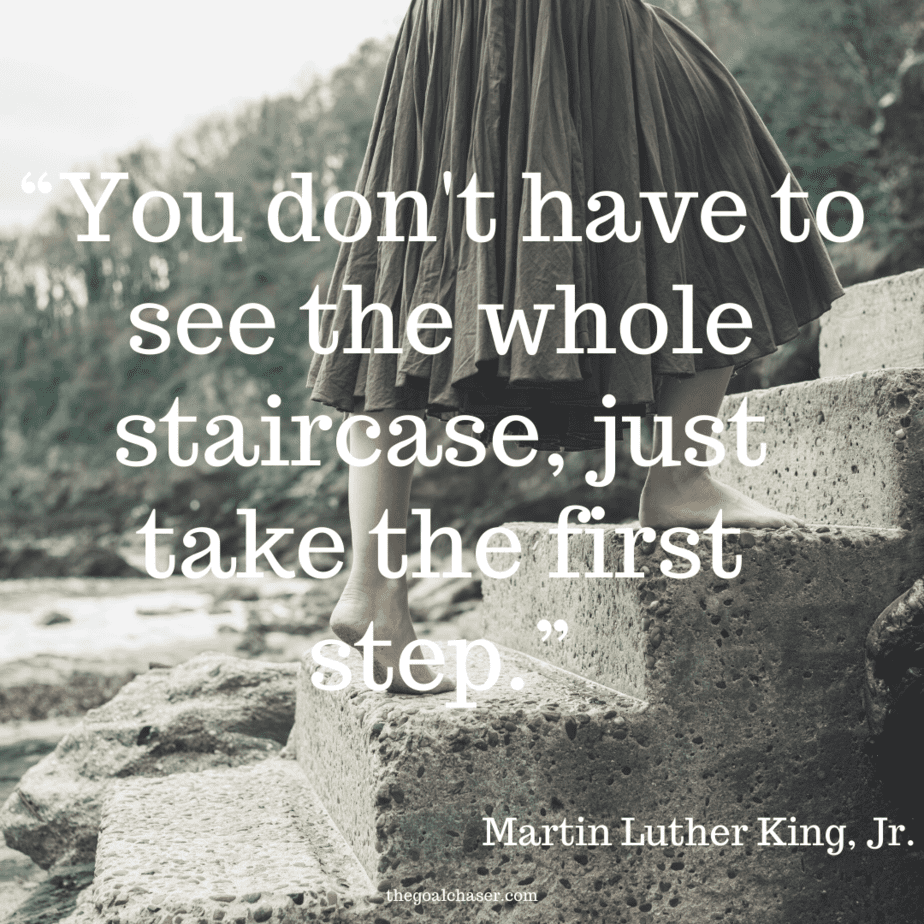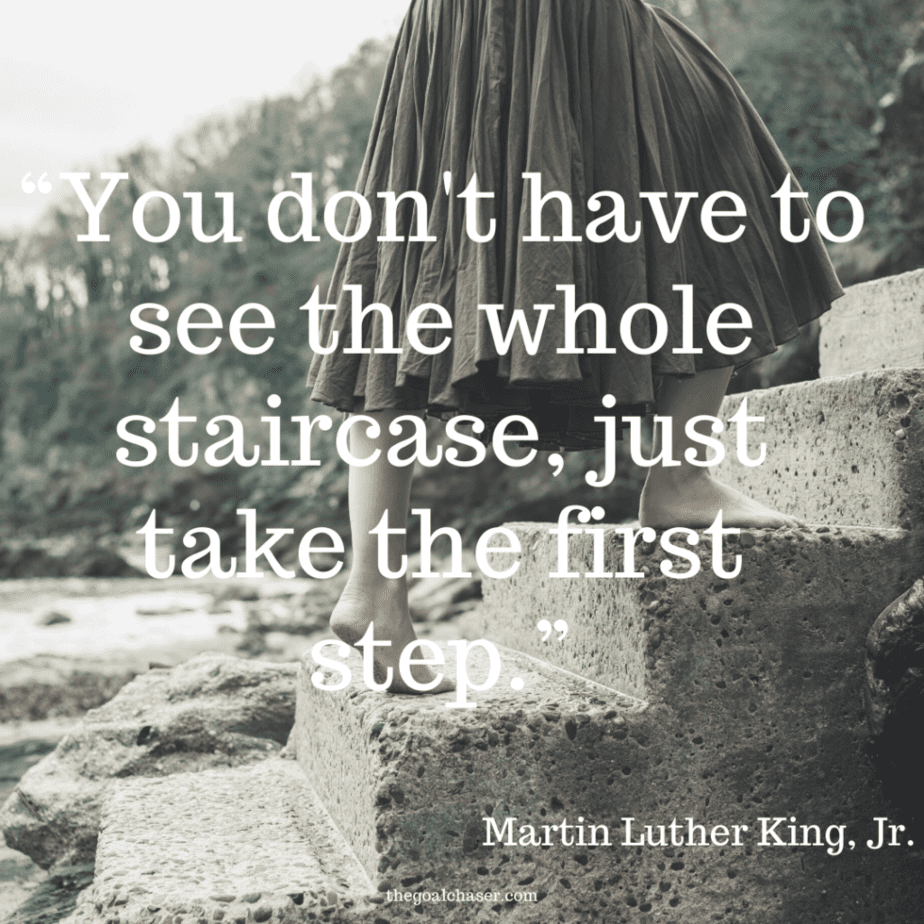 "The man who removes the mountain begins by carrying away small stones." Chinese proverb
"One step at a time is all it takes to get you there." Emily Dickinson
"The best thing about the future is that it comes one day at a time." Abraham Lincoln
"It is better to take many small steps in the right direction than to make a great leap forward only to stumble backward." Chinese proverb
"The person determined to achieve maximum success learns the principle that progress is made one step at a time." David J. Schwartz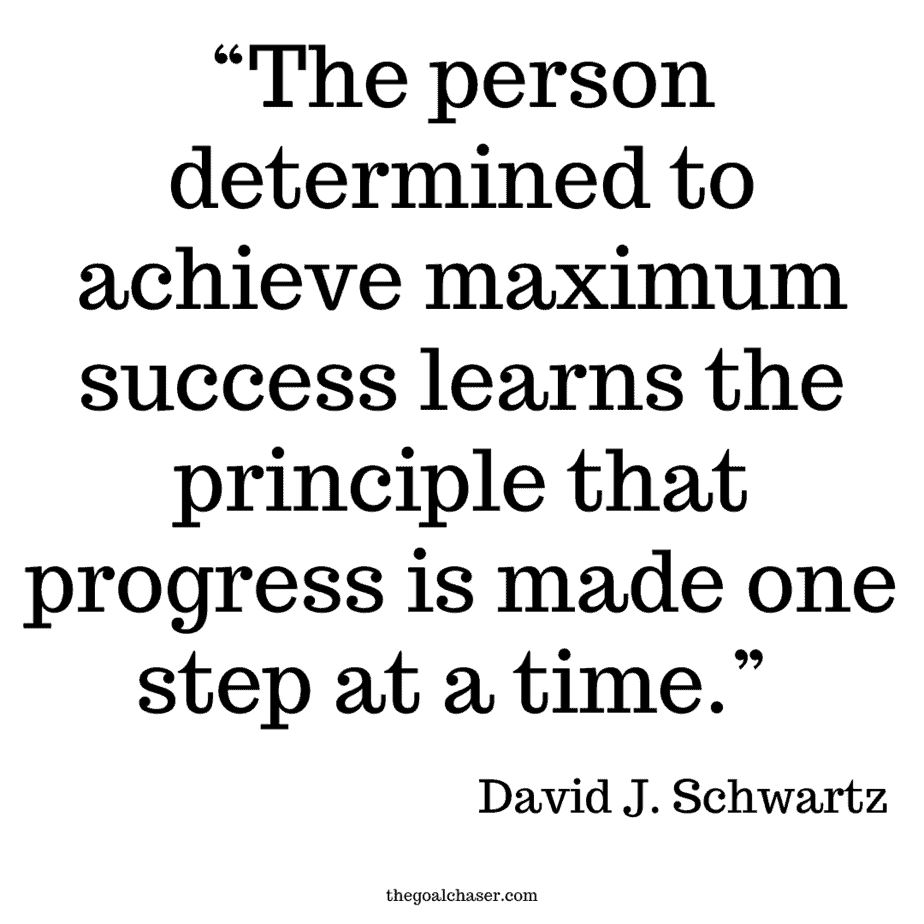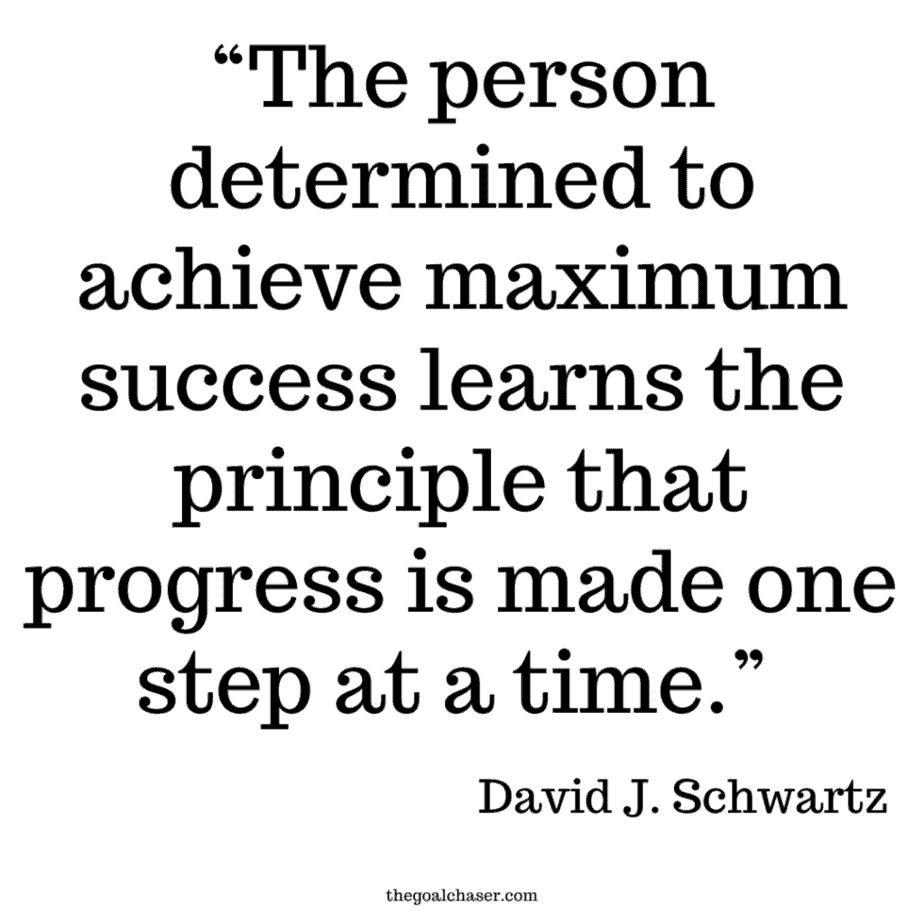 "Dreams can come true, but there is a secret. They're realized through the magic of persistence, determination, commitment, passion, practice, focus and hard work. They happen a step at a time, manifested over years, not weeks." Elbert Hubbard
"If you have to eat two frogs, eat the ugliest one first. This is another way of saying that if you have two important tasks before you, start with the biggest, hardest, and most important task first." Brian Tracy
The journey of a thousand miles begins with one step." Lao Tzu
"Big achievements come one small advantage at a time, one step at a time, one day at time." Jim Rohn
"I have learned to live my life one step, one breath, and one moment at a time, but it was a long road. I set out on a journey of love, seeking truth, peace and understanding. I am still learning." Muhammad Ali
"The key is this: Meet today's problems with today's strength. Don't start tackling tomorrow's problems until tomorrow. You do not have tomorrow's strength yet. You simply have enough for today." Max Lucado
"Everybody is looking for instant success, but it doesn't work that way. You build a successful life one day at a time." Lou Holtz
"If you're climbing the ladder of life, you go rung by rung, one step at a time. Don't look too far up, set your goals high but take one step at a time. Sometimes you don't think you're progressing until you step back and see how high you've really gone." Donny Osmond
"You can break that big plan into small steps." Indira Gandhi
"Live one day at a time emphasizing ethics rather than rules." Wayne Dyer
"What I urge is that you learn to master your life by living each day in a day-tight compartment and this will certainly ensure your safety throughout your entire journey of life." Max Lucado
"Don't look too far into the future, just look at tomorrow. One day at a time. Can you win tomorrow? Can you make progress? The answer is yes, you have a choice and tomorrow you're going to win." Joe Wicks
"The best thing about the future is that it comes only one day at a time." Dean Acheson
"You never know where life is going to take you. So, everything I do, I just take it one day at a time, and it always leads you to the right place." Kyle Massey
"Nothing happens without focus. Don't try to do everything at once. Take it one step at a time." Dave Ramsey
One Day at A Time Quotes
"The elevator to success is out of order. You'll have to use the stairs… one step at a time." Joe Girard
"Keep walking the walk, one step at a time." Joyce Meyer
"The hardest part of any important task is getting started on it in the first place. Once you actually begin work on a valuable task, you seem to be naturally motivated to continue." Brian Tracy
"You just try to take it one day at a time, … You step on the basketball floor and just play. It's fun. I'm comfortable with it." Kobe Bryant
"One may walk over the highest mountain one step at a time." John Wanamaker
"One day at a time is all we do. One day at a time is good for you." John Lennon
"Each one of us has some goal we want to reach, and we must work toward that goal one step at a time. You can't reach toward that goal and expect it on the first try. All your small steps will bring you just a little closer. You must continue to work toward this goal. You may take a few steps back or be at a standstill, but you will be learning from each step. Through hard work, self-confidence and motivation, you will find ways to move ahead. You alone can help yourself to move ahead in life and gain personal satisfaction. You only get out of life what you put into it." Sid Luckman
"I'm trying to stay as calm as possible and focus one day at a time, but when reality sets in, I feel everything: anxiety, excitement, nerves, pressure and joy." Shawn Johnson
"You never know the plan. You never know what's going to happen. We are not even promised tomorrow. I just try to focus on one day at a time." Morgan Wallen
"I will persist. I will always take another step. If that is of no avail I will take another, and yet another." Og Mandino.
"Most times, the way isn't clear, but you want to start anyway. It is in starting… that other steps become clearer." Israelmore Ayivor
"A lot of things have been thrown at me in life, and I've got through it all without a rule book, taking it one day at a time." Yoko Ono
"The whole idea is you can't sit around and do nothing. You have to get up and start living one day at a time. That's what I did my entire career. You can't sit around and say, 'Oh, poor me. Nobody likes me. Nobody is giving me a job.' You have to get up and go. If you sit at home and do nothing, that is what is going to happen." Darlene Love
"How do you shoot a 150-day movie? You shoot it one day at a time." David Fincher
"Wholeheartedly do what it takes to awaken your clear-seeing intelligence, but one day at a time, one moment at a time. If we live that way, we will benefit this earth." Pema Chodron
Funny Quotes About Taking It Day by Day
If you're someone who likes to use a little humor, the following quotes are a great example:
"When people go through something rough in life, they say, 'I'm taking it one day at a time.' Yes, so is everybody. Because that's how time works." Hannibal Buress
"I have a new philosophy. I'm only going to dread one day at a time." Charles M. Schulz
"Life is like an ice-cream cone; you have to lick it one day at a time." Charles M. Schulz
"I'm just taking it one day at a time. Actually, that's a total lie. I always think about what's in front of me." Julianne Hough
Interested in more inspirational quotes, then be sure to check out: