Inspirational Words For Today
There's a lot going on in the world today.
It's easy to get bogged down in the negative but let's not forget that there's still good in the world. Even if some days, it does require a bit of searching for.
We're all about hope, possibilities, looking for the good in life and staying positive – and that's the direction we would like to lead you in to today too, with these powerful and encouraging words.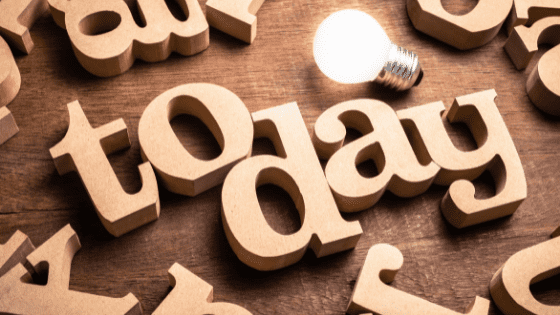 Inspirational Words To Use Today
Appreciation – When we focus on what we already have, we make room for more.
Believe – To achieve anything you have to first believe that you can.
Change – Every day is a new opportunity to change your life.
Courage – It takes courage to grow up and turn out to be who you really are.
Dream – The future belongs to those who believe in the beauty of their dreams.
Effort – If you want something, you have to be willing to put in the hard work.
Happiness – "The greatest happiness you can have is knowing that you do not necessarily require it." William Saroyan
Hope – When we lose hope, we lose the ability to see possibility. When we lose hope, we lose ourselves.
Kindness – 'Kindness is a language which the deaf can hear and the blind can see.'
Knowledge – The more you know, the more you realize how much you don't know.
Learn – Learning never exhausts the mind.
Life – Life is what we make it and how we make it – whether we realize it or not.
Passion – Find something you're passionate about and stay tremendously interested in it.
Persistence – Success is not final, failure is not fatal: It is the courage to continue that counts.
Positive – A positive attitude may not solve all your problems, but it will annoy enough people to make it worth the effort.
Power – True power is not about controlling others but about controlling yourself.
Respect – Respect yourself and others will respect you.
Today – Today is a new day. Seize it.
Inspirational Phrases
Some short, but inspirational phrases can also help, such as:
This too shall pass
What doesn't kill you makes you stronger.
Everything happens for a reason.
You are not alone.
I can and I will.
Never give up.
Today is a new day, full of possibilities.
Live each day to the fullest and never give up on your dreams.
You can do it.
I believe in you.
Keep going.
Never give up.
You got this!
I'm proud of you.
You are amazing.
You can do anything you set your mind to.
These phrases may be simple, but they can be very effective in helping yourself or someone to stay positive and motivated.
Inspirational Affirmations
If you love the power of inspiring affirmations, then the following list can help:
I am capable.
I am resilient.
I am worthy of love and respect.
I am strong and capable.
I can achieve anything I set my mind to.
I have everything I need to be successful.
I am surrounded by love and support.
I am grateful for all that I have.
I am amazing just the way I am.
I deserve to be happy and successful.
I love and approve of myself just as I am.
I am worthy of happiness and success.
These are only a few examples, but there are many more affirmations out there that can help you, such as: The Power of Positive Affirmations
We hope that the above inspiring words can help leave you feeling even a little lighter and a bit more inspired today. Take care.
For more positive words and quotes, be sure to check out: