Health & Fitness Goal Planner
What gets planned and measured gets done! 
These health and fitness goal planner worksheets help you to breakdown those exciting health goals of yours to achievable milestones & track your progress.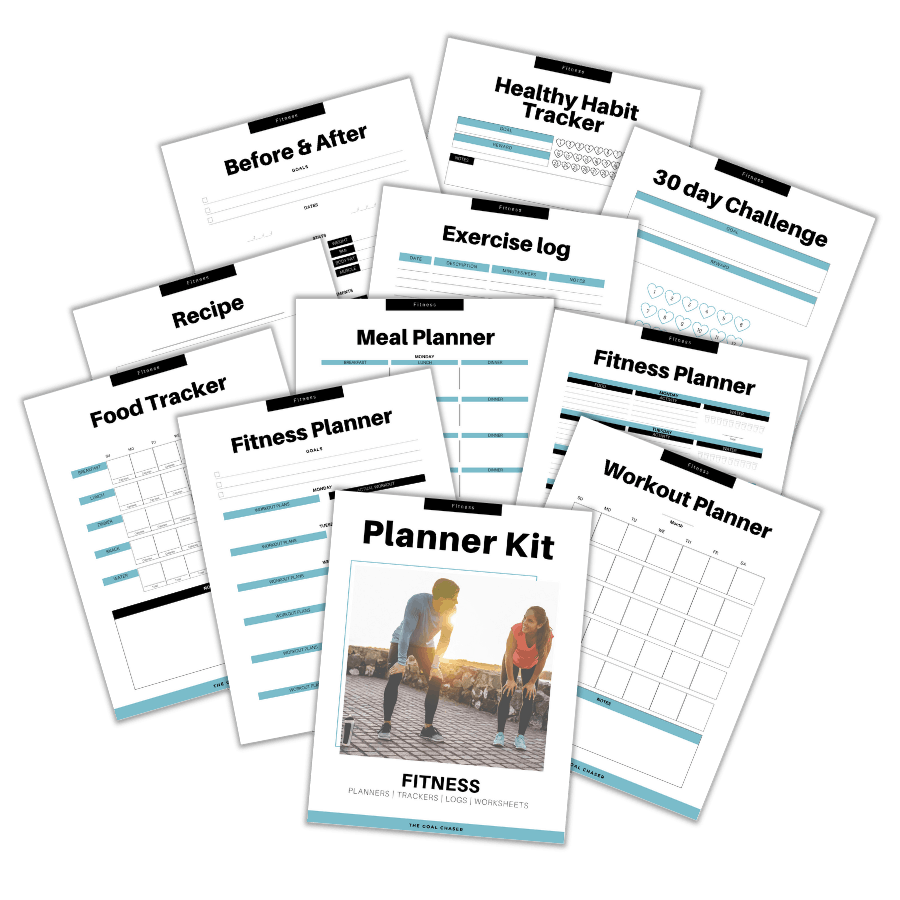 A simple and smart way to map out your next health and fitness goals: monthly, weekly and daily!
You don't have to (and shouldn't) wait until Monday to start! Start anytime, as the planner includes undated monthly and weekly worksheets to map out your health & fitness goals and what actions you need to take.
Before & Afters
Focus on your compelling health and fitness 'why'. Document where you are now and then look back at how far you've come.
Food Planners
Planning your meals before the week gets busy goes a long way in your success. Plan it out and shop according to your plan.
Food Trackers
Nobody is perfect, but tracking your food is a great way to keep you on goal and to course-correct when needed.
Fitness Planners
Just like planning your meals for the week, it's important to plan time to fit in your fitness plans for the month and the week ahead.
Pick & Choose
While there are plenty of options in this bundle to plan and track your health & fitness goals, you can select the plans that work for you, download and print as many copies as you require.
faq
How will I receive my Health & Fitness Goal Planner?
This is a digital product and no physical product will be sent. This means that as soon as your purchase is processed you will have the digital file available to download and print at your convenience.
When does it expire?
Once you purchase the Health & Fitness Goal Planner it is yours forever. You can download the file and save it to your computer to print as many times as needed.
What happens if the planner gets updated?
Once purchased, you will receive the updated version if and when this product is updated in the future. It will automatically be emailed to you.
Do I need to use all the worksheets?
No, do what works for you. Some people are more successful when they plan and track weekly, monthly or daily. Others prefer to just track 12 weekly, month and weekly.
Does this work with the 12 Week Year?
Yes, the Health & Fitness Goal Planner is a great planner to use alongside the 12 Week Year program.
Can I share this product with others?
Purchasing this product entitles you to use it for your own purposes and should not be shared or sold on. If you know someone who would also benefit from this product, please contact us for a discount code.
Grab your Health & Fitness Goal Planner before the flash sale expires!
Instant download of your Health & Fitness Goal Planner